Easy recipe for healthy green bean casserole made from scratch! Use homemade cream of mushroom soup and fresh green beans for this delicious side.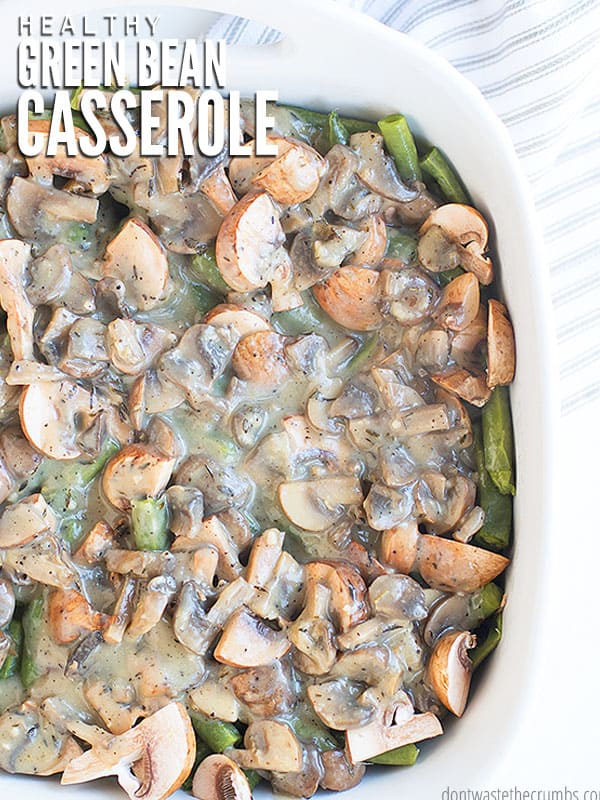 We all have our favorite Thanksgiving side dishes, right?
You know, the ones we secretly hope no one else will touch so we can eat all the leftovers tomorrow?
Growing up, one of my favorite side dishes was the green bean casserole, which is strange because I wasn't a huge fan of green beans OR mushrooms!
We don't eat processed food anymore, but that doesn't mean I can't enjoy my favorite foods.
I just make this super easy, healthy green bean casserole instead!

Healthy Green Bean Casserole Recipe
For those who grew up eating green bean casserole from cans, fear not. This healthy green bean casserole is just as you remember it: quick, easy to make, and creamy.
But this version:
Can be dairy-free.
Has no canned green beans.
Can be gluten-free.
Is easily made ahead of time.
Can be vegan.
So to recap, we're talking about a healthier, tastier, BETTER version of the classic green bean casserole we're all used to.
And it can be made BEFORE the big holiday feast, giving you more time to do other things on the big holiday…
So let's do this!
Easy Green Bean Casserole Recipe
I mentioned this recipe is healthy and made WITHOUT cans. Here's exactly what you need:
Green Beans. Fresh is always best, but canned will work too. Look for versions with no preservatives and no salt added.
Homemade Cream of Mushroom Soup. This is ready in 5 min using butter, mushrooms, stock, and milk.
Parmesan Cheese + Breadcrumbs. For topping the casserole.
Parsley+ Minced Onion. Flavor!
Is green bean casserole bad for you?
If you're making it with homemade cream of mushroom soup and not adding fried onions on top, then yes! Notice that I DIDN'T add fried onions to the list of ingredients.
I know they're tasty, and I know you probably eat them out of the can as I do, but here's the thing:
They're not very healthy.
They're deep-fried and contain an artificial sweetener. If you absolutely MUST have fried onions on your green bean casserole, I'd give this recipe a try.
How to Make the Best Green Bean Casserole from Scratch
Blanch the green beans. This can be done ahead of time, so feel free to do that to save time!
Make the cream of mushroom soup. Do this while the green beans are cooling. This freezes really well, so feel free to double or triple the recipe if you have other dishes that need cream of mushroom soup!
Mix the green beans + soup + seasonings and bake.
Allow to cool slightly, serve, and enjoy!
Not too far off from the unhealthy "open the cans and dump" version we're used to, right?
And I promise this will taste SO much better!
How do you blanch green beans?
Blanching is a method used to pre-cook, which is perfect for items that won't cook fully on their own in a casserole like this one.
To blanch green beans, simply bring a large pot of salted water to a boil. Add the green beans and boil for 2 minutes. Then IMMEDIATELY move the green beans to a large bowl of ice water to stop the cooking. Let them sit for about 5 minutes, then remove them and thoroughly dry.
More Easy Side Dishes
Easy Healthy Green Bean Casserole
Easy recipe for healthy green bean casserole made from scratch! Use homemade cream of mushroom soup and fresh green beans for this delicious side.
Author: Tiffany
Prep Time:

20 mins

Cook Time:

25 mins

Total Time:

45 mins

Yield: Serves

9

-

12

1

x
Category:

Sides

Method:

bake

Cuisine:

American
Green Beans
Homemade Cream of Mushroom Soup
2 Tbsp

butter

1 cup

diced mushrooms (I used portabella)

1 tsp

dried thyme

2 tsp

salt, divided

½ tsp

ground black pepper

1

clove garlic, minced

1 tsp

onion powder

2 Tbsp

flour

½ cup

beef stock (how to make homemade stock)

½ cup

milk
Topping
2

–

4

Tbsp Parmesan cheese, shredded

1/2 cup

homemade breadcrumbs

1 Tbsp

dried parsley

2 Tbsp

dried minced onion
Instructions
Blanch the green beans:
Fill a 5-6 quart stockpot halfway with water. Bring it to a boil. Meanwhile, create an ice bath by filling a large bowl with ice water.
Working in batches, put the green beans into the boiling water and cook for 2 minutes. Use a kitchen timer to ensure they don't overcook.
Immediately remove the beans from the boiling water and put them in the ice bath. Let the beans sit in the ice bath for 2 minutes, then remove from the water into a colander to strain. As the beans cool, preheat the oven to 375F.
Prepare the batch of homemade cream of mushroom soup:
In a medium stockpot, melt 2 Tbsp butter over medium heat.
Add 1 cup mushrooms, 1 tsp thyme, 1 clove garlic (minced), 2 tsp salt, ½ tsp pepper, 1 tsp onion powder. Cook until the mushrooms start to soften, about 5-7 minutes.
Add 2 Tbsp flour to the pot and stir to coat. Let the flour cook for about 1 minute, stirring occasionally.
Add ½ cup milk and ½ cup beef broth and whisk well to incorporate the flour into the liquid.
Bring the mixture to a boil and whisk well until the soup is very thick, anywhere from 2-5 minutes.
Taste the soup (careful, it will be hot) and add additional salt if needed.
Prepare the topping:
Combine all of the topping ingredients in a small bowl. When the oven is preheated, place the blanched green beans in a casserole dish. (I recommend an 8″x8″ dish for one pound of beans and a 9″ x 13″ dish for 2 pounds of beans.)
Pour the prepared homemade cream of mushroom soup over the top of the beans.
Sprinkle the topping evenly over the top and bake for 25-30 minutes, or until the top is golden and bubbly.
Keywords: healthy green bean casserole