Fall produce in season in October is here! Use this guide to save money, buy nutrient filled foods, and find the best tasting veggies of the season. Use with your Healthy Fall Meal Plan for October!
It's officially Fall and with the cooler weather and changing leaves comes a new set of in season produce!
You'll find a wide variety of winter squash, dark leafy greens, and root vegetables start to bring a change in texture and flavor to your dinner table. Personally, I'm ready for the change (and all things pumpkin!)
This fall produce guide is full of seasonal fruits and vegetables that pair perfectly with this Healthy Fall Meal Plan. Or build your own meal plan with this tutorial on How to Make a Meal Plan that Works!
Why eat Fall seasonal produce?
Eating seasonal produce is one way my family is able to keep our grocery budget all year long.
I use my price book to help me keep track of when prices will begin to drop on our favorite seasonal foods. Since these fruits and vegetables are harvested in season, they taste amazing too!
$50 October Meal Plan
Sign up to get instant access to my
$50 October Meal Plan
, complete with recipes and shopping list!
Fall Produce in Season for October
Apples
Apple picking, apple cider, apple bobbing at fall festivals are all parts of great autumn memories! This is the time to stock up and make all things apple. High in fiber, vitamin C, potassium, and vitamin K, you can feel confident you and your family are getting good nutrients when you eat lots of apples.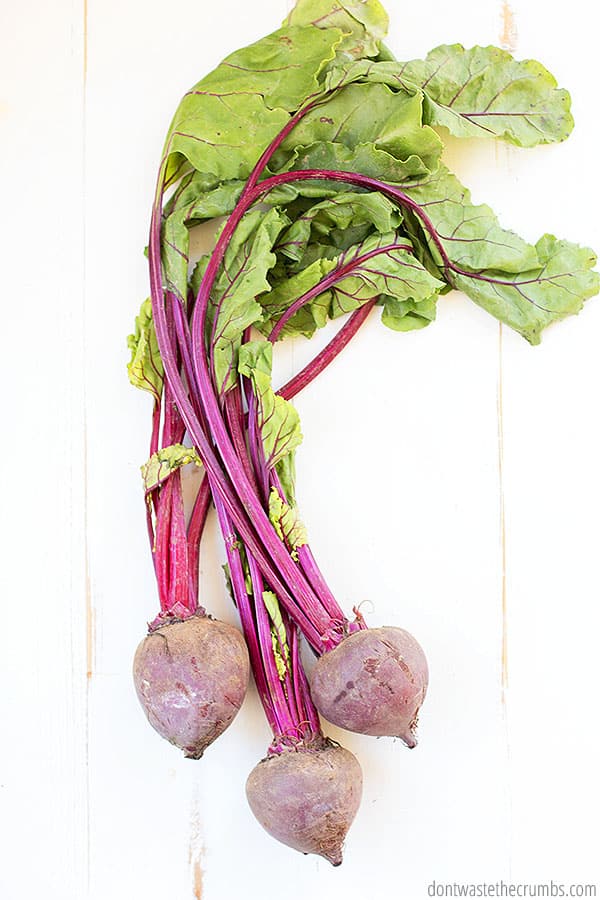 Beets
It's that time of year when root vegetables are coming back into season! Beets are incredibly nutritious and low in calories. You can usually find them at the grocery store in a deep red color (which WILL stain your hands when cutting if you're not careful!). I have found them in gold, white, pink, and striped!
Carrots
Like beets, carrots are back in season and are high in nutrients! Their bright orange color comes from the beta-carotene which your body converts to Vitamin A. It's helpful to have strong eyes when winter comes and the sun sets early!
Collard Greens
Good ole classic collard greens are DELICIOUS. They are in the family of cabbage, kale, Brussels sprouts, and Swiss chard. This thick leafy vegetable is high in vitamins K and A, plus fiber and antioxidants. Personally I think they taste best cooked. You can often sub collard greens for Swiss chard or kale.
Cranberries
October is when you'll start seeing fresh cranberries in stores. While they are typically reserved for holiday meals, you can always stock up and dehydrate cranberries for use all year long! Cranberries are known for being high in antioxidants but also help fight inflammation, boost circulation, and aid digestion.
Eggplant
Eggplants tend to grow best in warmer weather, but in some places you'll see it at Farmer's Markets into October. I find it interesting to find different varieties of eggplant and see if my family can guess what it is at dinner time!
Grapes
Grapes are still good to buy in the fall! There are a wide variety of colors of grapes and it's good to mix them up. All grapes have Vitamins C and K, and Copper. All which lead towards boosted immune systems, gut health, and a better night's sleep.
Melon
We're pushing it here for melons to be in season. You may not find any good watermelons but honeydew and cantaloupe are holding on just a tad bit longer. Cantaloupe is especially high in vitamins A and C. Great for school lunches!
Mushrooms
Mushrooms tend to be a love or hate kind of thing. Personally, I love them and my people are slowly coming around to loving them too! Mixing up the varieties by finding "fancy" mushrooms on sale helps keep it interesting at the dinner table.
Pears
Pears are a super tasty fall fruit and add great variety to the table! Use these tips to ripen your pears at home. They are high in folate, vitamin C, copper, and potassium, adding a lot of nutrients to your diet.
Potatoes
Since you can find potatoes for low prices year-round, it's hard to remember that they actually have a season! Fall and Winter are peak times for potatoes of all kinds. Some people think that white potatoes are not a good source of nutrients because of their high starch content and white color. But actually, as a whole food they are a nutrition powerhouse with tons of vitamins and minerals!
Pumpkin
YES! Pumpkin season is in full force! For some reason, this is the BEST EVER winter squash. Pumpkins are high in vitamins, minerals, and antioxidants making them very healthy. Most of the time you'll find them in desserts and (amazingly tasty) lattes. But eating the fruit simply roasted is quite tasty!
Spinach
Like collard greens, hearty green spinach is starting to come back into season. Spinach is an excellent go-to for adding vitamins and minerals to your diet. Add to smoothies, salads, and soups!
Winter Squash
It's hard to mention pumpkins and not give the other varieties of winter squash some face time! Some favorites in our house include butternut, acorn, and spaghetti. Winter squash are generally high in vitamin A and vitamin C, as well as dietary fiber, manganese, copper, potassium, and folate.
Plan Ahead for More Fall Vegetables!
Ready to plan ahead with fall produce in season for next month's meals and grocery lists? Check out our Seasonal Produce Guide for November and get stocked up for another great month of nature's goodness!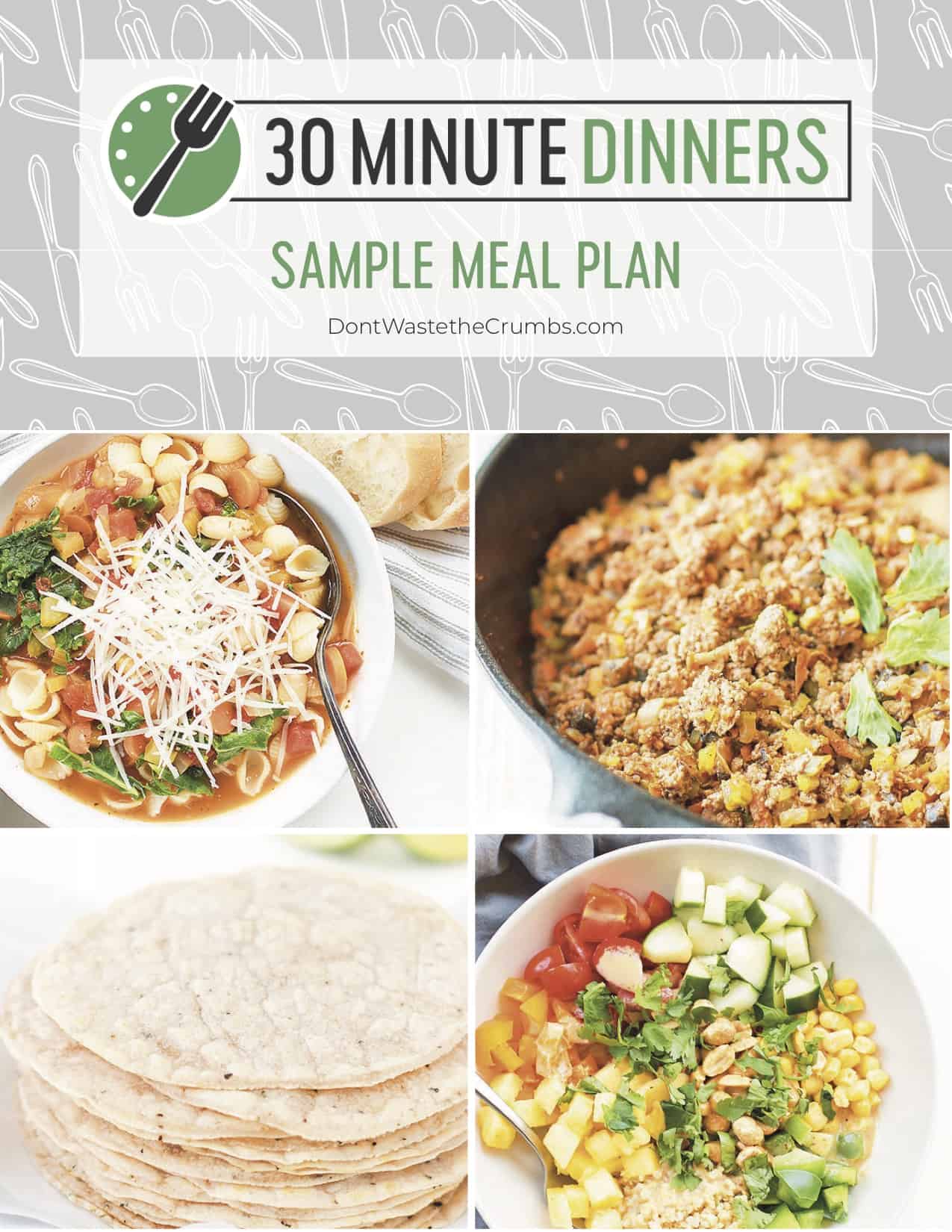 30 Minute Dinners Sample Meal Plan
Sign up to get instant access to my
30 Minute Dinners Sample Meal Plan
, complete with recipes and step-by-step instructions!
Do you need more ways to save on groceries?