See which Summer vegetables are still here with this August Seasonal Produce Guide! Use this produce list to build your meal plan and save money on food! Take this guide and the July Seasonal Produce Guide with you to shop the farmer's market!
Even though it is nearly back-to-school time, my brain and appetite are still in summer mode!
Tasty berries, fresh corn, and juicy tomatoes are all over our August Meal Plan as we enjoy the last tastes of summer. Other seasonal favorites are almost gone like cherries, mangoes, and cucumbers.
I'm utilizing some food storage techniques like dehydrating fruit, canning tomatoes, and freezing berries to get the most bang for my buck. Putting up food in the pantry is a great way to eat real food on a budget all year long!
Why eat seasonal produce?
In-season produce is healthier, tastier, and much cheaper! Food grown in its optimal season tends to contain higher amounts of nutrients. It also allows the full flavors of the food come through.
One way my family has been able to stick to our food budget (and buy a house with CASH) is to be sure to buy seasonal produce. This really helps keep costs down! When you're shopping at your farmer's market or grocery store, you will find all the amazing seasonal produce in stock!
Feel free to use the June Seasonal Produce Guide and July Seasonal Produce Guide along with this August Seasonal Produce Guide. Many of the current seasonal vegetables are good all summer long.
August Seasonal Produce Guide
Blackberries
Berry season is still in full swing in most places, although it will start to wind down soon. This is when I use my tricks for freezing blueberries and raspberries for all-year treats! (These methods work on blackberries!)
Blackberries are high in Vitamin C and Vitamin K. Plus lots of dietary fiber. I'm all about some good gut health!
Cherries
I cannot get enough cherries when they are in season! Since cherry season can be so short, I'm sure to indulge every bit I can! Cherries are high in antioxidants and improve heart function and overall body wellness.
Corn
Corn on the cob is one of those easy crowd-pleasers when you've got company. And you can feel good feeding it to everyone since it is a good source of vitamins A, B, and E plus many minerals. Corn is high in fiber and can help fight against constipation, too!
Eggplant
Most of the time we think of eggplants as the oddly shaped, dark purple, strange tasting vegetable. But did you know that eggplants actually come in a wide variety of colors, shapes, and sizes? AND they don't taste that bad! They are high in fiber, protein, and manganese, low in calories, and a good source of antioxidants.
Green Beans
I must admit, sometimes fresh green beans from the farmer's market don't look that appealing. BUT once you roast them up, toss with some butter, add a little garlic they are mouth-wateringly delicious! They are full of vitamins and minerals such as vitamins A, C, B6, and folic acid, calcium, iron, and potassium. So you really should give them some room at the table!
Mango
High in minerals like potassium, magnesium, and iron plus vitamin C, mangos are perfect for keeping your immune system strong. We're headed back to school soon and I'm all about boosting our immune systems before starting!
Melons
August is still prime time for watermelon, but don't forget about cantaloupe and honeydew melon! You should be able to find a variety of melons in season this month. Melons are high in vitamins A, B, and C. Plus various minerals like sodium, potassium, and magnesium.
Peaches
I LOVE peach season! And it's so wonderful when the fruit is so healthy for you. These stone fruits are a rich source of potassium, vitamin A, beta-carotene, and vitamin C. They include anti-aging properties and aid in digestion!
Peppers
In July's Produce Guide, I talked about how bell peppers are full of vitamin C and antioxidants. This goes for hot peppers like jalapenos and habaneros too! They are surprisingly high in iron as well. So if you aren't into munching on sweet peppers dipped in homemade ranch try one of these recipes.
Radishes
Radishes are one of those vegetables that are easy to grow all year long! We're still so/so on eating them fresh, but roasted radishes are amazing! They are rich in potassium and calcium and also high in B vitamins which makes them a great addition to a varied diet.
Summer Squash
If you have a neighbor growing summer squash, they probably already loaded you up with a bagful! This is the perfect August seasonal produce. They are easy to grow and are typically a high yield vegetable, no matter where you live! Squash has a lot of vitamin C, beta-carotene, folate, and fiber.
Tomatoes
Fresh tomatoes are in full swing! They are high in vitamin C, A, and K. Plus tomatoes have high amounts of lycopene which is great for heart health. Lycopene is also what gives tomatoes their bright red color.
Do you need more ways to save on groceries?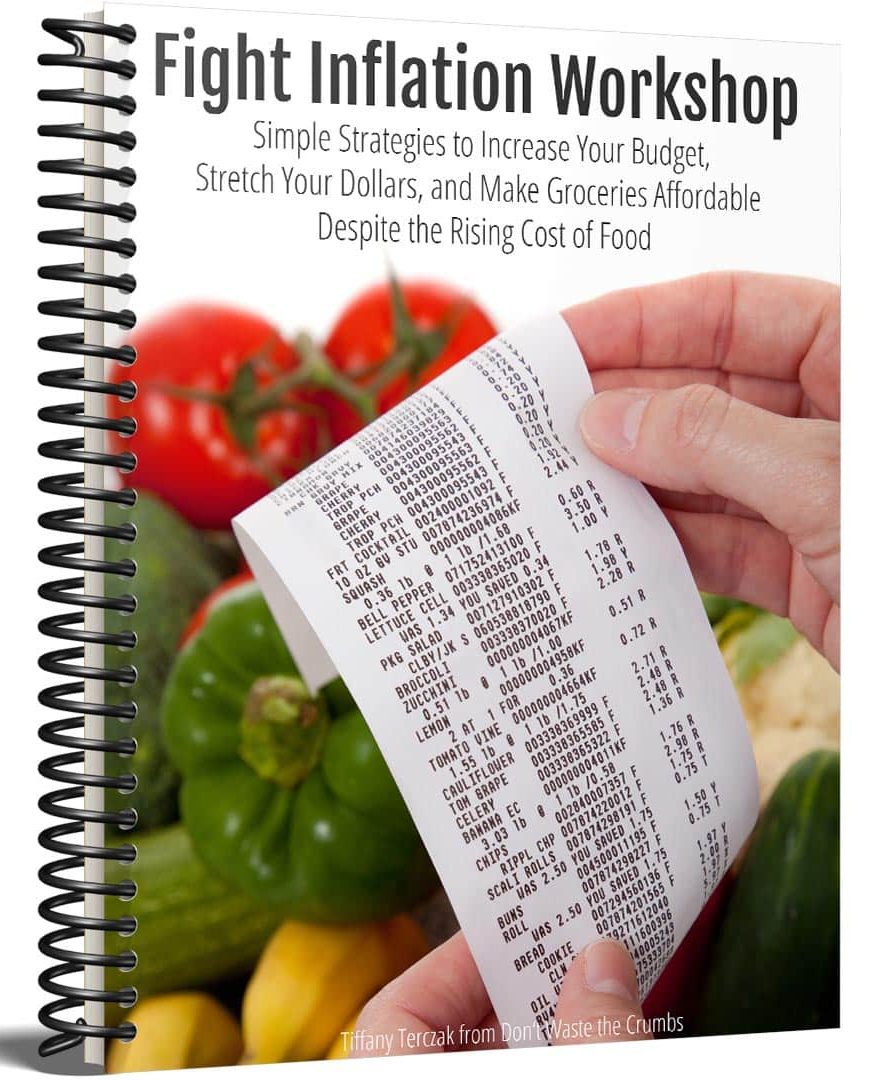 Fight Inflation Workshop
Sign up for my FREE
Fight Inflation Workshop
and learn simple strategies to save money, even with rising food costs!