An easy method for making crunchy quick pickled jalapenos in under 10 minutes, with a tutorial for canning or storing in the fridge. The BEST addition for tacos!
Vegetable gardens can be hit or miss. My first year growing peppers, I had four plants and got maybe 3 peppers in total. One plant didn't produce any fruit at all!
This year, though, I have two jalapeno plants that are producing more jalapenos than I know what to do with!
We're adding jalapenos to our homemade pizza, to our potato hashes, to our spicy citrus black beans, to our chili… pretty much everything!
Somehow, I continue to have too many and that's when I thought about making pickled jalapenos!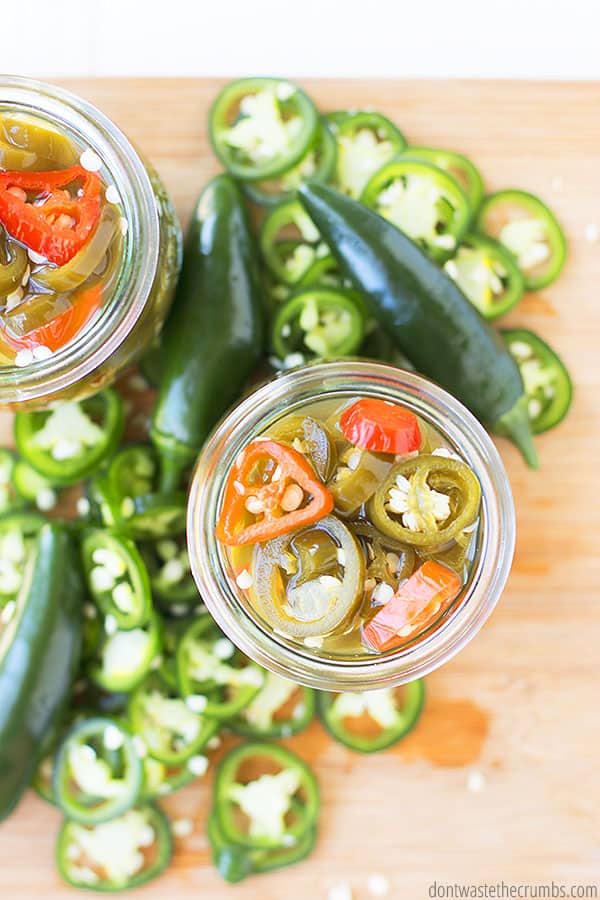 Quick Pickled Jalapenos
As it turns out, making pickled jalapenos is REALLY easy. It's just as easy as my homemade hot sauce recipe (copycat Frank's hot sauce), and just as delicious!
Aside from being easy, this pickled jalapenos recipe is:
Quick. They're ready in 10 minutes or less.
Good! You'd be surprised at just how delicious pickled jalapenos are!
Versatile. Use them as pizza toppings or make your favorite restaurant-style salsa.
Hot… or not. You can adjust the heat on pickled jalapenos, which is great if you have a hot plant like I do!
Great for big batches. My jalapeno pepper plant produces 6-7 peppers PER DAY. Thankfully, this recipe can easily be doubled or tripled as needed!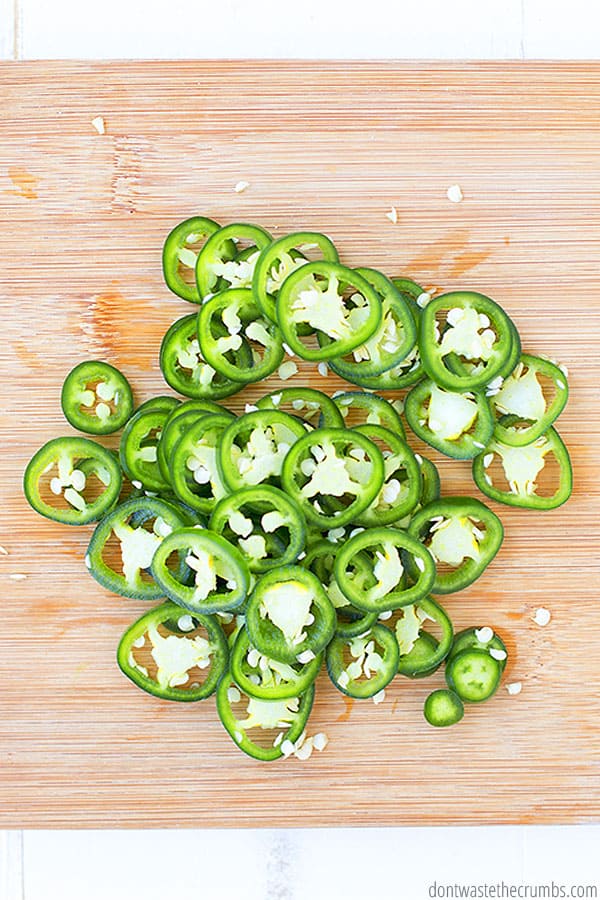 Ingredients for Homemade Pickled Jalapeno Peppers
You'll be surprised at how short the ingredient list is for homemade pickled jalapeno peppers. You may, perhaps, be even more surprised that you likely have everything you need already in your pantry!
Jalapenos. You need 6-7 for the recipe below. If you have more, double or triple the recipe!
White Vinegar. Plain white vinegar is what you need for this. You could use apple cider vinegar in a pinch, but it will affect the flavor.
Water.
Sugar. Not much – just a little bit to help with the heat.
Salt. Not much here either – just a bit for flavor.
And that's it! So pull out your stockpot and let's get started!
How to Make the Best Crunchy Pickled Jalapenos in 10 Minutes
This truly is a 10-minute recipe and it's only three steps:
Combine the vinegar, water, salt, and sugar in a large pot and bring to a boil.
Add the peppers and turn off the heat.
Wait 8 minutes before freezing or canning.
See? Isn't that EASY?!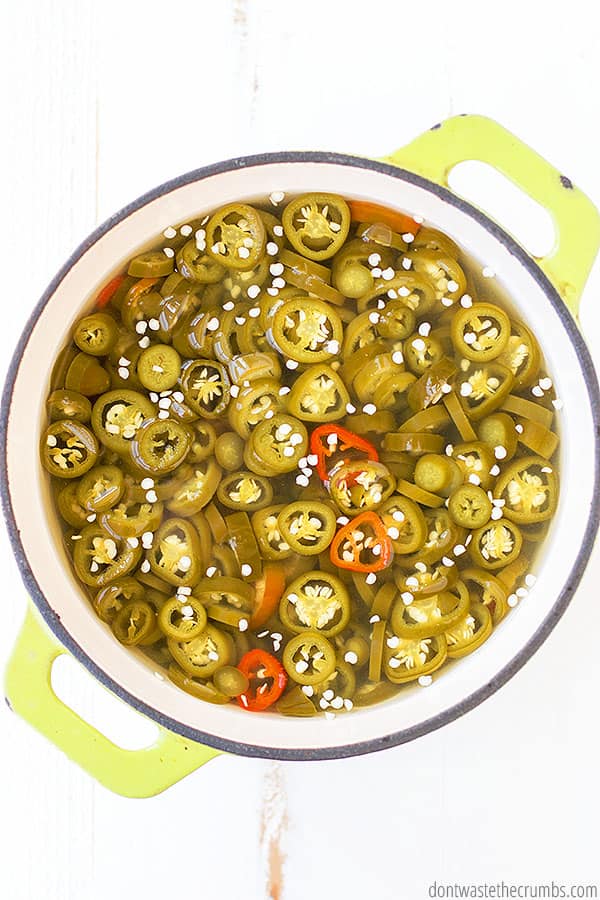 Are pickled jalapenos hot?
They can be, depending on how hot your peppers are and how much sugar you add. My pepper plant happens to be super hot, but we like it that way. I just added 1 Tbsp of sugar per batch. You can add more or less sugar to control the heat.
Are pickled jalapenos healthy and good for you?
You saw the list of ingredients, right? Most of the sugar will stay in the brining liquid, so I think they are definitely healthy!
What about pickled jalapenos with carrots and onions?
If you'd like, you can certainly add carrots and onions, just like the store-bought canned jalapenos come with. Just throw them in the pot when you add the peppers.
How to Can Pickled Jalapenos
According to the USDA canning guide, pickled jalapenos can be canned via water bath and processed for 10 minutes.
If canning scares you, you can freeze pickled jalapenos in glass jars. Here's how to freeze glass jars without breaking them. They'll keep in the fridge for several weeks too!
Other Favorite Preserving Tutorials
Easy Pickled Jalapenos
An easy method for making crunchy quick pickled jalapenos in under 10 minutes, with a tutorial for canning or storing in the fridge. The BEST addition for tacos!
Author: Tiffany
Prep Time:

10 mins

Cook Time:

5 mins

Total Time:

10 mins

Yield: About

8 oz

1

x
Category:

Sauces/Condiments

Method:

Boil

Cuisine:

American
1 cup

white distilled vinegar

1 cup

water

2

garlic cloves, minced

1 Tbsp

granulated sugar

1 Tbsp

salt

6

–

7

jalapeno peppers, sliced
Instructions
Combine the vinegar, water, garlic, sugar, and salt in a medium pot and bring to a boil. Add the jalapeno slices, stir well and remove from the heat.
Let the peppers sit for 8 minutes.
Use a ladle to remove the peppers from the pot and to a glass jar. Pour the liquid over the jalapenos to fill the jar.
Store in the refrigerator for several weeks, freeze or can using a water bath method.
Keywords: Pickled jalapenos