Learn the process of how to freeze raspberries with this easy tutorial, from wash to store to how to defrost! Keep fresh frozen berries on hand year-round for recipes like berry pie or fruit pizza!
Everything You Need to Know About How to Freeze Raspberries
Of all the berries, it seems like the season for fresh raspberries comes and goes in a flash.
The local farms offer raspberries for only a few weeks, and if I'm not on top of my game, they go from a great deal to sticker shock at the store in the blink of an eye!
Fortunately, I've found an easy way to enjoy the benefits and deliciousness of them all year long: frozen raspberries!
Putting up Frozen Raspberries
It might sound like no big deal, I mean, we think of freezing blueberries and freezing strawberries all the time, but did you know you can freeze raspberries too?
Here's why it's high on my to-list each spring:
I can take advantage of sale prices, or u-pick farms, and save money.
I can enjoy raspberries in AND out of season.
Putting up frozen raspberries is SO EASY!
Both of my kids LOVE raspberries, and this is an easy way to say "yes" when they're expensive at the store.
Can you freeze raspberries?
Yes! And I mentioned how easy it is to freeze raspberries, right? Let me show you exactly how to do it!
Supplies for Freezing Raspberries
You don't need much for freezing raspberries, but these two things are a must:
A rimmed baking sheet (I have these).
Freezer-safe quart-size storage bags (I don't recommend gallon-size).
You'll put the raspberries on the baking sheet, and it's important that there's a rim so the berries don't roll off! (Unlike these cookie sheets that don't have rims.)
Once frozen, you'll move the raspberries to the freezer-safe bags for storage. If you freeze them in 2 cup portions (which I recommend), a quart-size bag is perfect.
If you prefer to freeze them in a smaller, one cup portion instead, you can use a sandwich-sized bag. Make sure though, that you are using the thicker freezer-safe bags and not the thin and flimsy bags you'd use for a sandwich.
Thicker bags will prevent freezer burn while the thin bags will encourage ice build-up and make your raspberries very soggy when you thaw.
Tip: Maximize your freezer space by using cooling racks! I have this set of cooling racks and I use them to stack the sheet pans on top of each other to save room in my freezer. This will let you freeze the berries vertically, saving you space for other things in the freezer!
How to Freeze Raspberries
The method for freezing raspberries is fairly straightforward, and it's much like my method for how to freeze blueberries and how to freeze strawberries.
Wash your raspberries.
Pick over fresh raspberries and if desired, set aside any raspberries that are already starting to soften (eat those now!)
Place your raspberries on a rimmed baking sheet in a single layer.
Freeze until frozen through and store in the freezer!
If you're worried about the raspberries sticking to the sheet pan, I recommend using either a Silpat mat (I have this set) or parchment paper. This will allow you to remove the berries from the pan easily.
It's worth noting that if you have a really full sheet pan, it might take up to 4 hours for the fruit to completely freeze through. If there's not much fruit on your sheet pan, they may be solid enough after just one hour.
Do you wash raspberries before you freeze them?
Yes! You'll definitely want to wash raspberries before you freeze them. You could use a store-bought produce wash, like this one, but I recommend using one of my homemade produce washes instead – they're just as effective, and much more affordable!
How do you freeze raspberries without getting mushy?
Unfortunately, frozen raspberries won't be as firm as fresh raspberries when they thaw. It's just the way it is.
If you want raspberries for snacking or topping oatmeal or yogurt, I highly recommend using fresh raspberries. If you're using them for smoothies, pies or to make jam, frozen raspberries would be perfect!
How to Make Freeze Dried Raspberries Powder
Despite the similar name, freezing raspberries is NOT the same as freeze-dried raspberries.
In order to freeze-dry, you need a special machine that costs anywhere from $2,000 to $4,000 (or more!). This is a great article on freeze-drying if you wanted to learn more about that process.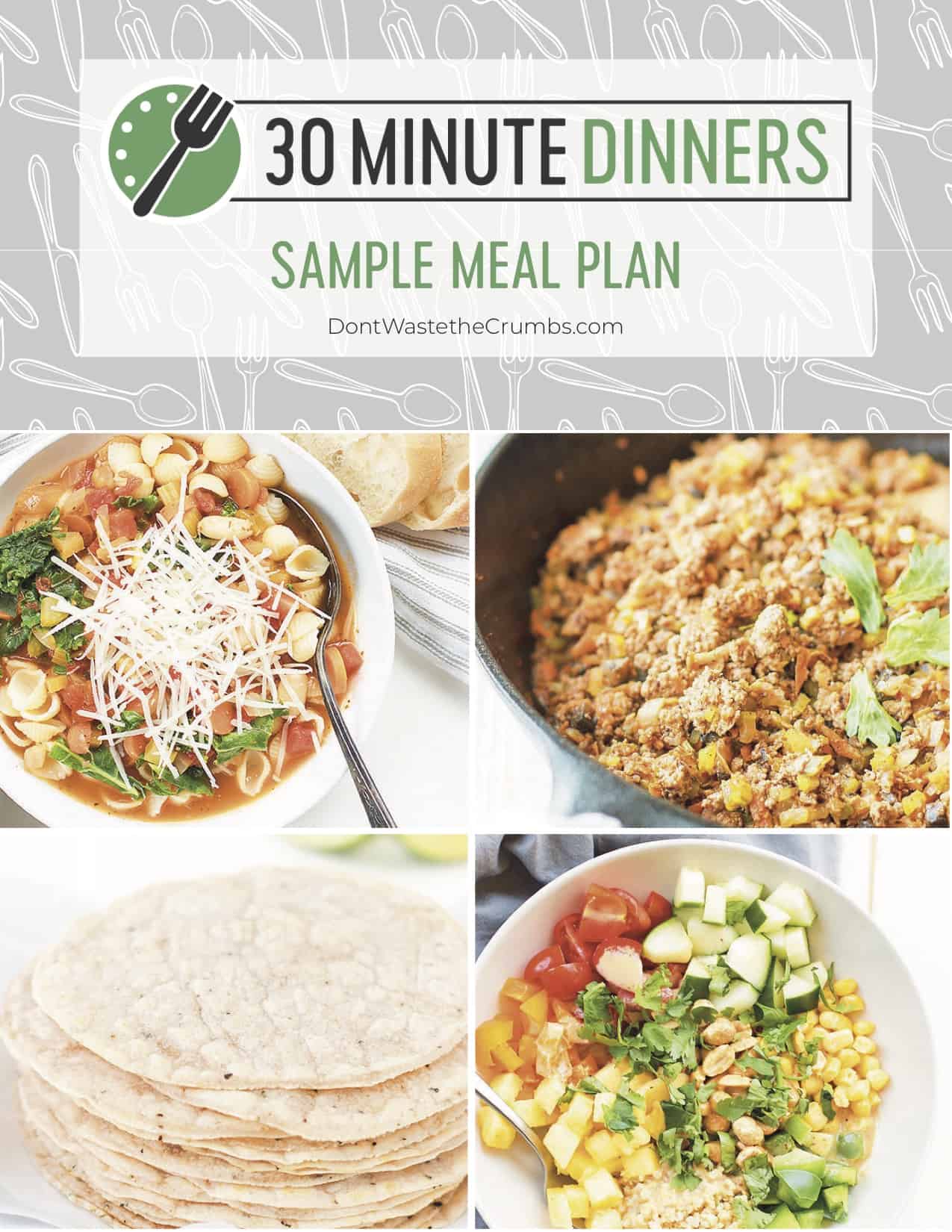 30 Minute Dinners Sample Meal Plan
Sign up to get instant access to my
30 Minute Dinners Sample Meal Plan
, complete with recipes and step-by-step instructions!
Great Ways to Use Raspberries
Raspberries go really well in so many recipes. Here are some of my favorites:
More Tutorials on Freezing