Learn How to Freeze Avocado with this super convenient and easy method. Uses only 2 ingredients, peeled avocados and lime juice. Freezes for up to 3 months and is perfect for spreading on toast or making guacamole!
Everything You Need to Know About
I'm a huge avocado fan and go giddy when I see them on sale for 50¢ each.
The only downside is, the low price makes me want to buy a lot, but avocados can go back quickly!
While it's best to enjoy diced or sliced avocados when they're fresh, you can save them for later and make an easy guacamole or avocado toast or smear for sandwiches!
Learning how to freeze avocado is the best way to do that!
How to Freeze Avocado
Aside from purely LOVING avocado, there are a few reasons to consider freezing them:
You can take advantage of sales and discounts
Preparing for the freezer is essentially the prep work for the recipe
It's EASY
You only need two ingredients
You can avoid food waste
Plus having some avocado in the freezer means being able to whip up a last minute appetizer or side dish without having to go to the store. Which is ANOTHER way we're saving money!
How do you store avocados in the freezer?
This process is straight-forward and easy, and you only need two things:
Peeled avocado. The skin of an avocado can negatively affect the freezing process, so you need to first remove the fruit from the skin.
Lime juice. Both fresh and bottled work.
Can I freeze mashed avocado?
Yes! Use a potato masher (or food processor) to mash the fruit and add lime juice!
How long will avocados keep in the freezer?
If you've removed all the air from the container, the avocados will be good for up to 3 months.
Can you Freeze Avocado? Step-by-Step Tutorial.
You can freeze whole avocados, or mashed or sliced or diced, in three simple steps.
Slice in half, remove the pit and scoop the flesh out of the skin.
Mash, slice, dice or leave whole, and mix with lime juice.
Store in a freezer-safe container with as much air removed as possible.
That last step is crucial. If there is extra air in the container, the surface of the avocado will turn brown, so make sure you get as much air as possible out of the container!
I prefer to store mashed avocado in a zip-seal plastic bag, but you could store it in ice cube trays too. Remember to limit exposure to air, both in the ice cube tray and when you remove the cubes, so it doesn't turn brown!
How to Thaw Frozen Avocado
I recommend thawing in the fridge for a couple hours to overnight.
What to Make with Frozen Avocado
If you love to add diced avocado to salads, like my Sweet Kale Salad – Or sliced avocado to enchiladas, like my Sweet Potato Black Bean Enchiladas, then you'll want to do that with fresh avocados, rather.
Frozen avocados are best for situations when you don't need a firm texture, like guacamole or avocado toast or an avocado dip.
The Best Way to Store Fresh Avocado
Speaking of fresh avocado, the best way to store them is to let them ripen until they are JUST soft on the counter, and the move them to the fridge.
I do this with all of my avocados and they'll last WEEKS this way!
More Foods to Freeze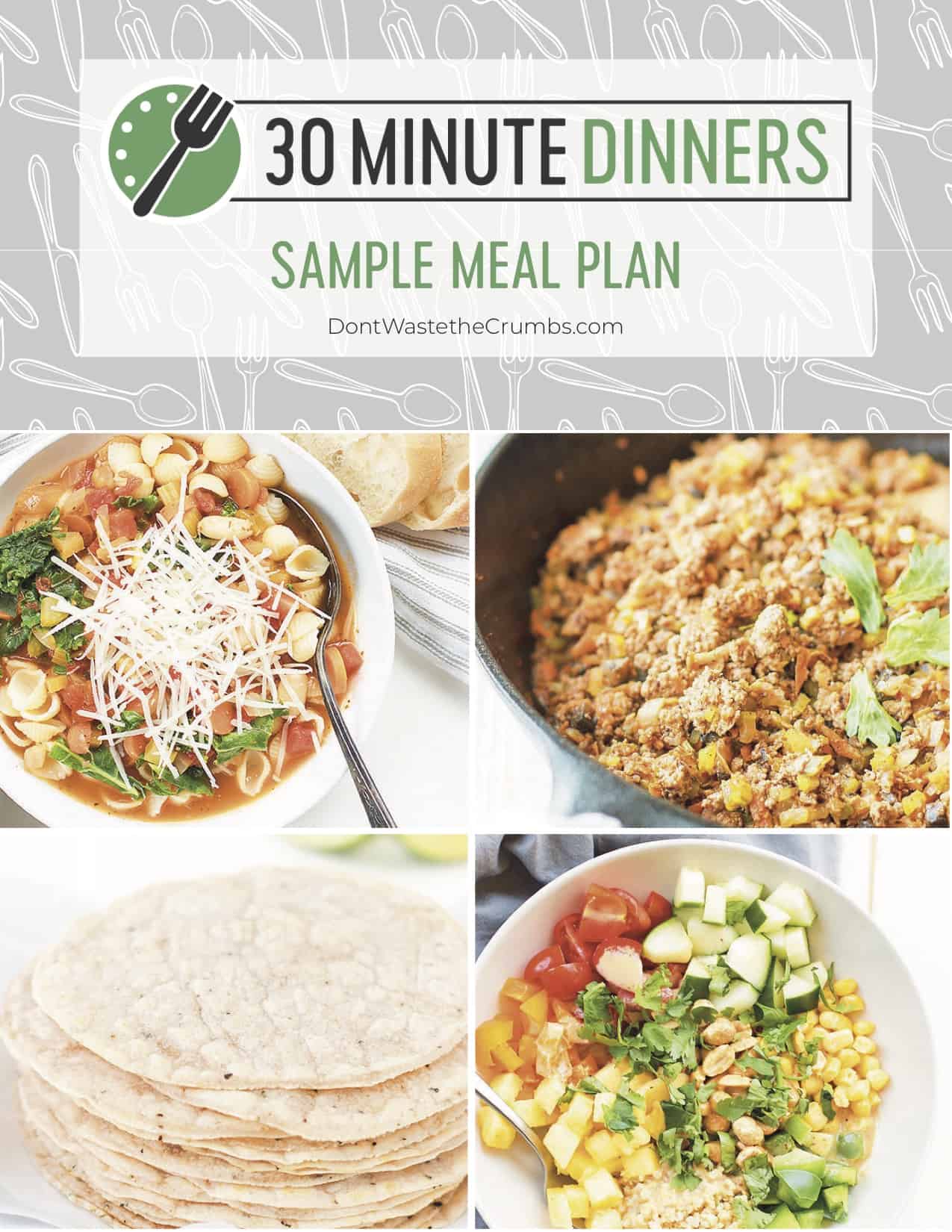 30 Minute Dinners Sample Meal Plan
Sign up to get instant access to my
30 Minute Dinners Sample Meal Plan
, complete with recipes and step-by-step instructions!