Use this July Seasonal Produce Guide to help you save on groceries! Eat good food and save money with this in season vegetable list. Find health benefits and recipes for seasonal fruits and vegetables like blueberry pie and tomato soup!
Summer is in full swing around my house. And part of summer is enjoying the fruits of our garden!
We're getting fresh tomatoes, zucchini, and jalapenos in our backyard garden. In place of bushes in the front yard, we planted kale and it's still growing strong!
Most local farmer's markets will be booming with veggies this time of year. You should be able to find seasonal favorites like corn, cucumber, watermelon, and cherries. I'm planning to stock up on cherries as soon as I see the price drop super low (I use my price book to keep tabs on seasonal prices).
Why Eat Seasonal Produce?
One way my family is able to keep our grocery budget under control, is by paying attention to prices and also stocking up when we see the rock bottom price. Buying seasonal fruits and vegetables is one GREAT way to buy food at its lowest price. Not only do farmer's markets have seasonal produce, but you'll see it in grocery stores too!
Besides super low prices, the nutrients and taste of seasonal produce just can't be beat. It's well worth taking the time to research what food is in season. And that's where this July Seasonal Produce Guide comes into play!
You'll see a lot of vegetables carry over from the June Seasonal Produce Guide. Plus a few new ones that are featured all summer long. I've included lots of peak season produce in my July meal plan to keep us on track with our budget and enjoy what the season has to offer!
July Seasonal Produce Guide
Avocado
Fresh avocados are amazing! They are so good for your heart and digestive system that I'm tempted to eat some every day. It's sometimes challenging not to over ripen avocados, but I've found that if I leave them on the counter until ripe and then put them in the fridge, I can make them last for over a week! Freezing avocado is helpful too!
Bell peppers
Bell peppers start to appear in June. By July, pepper season is in full swing! I've never been able to get home grown bell peppers grow quite as big as store-bought, but they sure do taste amazing!
Related to the spicy varieties of peppers, sweet peppers are full of vitamin C and antioxidants. They are good for eye health and also help prevent anemia because of their surprising high iron content. They are delicious eaten raw or cooked!
Blackberries
I've mentioned strawberries and blueberries being favorites in our household, but we can't forget blackberries! They have a huge supply of daily vitamin C and vitamin K which help fight illness and prevent blood loss if you get cut. Blackberries are also full of dietary fiber. A healthy gut gives you a healthy body!
Blueberries
As I just said, blueberries are a great favorite in our house! From muffins, to pancakes, to kale salads, we add blueberries to all kinds of meals in the summer! High in vitamins C, K, and B6 these little berries boost your immune system and keep you healthy in the hot sun.
Cherries
Depending on where you live cherry season can last for a couple months or be as short as two weeks! When you see cherries at a low price, be sure to snatch them up because in a blink they will be gone! Well known to be high in antioxidants, cherries are great for heart health and overall body wellness.
Corn
Now that my family lives in a southern state, we see corn MUCH more affordable and abundant. And it's so good when it's fresh! We like regular ole corn on the cob and then use leftover corn in a variety of dishes like black bean and corn salsa. You'll get lots of vitamin A, B and E plus many minerals. Corn is high in fiber and can help fight against constipation.
Cucumber
It's no doubt that cucumbers are making their appearance this time of year. We love to eat them dipped in our favorite hummus and they make a great addition to dinner salads. They are good sources of potassium and phosphorus as well as vitamin C. They have a high water content which makes them hydrating and a great snack for a day at the pool!
Green Beans
Green beans are one of those vegetables that can make almost any kid (or adult) roll their eyes. BUT if you haven't ever served them up roasted, then you haven't had them the right way! They are full of vitamins and minerals such as, vitamin A, C, B6 and folic acid, calcium, iron, and potassium. You do not want to miss out on these nutritional powerhouses.
Peaches
I'm not going to lie that Georgia is living up to its reputation when it comes to peaches. I mean, they are SERIOUSLY amazing here. Fresh slices of peaches with a bit of homemade vanilla ice cream will just make any summer night the best night ever.
These stone fruits are a rich source of potassium, vitamin A, beta-carotene, and vitamin C. They include anti-aging properties and aid in digestion!
Raspberries
Similar in nutrient values as blackberries and blueberries, raspberries are a good way to have some variety when it comes to berry flavors! They tend to be a bit more tart than their berry relatives and have high quantities of polyphenolic antioxidants like anthocyanins which give them their red color.
Summer Squash
If you've ever planted summer squash in your urban garden, you know they grow like crazy. One of the easiest vegetables to grow, you better know you like them because they'll start coming out of your ears before long! Squash has a lot of vitamin C, beta-carotene, folate, and fiber.
Tomatoes
It's time to start stocking up on tomatoes! This time of year you will start to see tomatoes in abundance and they will be SUPER tasty! My family loves fresh tomatoes in the summer but we also use a lot of tomato sauce and diced tomatoes over the winter which is why I learned how to can tomatoes!
They are high in vitamin C, A, and K. Plus tomatoes have high amounts of lycopene which is great for heart health. Lycopene is also what gives tomatoes their bright red color.
Watermelon
Just in time for the Fourth of July, you can find watermelon ready and ripe! A classic side dish for summer picnics and family gatherings, watermelon is hydrating, full of vitamins, and good for heart health.
Zucchini
Part of the summer squash family, zucchini is a bit more popular than yellow squash. Zucchini has high amounts of vitamin C, carbohydrates, and protein! It's a great addition to a plant based diet to help round out some nutrients.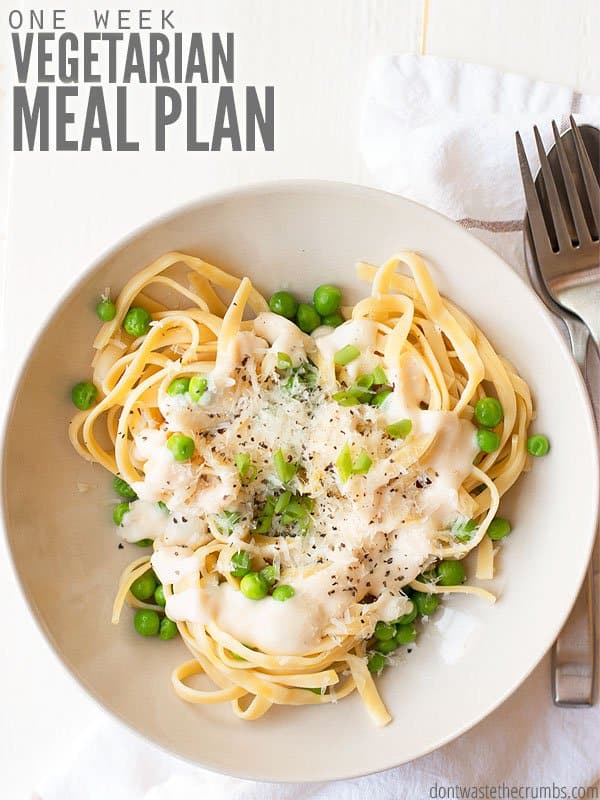 Vegetarian Meal Plan
Sign up to get instant access to my
Vegetarian Meal Plan,
complete with recipes and shopping list!!
Looking for more seasonal shopping guides?