Curious what produce is in season? This produce guide will help you find what is currently in season! Buying seasonal produce will help you cut your grocery budget and put good food on the table.

Spring is in full swing around here! I love the month of May because the weather gets warmer, it's time for planting gardens, and school is wrapping up and Summer is around the corner!
My garden's have always been a hit or miss, but as I'm continuing to try to grow some of our own food, I'm learning more about what works for us. This year there will be tomatoes, peppers, and herbs for sure!
This is the time to plant in my neck of the woods but local farms always seem to have the jump on things which means they are bringing in all sorts of new fresh fruits and veggies!
This month's seasonal produce guide is full of some new veggies along with some year-round favorites that will keep money in your pocket and feed your family well. Pair with May's Monthly Meal Plan and you've got a grocery savings duo that won't be beat!
Why buy fruits and vegetables in season?
Taste. Foods bought in peak season taste amazing. Plain and simple. This is when they are getting the optimal amount of sun and nutrients from the soil giving them the best flavor.
Nutrition. Since peak season is when these foods are naturally ready to grow abundantly, they are loaded with nutrients.
Cost. Prices go down when fruits and vegetables are growing in abundance. You can see that reflected in farmer's markets AND in your local grocery stores. Many grocery stores buy as local as possible which helps you get the freshest, tastiest foods available.
What produce is in season in May?
Apples
Apples are super popular. And for good reason! They are often low in price year round and come into peak season in Spring and Summer. Apples are high in fiber, vitamin C, potassium, and vitamin K. You'll get most of the nutrients if you eat them with the skin on. But they are often on the dirty dozen list, so buy organic if possible.
Apricots
Honestly, apricots aren't high on my list of things I look for in the spring (I'm more of a berry girl), but now that I know how good they are for you, I'd like to keep them in rotation! They are high in vitamins A, C, K, and E and are also a good source of fiber!
Apricots are in the peach and plum family so they have a large pit in the middle. Be aware if you bite into one! Fresh apricots are quite tangy, but you can find them dried as well and then they are super sweet!
Bananas
Bananas have long been known to be high in potassium and they also contain impressive amounts of vitamin C and B6, riboflavin, and folate. They have protein and carbohydrates and work great as a pre-workout snack. I love to include a banana in my daily smoothie!
Since bananas are grown in tropical climates, they are typically easy to find all year round. I wanted to feature them here because fruits are a great snack for hungry kids. Being full of nutrients and more appealing in flavor than vegetables, it's a great way to get real food nutrients into your kiddos!
Almond Butter and Banana Snack Wraps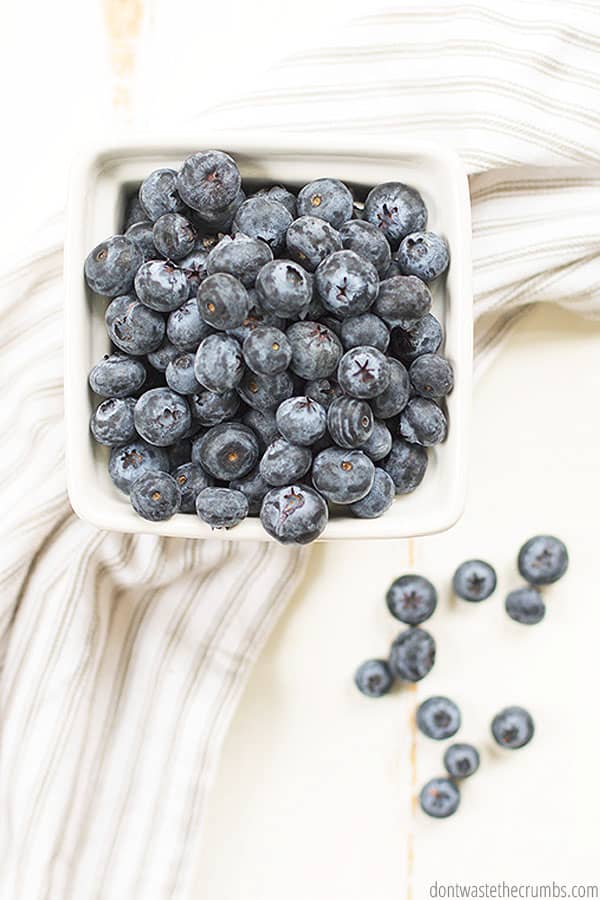 Blueberries
I love berries. Blueberries are high on my list of favorites and I LOVE when they come into season! Sweet, tasty, and full of nutrients, I'm always happy to eat fresh blueberries. They are full of antioxidants which helps add to their deep color. Blueberries are high in vitamin C, K, and B6 and also rich in fiber.
Broccoli
I added broccoli to this produce guide because it is still in season! You can read about what produce is in season in the January Produce Guide and the April Produce Guide. There are SO many great nutrients in broccoli that I like to serve it year round.
When I shop for broccoli, I usually buy the broccoli crowns. They tend to be lower in price than the full broccoli stalk. I don't always have a purpose for the stalk (unless I'm making Sweet Kale Salad) and I'm always trying to avoid food waste, so buying the broccoli crowns makes sense in more way than one!
Carrots
You will still find carrots in season in Spring and readily available year round, although their peak season is about over. You can read about them in the February Produce Guide. Rich in vitamins K and C, fiber, potassium, and antioxidant, they are great to add to your meals year round!
Cauliflower
Just like broccoli, cauliflower is still in season! I used to hate it, but once I tried it again in more creative ways, I really started loving it! Cauliflower doesn't really have that much flavor on it's own, but once you start adding in the seasoning, it really pops! Full of folate, vitamins C, K, and B, this is a great vegetable to keep on the table.
Cherries
We may be jumping the gun on finding good cherries, but if you don't see them now, you should see them by the end of May. Cherry season is SHORT and you can really only find them for a small amount of time!
Cherries are super sweet and delicious. There are a few different varieties but all have similar nutrients. Rich in antioxidants, vitamin C, potassium, and calcium, cherries are great snacks or added to tasty dishes.
Cucumbers
It may be hard to find cucumbers in the farmer's market in early May, but in some areas you'll find fresh cucumbers become available by the end of the month. Cucumbers are a great Spring and Summer snack since they are so high in water and have natural cooling properties.
Also high in potassium, phosphorus, and vitamin C, cucumbers are great to add to dip in your favorite homemade hummus!
Garlic
I'm just realizing that I haven't shared about garlic in these seasonal produce lists! It comes into season in late Winter, early Spring. And is AMAZING for your body. It has high anti-inflammatory properties and can aid in boosting your immune system. Taking raw garlic to combat common colds is extremely helpful. (This honey infused garlic recipe makes it much more palatable!)
Garlic is known for its high mineral content as well as being a rare organic source of allicin which helps reduce cholesterol. This is what gives it its "spicy" flavor. I add minced garlic to almost all my recipes even when it isn't called for. It's one of my favorite flavors to add to food!
Grapes
What produce is in season in Spring? Fruit! And grapes are included. You can find them for fairly good prices all year round, but you'll easily see grapes for under a dollar in Springtime and Summer. We love grapes plain as snacks, but you can also mix them into salads for a nice twist of flavor!
Grapes are high in phytonutrients which helps the plant fight against insects and sun. But they also help humans when we consume them. Grapes have a lot of the phytonutrients called flavonoids. These help protect the body against cancer and cardiovascular disease by reducing inflammation.
Creative Healthy Snacks for Kids (if you need something more fun than a bowl of grapes!)
Herbs
Fresh herbs are now in season! You can buy little bundles of fresh herbs at the grocery store, but if you plan on using a lot of fresh herbs (or possibly drying them yourself!) it's not a bad idea to buy a whole plant! I've recently seen fresh potted herbs at my local Kroger.
Fresh herbs not only add a lot of flavor to your dishes, but also provide additional nutrients. The more plants we eat, the healthier our bodies will be!
Lettuce Greens
It's still a good time to buy lettuce. As the warmer weather comes, eating foods that are light in flavor and calories are beneficial! I personally prefer all the salads when it's hot. It fills me up, gives me energy, and keeps me light (and looking good for the pool!).
Lettuce has a high water count giving it the light, crisp crunch salad lovers are familiar with. Also full of fiber, calcium, and iron, you'll be benefiting your body quite a bit by adding a simple side salad to dinner.
Spinach
Similar to lettuce, spinach is GREAT for a simple salad at dinner time. Higher in iron and vitamin K than lettuce, it's good eaten raw or cooked. I love adding it to smoothies and boosting the nutrients in one simple swoop!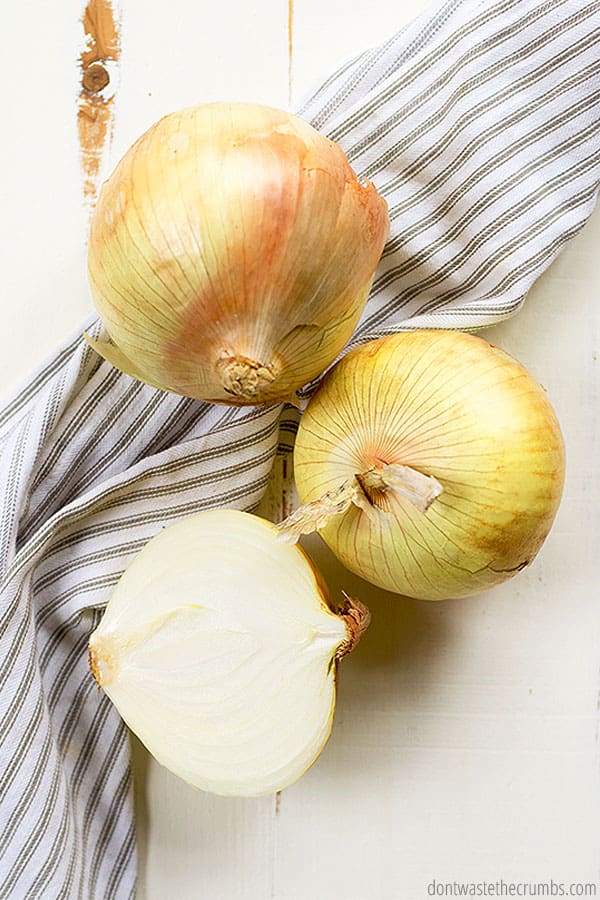 Vidalia onions
Sweet onions are booming in my area right now. I like the variety of flavor that a sweet onion gives. It's slightly different in taste than red or white onions. Onions are a great way to boost nutrients in almost any dish.
Look ahead to next month's seasonal produce: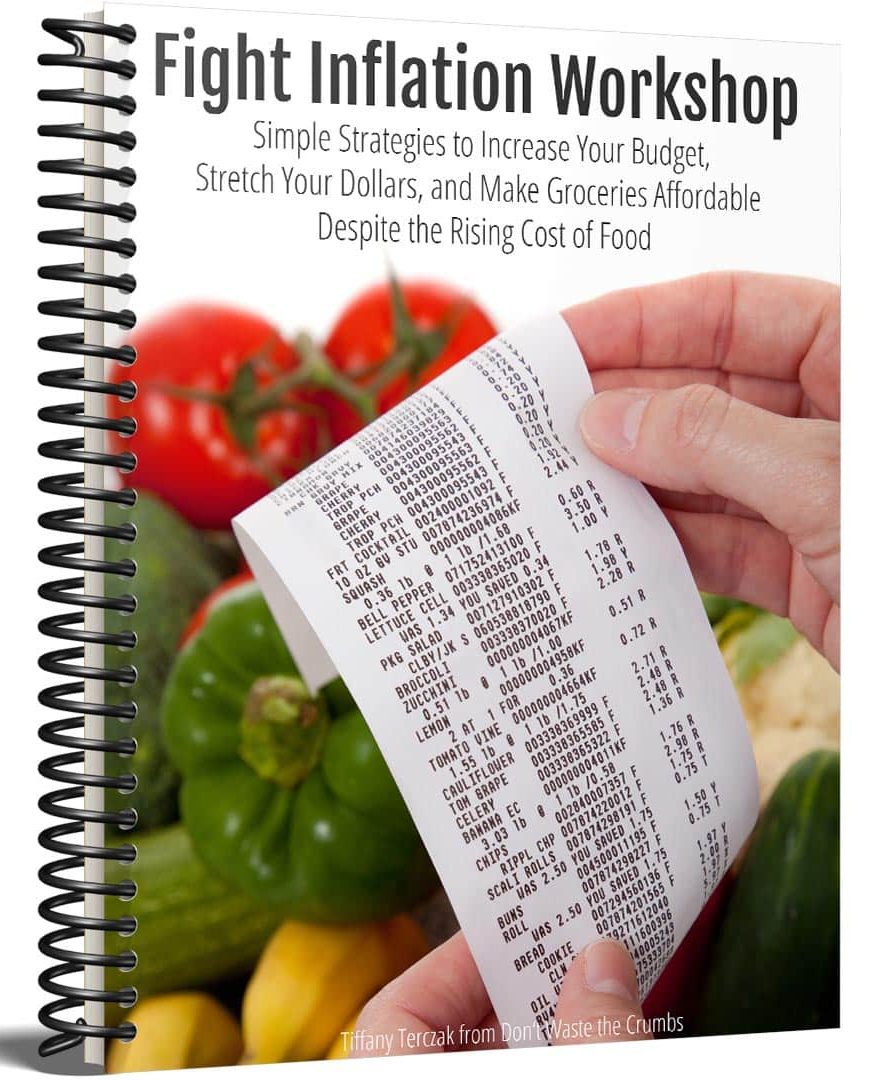 Fight Inflation Workshop
Sign up for my FREE
Fight Inflation Workshop
and learn simple strategies to save money, even with rising food costs!
Do you need more ways to save on groceries?