This healthy monthly meal plan on a budget will feed your family good food month long! Use these easy recipes to fill bellies and save money on groceries! You can even find delicious breakfast ideas like strawberry lemonade donuts and homemade breakfast sausage!
Everything You Need to Know About
May is here and that usually means the end of school (or homeschool!) for the summer. Let me tell you, I am ready!
Until then, tasty spring vegetables, green salads, and grilled meats are filling our plates and our bellies in this healthy monthly meal plan.
Eating healthy and cooking at home can be a challenge, but when you make a plan it really makes it easier! It reduces shopping time and spending. Something we can all use a little more of!
If shopping for fresh vegetables is hard for you, you may want to consider a CSA. And there are a lot of grocery delivery options available to help lighten your load and bring you tasty healthy foods. (I personally LOVE Butcher Box for our meats!)
Two Week Sample
Do you need step-by-step help with meal planning? Frugal Real Food Meal Plans is an all-in-one meal plan with recipes, shopping lists, shopping guides, money saving tips and more! Sign up below for a free sample!
Notes on this 4 Week Meal Plan
This meal plan is based on an average family of 4, costing less than $400 for the month. You may need to tailor the portion sizes to suit the needs of your family size and budget.
The goal of this meal plan is to feed our family well while wasting as little as possible. You'll notice that we're often re-using one part of a meal (like leftover salsa chicken) in another part of a meal (like filling quesadillas) in order to meet both of these goals. Keep this in mind if you rearrange the meals.
This meal plan is mostly plants, with some meat. Viewing meat as a "side dish" is one way we're able to afford grass-fed and organic meat every month! You can easily add more meat though, if you have meat and potatoes people at your table. Having all purpose chicken on hand is a great way to please the meat eaters and keep the budget down!
This meal plan is what I feed my own family, although I might add a few extra vegetables on the side.

If you want a detailed "action plan" of what this looks like in real life – what I batch cook, what I double, what I freeze for later, how I get the most out of each meal, and when I get it all done – come join 30 Minute Dinners.
Healthy Monthly Meal Plan for May
I LOVE using my freezer for stashing extra food for quick and easy dinners later on! Having a dedicated freezer cooking session works, but actually prefer to make double and triple batches while I'm already cooking.
I can easily get an extra week's worth of meals by simply making a bit extra and sticking it in the freezer. See the Meal Prep Ideas following each week to make the most of your time in the kitchen!
Week 1
Meal Prep Ideas:
Batch cook black beans and garbanzo beans in your slow cooker or Instant Pot for slow cooker salsa chicken this week and homemade hummus later in the month.
Make a double batch of Instant Pot cilantro lime rice and freeze extra for later.
Make extra tortillas and freeze extra for homemade tortilla chips in week 3.
Double your pizza dough and freeze extra for later or make homemade hot pockets for lunches.
Week 2
Meal Prep Ideas:
Make a double batch of meatballs and freeze for later.
Double the tomato basil soup and stash in the freezer.
Make extra homemade buns for burgers next week.
Make a double batch of Instant Pot Brown Rice and freeze extra for later.
Week 3
Meal Prep Ideas:
Make extra dinner rolls for easy sliders for lunch or dinner later.
Double the pasta fazool and stash in the freezer.
Week 4
Meal Prep Ideas:
Roast two whole chickens, shred and save extras in 2 cup portions in freezer for later.
Make extra tortillas and freeze for later.
Make a double batch of tortilla soup and chicken and spinach enchiladas and freeze for later.
I've found that most people have pretty solid breakfast and lunch routines but here are a few ideas if you need them! Don't forget that batch cooking breakfast on the weekend is a great help for busy weekday mornings.
Breakfast
Lunch
Dessert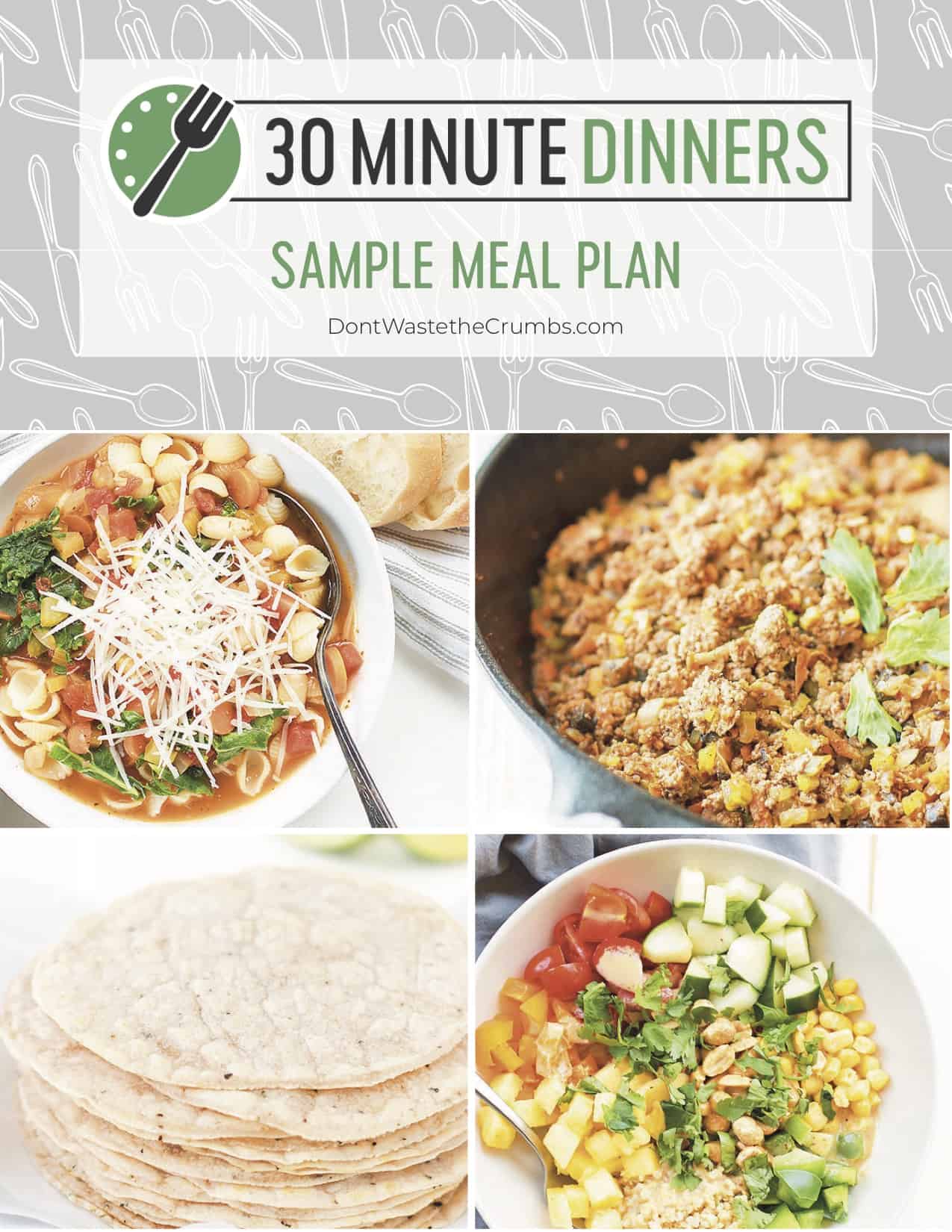 30 Minute Dinners Sample Meal Plan
Sign up to get instant access to my
30 Minute Dinners Sample Meal Plan
, complete with recipes and step-by-step instructions!