Try these easy summery dinner ideas on your next meal plan! This four-week meal plan for June will help simplify your weeknight dinners and make cooking easy! Make quick meals like chicken southwest salad and buffalo chicken pizza.
Although it's not technically summer until the middle of the month, June is the kick off for summer activities in our household.
The weather is hotter and we're ready for the pool. Vacations are scheduled, but we also fully embrace the slower pace of summer days!
This monthly meal plan for June takes into account the need for quick and easy summer recipes. I don't know about you but I like meals that don't require me to heat up the house.
Use these summery dinner ideas as is or for inspiration to build your own meal plan!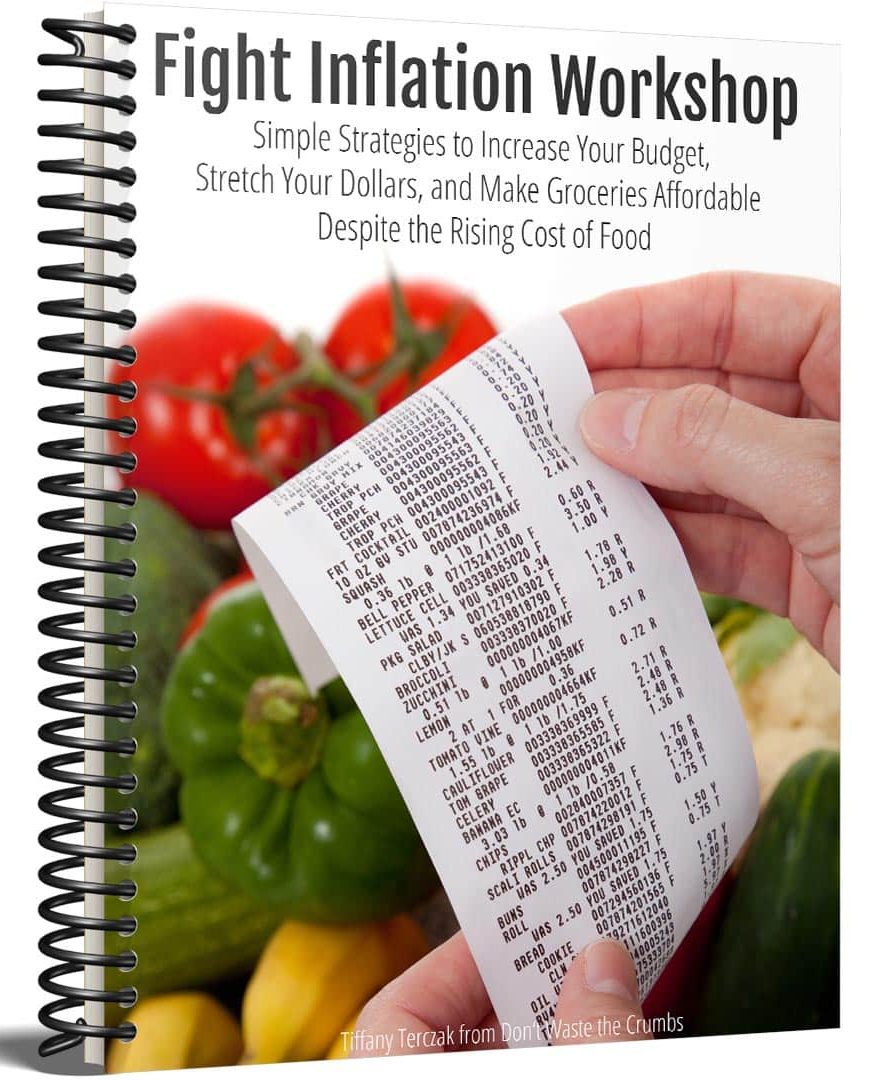 Fight Inflation Workshop
Sign up for my FREE
Fight Inflation Workshop
and learn simple strategies to save money, even with rising food costs!
Notes On This 4 Week Meal Plan
This meal plan is based on an average family of 4, costing less than $400 for the month. You may need to tailor the portion sizes to suit the needs of your family size and budget.
The goal of this meal plan is to feed our family well while wasting as little as possible. You'll notice that we're often re-using one part of a meal (like leftover rice) in another part of a meal (like veggie fried rice) in order to meet both of these goals. Keep this in mind if you rearrange the meals.
This meal plan is mostly plants, with some meat. Viewing meat as a "side dish" is one way we're able to afford grass-fed and organic meat every month! You can easily add more meat though, if you have meat and potatoes people at your table. Having all purpose chicken on hand is a great way to please the meat eaters and keep the budget down!
This meal plan is what I feed my own family, although I might add a few extra vegetables on the side. If you want a detailed "action plan" of what this looks like in real life – what I batch cook, what I double, what I freeze for later, how I get the most out of each meal, and when I get it all done – come join 30 Minute Dinners. Each month I share the behind the scenes on how we make real food on a budget work for my family!
Meal Planning Tips
I LOVE using my freezer for stashing extra food for quick and easy weeknight dinners later on! I have done dedicated freezer cooking sessions, but actually prefer to make double and triple batches while I'm already cooking.
It's easy to get an extra week's worth of meals by simply making a bit extra and sticking it in the freezer. See the Meal Prep Ideas following each week to make the most of your time in the kitchen!
Summery Dinner Ideas: Week 1
Meal Prep Ideas:
Make extra dinner rolls and freeze for sides, sandwiches, or breakfast.
Double the Garden Vegetable Soup and save in the freezer for a mix and match soup night.
Make a 4x batch of Cilantro Lime Rice and freeze for future meals.
Freeze any extra protein you have for taco nights or power bowls.
Summery Dinner Ideas: Week 2
Meal Prep Tips:
Use leftover Luau Pork for your Baja Tacos. Freeze any extras for future meals.
Use your stash of Cilantro Lime Rice for the Pork bowls or make a 4x batch of Instant Pot Brown Rice and freeze for later.
Make a double batch of Minestrone Soup for later.
Make a 4x batch of Homemade Corn Tortillas and freeze.
Use extra Homemade Buns for lunch sandwiches or freeze for later.
Summery Dinner Ideas: Week 3
Meal Prep Tips:
Make 2 lbs of black beans in the Instant Pot for salsa chicken and enchiladas.
Use any leftover Salsa Chicken in quesadillas for lunch. You should have some corn tortillas stashed in the freezer!
Make extra Instant Pot White Rice and store for later. (Or use what other rice you've already made!)
Black Bean and Sweet Potato Enchiladas are easy to double. Wrap and store the second batch for a super easy meal later.
Summery Dinner Ideas: Week 4
Meal Prep Tips:
You'll most likely use all of your whole chicken this week, but if you can make TWO whole chickens in the slow cooker and shred the second for easy protein later.
Cloud Dinner Rolls can be tripled and extras saved for later.
Make extra buns and pita bread for lunches or dinners later.
Leftover Vegetarian Pineapple Curry freezes well for a mix and match soup night.
Summer Breakfast Ideas
Summer Lunch Ideas
Summer Desserts
Check out these other Summery Meal Plans: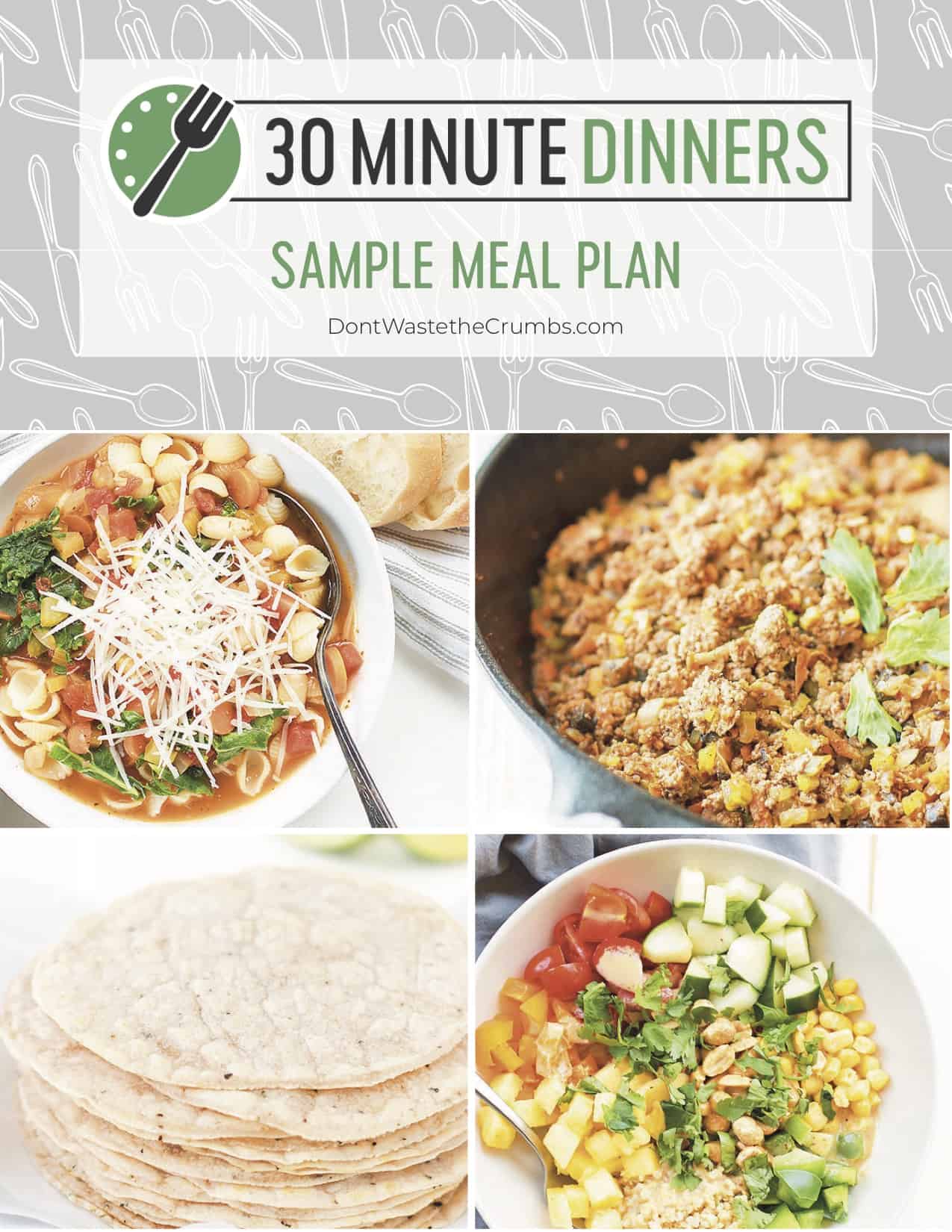 30 Minute Dinners Sample Meal Plan
Sign up to get instant access to my
30 Minute Dinners Sample Meal Plan
, complete with recipes and step-by-step instructions!
What's on your June Meal Plan?