Enjoy this In Season Produce Guide for January with fresh fruits, vegetables and recipe inspirations, like Sweet Kale Salad and Weeknight Veggie Stir Fry, to help you prepare wholesome meals for the whole family this winter!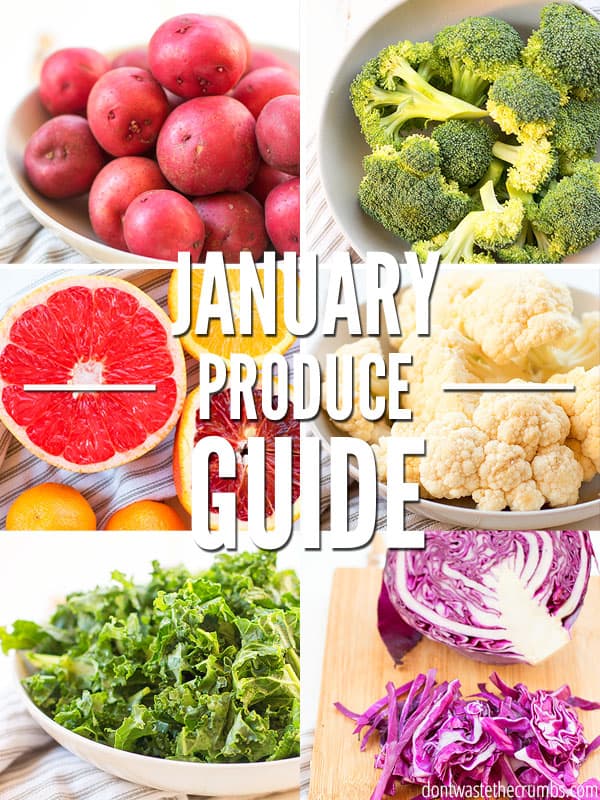 Now that the holiday season is behind us, and we've set goals for the coming year – Doesn't it feel like it's time to get back into the swing of things – minus all of the hectic holiday schedules and sweet indulgences of festive gatherings? Definitely, YES!
For me, this is the time of year when I crave fresh in season fruits and veggies to help me get back on track to meet my new healthy living (and grocery budgeting) goals…
And since it's January….
You may be wondering what in the world would be in season during this month with the longest and coldest nights of the year!?!?
Luckily, Mother Nature has just the answer for us, with in season produce for January! From vibrant citrus fruits, to sweet and earthy root vegetables, to warm and inviting aromatics…there is more than enough to choose from!
Why Should You Eat In Season Produce?
Since most fruits and vegetables appear in the supermarket year-round, you might be wondering why we should eat in season produce while every kind of produce is mostly available all of the time? Here are a couple of reasons:
It's healthier to eat in season produce

Mother Nature provides us with the nutrients that we need for each season. For example, citrus fruits (high in Vitamin C) are in-season in Winter, and we already know that we need ample vitamin C to help stay healthy throughout the winter months when colds and flus tend to be more frequent. Also, we can slow cook hard root vegetables and squashes in nourishing soups and stews throughout Winter to help keep our bodies warm.

In season produce tastes better

In-season fruits and vegetables taste better because they have been harvested closer to home until ripened, and perfectly ripened fruits and vegetables are more nutritious and taste delicious!

It's MUCH better for the budget

When farmers are harvesting an abundance of fruits and vegetables that are grown in-season and closer to home, the cost is lower to the consumer because the food does not have to travel long distances to reach your grocery stores and markets.
In Season Produce for January
Here is my In Season Produce Guide for January with the easiest-to-find produce available in any supermarket or farmers market, and recipe suggestions to help inspire your meal planning for January!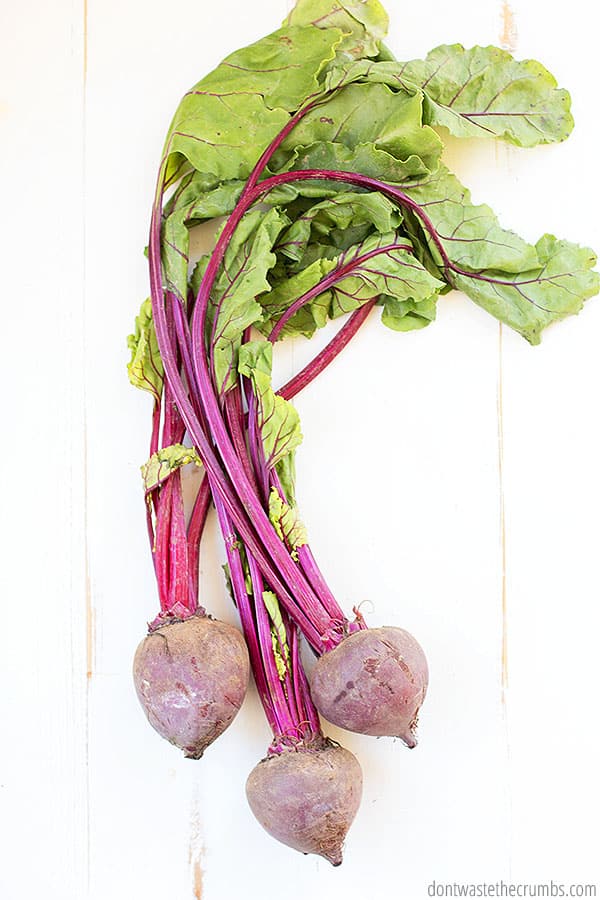 In Season Produce: Beets
Beets are sweet and earthy nutrition powerhouses, and are most commonly found in markets as a deep ruby red color. Beets are delicious raw, roasted, steamed, or pureed. Once a not-so-loved vegetable, beets are gaining popularity with the wide variety of ways to use them – providing a ton of nutrition with few calories! Try some of these recipe ideas for beets:
Fresh Broccoli
Broccoli is winter's abundant green, and like the humble beet, it's another nutrition-powerhouse, with few calories. It is known that broccoli contains more Vitamin C than an orange, and more calcium than whole milk!
Broccoli is perfect raw, sauteed, steamed and roasted. It's delicious in salads and it always pairs well with beef. Here are a few delicious ways to prepare broccoli:
Brussels Sprouts
Brussels sprouts are another one of those vegetables that people either love or dislike. But when cooked properly, they give a delicious, sweet, cabbage-like flavor and a satisfying crunch! A member of the cruciferous family, they are full of vitamins, fiber and antioxidants.
Cabbage
A member of the cruciferous vegetable family (just like broccoli, kale, cauliflower, and brussels sprouts) cabbage is in season between fall and spring. It tastes sweet and is satisfyingly crunchy. Cabbage is known to be excellent for digestion, as well as being high in Vitamins C, K and B.
Who doesn't love a good crunchy coleslaw? Here are some suggestions for preparing cabbage this January:
Cauliflower
As broccoli's closest cousin, cauliflower is also packed full of impressive nutrients and antioxidants (Vitamins A, K) as well as being high in fiber and water content (to help keep you hydrated), which are great for digestive function. Here are some ideas for using cauliflower, that even the kids will love!
Ripe Citrus Fruits (Lemons, Oranges, Grapefruits)
Citrus fruits are naturally cleansing and provide us with loads of Vitamin C and energy to help keep our immune systems strong in Winter. Vibrantly colored and both sweet and sour, they are so enlivening for recipes.
Aside from peeling and eating oranges, you can use citrus in drinks, sauces, marinades, and salads. Here are some inspirations…
Freshly Harvested Kale
Kale is a strong crunchy leaf with a bitter and peppery taste (but not as peppery as arugula), and it goes great with rich and satisfying root vegetables. It's so nutritious, full of fiber and is used in everything from smoothies to soups to sautees and of course, salads.
According to the Mayo Clinic, there are numerous health benefits of eating kale. Here are some ways that I like to prepare the "mighty" kale:
Leeks
Leeks are best described as a delightfully aromatic and colorful stand-in for onions (a cousin of onions and garlic). Really, you can replace leeks for onions in most recipes, providing more color and depth of flavor.
Leeks can be tricky to clean as dirt often hides in the long tough green stalks (you eat the part below the green stalk). You can learn about how to clean leek here. Then check out these recipes!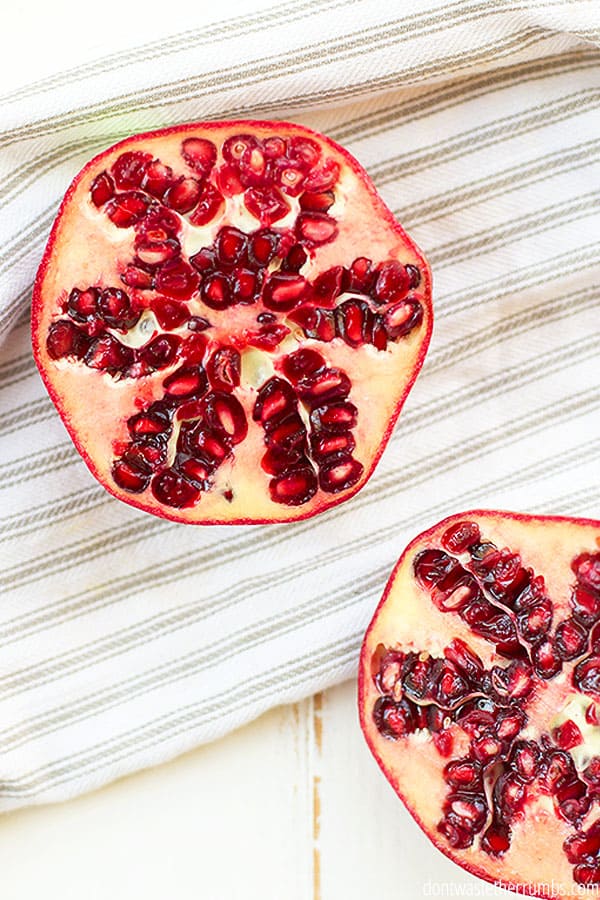 Pomegranates
Pomegranates add such a pretty pop of color to recipes. Once thought of as an exotic fruit, you can easily find them everywhere these days. Pomegranates have a delicious tangy taste and are full of potent antioxidants.
Here are some fun ways to use pomegranates to enliven recipes, plus a tutorial on how to easily seed a pomegranate…
Potatoes
Have you ever met anyone who doesn't love potatoes? I haven't! With a few varieties to choose from, they can be used in so many different ways. I love to roast them with olive oil, salt & pepper and fresh aromatic herbs. Yum!
Colorful potatoes offer more nutrition than your standard russet, but the russets are the most versatile.
Squash (Butternut, Winter, Acorn, Spaghetti)
Squash are deliciously sweet, nutty and full of soluble fiber (great for digestion!). This is yet another vegetable that is super nutritious and full of antioxidants, Vitamins A, C and E.
With many varieties of squash available, including butternut squash and winter squash, the possibilities are endless. Check out these recipes for inspiration…
More on Eating In Season Produce and Saving Money:
Choosing to prepare in season produce is the best way to eat the freshest and healthiest food possible. It is also one of the key factors in having a healthy grocery budget. To learn more about eating fresh produce in season, and how to have a healthy grocery budget, check out my other posts:
Meal Planning Made Easy
Sign up to join our FREE
8 Day Meal Planning Challenge
! Start anytime and get access to lesson videos, worksheets, and an online community.