Learn how to cut and seed a pomegranate with this simple step by step tutorial. This method is quick, easy, and saves you a ton of money! Enjoy pomegranate seeds (also called arils) as snacks, in healthy homemade lunchables, or in recipes like this simple and delicious Autumn Rice Pilaf.
Everything You Need to Know About How to Seed a Pomegranate
Of all the different fruits, I think the pomegranate is one of the most interesting. You can't bite into it. Or peel it, like you would a banana or an orange.
Eating a pomegranate takes patience, and until recently, it took some planning ahead too.
My trusty Joy of Cooking was the first to tell me how to seed a pomegranate:
Make a shallow cut all the way around the pomegranate.
Carefully peel it open.
While submerged in water, gently pull out the seeds from the membranes.
I did this, but this method took FOREVER. Literally, Mr. Crumbs and I planned the event to seed a pomegranate on a calendar. He'd do the work while I did something else on the counter next to him.
It was great to be productive, but after a few times, we became weary of the work involved and opted to skip pomegranates when we saw them on sale. Not even 25¢ a piece was tempting amidst the full hour pomegranate bonanza that would soon follow.
And then I stumbled on an awesome method to seed a pomegranate in less than two minutes. Folks, my world is complete. Here is your step-by-step guide.
How to Seed a Pomegranate
Not only is this one of my favorite kitchen hacks, it's also:
Quick
Super easy
Cost effective
If you seed a pomegranate yourself, you save money by buying just the fruit. And since it won't take you but a couple minutes to get the seeds out, I consider that money well saved!
What supplies do I need to cut a pomegranate?
How to cut a pomegranate
Using a sharp knife to cut, slice the pomegranate fruit in half, through the center (i.e. NOT from the top of the pomegranate down).
Hold one half of the pomegranate upside down in one hand, over the bowl. Hit the pomegranate with the back of the spoon, in between the center and the edge of the fruit. Rotate the fruit until the majority of the seeds (also called arils) have fallen out. The pomegranate will not be as rigid as you work your way around, so be careful not to hit your fingers.
Turn the fruit over to see if any areas were missed and repeat as needed.
Turn the fruit inside out and use your fingers to gently remove the last few remaining seeds.
Repeat with the other half of the pomegranate.
Fill the bowl with cool water. The white pith membranes will float to the top, and the seeds will sink to the bottom. Use your hands to filter out the white pith membranes and agitate the seeds. Repeat a few times until all of the membranes have been removed.
How to eat pomegranate seeds
Even when in season, pomegranates are still a bit of a luxury. They're not like bananas, that I'm so often willing to throw into any recipe. Instead, we use these most often for snacking, although on top of a salad or mixed in with Autumn Rice Pilaf or even in place of the cranberries in Cranberry Orange Scones would both be amazing. Adding them to pancakes or muffins is also an option, as is freezing them for later in the year or even dehydrating them!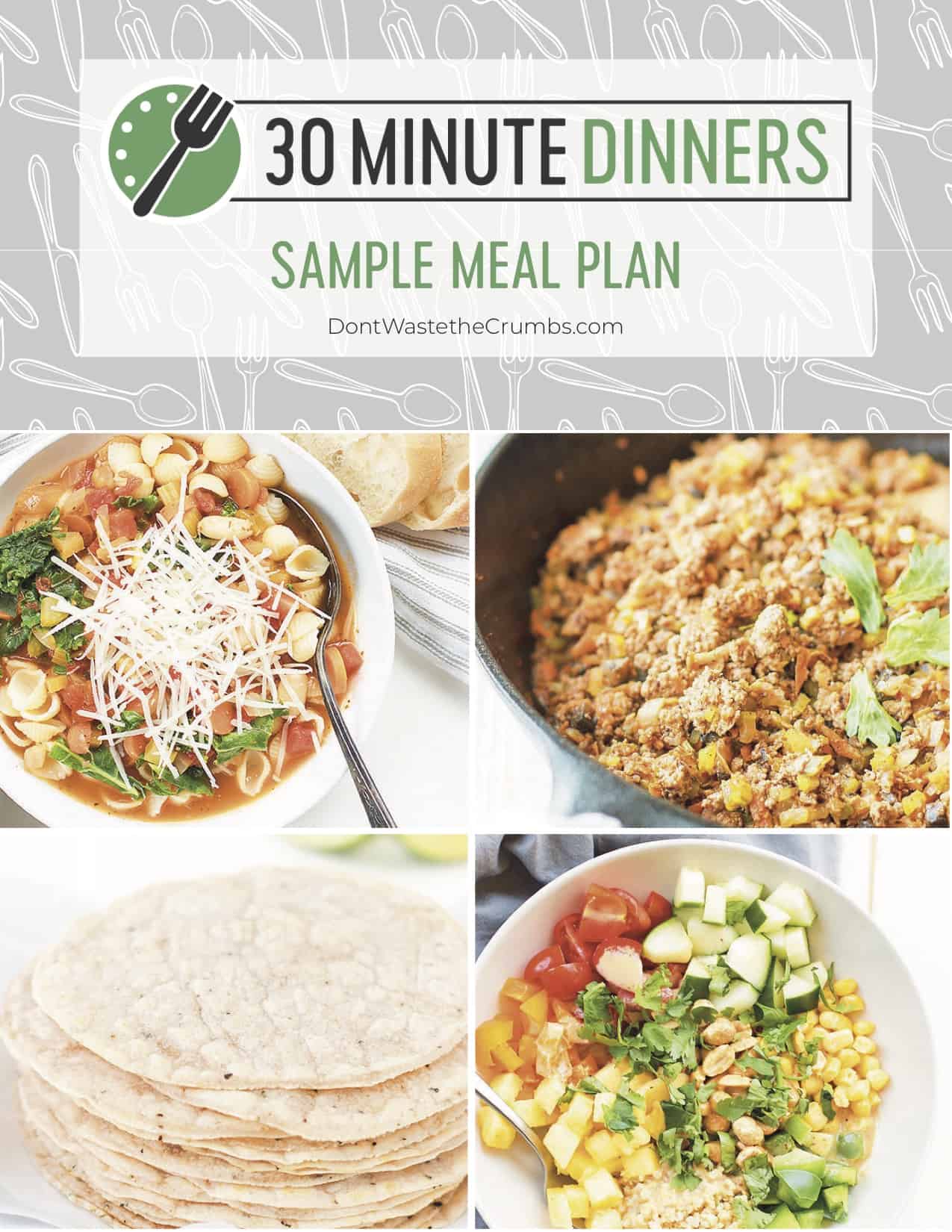 30 Minute Dinners Sample Meal Plan
Sign up to get instant access to my
30 Minute Dinners Sample Meal Plan
, complete with recipes and step-by-step instructions!
That's how we cut, seed and eat a pomegranate! Do you have any tips or hacks?