I know Thanksgiving is all about traditions, but do you ever want to throw traditions out the window and do something else?
For example, traditionally speaking, turkey is served at Thanksgiving. Yet, my family doesn't like turkey…
So for all of you who don't like some of the traditional dishes served at holiday meals, I have another option for you: root vegetable sauté.
This root vegetable sauté recipe is originally from my step-mom. Before she passed, she was the glue that brought everyone together for family dinners on Sunday nights.
It's funny, because my husband is a recovering picky eater. He used to hate mushrooms, tomatoes and pretty much anything that was green. He hated fish, anything that looked like a casserole and ground beef.
He's come a long way, and the credit truly goes to my step-mom. Because of her, he now eats mushrooms in autumn rice pilaf and slow cooker pot roast. He loves tomato basil soup with grilled cheese and has even requested thinly sliced tomatoes on his sandwiches!
He requests Caesar salad (with homemade Caesar dressing) at least every other week and his love for buffalo chicken pizza and easy potato skins inspired a casserole (GASP!) that tastes like a famous unhealthy appetizer – jalapeno popper chicken casserole.
He still doesn't like ground beef though. You can't always win them all, right?
My step-mom had a rule that you had to at least try what she made. From mashed potatoes to Hungarian paprika chicken – my husband was exposed ALL SORTS of dishes he had never tried before, let alone even heard.
Many of those quickly became his favorites, including the Caesar salad mentioned above and this root vegetable sauté.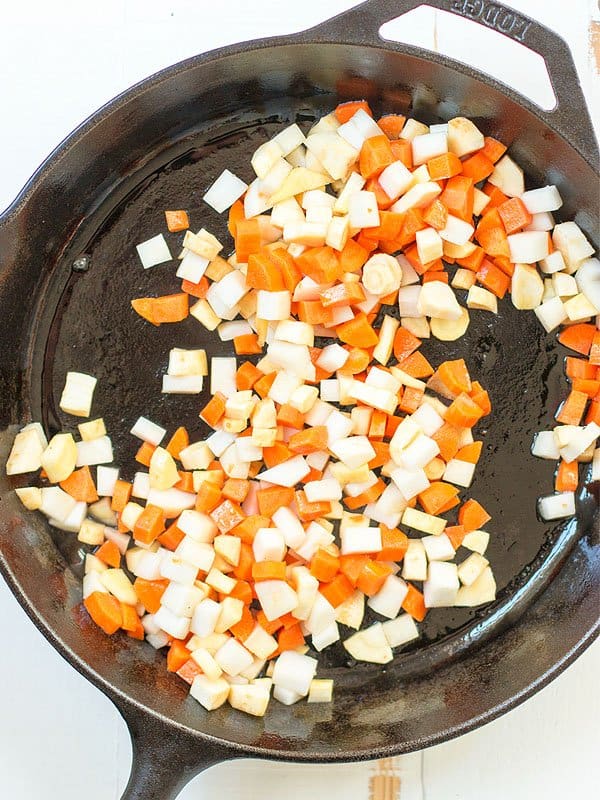 Root Vegetable Saute
We've had this side dish in a myriad of ways… big 1" pieces roasted in the oven… finely diced pieces sautéed in a skillet (as pictured, but way smaller pieces), steamed until tender via the stove top (the recipe as written), and all mashed up together with lots of butter.
Traditionally, my step-mom made this with only 3 vegetables: carrots, parsnips and turnips.
I know that "parsnip" and "turnip" come with the connotation that they don't taste good… but push that out of your mind for a minute (because it's not true).
I'm not sure if it's hunger or the promise of butter, but something magical when you cook these three vegetables together.
The natural sugars come out and slightly caramelize, making them lean towards the sweet side without adding any sugar.
Cooking with the lid ensures al dente vegetables that are thoroughly cooked through. No crunchy carrots. No mushy turnips. Just perfectly cooked root vegetables.
Topping with just a sprinkle of Parmesan takes it to a whole new level. It's like adding bacon to macaroni and cheese. Yes please!
Psst! Want to kick that savory flavor up a notch? Try finishing this recipe with a pinch of finishing salt! I love Ava Jane's Kitchen because it doesn't have microplastics (gross, right?) and it's SO GOOD! Plus, you can get a bag for just 1¢!! Sprinkle it on along with your Parmesan for extra YUM! (Get your penny bag of salt on this page.)
What I think I like most about this recipe, is that it's something NEW.
It's out of the ordinary. It's not pan-seared broccoli or potato wedges or crash hot sweet potatoes.
It's different.
It's vegetables I wouldn't ordinarily pick. It's versatile with whatever might come in the CSA box that week (golden beets or rainbow carrots anyone?).
It's also really easy, and really good!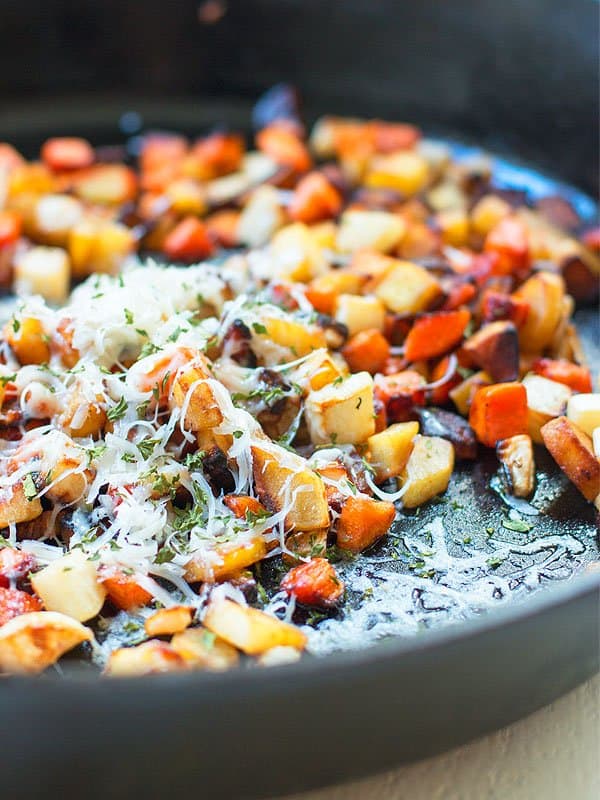 I mentioned earlier that there are several ways to make this dish. I chose the skillet method for pictures (my pot was busy making me tea for kombucha), but I'm writing the method for pan-steaming since that's the way my step-mom made it most often.
I also mentioned that this recipe is very flexible…
We've had it with golden beets on a few occasions.
We had it in a "mash" format with mashed sweet potatoes and mashed potatoes.
I haven't tried it myself, but I'm willing to be rutabaga and kohlrabi would be really good to.
Truly, I don't think you can ever go wrong when you start with butter and end with Parmesan cheese. Case in point, homemade alfredo.
Honestly though, this is a great dish to make for Thanksgiving. It's a great dish to bring to a pot luck, and it's a great dish to introduce new vegetables to picky eaters.
From my family to yours,
Root Vegetable Saute
Author: Tiffany
Prep Time:

10 mins

Cook Time:

15 mins

Total Time:

15 mins

Yield:

4

1

x
Category:

Sides

Method:

Saute

Cuisine:

American
2 Tbsp

butter

1 cup

peeled, chopped carrot (

1

medium)

1 cup

peeled, chopped parsnip (

1

medium)

1 cup

peeled, chopped turnip (

1

medium)

2

–

4

Tbsp shredded Parmesan cheese
salt and pepper, to taste
Instructions
In a medium pot with a lid, melt butter over medium heat.
Add chopped vegetables and season with salt and pepper.
Cover with a lid and allow to cook for 5-10 minutes or until vegetables are fork tender, stirring occasionally.
Season again with salt and pepper as necessary, and sprinkle with Parmesan cheese.
Stir to combine well and serve hot.
Keywords: Root vegetable saute
Do you ever go against the trend and make a non-traditional side dish for the holidays? If so, I'd love to know what you make? And if you don't, why not? Share your thoughts and comments below!