A couple of weeks ago I noticed a sign outside our local Asian market advertising local cherries for 99¢ per pound. I think I gave myself a mild case of whiplash from doing a triple take at that price – wouldn't you?!
But did I buy any?
No. I had already spent the remainder of my grocery budget. Talk.About.Self.Control.
To make matters worse, not only was I not able to snag up every last bit of local cherry goodness for likely the best deal of the season, but two days later they lowered the price.
To 79¢/lb.
Torture? Agony? Anguish? Cruelty?
Yep, that about sums up how I felt that day. Even though I KNOW that was hitting my rock bottom price in my price book, I had to skip it. Gripping the steering wheel just a bit tighter, I drove on past the little Asian store and I haven't seen a cherry sign since.
Fortunately, my mother-in-law LOVES cherries and she snagged some at a local market during her visit a couple of weeks ago.
Ha HA! SWEET VICTORY!
Unbeknownst to me, the cherries were tucked away in a corner of our fridge… no thanks to leftovers from the week so far. I had a hankering to try a new smoothie recipe, so I resisted the urge to just gobble them all up in one fell swoop. Instead I tried to remove the pit from a cherry without using some tool that I don't really need.
Ok, maybe I exaggerate just a tad. This cherry pitter isn't very expensive, but it's all about perspective. Remember that I couldn't afford the cherries in the first place.
Lucky for me (and you), pitting a cherry is relatively easy!
Benefits of Cherries
I love cherries. (As you can see from my agony of passing them up.) But not only do they taste amazing, but they are incredibly healthy for you.
Cherries are high in antioxidants which help protect agains free-radicals. They are also high in vitamins and minerals that help prevent certain cancers. The anti-inflammatory properties of cherries help with gout, muscle pain, and arthritis.
Tart cherries are naturally high in melatonin which helps you sleep. Plus, cherries can help reduce belly fat. That sounds like some great reasons to get those cherries pitted and eaten!
How to Remove the Pit From a Cherry
With a small sharp knife, make a cut around the belly of the cherry, cutting through the flesh and down to the pit, like so:
Here's another angle so you can see where the cut is in relation to the top.
Grab the bottom of the cherry and twist it off. It should come off without any problems.
Pinch the pit with your fingers and pull it out of the second half. You may have to pry just a bit, but do so gently to keep as much fruit in tact as possible.
DONE! Oh yeah! So simple, right? Just think of all the dishes you could make with them
Additional Tips
Before you start, be sure to wash the cherries using a natural produce wash. Or you can make your own using one of these simple recipes. Even organic cherries can have some pesticide residue.
Wear an apron just in case you decide to do this right after you get dressed in the morning and cherry juice squirts all over you. Ask me how I know.
Some people will use a paper clip or hair pin to get the pit from the cherry instead of just pulling it out. I didn't have trouble using my fingers but if you run across a stubborn pit, you could give the paper clip a try!
What to Do with Pitted Cherries
Now that you have a delicious bowl (or three) of cherries ready to go, you need some ideas on what to do with them.
If you want some breakfast options, add cherries to this apple crumble. Put fresh cherries in your oatmeal or add to your high protein smoothie. You could even try them in these mini chocolate chip scones!
Don't rule out some lunch or dinner options either. You can add cherries to chicken salad or try this twist on caprese salad!
For those with a sweet tooth the classic cherry pie is an option. This real food berry pie recipe is just the ticket. My kids love these cherry limeade popsicles (all real food ingredients of course!). Or mix up this dairy-free berry mousse to top a bowl of fruit.
Cherry season is very short. They come and go in a flash! When you find those rock bottom prices on cherries, its a good idea to stock up. Mix them with other fruit to make fruit butter. Add them to kombucha to make some delicious flavors.
You can dehydrate cherries for snacking or adding to salads or homemade granola bars. Puree and make fruit leather for an on the go snack. If you run out of time, stick them in the freezer and save for baking later.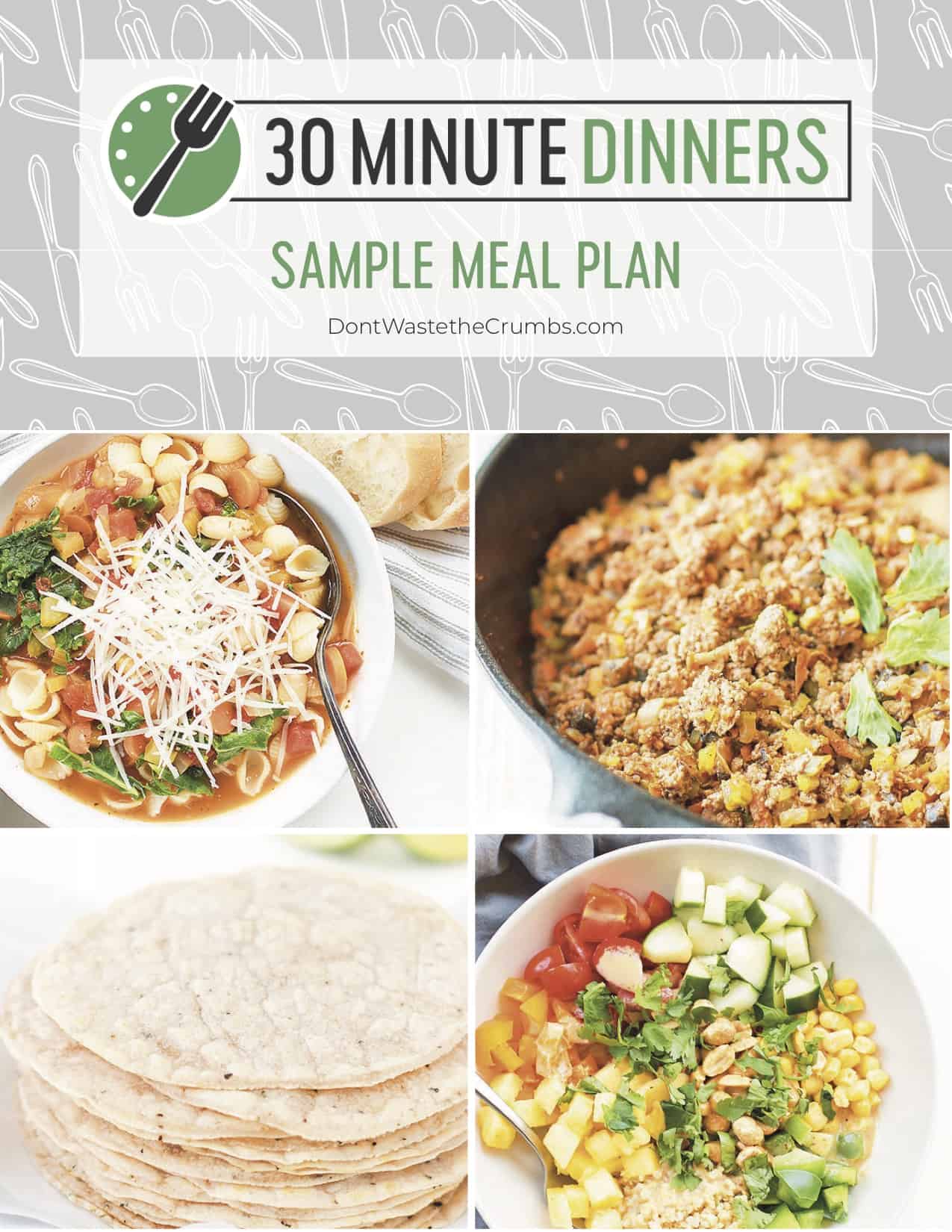 30 Minute Dinners Sample Meal Plan
Sign up to get instant access to my
30 Minute Dinners Sample Meal Plan
, complete with recipes and step-by-step instructions!
What's your favorite way to eat cherries?