Simple, practical tips for Halloween candy alternatives for kids! Ideas on healthy DIY non-candy treats, party favors, and no-sugar snacks to hand out, like homemade gummies and brownie bites. Plus helpful tips on how to limit candy for kids.
Everything You Need to Know About
When I was a kid, filling up a pillowcase with as much candy as possible was the goal on Halloween.
Now that I have kids of my own, my goal is to limit Halloween candy as much as possible… my how the tables have turned!
There are two ways we work this out in our home.
First, we have ground rules for what types of candy are ok and what to do with extras.
Second, we utilize candy alternatives whenever it's OUR turn to share sweet treats with friends.

How we limit Halloween candy (and other treats)
Realize that we don't eat like everyone else.

I can't

expect

other families to NOT offer candy when society as a whole deems it okay, which means I can't get mad about it either. But I can change my attitude about it, continue to teach my kids healthy eating habits and make sure that I

offer healthy choices when it's my turn to bring snacks

.

Be proactive when I can. Knowing the possible inundation of sugar at a recent birthday party, I made sure there was good food in my daughter's belly before we left. I filled her up with toast (made with our favorite homemade bread) and fresh fruit for breakfast, plus a smoothie right before we left.
Set boundaries.

We have hard lines drawn against

hydrogenated oils

and

high fructose corn syrup

(which causes harm to your cells and leads to disease)

. Anything with those two ingredients is simply not allowed.

Everything else in moderation. Anything we keep is kept in a bag, in the pantry, and it's saved for extra special occasions. When the kids were younger (3-6 years old), we allowed them to have one treat per week. As they've gotten older and we've done the Whole30 as a family, we simply don't eat much candy. Nowadays, they trade candy in for homemade treats, like homemade peanut butter cups or homemade fudgesicles.
What we do with extra candy
It's no surprise that the kids will come home with a bucket full of candy if they go trick or treating. However, there are some options with what to do with this candy.
Buy Back Halloween Candy.

You can "buy" the candy from the kids, with prices depending on what the item is. For example, a sucker might be worth 5¢ and a big candy bar is worth 25¢.

Dentist Buy Back.

Many local dentists buy back candy too, which is a great option if your finances are tight. Here's

a database you can search using your zip code

to see if a dentist in your area is participating. If you don't see one listed, start by calling your own dentist!

Switch Witch.

Reader Heidi passed on

the Switch Witch idea

, where the kids give all their candy to the Switch Witch in exchange for some sort of age-appropriate gift. It could be LEGOs or an iTunes gift card, so long as it's more appealing than candy!

Send it Overseas.

Heidi (who's also veteran) also mentioned sending candy overseas. Although I prefer to keep candy out of kids' hands across the board, she makes a good point that candy bars aren't as easy to get in some parts of the world, and it's a small reminder of home that's greatly appreciated. Learn more about sending candy to troops through

Operation Gratitude

.
Limiting Halloween candy doesn't make you a mean mom or a bad dad – it shows you care about your child's health. Besides, there are so many other fun ways to enjoy a special treat rather than with overly processed sugar!
The Best Healthy Candy Alternatives for Halloween
If you're able to, go homemade. Homemade treats always trump store-bought!
You can bake cookies, bars or cupcakes with limited added sugars and still have delicious Halloween treats. Kids love fun Halloween themed foods, even if they aren't candy.
Try any of these healthy snacks and also satisfy your sweet tooth. Any of these could be packaged up for handing out at school parties or possibly trick or treating.
If you have a gathering where you can set out a plate of goodies try these:
One of my kids' absolute FAVORITE snacks is dessert hummus. Filled with high grams of protein and healthy fat to balance out the sweets, hummus is a great dip for kids' parties. Set out fruit, pretzels, or crackers to go with it.
I'm craving some sweets just thinking about these delicious treats!
While it can be hard to make the rules to limit Halloween treats, having candy alternatives is a great option. This allows your kids to really understand what a treat is and how special it can be, without compromising their health.
Non-Candy Alternatives for Halloween
Another great idea is to offer trick or treaters little gifts instead of candy for Halloween treats. One trip to the dollar store and you can find what you need to fill treat bags! This is great if you have kids with food allergies in your neighborhood or in your child's class.
Some of our favorites for Halloween night include:
Finger puppets

Vampire teeth

Slap bracelets

Spider rings

Glow sticks

Glow in the dark toys

Bouncy balls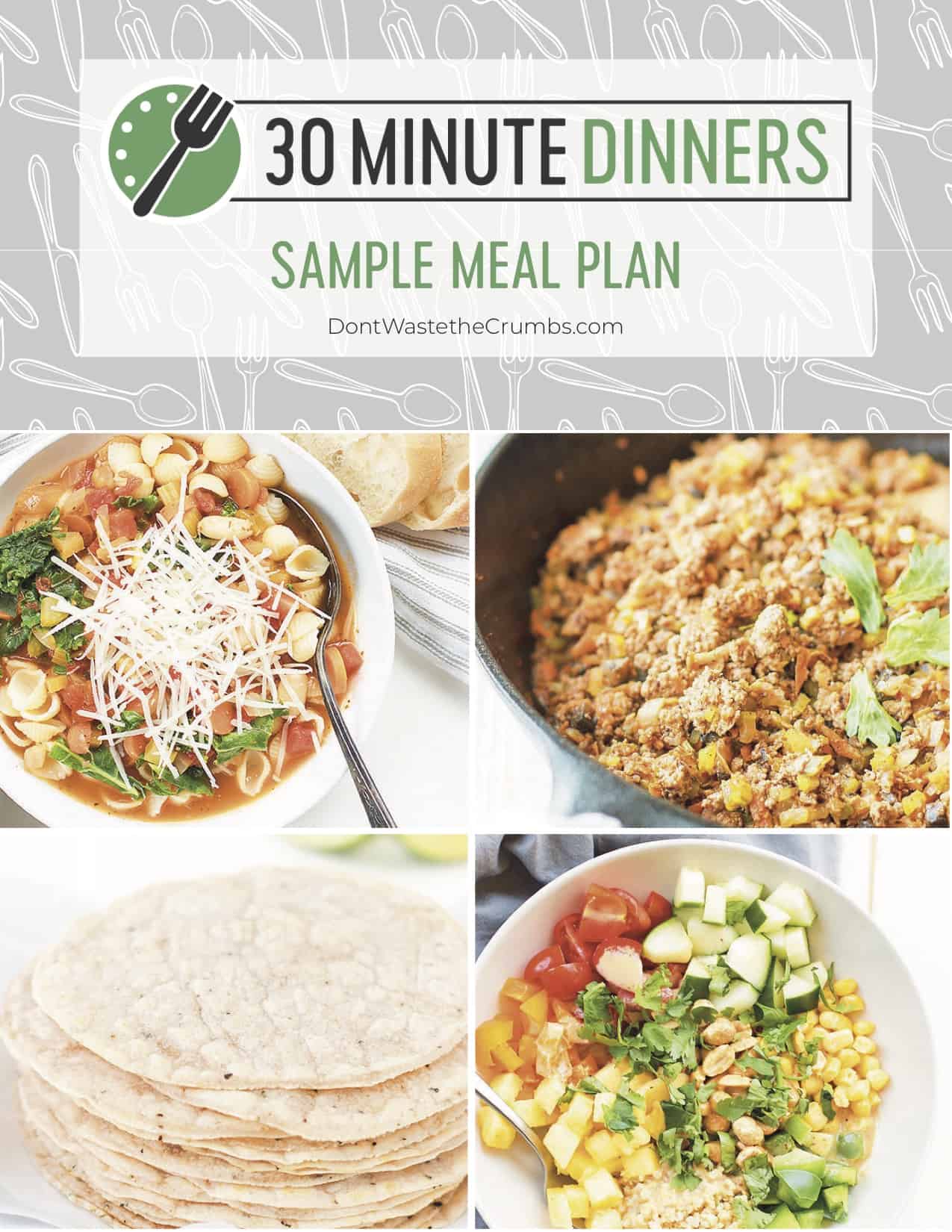 30 Minute Dinners Sample Meal Plan
Sign up to get instant access to my
30 Minute Dinners Sample Meal Plan
, complete with recipes and step-by-step instructions!
Whether you make tasty treats or fill gift bags with little toys, you'll be sure to make a hit!