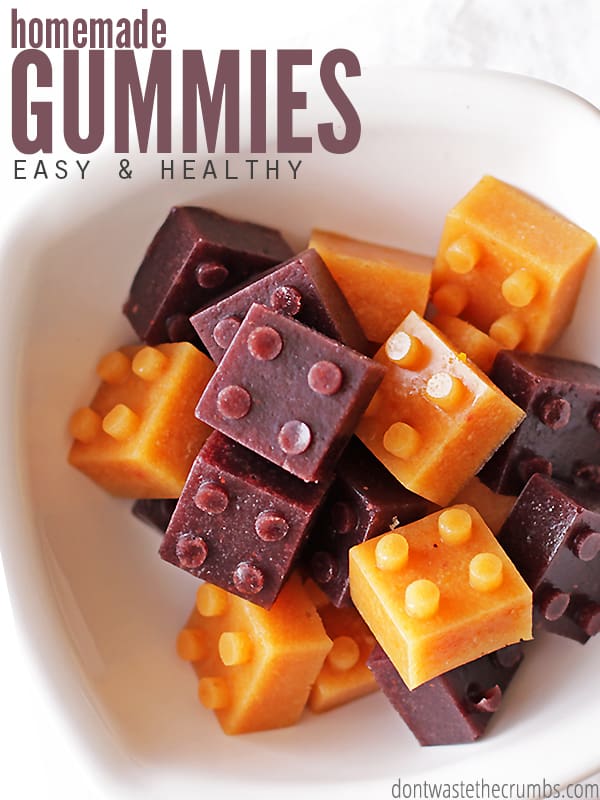 If I could pick only one topping for frozen yogurt, it would be gummy bears.
My whole life I've loved gummy everything. Bears, worms, sour… (sour patch kids were THE BOMB!). Now there's even "life saver" gummies and "jolly rancher" flavors too.
Oh my. I'm not sure whether to rejoice at the myriad of gummy flavors out there (because they ARE my favorite you know), or be slightly disgusted that the corn industry has found YET ANOTHER way to sneak high fructose corn syrup onto store shelves.
Well I'm not falling for it.
I read the labels of gummy bears one time and rolled my eyes. Somehow my gut already knew that those chewy little bites of goodness were tainted.
It's easy (sort of) for me to resist the urge to eat gummy bears, but my poor kids don't stand a chance. I personally haven't ever given my kids gummy bears, but I know they've had them. And I know they like them.
Not that I blame them (of course), but now that I know what's IN them, I don't want my kids to touch them with a 10 foot pole. I know first hand how incredibly addicting those little gummies can be!
So in my quest to re-make processed foods into healthier whole food versions (I've tackled these so far), I faced gummies head on. It took some experimenting, and LOTS of taste testing (against my will, of course), but I've come up with a homemade gummy recipe that will totally give any other typically processed gummy a run for its money.
AND it's healthy!!
Healthy Homemade Gummies
Now, before you take on this challenge yourself, there are a few things you need know.
Although way good for you, gelatin on its own does not taste good.
Just one tablespoon contains a whopping 6 grams of protein – talk about a super-food (and in my gummies?! Squee!!)
But it does come from animal proteins and by default, doesn't taste that great. You know how you can add more of an ingredient in order to achieve a certain effect? Well I tried adding more gelatin to make these healthy homemade gummies more "gummy" and the result was not pleasant. So don't get all gung ho and add a bunch more gelatin thinking you'll get rock solid gummies.
That would be bad.
Of course, you could spend bukoo bucks on this gelatin so you can't taste the flavor.
But I'm frugal, and that's WAY out of my price range. If you're in the same boat, buy what you can afford and stick to the recipe.
Note: You CAN make healthy homemade gummies with vegan gelatin. I personally have not tested this myself, but in research it appears that you can substitute it relatively easily in recipes.
The sweetener is entirely optional.
You don't have to add it and there's no need to alter the recipe if you don't. I used it because my taste buds have come to expect the flavor of typical processed gummy bears (thank you HFCS!). But if you haven't eaten many gummy bears in your life, you might not need it.
The recipe is SO flexible.
You can use fruit puree OR fruit juice OR a combination of both – it's entirely up to you and what's in your kitchen.
Personally I feel better knowing there's whole fruit inside these healthy homemade gummies, but I'd be okay making them with 100% juice too (so long as the juice didn't have any added sweetener!).
The flavor combinations for healthy homemade gummies are endless!
If the fruit/juice flavor combination sounds good in your head, chances are it'll be good in a gummy. Strong flavors (i.e. grape juice) will make for a very tasty gummy. Mild flavors (i.e. apple) will make a mild gummy and in my humble gummy-loving opinion, would be better paired with something stronger to keep the gelatin flavor at bay.
In general, avoid single strong acidic flavors since they tend to not gel up as well (think pineapple juice or grapefruit). You can combine them something else though for sure!
The shape of healthy homemade gummies is flexible too!
I asked the kids if they'd prefer bear shapes or LEGO shapes, and they chose LEGO (obviously). But you don't have to do bears or LEGO – I've seen dinosaurs, robots, circles, flowers… you name it!
The goal though is to choose a silicone mold that makes small, individual gummies like this one for hearts or this one for bears. Be sure to read the measurements so you're not ending up with monster-sized gummies (like I did when I picked this LEGO set – the big green man is over 3″ tall!).
If a silicone mold is out of the question, use a glass dish instead and cut these delicious healthy homemade gummies into squares. Don't think you can't do this just because you don't have a mold!
Ok, now for the more serious cooking notes. I only have a few, but they're important:
Have all of your supplies and ingredients ready to go before you begin. The recipe moves fast!
Taste the liquid before freezing. If it doesn't taste good, the gummies won't either when they're done. Err on the side of too sweet rather than not sweet enough!
Easy and Healthy Homemade Gummies
My kids LOVE this healthy homemade gummy bear recipe & I love that there's no junk & only 2 ingredients. Ready in 15 minutes too, and great for a snack or school lunch!
Author: Tiffany
Prep Time:

15 minutes

Cook Time:

30 minutes

Total Time:

45 minutes

Yield:

24

gummies

1

x
Category:

Snacks

Method:

Freeze

Cuisine:

American
INGREDIENTS
1 cup

100% fruit juice, OR


⅔

cup fruit puree and

⅓

cup 100% fruit juice

8 tsp

grass-fed gelatin

2 Tbsp

honey (optional)
SUPPLIES
Notes
Have all of your supplies and ingredients ready to go before you begin. The recipe moves fast!
Taste the liquid before freezing. If it doesn't taste good, the gummies won't either when they're done. Err on the side of too sweet rather than not sweet enough!
Keywords: gummy bear recipe

Additional Recipe Notes
This recipe as-is will make healthy homemade gummies that will last the school day at room temperature. I've made these, let them sit out on the counter for a full 24 hours and they did not melt. Now, your results may vary if the sun is blazing and it's a million degrees outside, but they should do just fine inside or in a school lunch box.
If you aren't a fan of the taste of gelatin, you can reduce the amount to as low as 6 tsp, but this will affect the integrity of the gummy. If you do this, I recommend serving these as an after-school snack directly from the fridge rather than packing in lunch box for later.
Feel free to adjust the amount of honey. I liked it at 2 tablespoons, but you'll be able to taste the honey flavor (so adjust if you don't like the flavor of honey!).
Get more frugal, affordable and awesome back to school ideas or check out "The Healthy Lunchbox" – it's one of the best eBooks I've read on healthy lunches, including back to school!
Let's be honest – do you like gummy bears? What would be your favorite topping on frozen yogurt?
Disclaimer: This post contains affiliate links. By making a purchase through those links, I will earn commission that helps to keep the lights on in the Crumbs house – with no additional cost to you. Thank you for supporting Crumbs in this way. Read my full disclosure statement here.