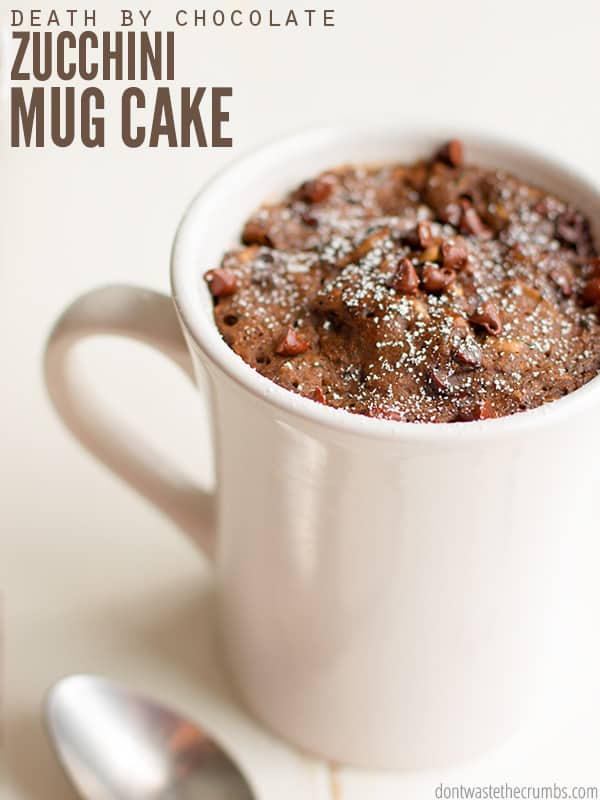 Everything You Need to Know About Death by Chocolate Zucchini Mug Cake
Zucchini. You either love it or you hate it.
If it's early July, I'm loving it. The first of the harvest is ready and I'm excited to make everything zucchini, including our favorite zucchini bread muffins with apples and carrots for breakfast and buttery zoodles for dinner.
But by mid-August, I'm hating it. The kids are tired of muffins. I'm ready for a stir-fry that DOESN'T have squash of any kind in it. If I have to grate another zucchini, I just might scream.
But if I'm making death by chocolate zucchini mug cake, then I might make an exception.
Because let's face it, I can't hate zucchini when it's buddy buddy with chocolate.
Death by Chocolate Zucchini Mug Cake
The reason we're talking about a mug cake and not a traditional cake is because when I say "chocolate zucchini cake" I hear "chocolate." The rest of the family hears "zucchini."
Being late summer and tired of zucchini, my family wants nothing to do with it. They hear the word and they run.
I've even received requests for foods I know for a fact they DON'T like, just for the sake of not having to eat zucchini.
I, on the other hand, am willing to forgo my tiredness of zucchini simply for the sake of chocolate.
But I also want my pants to fit and making an entire chocolate zucchini cake just for me would be bad.
So instead of making a traditional cake, we're making a single serve mug cake that cooks in less than 2 minutes.
It's naturally sweetened, doesn't contain eggs and it's just enough to satisfy that post-dinner chocolate craving. I didn't name this dish death by chocolate zucchini mug cake for nothing.
New to the world of mug cake? Let's talk about how these things work.
To make a death by chocolate zucchini mug cake, you first start with a mug.
Your mug needs to be microwave safe. That's our cooking method, so if you were thinking of putting this death by chocolate zucchini cake mug in your pretty stainless steel coffee tumbler, think again. That won't work. You need a "normal" coffee mug.
The size of the mug you choose makes a difference though. Do you like a cake that is fully cooked from top to bottom, side to side? Then you'll want to choose a bigger mug.
The one pictured in this post is a bigger 14 ounce mug similar to this kind of mug. A larger mug will give the texture of a typical quick bread – cooked through and moist, but not undercooked. Which is great if that's the kind of cake you like to eat.
Do you prefer a more moist cake that's slightly fudgy in the middle? Then you'll want to go with a smaller 8 ounce coffee mug, similar to this adorably happy mug.
If you are picky about the texture of your cakes, don't assume the size of your mug. Measure its capacity by filling it with water until it's just shy of being full and then pour the water into a large glass measuring cup. Then you'll know exactly what size your mug is!
The cook time for death by chocolate zucchini mug cake matters.
As a general rule of thumb, the longer you cook your mug cake, the less moist it will be. And all microwaves cook differently too.
I recommend starting with the smallest cook time in the recipe, and then cooking longer in 5-10 second intervals. Remember that you can always add more time if you want the cake to be more done. But you can't undo finished baking time.
Also, if your cake is coming out more fudgy than you prefer, switch to a bigger mug instead of adding more cook time.
For a faster dessert, you can make multiple batches of death by chocolate zucchini mug cake.
The measurements for this recipe are for one mug cake, but you can make multiple batches at a time so that when a chocolate craving hits, you're just 3 minutes away from satisfaction (instead of 6).
The biggest time hog is the zucchini. Save time by shredding a few zucchini at a time while measuring the shreds as you go, to keep your salt to zucchini ratio is accurate.
To do this easily, shred the zucchini over the ½ cup measuring cup, packing it down gently as you go. When it's full, that's one. Repeat and take note on how many ½ cups you made along the way. Then multiply your salt accordingly.
After the zucchini has sat, squeeze the water out of all of it (here's my simple method for doing this) and measure into packed ¼ cup portions onto a cookie sheet (because 1/2 cup freshly grated zucchini = 1/4 cup drained zucchini) Freeze as-is until the zucchini is hard (about 1-2 hours) and then move to a freeze-safe container.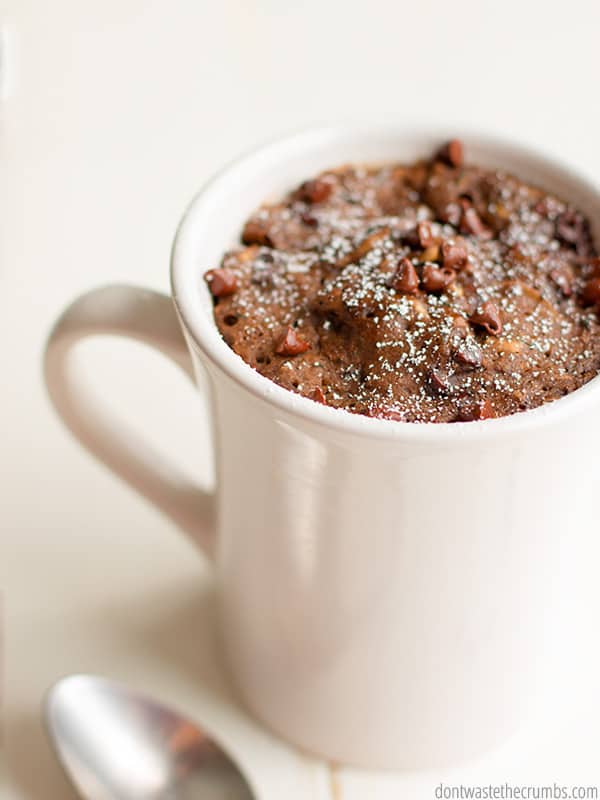 It doesn't take long to measure the dry ingredients, but you can do this ahead of time too. The easiest method would be to measure directly into smaller 8 oz glass jars OR into sandwich baggies – your choice.
Line up your jars or bags on the counter and, working with one ingredient at a time, measure it into the container. Seal them up and store them in the pantry.
To make death by chocolate zucchini bread from your batch cooking session, pour one portion of dry ingredients into a mug and add one portion of shredded zucchini. Add the remaining wet ingredients from the recipe and cook as desired.
You ready? Let's do this.
Death by Chocolate Zucchini Mug Cake
Skip zucchini bread and make death by chocolate zucchini mug cake instead. Naturally sweetened, it's the perfect way to merge healthy with indulgent!
Author: Tiffany
Prep Time:

8 mins

Cook Time:

25 seconds

Total Time:

8 minutes

Yield:

1

mug cake

1

x
Category:

Dessert

Method:

Microwave

Cuisine:

American
1/2 cup

freshly shredded zucchini*

1/4 tsp

salt

4 Tbsp

all-purpose flour

1 Tbsp

+

1 tsp

cocoa powder

1 tsp

milled flaxseed

1/4 tsp

baking soda

1/4 tsp

baking powder

1/8 tsp

instant coffee granules (optional)

2 Tbsp

honey OR maple syrup OR any combination of the two

1/2 tsp

vanilla extract (how to make it homemade)

1 Tbsp

yogurt (any kind)

1 Tbsp

chocolate chips OR

1/2 Tbsp

mini chocolate chips
Place freshly shredded zucchini* in a colander and sprinkle with salt. Let this sit while you work on the rest of the mug cake.
Meanwhile, combine flour, cocoa powder, milled flaxseed, baking soda, baking powder, and instant coffee granules (if using) in a mug.
Squeeze the excess water out of the zucchini (I use this method) and place in the mug.
Add maple syrup and/or honey, vanilla, and yogurt in the mug and stir well so that everything is combined.
Sprinkle chocolate chips on top, gently pushing them down into the batter with a spoon.
Microwave on high for 1 minute. Let the cake rest for 15 seconds and then cook again for 10 seconds. Pull the cake out and test for doneness, adding up to 30 more seconds if desired, cooking 10 seconds at a time. I do not recommend cooking any longer than 1 minute 40 seconds total.
Notes
* To substitute frozen zucchini that has already been salted and excess water squeezed out, use 1/4 cup and omit the salt in the recipe.
Have you ever had a mug cake before? What's your favorite flavor?