Learn the easiest method for how to cut a mango without peeling it! My favorite hack is to cut it in half, slice it or dice it, without glass or cup! Check out my tutorial on how to cut a pineapple and how to cut a whole chicken.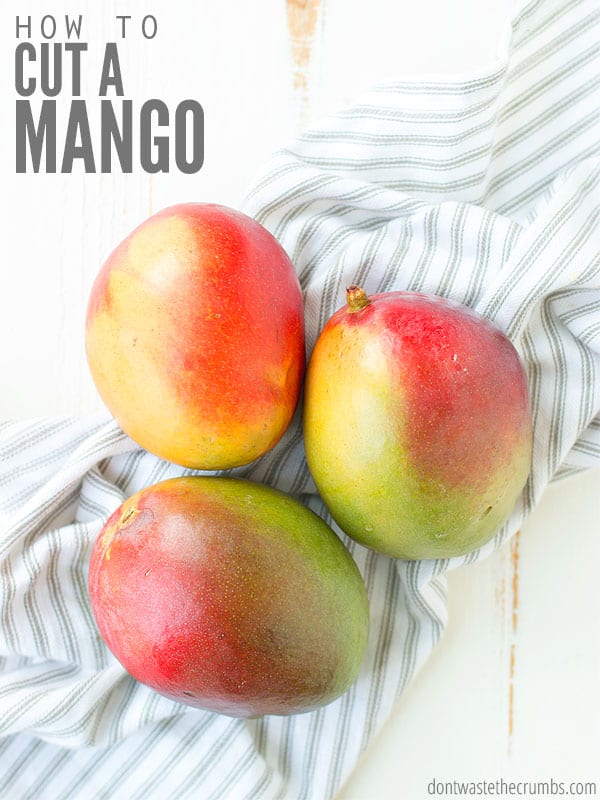 Everything You Need to Know About How to Cut a Mango
As much as I love the convenience of prepped food items at the grocery store (I'm looking at you, bag of coleslaw mix!), I know that doing the work myself almost always saves me money.
Knowing how to do a few basic things in the kitchen – like how to cut a pineapple or how to freeze blueberries – means big savings over time.
Today, let me show you one of my favorite easy tutorials – how to cut a mango!
Best Way To Cut Mango
There are various ways to cut a mango. I've found that the most popular method isn't easy. It's also very time-consuming and doesn't yield a lot of fruit.
My method for cutting a mango is the opposite.
It's quick and easy.
No peeling required!
It gets the most fruit off the pit.
It allows you to prepare mango half, mango slices, or diced (cubed) mango.
While some of the steps can take practice, cutting mangoes gets easier with every mango you cut!
Do You Need To Peel A Mango?
I recommend having a few kitchen tools handy before you begin:
Sturdy cutting board. Mangos are juicy and your fruit will slip and slide all over the place if your board isn't sturdy. I recommend a cutting board like this one, placed on top of a kitchen towel on your counter.
Serrated knife. Sometimes the skin is hard to cut through, even with a sharp knife. Using a serrated knife will help with that, as well as cutting off the fruit closest to the pit.
Chef's knife. Choose a knife that has a little bit of give-way, like a filet knife or a good chef's knife. You don't want to use a cleaver, butcher knife, or a very long and wide chef's knife because they don't have the flexibility you need.
You WON'T need a vegetable peeler. In my experience, peeling a mango is not the easiest way to eat it.
But let me show you what IS the easiest way to cut a mango!
How To Cut A Mango
Step 1. Cut just to the right of the centerline
Mangos are usually oblong. If you stand one upright on a cutting board, you'll see how it's shaped like an oval when you look at it from overhead. Position the mango so that the oval of the mango goes up and down, away from you and towards you.
Mangos have a gritty pit that's also oblong. As a result, you're going to slice the mango all the way through, just to the right of the centerline. If you run into the pit as you cut, just move a little more to the outside of the fruit. This takes practice and every mango is different, so you might not get it right on the first try.
Step 2. Cut just to the left of the centerline
Just like you did the right side, now you're going to cut just to the left.
Step 3. Cut each mango half into thirds
You'll have one piece that looks close to a rectangle, and two pieces that look like prisms.
If you want more "perfect" mango cubes, you'll want to cut a little off the two ends as possible. Again, this will come with practice.
Step 4. Filet the mango from the skin
With the mango lying on the cutting board skin-down, gently yet firmly cut the mango away from the skin. You want to cut as close to the skin as possible, without cutting through the skin.
This is where you're going to get the bulk of your cut mango pieces.
Note: You are NOT cutting the skin away from the mango. If you do this, you'll leave more fruit on the skin, and less to enjoy later.
Step 5. Cut the remaining mango from the pit
With the mango standing up, it's time to cut off the two remaining edges from the core. Starting just off-center at the top, cut down and around the core, in the shape of a circle. You will not be able to cut straight down.
Continue cutting mango away from the pit until you feel resistance in the knife – that's how you know you've hit the pit. Try to get as much mango off the pit as possible, even if the pieces aren't very pretty.
Step 6. Filet the remaining mango from the skin
Just like you did in Step 4, filet the rest of the mango away from the skin.
Step 7. Cube your mango
This is the best part! Simply cube the mango chunks you have and serve or use them in your favorite recipes!
Watch How To Cut A Mango
FAQs
Should I refrigerate mangoes?
Once the mangoes are ripe, they should be moved into the refrigerator. When doing so, will slow down the ripening process.
How do you know if a mango is ripe?
A ripe mango will slightly give when gentle yet firm pressure is applied.
Is mango healthy to eat?
Mangoes are very healthy to eat! They are a great source of potassium and magnesium.
How to Eat A Mango
What do you do with all the mango cubes you just chopped up? Here are some ideas:
More Easy Kitchen Tutorials on How to: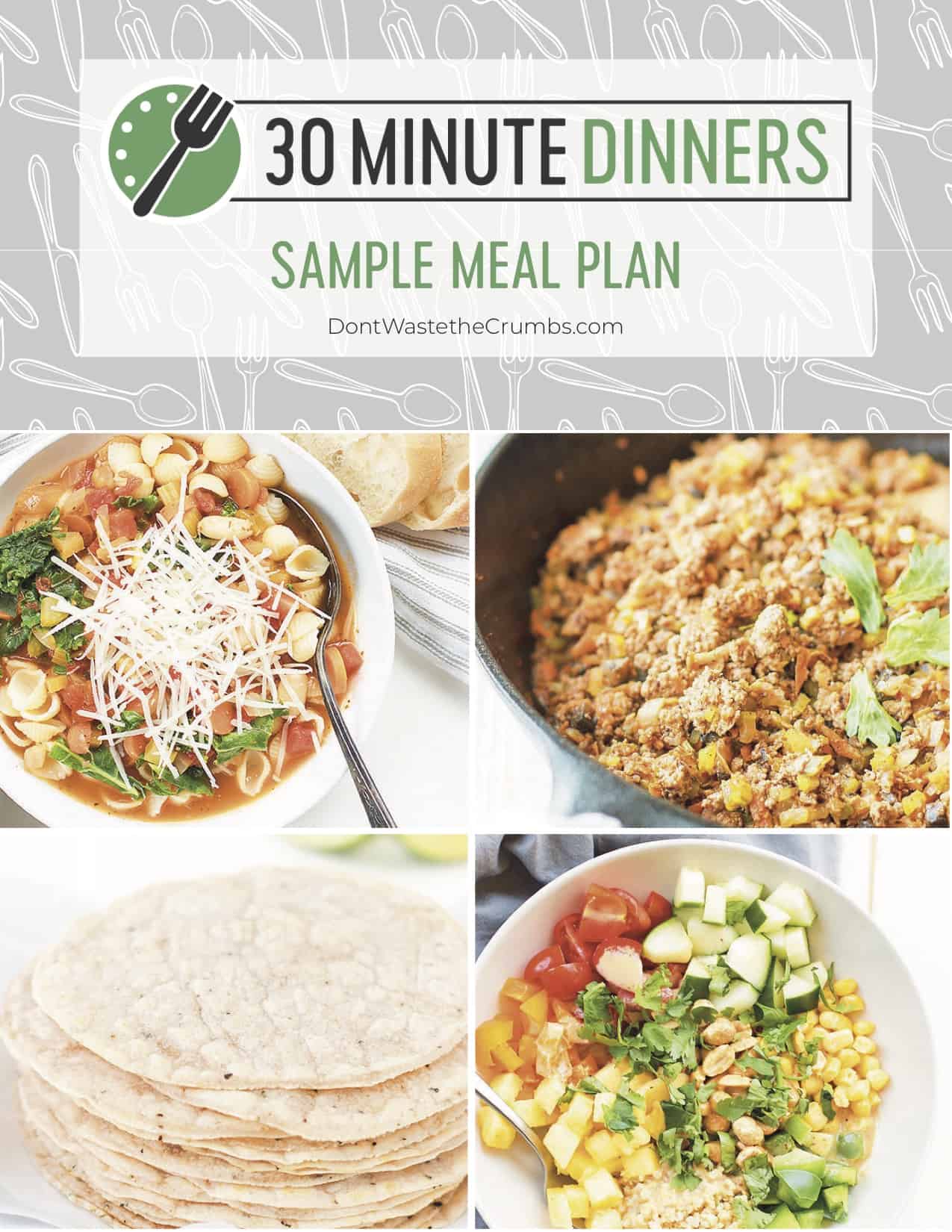 30 Minute Dinners Sample Meal Plan
Sign up to get instant access to my
30 Minute Dinners Sample Meal Plan
, complete with recipes and step-by-step instructions!