Here's your Fall Dinner Ideas for October! Feed your family real food on a budget AND eat seasonal produce with this complete four week meal plan.
If you haven't cozied up under blankets with a cup of homemade hot chocolate yet this month, I assure you – your time is coming.
The leaves on our trees are turning, mornings are cool and crisp and I wore jeans for the first time in six months. PANTS you guys.
This is the official sign of fall.
Another official sign of fall? Everything pumpkin.
Which is great for me since I LOVE everything pumpkin. Pumpkin donuts, pumpkin french toast, pumpkin cookies, pumpkin bread…
Do you love everything pumpkin? Oh man, I sure do hope so because every recipe in this meal plan contains pumpkin.
KIDDING!
But seriously. I would plan it that way if I could, but we'd all turn orange and no one else in town would be able to eat pumpkins. And the first rule for those who love everything pumpkin is to share their everything pumpkin with friends.
So instead, this is just a delicious fall dinner ideas meal plan, inspired by slow cooker dishes, warm pie and yes, pumpkin.
ABOUT FALL DINNER IDEAS FOR OCTOBER
This meal plan is based on an average family of 4, costing around $400 for the month. You may need to tailor the portion sizes to suit the needs of your family size and budget.
The goal of this meal plan is to feed our family well while wasting as little as possible. You'll notice that we're often re-using one part of a meal (like leftover carnitas) in another part of a meal (like BBQ pork calzones) in order to meet both of these goals. Keep this in mind if you rearrange the meals.
This meal plan is mostly plants, with some meat. Viewing meat as a "side dish" is one way we're able to afford grass-fed and organic meat every month! You can easily add more meat though, if you have meat and potatoes people at your table. Having all purpose chicken on hand is a great way to please the meat eaters and keep the budget down!
This meal plan is what I feed my own family, although I might add a few extra vegetables on the side. If you want a detailed "action plan" of what this looks like in real life – what I batch cook, what I double, what I freeze for later, how I get the most out of each meal, and when I get it all done – come join the Meal Planning Made Easy Challenge!

MEAL Planning Tips
Included after each week are some extra ideas on how I would make the most of my time in the kitchen. While making food from scratch does take more time, I don't need it to take ALL of my time!
Use these tips to help you get ahead each month, avoid food waste, and have food stashed away for the busy nights.
Fall Dinner Ideas: Week 1
Meal Plan Tips:
(S) Save leftover carnitas for mexican potato bar and BBQ pork calzones. Double tortillas and freeze for meals next week. Reserve half cilantro lime coleslaw, lime crema, and leftover southwestern corn for mexican potato bar.
(M) Make extra macaroni pasta for serving with pumpkin chili (if desired).
(T) Make two loaves of man bread (or split one batch into two loaf pans) for serving with pumpkin chili.
Fall Dinner Ideas: Week 2
(S) Almond Crusted Chicken // Autumn Rice Pilaf // Roasted Broccoli
(M) Sweet Potato Black Bean Enchiladas
(T) Southwestern Salad // Jalapeno Cheddar Biscuits
(W) Caesar Chicken Wraps // Sliced Veggies and Hummus
(T) Garlic White Bean Soup with Kale // Jalapeno Cheddar Biscuits
(F) 15 Minute Spaghetti // Side Salad
(S) Quinoa Stuffed Bell Peppers
Meal Plan Tips:
(S) Make a double batch of almond crusted chicken for caesar chicken wraps. (Or use leftovers from a single batch.)
(M) Use tortillas in the freezer if available for tacos and wraps. Make extra black beans for southwestern salad and freeze some for later this month.
(T) Double jalapeno biscuits and serve with white bean soup.
(W) Slice extra veggies and make extra hummus for snacks.
Fall Dinner Ideas: Week 3
Meal Plan Tips:
(S) Make a second whole chicken or reserve half for use in chicken and broccoli casserole and buffalo chicken pizza. Make homemade chicken stock from chicken scraps if possible for future soups.
(T) Make two loaves of olive oil bread.
(W) Use extra chicken in alfredo if desired. Double the side salad and serve with pizza.
(S) Double white rice and freeze for next week.
Fall Dinner Ideas: Week 4
Meal Plan Tips:
(T) Make an extra loaf of artisan bread for serving with quinoa vegetable soup.
(S) Use rice from the freezer if available. Sweet and Sour Chicken and Vegetables is a great "catch all" meal. Use this opportunity to use up any stray protein and veggies in the fridge (you don't have to use chicken either!)
Breakfast
Lunch
Dessert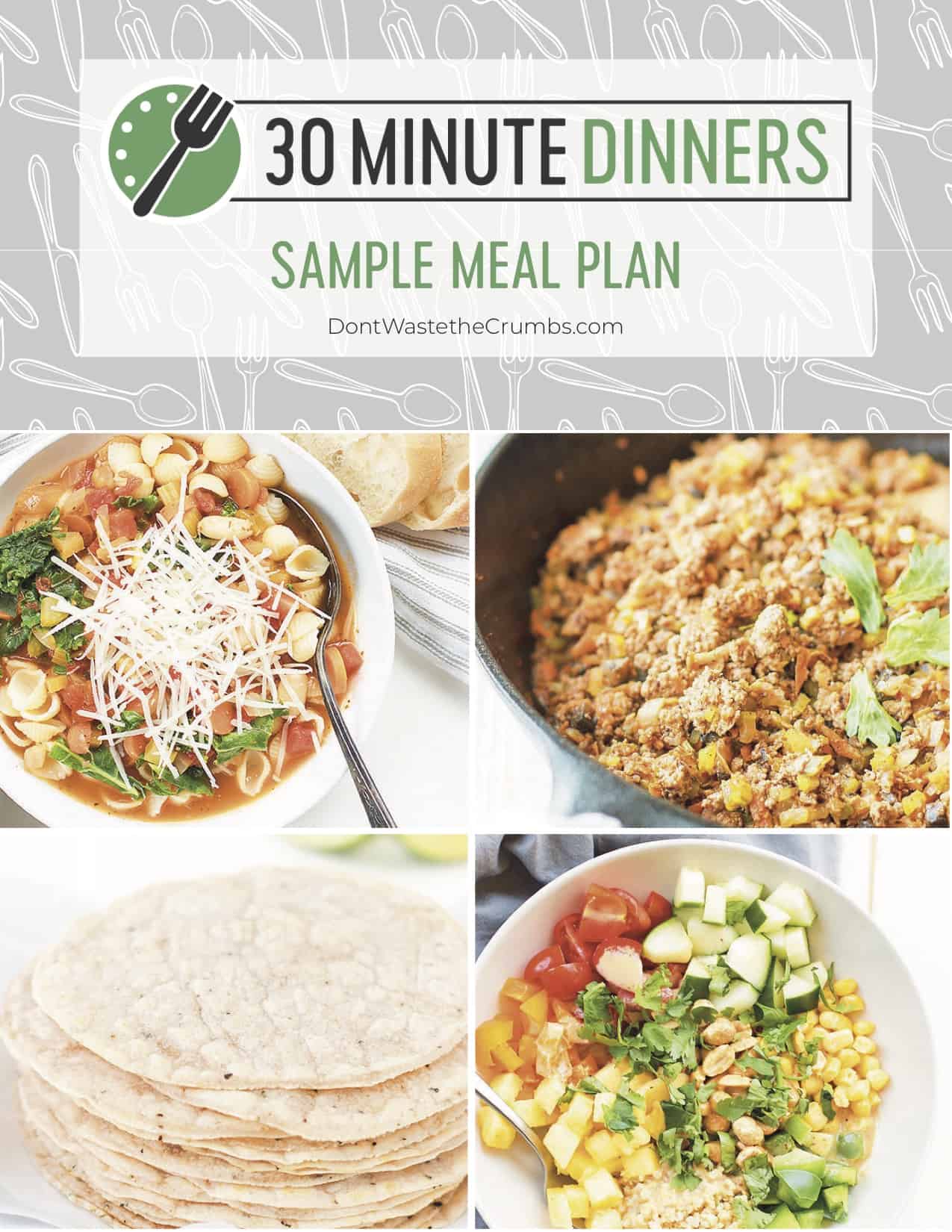 30 Minute Dinners Sample Meal Plan
Sign up to get instant access to my
30 Minute Dinners Sample Meal Plan
, complete with recipes and step-by-step instructions!