It's time for your November Seasonal Produce Guide! Use this list of healthy fruits and vegetables to build your meal plan for November, or let us do the planning with this November Meal Plan. In season produce is the best for you and your grocery budget!
November brings us deeper into Autumn and with the cooler temperatures comes more seasonal produce.
Root vegetables, winter squash, dark leafy greens are all easier to grow and find this time of year. Plus tasty fruits like pears and cranberries!
A wide variety of colors on the dinner table helps keep our bodies fueled for the season we're in. It's nice to have warm hearty soups and stews this time of year!
Why eat Seasonal Produce?
Seasonal produce often has higher amounts of nutrients because it's grown in its natural climate. This also helps the plant produce more which means better prices and more flavor.
Planning on buying in season produce is one of the top tips I give my Meal Planning Bootcamp students!
Thanksgiving Dinner Menu
Sign up to get instant access to my
Thanksgiving Dinner Menu,
complete with recipes and shopping list!!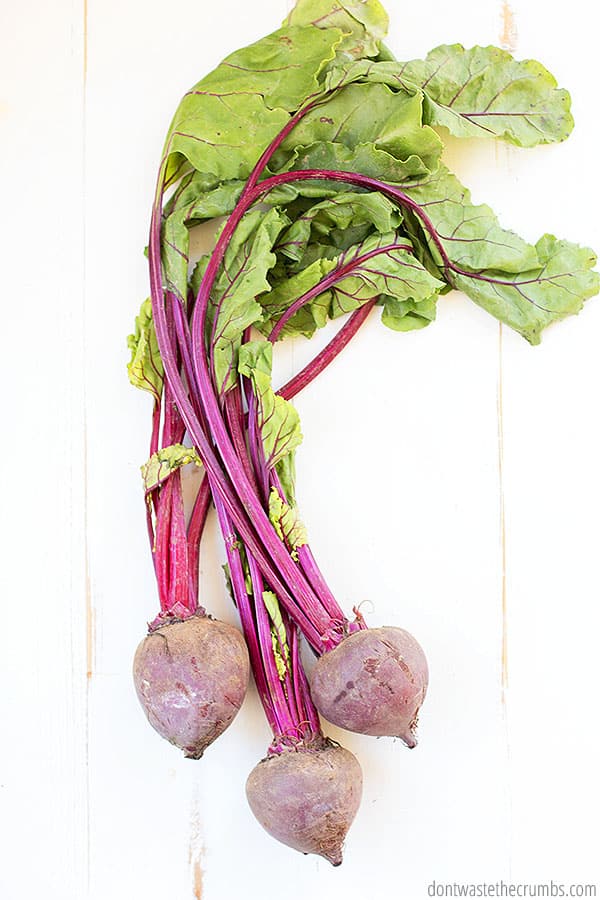 Seasonal Produce Guide for November
Beets
Love them or hate them, beets are here to stay for the season! Root vegetables are particularly hearty and full of dense nutrition. They are great for the cold fall and winter months when our bodies need warm, filling foods to stay healthy.
Broccoli
This green mini-tree like vegetable is nearly a weekly staple in our home. Yet, it actually has a season and tastes the best in cooler temps! It's low in calories, contains more vitamin C than oranges, and more calcium than milk!
Brussels Sprouts
Brussels Sprouts are in the cruciferous vegetable family meaning they are related to cabbage, kale, and broccoli. You'll gain similar nutrients from all of these vegetables so if you don't like one, try another!
Cabbage
As you can see the cruciferous family of vegetables love the cooler weather! Cabbage can be found in stores for extremely low prices in Fall and Winter. This is a great time to keep it in the seasonal meal plan rotation.
Carrots
I've mentioned carrots in the September and October Seasonal Produce Guides and for good reason! They are great all-year round, but are traditionally harvested in Fall. You can find the best tasting carrots when you visit the Farmer's Market this time of year. Keep your Vitamin A levels in good order with this tasty veggie!
Cauliflower
It's like we just can't get away from the cruciferous veggies… Cauliflower is related to broccoli, Brussels sprouts, and kale! This white veggie is high in vitamins K and A and also a good source of fiber. Like other vegetables in this family, it may make you a little gassy (oh my!), but if cooked, it tends to help reduce any noxious fumes!
Chard
If you haven't ever researched chard before, it's interesting to learn that it's actually part of the beet family! Rainbow chard comes in many colors, like red, golden, and pink stalks. While Swiss chard tends to have a white stalk. It's a great source of vitamins A, C, and K and also boosts the immune system and aids in digestion.
Cranberries
As we approach the holiday season, you will see fresh cranberries drop really low in price! Along with other sale items to stock up on during this season, cranberries are great to buy now and dehydrate for use all year long! Rich in antioxidants, you'll love having cranberries on hand for easy snacks and salad toppings.
Kale
Kale has gained so much popularity (and become the butt of many jokes) and for good reason. It's rich in vitamin K, A, C, and B6 plus multiple minerals. Considered a superfood, you can find it all year long although it is in peak season during cooler months. I recommend finding organic kale if possible since it tends to be on the dirty dozen list.
Parsnips
Parsnips are similar in shape to carrots but actually taste quite different! They are a good source of calcium, magnesium, and potassium. It's also high in folate and vitamin K. It's easy to get stuck eating the same ole veggies all the time, but adding in variety like parsnips and other root vegetables helps bring new flavors to the table.
Persimmons
Persimmons are an odd little fruit that comes into season in the Fall. They can be quite tasty when ripe and have a high amount of B vitamins, folate, and magnesium. If you can't find them in your local grocery store, you may be able to forage them in a nearby wooded area!
Easy Persimmon Jam
Persimmon Pie
Pumpkin
Pumpkins are still here! November is officially pumpkin pie season and I have no problem making all things pumpkin. Dense in nutrients and easy to make into homemade treats, homemade pumpkin puree is a great food to keep on hand during the fall.
Sweet Potatoes
In the October Produce Guide I introduce potatoes as being in season. This month, I'm talking specifically about sweet potatoes. These orange tubers are exceptionally high in vitamins and minerals and are sometimes a favorite over their white and gold cousins. (If you ever find purple sweet potatoes, try them! They are so fun to eat!)
Winter Squash
Squash like acorn, butternut, delicata, and spaghetti are going to keep showing up on the seasonal produce guides for quite some time! Serving variety in the types of squash helps keep dinner interesting and mixes up the nutrients.
Thanksgiving Dinner Menu
Sign up to get instant access to my
Thanksgiving Dinner Menu,
complete with recipes and shopping list!!
Need More Ways to Save on Groceries?