Easy & versatile recipe for roasted cabbage wedges – a perfect side! Can be made with ranch seasoning, bacon, balsamic vinegar, or even lemon garlic butter.
I have a hard time with cabbage – I want to really love it, but there's something about it that doesn't sound appealing…
Honestly, I LOVE my egg roll in a bowl recipe (which is 75% cabbage) and my family loves it too… so maybe it's a mental thing?
I'm not sure, but I do know this: anytime cabbage is on sale or I need a super simple side dish, I make these roasted cabbage wedges!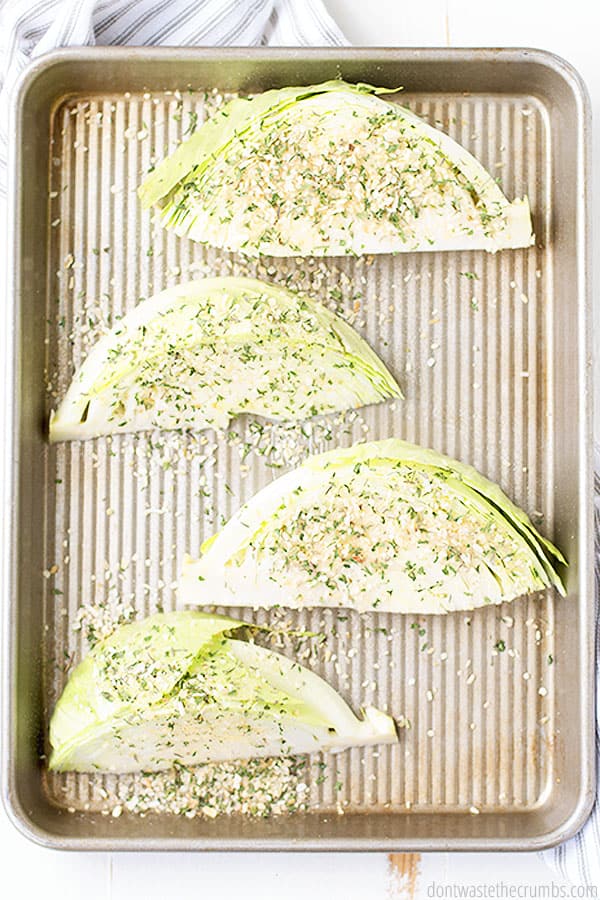 Roasted Cabbage Wedges
I know they don't sound as glamorous as Hasselback potatoes or lemon butter asparagus, but roasted cabbage wedges deserve their own star on the Hollywood sidewalk because:
They're CRAZY easy to make.
They are nearly hands-off in the oven.
It gets a bit of sweet with the caramelization.
They're the perfect side dish to ANY meal.
They are a blank canvas for whatever seasoning you want!
My family sang praises when I made these with my dry homemade Ranch seasoning mix. I've also made them with homemade blackened seasoning and they enjoyed them as well!
Ingredients for Baked Cabbage Wedges
You need just three simple ingredients to make delicious baked cabbage wedges:
Cabbage
Cooking spray (or olive oil)
Seasoning (we really like my homemade dry ranch seasoning mix!)
Of course, you can get fancy if you want!
Do you want spicy cabbage wedges?
Sprinkle my homemade blackened seasoning mix, or a pinch or two of cayenne pepper!
Roasted cabbage wedges with bacon?
YUM! Cook the bacon separately and crumble. Use bacon grease instead of cooking spray and sprinkle the crumbled bacon over the roasted cabbage.
Want cabbage wedges with balsamic vinegar?
Drizzle a bit of balsamic vinegar AFTER the cabbage is roasted.
How about roasted cabbage wedges with lemon garlic butter?
YES! Melt some butter with garlic and lemon juice and use this instead of the cooking spray. You can also add more lemon garlic butter after the cabbage is roasted too!
How to Make This Roasted Cabbage Wedges Recipe
This super simple recipe has just three basic steps:
Wedge the cabbage and place the pieces on a baking sheet (I have these USA baking sheets).
Spray the tops and sides of the cabbage with cooking spray and liberally season.
Roast in the oven, cool slightly, and enjoy!
How do you wedge cabbage?
This is important because you can't make cabbage wedges if you don't know how to wedge a cabbage!
To made cabbage wedges:
Cut the cabbage from the top-down, through the center, cutting right through the core.
Place the cabbage cut-side down and again, cut through the center, top-down, through the core.
Cut each quarter in half, through the core again.
You should have eight wedges of cabbage at this point. If any of the wedges are too big for one serving, feel free to cut them in half again.
The key to wedging a cabbage is to cut THROUGH the core, instead of cutting the core out. The outer wedges may not have any core attached, and that's okay, but you want to keep the core intact as much as possible to make cooking and serving easier.
What vegetables go with cabbage?
A few vegetables that go well with cabbage are:
Carrots
Onions
Potatoes
Broccoli or Cauliflower
Other Healthy Easy Vegetable Side Dishes
Dinner on a Dime
Subscribe to my newsletter and get instant access to "Dinner on a Dime": 15+ family-friendly and kid-approved recipes that are quick, cheap and healthy!
Easy Roasted Cabbage Wedges