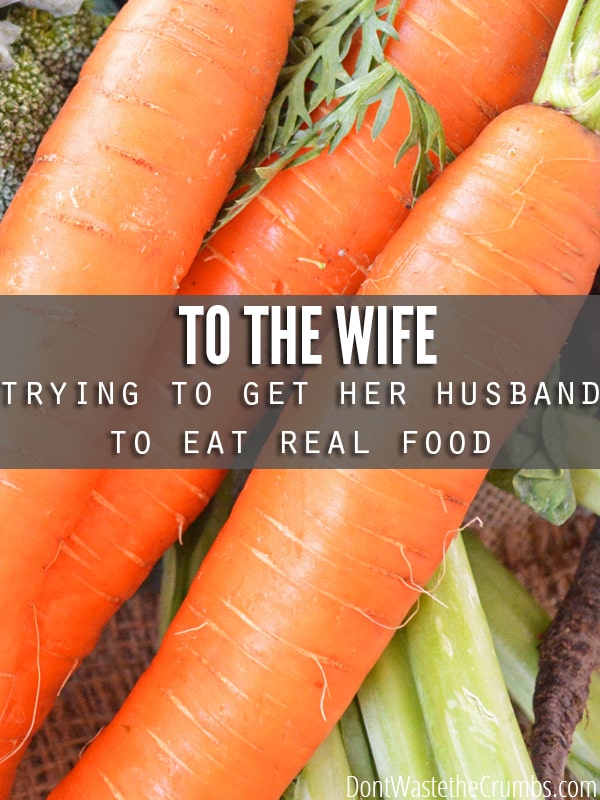 How to get your husband to eat real food… An honest letter to the wives, from a husband who used to eat Doritos and Hot Pockets for lunch and wash it down with an ice-cold fountain Coke, but now enjoys a healthy meal made with real food prepared by the wife… so long as it doesn't have beets. My first letter was to the husbands, but ladies, this one is for you. Yes, it is possible to get your husband to eat real food, although admittedly, it might be difficult. We men can sometimes be stubborn. Written by Mr. Crumbs.
Dear Ladies,
So your inner "crunchy mama" is screaming to come out (disclaimer: I didn't know what crunchy mama meant until about a month ago) and you want to get your family eating real food. You've read amazing blogs such as Kitchen Stewardship, The Nourishing Home, Shalom Mama (love the bus!)… and my wife's blog too. Now you want to do what these great influencers do on a daily basis: get away from the processed, unpronounceable, fake, food-like products you are all too familiar with.
You've thought about grinding your own wheat (and doing it without a mill), baking bread, starting a garden, make your own bbq sauce, bake better pizza than the local pizzeria, buy the most awesomist blender in the world (honest opinion there) and chug green smoothies in the morning. You want to scream at Monsanto, drink raw milk, run from anything containing GMO, sell your place in the city and run to the hills – buying a gzillion acres, with a tractor, chicken,goats and cows and just live it up.
I should warn you that some of these extreme ideas, become less extreme, the more extreme you get.
Problem: Getting your husband to eat real food.
While most of the above sounds like a great idea, your husband may not exactly want to part with his Starbucks routine, the weekly lunch out with co-workers or even give up certain fried foods. The thought of starting the day without cereal, or having lunch without french fries – uhh, no.
We weren't always healthy.

I don't know the life stories of the bloggers mentioned above, but I can sure tell you that Mrs. Crumbs and I didn't start off with a so-called healthy diet. When we lived back in Texas, Friday nights were either Pizza Hut or Mexican – mostly for the chips and salsa. We traveled often too, and on one of our road trips, we made it a point to eat only at Arby's. Not anymore.
Our "journey" towards real food on a real budget started several years ago. First, we were just plain broke. Second, I made the comment to my wife that "we're always eating out of boxes."
It was that comment, that catapulted Mrs. Crumbs into developing a better understanding of diet and nutrition.
When she first found out the dangers of high fructose corn syrup, I lost all six boxes of my favorite devils food cake mix Mrs. Crumbs had stockpiled in the cabinet. That very same night!
Note from Mrs. Crumbs: Notice that HE was the one who made the comment that started the journey… not me. Any actions resulting from me trying to abide by his request to no longer eat out of boxes are out of my control. 😉
Why YOU want to eat real food.
You love your family. Period. You want to nourish those around you and provide them with the nutritional building blocks that will benefit them most. Additionally, it seems to be an inner desire of many wives to recreate some of those awesome dishes on Pinterest, turning your kitchen into a placing of healthy dining, rather than the result of instead of some gritty, greasy, corporately owned chain.
For your husband's sake, take baby steps.
Men fix stuff. In our minds, everything should work the way it's designed. If it doesn't work, fix it. If you can't fix it – chuck it.
Simple things like not eating for ten days or removing a mole with apple cider vinegar may seem extreme, but challenges like this are easier for us because we either: a) have to endure a hardship for a specified period of time, or b) endure a little bit of pain for possible reward. In either case, we start because we see the light at the end of the tunnel.
For us men, switching diets is hard. We love our French fries, hot pockets, coffee and croissants… and soda. Did I mention soda? We are creatures of habit. We like what we like, so don't change it.
One step at a time…
That's the only way my wife was able to successfully convert me to a real food lifestyle, and quite possibly, the only way you'll be able to as well.Let's break this down into a few practical ways in which you can "baby step" your husband into real food. And yes, if you have a semi-devious side, this is where it canactually benefit your marriage.
6 Practical Ways To "Baby-Step" Your Husband to Eat Real Food
1. The Favorite Meal
If your husband is anything like me, or my co-workers, or brother in laws – he has one or two go-to meals that he always goes to (like clockwork). For me, it's burrito's or couscous.
Here's what you do: Find the best re-creation of his favorite food online – find the recipe for it with the highest number of review stars – and re-create the dish. If he doesn't like it as much as his "go-to" place, continue trying to make this dish, or something similar, until you've beat out the competing restaurants.
Once you have his favorite meal down – you have his heart.
2. The Gadget
Do you know how we ended up with a Blendtec blender? I'm a sucker for gadgets. Mrs. Crumbs had been hinting at wanting a high powered blender for several years, but I was too cheap to take the plunge…
… until we went to Costco.
I love Costco. The only place where you can buy a soft-top surfboard, mountain bike and groceries – all in the same trip!
So we're at Costco, and Blendtec had a representative demonstrating the features of their blenders. Everything was fine and dandy until the man with the microphone leaned over to me and whispered:
"This is the blender that can blend an iPhone."
Boom. Sold. Blender in cart.
In case you're wondering how a gadget can get your husband on board with real food: A health conscious gadget means health conscious smoothies and meals. Trust me, if he's the one spending over $200 on a blender, he's going to want some pretty amazing things to happen.
Get him on board with a gadget and whip up early morning smoothies that rock his taste buds (if the gadget is a blender). If it's a food processor, start chopping. If it's a stand mixer, start baking.
Whatever his magic gadget it, the result will be the creation of a healthy habit over time.
3. The Bait and Switch
Ok, here's where your mischievous side comes out. I'm not saying be dishonest, but… sneak healthy foods into his meals. Disguise the goods! Over time, add more and more of something until it becomes routine. If he doesn't ask what's in it… well, you may not want to tell him. If he wants to know what's in it, say "You may not wanna know."
I hated kefir.
HAY-TED.
But over time, Mrs. Crumbs added a little bit at a time to my smoothies, increasing the dosages so that I slowly became accustomed to the taste.
Guess what. Now I drink kefir daily. I've learned that when I drink a smoothie or eat something strange, I don't ask what's in it. I just tell her if something didn't taste quite right.
And more often than not, she just nods her head and says "Hm-m."
4. The Scare Tactic
While your husband reaches for his favorite processed food, casually mention the dangers of some of the ingredients in the package. Using words like plastic, inflammation, acid reflux and/or laboratory will usually do the trick.
For us, high fructose corn syrup was the enemy and thus was the first substance banned from our house.
5. Try New Things
Sounds easy, but it's not. Consider joining a CSA since you'll be forced to try new produce. Rather than letting it go to waste, there's a good chance your husband may give it a try.
6. Take Hints
Starting on the road towards real food with your spouse isn't an easy road. It's even harder for us men, who "like what works" and what we're accustomed to.
But don't give up.
As you introduce new foods into your diets, take hints. If your husband embraces the item, then by all means make it again. However, if he indicates that it wasn't his favorite, try something else. Consider starting with real foods that you know he likes, and then branch into some of the more questionable foods.
Above all, be patient. It took my wife 2-3 years. And I still don't like beets.
Baby steps.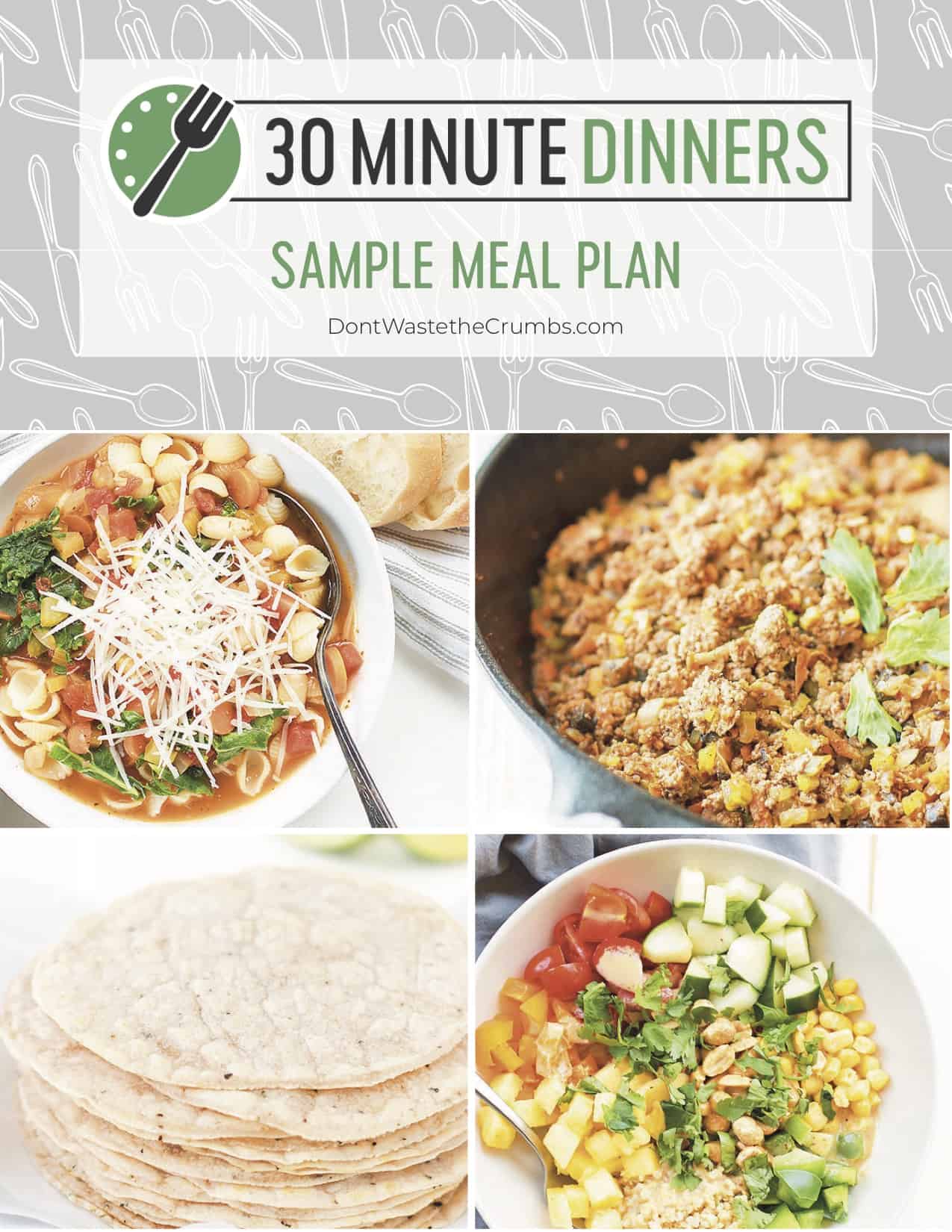 30 Minute Dinners Sample Meal Plan
Sign up to get instant access to my
30 Minute Dinners Sample Meal Plan
, complete with recipes and step-by-step instructions!
What are your biggest obstacles in starting a real food journey with your family ?
Disclaimer: This post contains affiliate links. By making a purchase through those links, you support the ministry of Crumbs without any additional cost to you. Thank you for supporting Crumbs in this way! Read my full disclosure statement here.