Learn how to make this easy homemade no yeast bread recipe. You only need 5 simple ingredients and the flour of your choice! Einkorn flour can be a great choice for those with gluten sensitivities.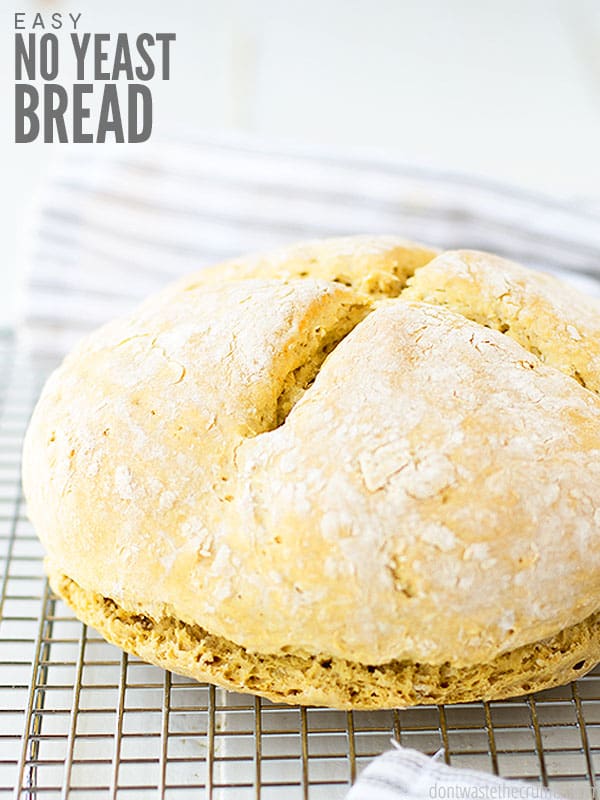 Have you ever gone to make bread, only to realize you were completely out of yeast?
I usually buy my yeast in bulk (2 lb bags off Amazon or Vitacost) and keep a small jar in the fridge for easy access, and the rest in the freezer. When the jar gets low, I refill it from the bag in the freezer.
However, my kids have been baking lately (they LOVE no-knead artisan bread) and they used up all my yeast and didn't tell me!
So when I went to make bread, I was out of luck… until I found this recipe for no yeast bread!
No Yeast Bread
If you've never made no yeast bread before, you're in for a treat. This bread is not only a LIFESAVER when you're in a pinch and out of yeast, but it's also:
Quick & easy
Ready in under an hour
One-bowl (hello dishes!)
Delicious! One of my kids actually PREFERS this over breads make with yeast
Freezer-friendly
Cheap!
Made with ingredients you already have at home
This no yeast bread is delicious fresh out of the oven, but my kids say it's even better toasted! They've been enjoying grilled peanut butter and jelly's like crazy lately!
Easy Bread Recipe No Yeast: Ingredients
I mentioned that this recipe is made with ingredients you already have. Here's exactly what you need:
Flour (any kind)
Baking powder (NOT baking soda)
Salt
Water
Liquid fat (any kind)
About the flour… I use einkorn flour because my daughter is sensitive to gluten. I buy whole berries in bulk here and einkorn all-purpose flour in bulk here. You can learn more about einkorn flour and why it's healthier than modern wheat here!
If you don't have any issues with gluten then you can use whatever flour you'd like. Whole wheat, white whole wheat, and all-purpose would all work well.
About the fat… I like to use fractionated coconut oil because it's already a liquid and it's MUCH healthier for your than yellow vegetable oils like canola oil or safflower oil or even "vegetable oil."
You can use virgin coconut oil (the kind that's solid at room temperature) or light olive oil if you prefer. Extra virgin olive oil will work, but it will give a slightly olive-y taste to the bread (just a heads up!)
Also, make sure you're using baking powder and NOT BAKING SODA. If you use baking soda, your bread will not taste good nor rise as it should.
How to Make Bread without Yeast
You can learn how to make bread without yeast in three simple steps:
Combine the dry ingredients together, and then add the wet ingredients.
Knead until combined.
Shape, bake, cool, and enjoy!
Note that this bread will not get a dark crust like most breads will. Use the kitchen timer, and use a kitchen thermometer if you're not sure. The bread is done when it reaches 220°F.
A Note on Shaping this Bread Recipe without Yeast
Because we're using baking powder as the leavening agent, it's important that you shape this dough correctly otherwise it will not rise nor cook in the middle. Be sure to:
Shape the dough into a round that is NO THICKER THAN 1 ½".
Use a sharp knife to cut a large 'X' in the bread that is ¾" deep (that's halfway down into the bread).
Also, make sure to allow this bread to cool completely before slicing. Bread continues to cook as it cools, and if you slice too soon, you'll get bread with an uneven crumb and possible spots of raw dough.
Is there a substitute for yeast?
No, but yeast is a leavening agent and there are other types. Baking powder (used in this recipe), baking soda, and sourdough are all leavening agents.
Can you use baking powder instead of yeast for bread?
You cannot substitute baking powder 1-1 for yeast in bread, but this recipe was specifically created to use baking powder and no yeast!
Can I make different types of homemade bread without yeast?
Yes! You can make cinnamon and raisin bread, rosemary and garlic bread… whatever flavor you want! Just keep dry ingredients together, and wet ingredients together, and you're good to go!
What to Serve with this Bread Recipe without Yeast
Other Easy Bread Recipes
No Yeast Bread
Easy and simple homemade no yeast bread recipe. You only need 5 simple ingredients and the flour of your choice! Made without yeast or eggs.
Author: Tiffany
Prep Time:

10 mins

Cook Time:

40 mins

Total Time:

50 minutes

Yield:

1

loaf

1

x
Category:

Breads

Method:

Oven

Cuisine:

American
4 cups

flour (any kind)

2 tsp

baking powder

1 tsp

salt

1 1/3 cups

water (reduce to

1 cup

if using einkorn)**

1 Tbsp

liquid oil
Instructions
Preheat the oven to 375F.
In a large bowl, mix the dry ingredients together using a whisk. Add the wet ingredients and knead until the dough is relatively smooth, adding additional flour if needed.
Lightly flour the counter or a Silpat mat and shape the dough into a round that is 1 ½" thick. Cut a large 'X' in the top of the dough that is ¾" deep.
Bake in the oven for 35-40 minutes, or until the dough sounds hollow when tapped underneath.
Allow to cool completely before slicing.
Notes
** Einkorn flour absorbs liquid more slowly. Reduce the liquid to 1 cup if you're using einkorn flour.