My biggest hang-up for not doing a lot of things is time.
There are only so many hours in each day and there's always a list of things to do. I'm sure you know what I'm talking about. Making bread or soaking the oats or sprouting the almonds doesn't always make it to the top of the list.
I do try though. I try to soak when I can and sprout when I can. Especially since now I know how easy it is. My sourdough is usually fed daily, although we've cut back on the amount of bread we eat, so I don't have to bake bread nearly as often.
But sometimes this stuff is pushed so far to the bottom of the list that goes into tomorrow… or Saturday… or next week.
Life happens, right?
At the same time, if these things are falling further away from me and closer to the edge of the earth, am I really making them a priority?
Let's be practical.
If we want our families to eat better and get more nutrition out of what they do eat, we need to make it a priority. On the flip side, time is precious. Not everything can be a priority.
So how do we choose what's a priority and what isn't? What will gets a pretty check mark? And what simply won't be written down?
Sourdough vs Soaking vs Sprouting
When Mr. Crumbs and I first got married, we were always making big decisions. At least it felt that way. We could banter back and forth for HOURS and get absolutely no where on the topic, so our only method of truly making good decisions was writing down a list of pros and cons.
The sourdough vs soaking vs sprouting debate seems to be one that is difficult to resolve. So, I'm employing the pro/con list to help us solve the priority dilemma.
Sourdough
PROS
Time – as little as one minute per day to feed; don't have to be home to create warm environment for the rise; total of 20-30 minutes now for mixing/kneading process and an hour for baking later
Money – least expensive bread recipe possible (only requires flour, water and salt)
Energy – most of the "work" is done ahead of time by feeding the starter; mixer does the bulk of the kneading; requires 5-10 minutes of hand kneading at the end
Nutrition – with these benefits, sourdough is quite possibly the healthiest bread available
CONS
Time – a single rise using a heating pad could be ready in as little as 4 or as many as 6 hours, leaving a 2-hour gap to play the waiting game; double rises are much less predictable and require more presence in the kitchen
Money – batches don't always come out edible, so even the minimal ingredients are wasted
Energy – effort is required to develop a "perfect" sourdough recipe and sometimes energy is wasted when loaves fail for no obvious reason
Nutrition – none
Soaking
PROS
Time – the active time of adding flour and water to a bowl takes roughly one minutes; the inactive time is entirely hands off and can be done while sleeping
Money – other than flour, no additional cost if I already have the soaking medium in the kitchen
Energy – little effort is needed to "add" and "stir" and "let it sit overnight"
Nutrition – breaks down gluten and phytic acid; predigests starches easing the work of the body
CONS
Time – at least one day advance preparation is required
Energy – a great amount of mental energy is used when trying to determine how much of what ingredients should be used to soak in a recipe that wasn't originally written to be soaked; a smaller yet still significant amount of energy is used to locate specific recipes that include soaking instructions
Nutrition – soaking only reduces 10% of the phytic acid (source); only whole grains need to be soaked (so if I only have white flour on hand, there's no point at all)
Sprouting
PROS
Time – filling a jar with nuts/grains, water and salt is quick; agitating the jar takes less than a minute
Money – no additional expense if they were going to be eaten anyway
Energy – requires 2-3x daily shakes or stirs, but other real foods take much more
Nutrition – the benefits of sprouting are enormous and cannot be ignored
CONS
Time – active time is low, but the inactive time can take up to four days; this doesn't include any post-soaking dehydration (12-24 hours with the last few requiring frequent checks)
Money – the cost of whole grains instead of pre-made flour, plus the cost of a grain mill if these alternative methods aren't suitable; possible cost for a dehydrator if the existing oven is insufficient or undesirable
Energy – none for sprouting; requires work to drain and lay out grains/nuts if dehydrating; must frequently check on the grain/nut during dehydration to ensure it's done
Nutrition – none
To Summarize
Sourdough
To me, it only makes sense to bake sourdough. The nutrition of it is absolutely amazing and even though we don't have any wheat or gluten sensitivities, I've noticed it is easier on my own body to digest.
Since this basic sourdough bread recipe works with a single rise, I'm okay with that 2-hour waiting window. The timing of the bread has worked out so that we're home for that window anyway.
Soaking
I typically use about 50% white flour in a lot of my bread recipes. And since soaking has no effect on white flour and only minimally reduce phytic acid, I can't say I'm all-in for soaking for bread.
There's probably a recipe somewhere out there that explain how to soak the 50% of wheat and then add the white later… or that it's ok just to soak it all together in the first place… but that's requiring more mental energy than I have to give it. Frankly, the cons simply outweigh the pros.
Plus, phytase (the stuff that breaks down phytic acid) is found in the whole grain. If we ground our own grains at home just before use, they'd be in ample supply. Then the need to soak the whole grain becomes a moot point.
Sprouting
There are significant benefits to sprouting, and sprouting nuts is something that can easily be incorporated into a busy schedule, even when you include the dehydrating time (now that I know we prefer them after a full 24 hours).
However, the issue of sprouting grains is like a teeter totter and I'm not yet completely on board. Sprouting grains means we have to buy them whole and I haven't yet found a quality source that is affordable. If we regularly buy whole grains, it would be ideal to have a grain mill… but that's not in the budget at the moment. We could use this process to grind with coffee grinder or food processor, but then we're adding a significant amount of time into the process.
In An Ideal World…
I'd own a grain mill, would grind my grains at home and make sourdough bread regularly. Also, I would be more than happy to make rolls or biscuits on a whim because I have fresh flour at my fingertips. I could skip sprouting the grains altogether, but still sprout our beans and nuts. Because a gassy family is not fun.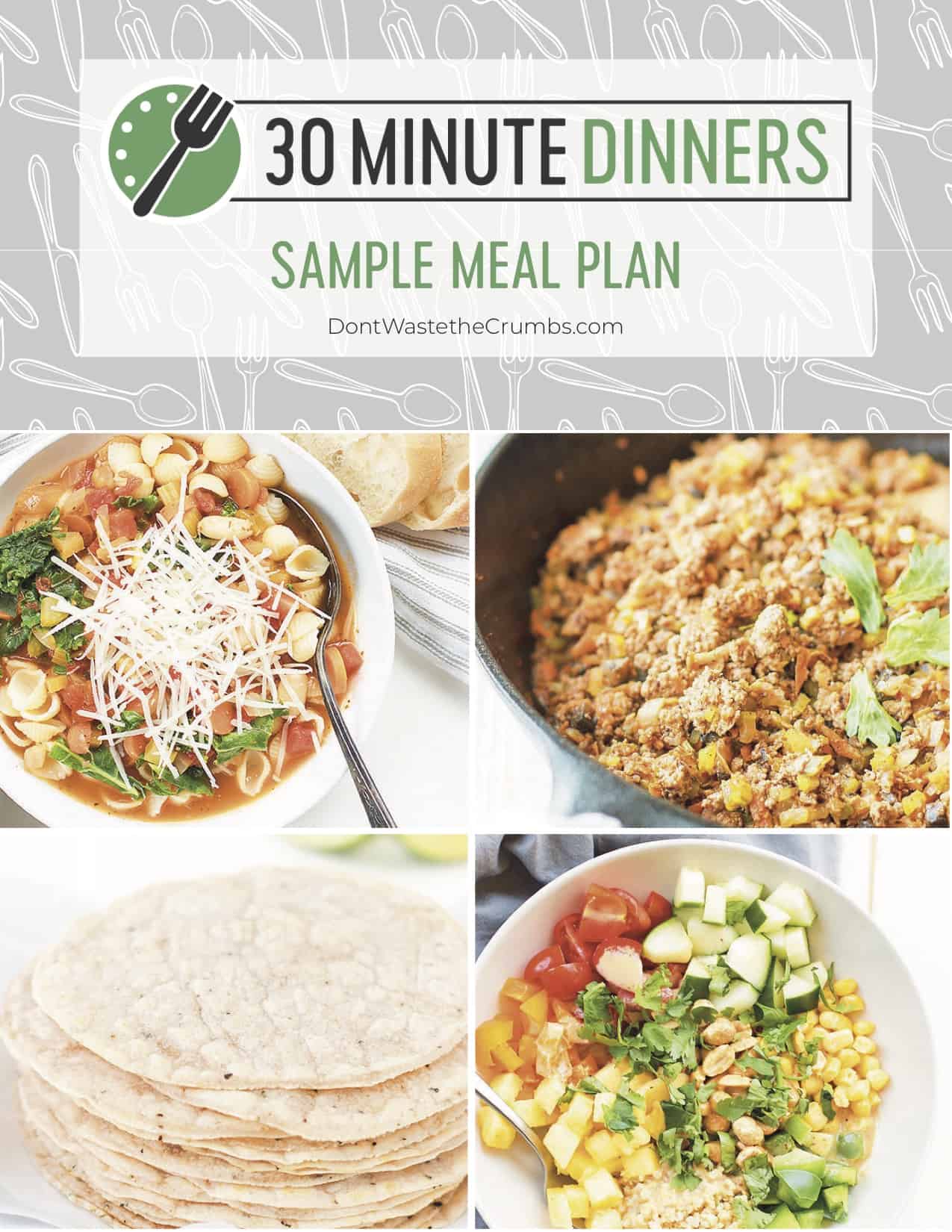 30 Minute Dinners Sample Meal Plan
Sign up to get instant access to my 30 Minute Dinners Sample Meal Plan, complete with recipes and step-by-step instructions!
What do grains look like in your ideal world? Are you a soaker or sprouter, or do you prefer sourdough?