Discover the difference between organic spices and conventional, plus recipes to make your own healthy homemade spice mixes and pumpkin pie spice blend. Try my amazing Italian Seasoning Blend or my Homemade Seasoning Salt.
Every time I browse the bulk food aisle at Whole Foods (which is a must-do if you're a foodie, even if you have no intention of ever buying), I wonder to myself:
Organic cloves? What's the point in that? Does it really matter if it's organic or not when you're only 1/4 teaspoon at a time?
We scrutinized hydrogenated oils, even if it was in one cookie. Coffee creamer was completely banned. Why should spices be any different?
Organic vs. Non-Organic Spices
The topic of organic vs. non-organic spices is not new. Seasoned real foodies know this. Those who are new to the journey (like myself) are clueless.
Ten years ago, a news story on organic foods would have put most of us to sleep. If you weren't snoozing, you cracked jokes at all those California hippy tree-hugging granolas who thought their food was tainted and the government was in on it.
Wow. Who knew they were right?
Sterilization of Spices
The United States produces only 40% of its annual spices needs, meaning 60% of the spices you see on store shelves are imported. This makes the U.S. the world's largest spice importer and consumer.
With such a high rate of importation, the government requires that all spices be sterilized in one of three ways in order to be sold in the US: fumigation, irradiation and steaming.
Fumigation
This is the cheapest and most common method used to sterilize spices. This process allows ethylene oxide gas to diffuse freely and permeate the spices. As a result, there is residue leftover on the spices. This means aeration is necessary to let the residue dissipate.
Not surprisingly, the USDA allows numerous chemicals in the fumigation process. Yet, the World Health Organization has deemed these same chemicals as hazardous. Products treated with this method are not required to be labeled as such.
Irradiation
This process is less harsh than fumigation since gamma rays (yes, radiation) can penetrate even high-density packaging. More good news is that irradiation does not create residues like fumigation, and aeration is not required. The downside is that irradiation reduces the flavor and nutrients of spices in the process. Products treated with this method require labeling.
Exceptions to the labeling requirement include items that are roasted, heat-treated or blended with other irradiated or non-irradiated spices or ingredients. Just to clarify, one irradiated item = labeled. Two irradiated items = not labeled.
Steaming
Steaming is the only sterilization process approved for items to be certified organic. This method uses dry stream (a.k.a. very, very hot water) to destroy bacteria while retaining all the flavor of the spices. No chemicals, no radiation – just water.
There's More to Spices?
You may be getting more than you bargained for when purchasing non-organic spices. The FDA does not require spice manufacturers to label when they mix in other ingredients like flour, sugar, rice or salt to the spices. They don't require the labeling of artificial colors, flavors or preservatives. They also do not require spices to be free of contaminants.
The American Spice Trade Association says that it's basically impossible to grow, harvest and process crops (spices) that are totally free of natural defects.
Side note: I found this information via Simple Bites while researching. In an attempt to follow back to the original source, the page linked in the article is no longer valid. In order to now obtain the document outlining guidance in cleanliness, we must complete a form, on behalf of a company, and include our personal name(s) and email address(s). While the ASTA provides this document as a free download, it's apparently comes at a cost.
Curious what "natural defects" are? Some include mold, poop (yep, poop) dead insects, rat hairs, wire, string and who knows what else.
Gross. Want to know more?
Up to 20% of the "spice" can be this icky, disgusting foreign matter. Makes you think twice when you reach for those cloves, eh?
A Better Option: Organic Spices
Certified organic spices don't have anything that they're not supposed to. Buy a jar of organic cloves and that's what you get – cloves.
On top of that, organic spice farmers are leading the way and helping to improve the lives of the farmers and their communities. Remember how much of our spices are imported? Countries like Sri Lanka and Madagascar and others in the Indian sub-continent, Southeast Asia and Central America work hard on their farms to produce the best spices possible.
Farming is not an easy nor affluent occupation, and farming in second and third world countries is even tougher. Organic spice distributors tend to use fair-trade crop importation, making sure the farmers are paid fairly for their effort.
Homemade Organic Spice Mixes
As we've just discussed, the ordinary spices off the shelf may contain things we don't want to eat. Organic spices are a much better option. This is true for spice mixes as well. Plus it's a whole lot cheaper to make them yourself.
If possible, buy spices whole and grind them yourself. This may be a little more expensive up front, but because fresh spices are more potent, we'll end up using less.
Or once you've built up your organic spice collection, you can use those to make your favorite mixes.
You can find some of my organic spice mix recipes here:
What you purchase at the store will ultimately have to fit within your grocery budget. Determining if organic spices are worth the few extra dollars is up to you.
Personally, I find all my organic spices on good ole Amazon. Their prices usually come out cheaper than my local stores. I've also found good prices at Thrive Market when they offer discounts. Click here to see the Exclusive Offer for Crumbs readers! 
FAQS
Are organic spices better?
Yes! Organically grown spices are better much than spices that are grown with chemicals and pesticides. Organic spices are grown without chemicals and preservatives and are not fumigated or irradiated.
What are organic spices?
Organic spices are not irradiated or fumigated. They are not grown with pesticides, GMOs, and do not contain caking agents or chemical additives.
What is the main difference between organic and regular spices?
Organic spices do not use any unnatural chemicals and pesticides for the growing process, and use natural fertilizers instead.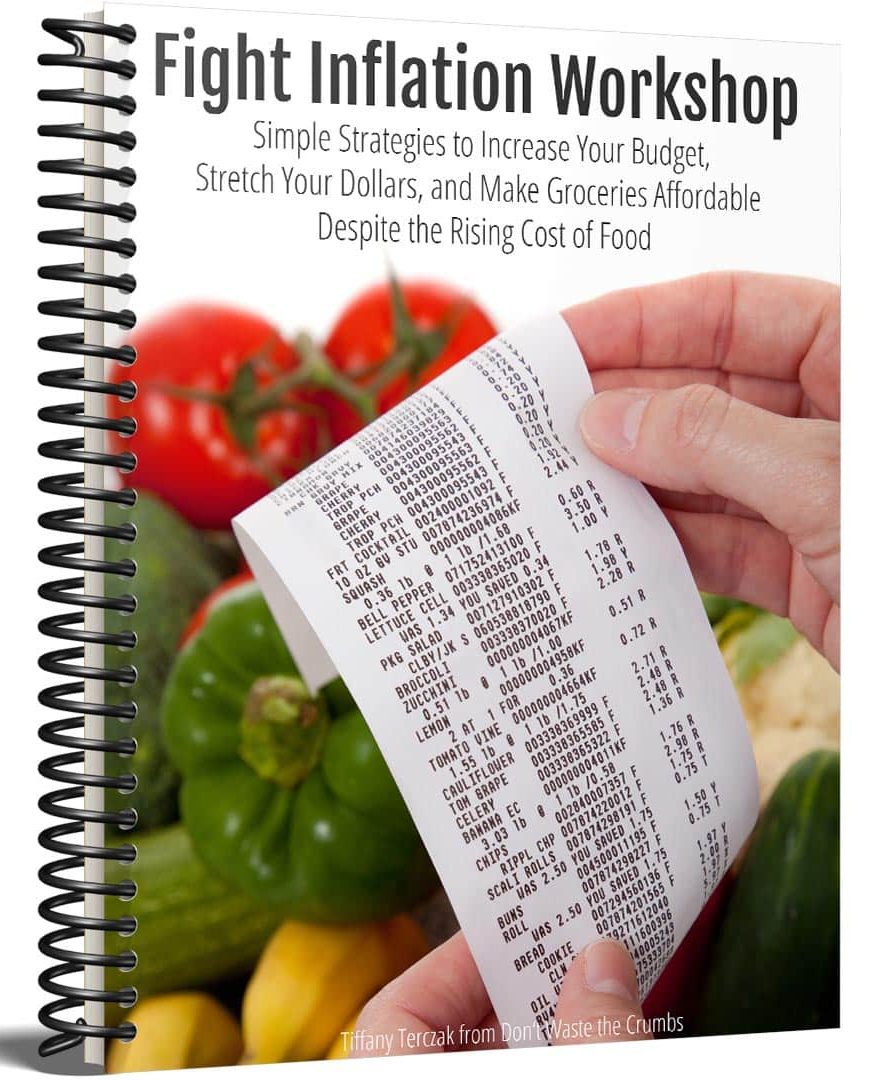 Fight Inflation Workshop
Sign up for my FREE
Fight Inflation Workshop
and learn simple strategies to save money, even with rising food costs!