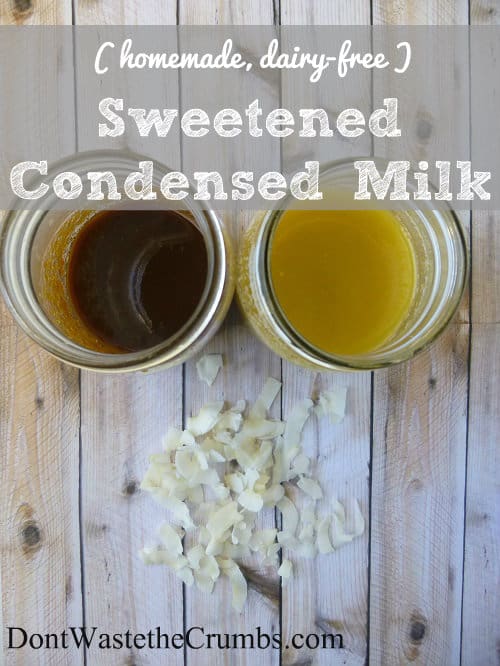 Thanksgiving Day without pumpkin pie isn't anything worth celebrating in my book.
Might as well be a plain and normal Thursday in March where Mom happened to buy a bird two sizes too big, leaving enough leftovers to feed the entire neighborhood for a week.
With all the butter-laden veggies, breadcrumb-topped casseroles and warmed rolls on the menu, there's plenty to avoid at the dinner table if you have food allergies.  Pumpkin pie doesn't have to be one of them!
Last week I made homemade sweetened condensed milk.  Granted, I don't need eight cups of this milk for my side dishes and desserts this week, but I was curious how sweetened condensed milk would turn out if it were made with maple syrup, honey or raw sugar.  (It comes out pretty darn good, in case you're curious too!)
But then I started wondering if it would turn out with coconut milk or almond milk… and if it was possible to really make sweetened condensed milk with any milk.
Dairy-Free Sweetened Condensed Milk
One batch of homemade coconut milk, tried two different sweeteners (organic coconut palm sugar and organic evaporated cane juice) and got to cooking.  The results?
Yum, sweet yum.
The coconut sugar came out really dark, and the evaporated cane juice came out a light mocha color.  Both are equally delicious and don't taste much like coconut at all!
If you're dairy-free, don't skip out on pumpkin pie.  Instead, volunteer to make it yourself and sub your own homemade sweetened condensed milk instead!
Dairy-free Sweetened Condensed Milk
Instructions
Combine milk and sweetener in a medium saucepan. Whisk to dissolve sweetener over medium heat.
When the milk begins to steam, lower the temperature to as low as possible.
Dip a straw into the milk and use a permanent marker to draw a line on the straw, just above where the milk hit.
Allow milk to reduce to half in size from what it first was, periodically checking with the straw and stirring. This took approximately 2 hours and 20 minutes for me.
When milk is reduced by half, remove from heat and whisk in vanilla extract.
Pour into a clean glass jar and allow to cool. Store in the refrigerator.
Notes
The milk sweetened with coconut sugar got much thicker than the one made with evaporated cane juice.
I did not strain either milk, but you might want to do this if you're looking for a super-creamy consistency. The remaining pieces of coconut and/or sugar were not large and would likely not be noticeable in pumpkin pie, but probably would in a pudding.
Additional Recipe Notes
This recipe makes about 1 cup of condensed milk which is about equal to a can of condensed milk. (Measuring by volume not weight.) Most pumpkin pie recipes I've seen use one can of condensed milk, so this recipe will replace that can.
You can also try other sweeteners too like honey and sucanat. And other dairy-free milks. Here are the super easy recipes for non-dairy milks:
Making your own dairy-free milk is a great way to cut down on unnecessary additives and cut costs. One of the main principles I teach in Grocery Budget Bootcamp covers why making from scratch is so beneficial!
When I was a kid, my mom used to make me my own pumpkin pie.  I simply cannot imagine a holiday without it.  But I know lots of recipes call for sweetened condensed milk. This dairy-free alternative means you don't have to miss out on your favorite dessert!
What's your favorite Thanksgiving dessert?
Here are some other dairy alternative recipes you might enjoy:
Ghee and Clarified Butter