Are you looking for a produce box? Check out my Farmbox Direct review! Here are my honest thoughts about this convenient produce delivery service. Don't forget to read my other reviews on Butcher Box and Thrive Market.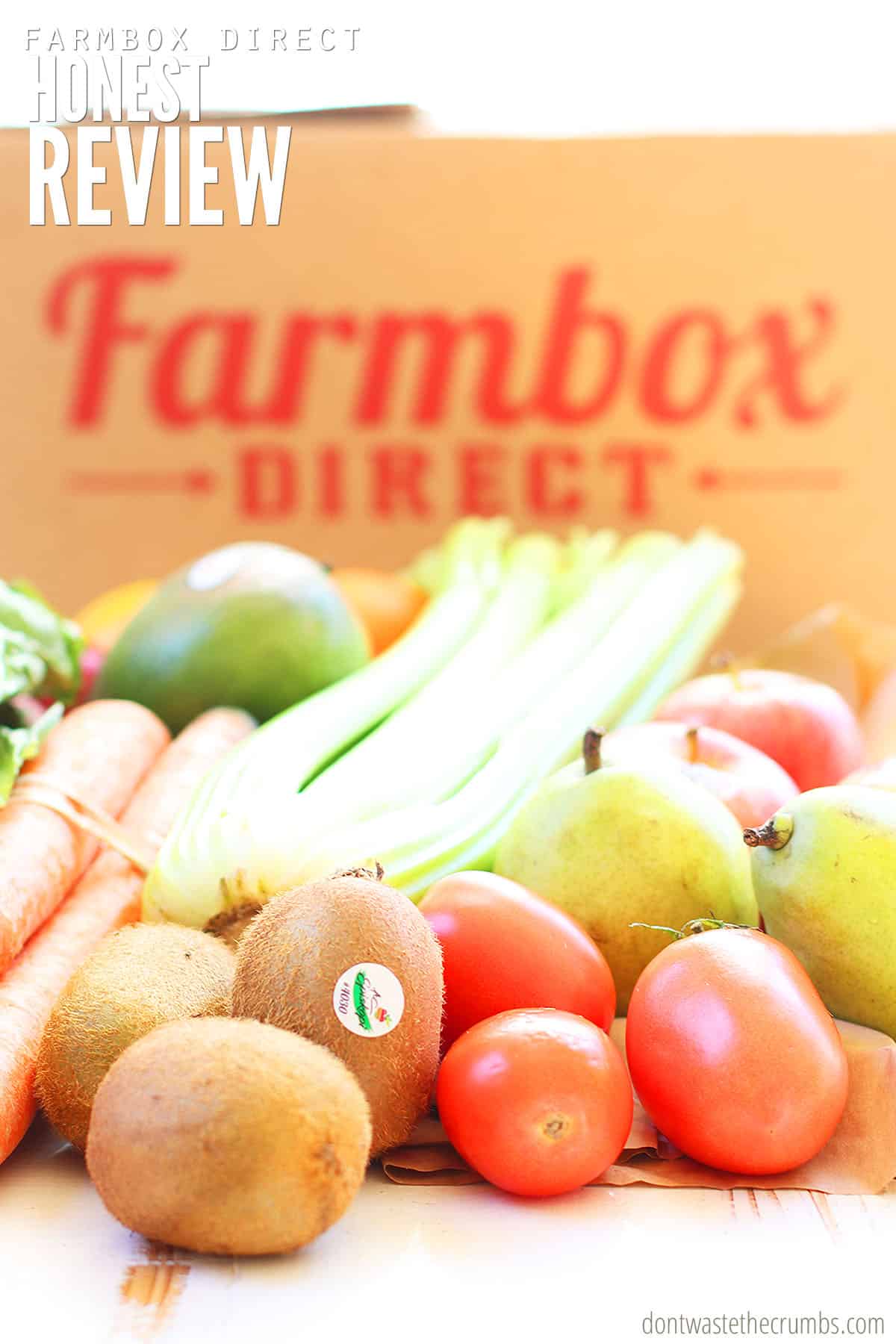 As a busy mom, I'm always looking for ways to make my life easier. That's one reason I subscribe to Butcher Box, a grass-fed meat delivery service, and have found how to get the most bang for my buck with every delivery.

I have the meat part figured out, but what about produce?

I was a member of a CSA (community supported agriculture) box years ago and loved the fresh farm produce and wide variety every week.

With produce delivery services becoming more popular recently, I wondered if they'd offer a similar experience and convenience. I've tested a few different services like Misfits Market and Hungryroot– and here's my honest review on Farmbox Direct!
Honest Farmbox Direct Review – My Initial Thoughts
My box was delivered to my porch one morning and I intentionally left it there all day because that's what would happen if I wasn't able to work from home.

I brought the box inside around 5 pm and then put it on my kitchen table. Once again, I intentionally let it sit there unopened until 5 pm the following day.

Even though I opened the box around 5 pm the day after it was delivered, I STILL let the produce sit in the open box until the next morning.
I was trying to mimic what a busy weekday might look like for someone who works outside the home…
getting home after 5 pm
busy night making dinner and helping with homework
late night with sports and games and trying to get everyone to bed
early morning and seeing everyone off to where they have to go
coming home and realizing they hadn't had time to put away the produce box!
My husband was eager to clean off the table, but I was insistent and I'm glad I was. I'm happy to report that other than a few broken celery ribs, the produce arrived in good condition, and sitting on the porch and table didn't affect the quality of the produce in any way.

Speaking of quality…
Where Does Farmbox Direct Produce Come From?
Perhaps I didn't do my research, but I honestly thought that the produce would be coming from a local farm. That was one of the reasons I was interested in Farmbox Direct in the first place!

According to the Farmbox Direct website, "Our promise is to bring you the freshest produce available. We spend many hours sourcing the best Organic, and Natural produce available to bring to your doorstep. We believe in farm to table, the way food should be!"
Unfortunately, their produce isn't necessarily local. Rather, they offer two types of boxes – organic or all natural.
The organic box is filled with only USDA-certified organic fruits and vegetables. According to their site, "… natural boxes provide you with a more economical option."

I agree that non-organic produce is more affordable, but I'm a little bothered by the use of the word "natural." This term isn't regulated by the USDA or FDA, so companies can use it however they see fit.

(And because many companies use the word "natural" to make their own products seem healthier, I'm naturally skeptical anytime I see it used.)
Quality of Produce
I think transparency is always the best policy, so in the case of Farmbox Direct, I think "conventional" is the more appropriate word instead of "natural."

I received 11 varieties of produce and of those, 4 of them had PLU stickers. This caught me off guard, especially since I thought the produce was coming from a local farm.
The owner of Farmbox Direct wrote, "My goal is to bring you the Farmers Market in its purity to your door!" but I don't think that's actually happening.
I've shopped local farms before. I've been part of a CSA for several years. Not once did any of that produce ever have a sticker, because there was no point! The farmers didn't need to scan barcodes to know where the food came from or what they were selling – it came from their own land!

Perhaps I was wrong to think this way, but it felt disheartening to see produce stickers when I thought I was getting farm-quality produce.

Now, don't get me wrong – there's nothing wrong with conventional produce. I buy conventional produce every week!

I just think that there's a perceived higher quality with the word natural and produce with PLU stickers (starting with the number 4 which means they were conventionally-raised) doesn't meet that higher quality standard to me.
How Farmbox Direct Works
Each week Farmbox Direct sends you an email with a listing of fruits and vegetables available for your box. You can then log in, choose your box size, and customize your box with up to 5 substitutions. You also have the option to add artisanal items or other grocery items when available.

The cut-off time to order is Tuesday at 12 pm ET for the following week. This means you need to be ahead of the curve because the produce you're ordering now is for NEXT week. (The cut-off time for substitutions is Thursday at 10 am ET, by the way.)

Boxes are delivered via FedEx, with your delivery day being tied to your zip code.
I received a sample box to review, so I personally haven't tested their ordering process, but here's what came in my box:
3 red potatoes
1 bunch of carrots (no tops)
3 gala apples (with PLU sticker)
1 mango
2 pears
1 bunch celery
3 kiwi
1 zucchini
2 navel oranges
1 head romaine lettuce
3 roma tomatoes
I honestly felt like this box was so-so.
It was delivered in January and because I thought the produce would be coming from a farm, it surprised me to get kiwi, mangos, and tomatoes… in Georgia!

Now I know I'm not far from Florida, and I would consider produce from Florida to be local. Florida farms can easily grow many of these items. But considering at least one of the stickers specifically said "from Peru," that idea went out the window.

I also felt like including potatoes was a bit of a cheat. My carrots didn't include the tops (which I would have used to make carrot top pesto), a couple of ribs of celery was broken, and my zucchini was bruised.

However, I was impressed that each delicate produce item was wrapped individually. This prevented the produce from ripening each other during shipping.

The produce was still cool to the touch, 24+ hours after being delivered, so I'd say their packing methods are effective.
How much does Farmbox Direct cost?
The cost of each box depends on the size box you choose and whether your box is organic or all-natural. As of this writing, a small organic box is $55.93 and a large organic box is $78.93. A small natural box is $51.93 ($4 less than organic) and a large natural box is $63.93 ($15 less than organic).

Regardless of what box you choose, there is a $5.98 handling and packing fee to cover the cost of using biodegradable/recyclable materials. Be sure to include this fee when you price compare Farmbox Direct to your local farms and stores.
Farmbox Direct Honest Review on Pricing
Considering the items I got in my box, I think the price point is too high. I went to my local Kroger and if I bought everything I received in my box, I would have paid less than $18 (for a total of $39.93 in savings.)
FAQs
Is Farmbox Delivery Legit?
Yes, they're legit. A box actually came to my door, there was produce inside the box, and the produce tasted good.
Is Farmbox Direct worth it?
Pros to Farmbox Direct Delivery
1. If your box arrives damaged, you can send an email within 24 hours to get any issues resolved.

Cons to Farmbox Direct Delivery
1. The fresh produce you order this week will be delivered NEXT week. If your goal is to replace your weekly shopping with Farmbox Direct, that won't happen right away.
2. You may still have to go to the grocery store, especially since your box likely won't have all of the produce you normally buy, every week.
The Bottom Line and Final Thoughts on My Farmbox Direct Review
Click HERE to see if Farmbox Direct is available in your area. For those that live outside the city and have to drive a bit to go shopping, this might be a good option for you.
More Reviews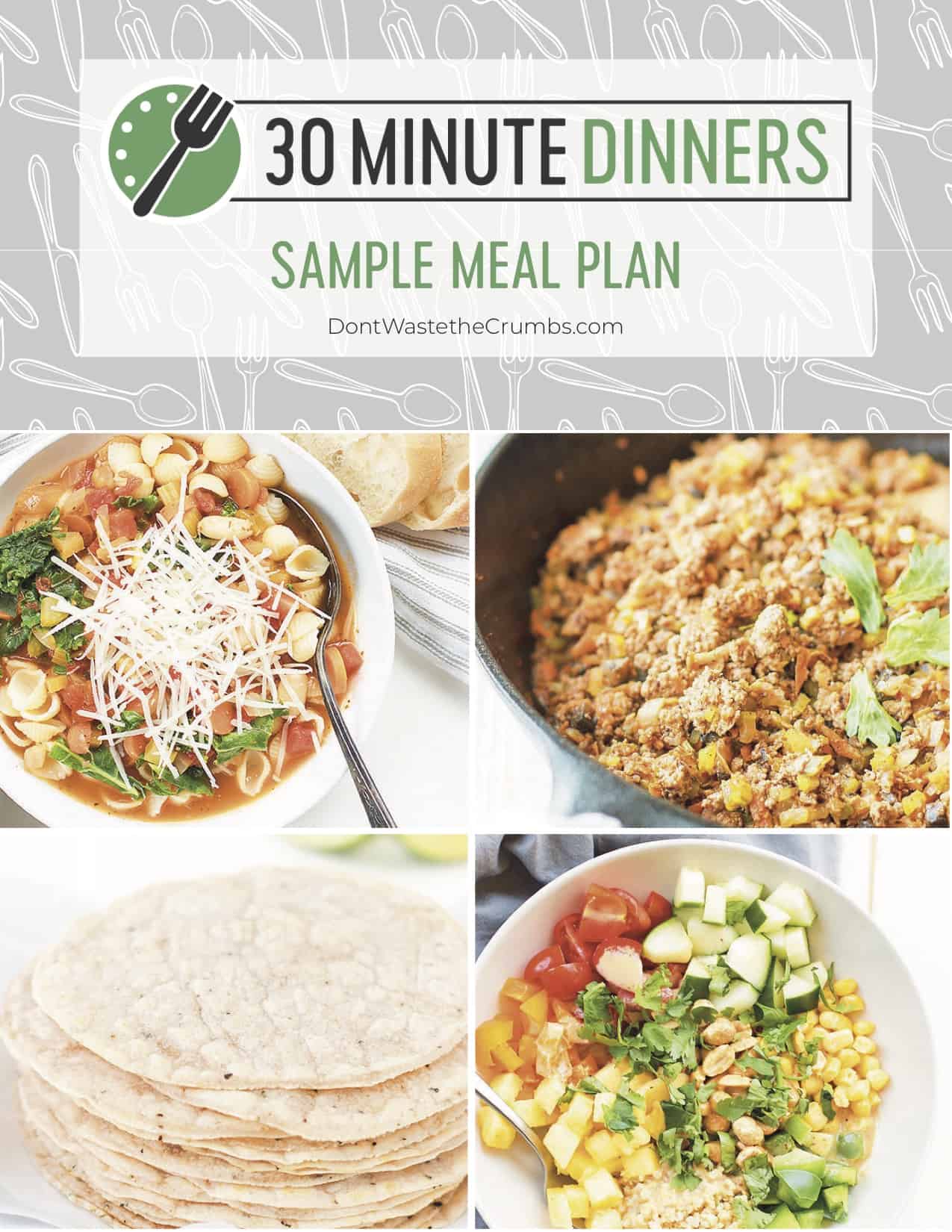 30 Minute Dinners Sample Meal Plan
Sign up to get instant access to my 30 Minute Dinners Sample Meal Plan, complete with recipes and step-by-step instructions!