An updated Butcher Box review (from 2018) to include thoughts on their beef, chicken, pork & salmon, plus their plans, negative reviews and a discount code!
Everything You Need to Know About Butcher Box Review (updated!)
It's been close to a year since I tried Butcher Box for the first time. At the time, I was a huge skeptic about buying grass-fed meat online. I was even more so unsure if it was possible while trying to work within a budget. That's why it took me nearly four months and two full-size sample boxes to fall in love with the company and their monthly subscription boxes. So I shared my honest review of Butcher Box with you. A lot has changed since I first purchased my subscription, so I wanted to provide even more insight for you in this updated Butcher Box review, so you can decide whether or not it's a good fit for your family!
Before I dig in, I need to share some personal back story on how and why we landed on Butcher Box in the first place.
Can you eat too much chicken?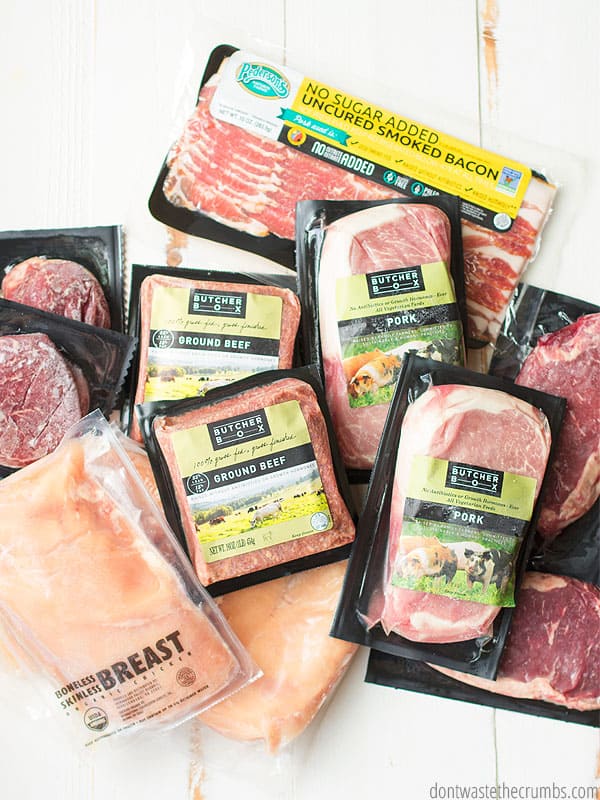 For the first 8 years of my marriage, 80% of our meat consumption was chicken. This was fine by me because chicken is cheap. I've seen whole free range chickens marked down to as little as $3. This was also because my husband doesn't like ground beef. Even the Best Burgers Ever. It's a texture thing, and it overlaps into fish and pulled meat, too, with slow cooker carnitas being a huge exception; he requests that one often! But as we've learned more about our bodies and the role that food and supplements play, I'm starting to wonder if you can eat too much chicken… We Were Vitamin B12 Deficient! Last fall my husband and I started taking a B-complex vitamin from Young Living, primarily for the B12. He took it to help manage his nervousness and I took it to help with cognitive function and focus. It was a light bulb moment for both of us. We felt so much better!! And then it dawned on me – if we felt relief from a supplement, we probably weren't getting enough B12 in our diet. But why? We don't eat processed food and have been consistently preparing whole foods for several years at this point! I did some research and found that the best source for B vitamins is animal protein. Here's a quick rundown of the top three vitamins for the major meat groups:
Chicken: vitamin B3, selenium, vitamin B6, phosphorus

Pork: vitamin B1, selenium, zinc, Vitamin B12

Beef: vitamin B12, vitamin B3, vitamin B6, selenium

Fish/Seafood: vitamin B12, vitamin D, selenium, vitamin B3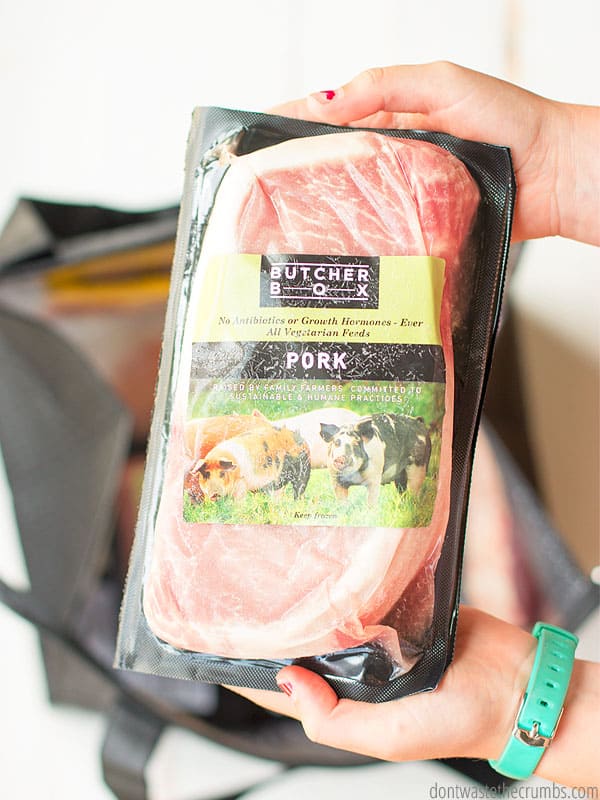 Do you see what I see? Since we ate a balanced diet all around– omitting pork, beef, and fish– it still meant we were completely missing three of the best sources for B12! In the same way that we need a variety of vegetables for all their nutrients, we need a variety of meats!
What about a meat box delivery?
In order to add more meat variety to our diet that met our food priorities, I started doing some research. I found local grocery stores that carried organic chicken and grass-fed ground beef that fit our budget. But the husband doesn't like ground beef. So I kept looking. There are farms and CSAs within an hour or two driving distance from us. I even found a local reader who plans to breed cattle in the next few years! But since not everyone lives in the land of plenty, I dug up a few reputable online sources as well. One of those sources is Butcher Box, who is in the business of delivering super high quality meat (grass-fed, organic and/or pastured) via a monthly subscription box to your front door. After sharing my personal experience and honest review of Butcher Box on the blog, I purchased my own subscription and we absolutely love it! I know that Butcher Box may not be for everyone. You have to consider where you live, your grocery budget, and what your family needs nutritionally. I also know that it's really helpful to hear someone else's experience to help decide whether it's a good fit for you or not. That was my goal with my original review of Butcher Box, and that's why I'm updating you with this review as well.
How Butcher Box Works:
If you've never heard of Butcher Box before, let me give you the chips and salsa version:
Butcher Box works directly with farmers to bring you grass-fed beef, organic and free-range chicken, and heritage breed pork. Delicious meat delivered to your door.

When you join, you choose the type of box you want to get: mixed box, beef & pork, beef & chicken, all-beef or a custom box that lets you choose specifically what cuts of meat you want each month.

Choose between two box sizes: Classic Box (9-14 lbs of meat for about 24 meals) or Big Box (18-26 lbs of meat for about 48 meals).

You can change your order each month, so you're never locked into one type of box.
Read more about how Butcher Box works and pricing on their website.
Butcher Box Review: The Meats
My opinion of their ground beef, rib-eyes, top sirloin, NY strip, pork loin and pork chops is still the same – absolutely amazing. They have THE BEST pork chops you will ever taste in your entire life. Every time I make them, I think that they're worth the entire subscription alone! But since my first review, I've also been able to try a few new cuts of high quality meat:
Salmon.

Their wild salmon comes in 2 pound bags, with several pre-cut filets inside. Both my son and I LOVE salmon, so the two of us made a simple sheet pan-style dinner. Very tender and flavorful and we both wished we had made more so we could have seconds!

Lamb Roast.

The lamb roast was so, so good… incredibly tender, absolutely delicious and the one roast was WAY MORE than enough for the four of us. We had so much leftover that I froze it and we enjoyed lamb tacos for many, many nights!

Turkey.

I was super nervous to cook the Thanksgiving turkey this year, partly because I had never done it before, but also because I didn't want to screw up cooking a pastured turkey! I followed a tried-and-true recipe and my husband's entire family raved about how delicious the turkey was. And I admit, it was some of THE BEST turkey I've ever had!

Ribs.

My husband was a skeptic about their ribs and thought they couldn't be better than the ribs we buy from Costco. Butcher Box proved him wrong! I used the ribs from Butcher Box to create

my slow cooker ribs recipe

, and they turn out perfect every single time.

Ground Pork.

I've heard from several people that finding natural, humanely raised ground pork locally is hard, but I don't have that issue now that

Butcher Box

offers it in their monthly boxes! Nine times out of ten, we use the ground pork to make homemade breakfast sausage. The 10

th

time we make egg roll in a bowl and chow down on that!
Is Butcher Box Legit?
A few things have changed since I shared my original review, but they're for the better. Making them one of the best companies I've worked with. You now have the option to change your monthly box. I don't know if I missed this before, but when I reached out to Butcher Box and asked them to put one month on hold because I had beef coming out of my ears, they told me I could switch my box to something else! This is perfect for keeping our freezer stocked with grass-fed beef, organic chicken, and heritage breed pork. I can balance our monthly grocery budget AND the need for more or less meat, depending on what's going on in any given month. The Classic Box is the same price as the Custom Box. The Classic Box used to cost $20 less than the Custom Box. At first glance, you might see this as a negative. I see this as a HUGE positive! That means that you can pick and choose the exact cuts of meat you want without having to pay more to do it! A custom curated box is perfect for picky eaters (like my husband). Or for when you need a specific cut for your meal plan. This is one of the key elements to make Butcher Box worth the cost!
You get an email about your shipment BEFORE it's processed.
I LOVE getting an email at the end of each month reminding me about my order that's about to process. Again, I'm not sure if I just missed this last time or what. It gives me a chance to check my freezer to see what I'm low on, to check my meal plan to see what I need, and to check my family calendar to see what upcoming guests or parties we have planned. I can login on my own, update my order, and then have everything I need when it arrives on my doorstep.
The packaging has changed, and it works!
Getting high quality meat from point A to point B WITHOUT sacrificing the quality or integrity of the meat can be a challenge. Butcher Box has stepped up to the plate! While their insulated bags were cute, they didn't always get the job done. Instead, they switched to insulated boxes, so when you open the box, the entire box is insulated with 1" thick material. On top of that, there is a significant amount of dry ice inside that insulation so that your meat arrives cold and safe, according to FDA standards. Even with the old packaging, my meat has never arrived completely thawed. However, the new packaging means my meat is rock solid frozen, every time!
They've upped their game in education.
As you can imagine, there are a lot of rumors and misinformation when it comes to meat and temperatures and safety concerns. For example:
It is perfectly safe to refreeze food that has been thawed in the refrigerator, WITHOUT cooking it first.

If food is partly frozen, as cold as if it were in a refrigerator (40 °F), and still has ice crystals, it is safe to refreeze or use!
You may have heard otherwise from your grandmother, but it's simply not true! I love that Butcher Box has taken initiative to educate their customers on what is considered safe and not safe, according to FDA standards. They now send a super helpful infographic each month via email after your order processes. There's also an insert in your actual monthly delivery.
They invested in customer service.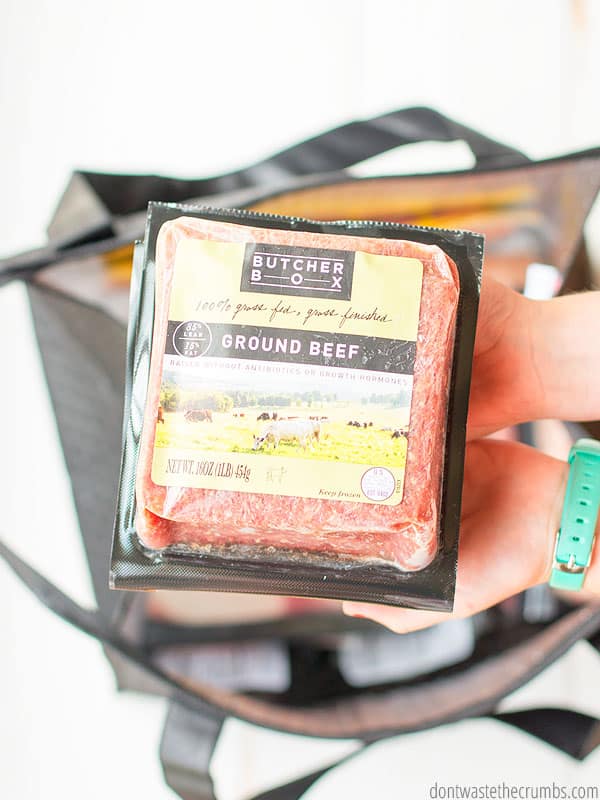 I know first-hand how important customer service is, and that's why I personally brought YOUR concerns to Butcher Box last year. In turn, they hired a new customer service manager and drastically reduced response time. Your concerns trickled up the chain, too. They're planning to open two new distribution centers to help reduce transit time for hard to reach states. I know that companies are run by humans and humans make mistakes, but I love that Butcher Box isn't sweeping them under the rug. They acknowledge them and make plans to fix them in the best interest of the customer. I'm not sure if customer service gets any better than that!
Is Butcher Box Worth it?
I personally am a VERY happy and satisfied customer and have been for quite some time now. If you're looking for high quality beef, pork and chicken, I highly encourage you to give Butcher Box a try!
The search for high-quality meat ends here. Amazing taste. Humanely raised and delivered to your door. Sign up today! Click this link to claim the current offer!
How important is high quality meat to you? Have you tried Butcher Box before? What is one thing standing in your way from trying their monthly subscription? Leave your comments below and I'll do my best to help you out!