If you wonder about the cost, price, negative reviews and how much is Butcher Box, read my honest review of Butcher Box. Plus see what comes in a box! My family has used ButcherBox for over a year and we love the quality of the meat and learned how to make it fit within our budget!
I never intended on being a guinea pig when I grew up, yet here I am, testing and experimenting again on your behalf!
And now it's my honest review of Butcher Box, known for delivering grass-fed beef, heritage breed pork and organic chicken right to your front door. Never heard of Butcher Box before? Here's what you should know.
What is Butcher Box?
Butcher Box is a meat distributor. They are neither a farm nor an online grocery store. Instead, they work with a group of family farms and cooperatives in order to bring grass-fed beef, heritage breed pork and organic chicken to your front door every month. Look at Butcher Box like a farm liaison. If you're interested in eating better quality meat but haven't been able to find it at your grocery store or at a local farm, Butcher Box can provide it for you.
How Does Butcher Box Work?
Butcher Box is a monthly subscription service. You choose what package of meat you'd like, how often you want the box delivered (either every month or every other month) and then choose any add-ons if you'd like. An add-on would be a one-off item, like a package of uncured sugar-free bacon or 1 pound of boneless pork chops. As of this writing, your package options are:
Mixed Box (contains beef, chicken and pork – the most popular!)

Beef & Pork

Beef & Chicken

All Beef

Custom Box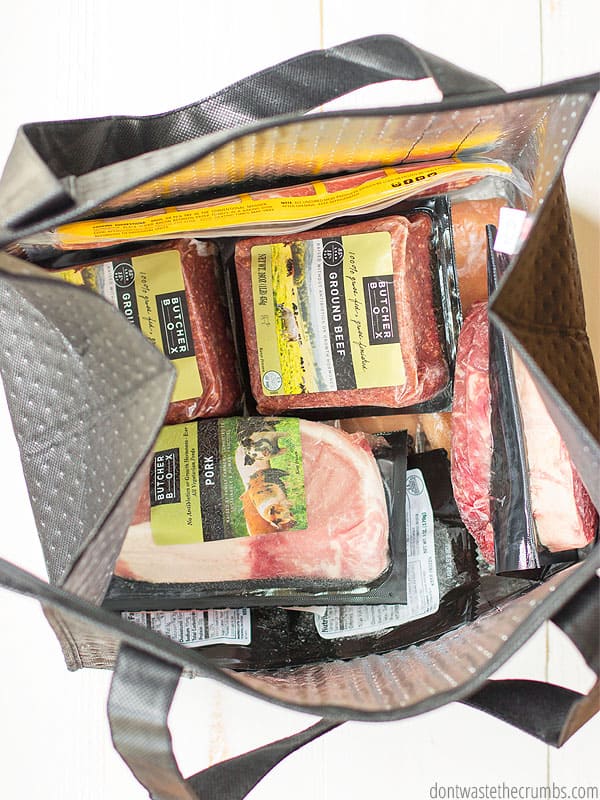 In the first four options, you can choose they type of meat but not the exact cuts. The Custom Box is the only box where you get to choose exactly what goes in your box. As you register and/or login to change your order for the month, you pick whether you want ground pork or ground beef or a whole chicken… Each package comes in two different sizes: Classic Box (9-14 lbs of meat for about 24 meals) or Big Box (18-26 lbs of meat for about 48 meals).
The Quality of Butcher Box Meat
Butcher Box currently offers three types of meat – beef, chicken and pork – with the goal of bringing you the very best. The quality of the meat is pretty impressive, if I say so myself!
100% Grass-fed and Grass-finished Beef.

The cattle are humanely raised, live their entire life on pasture and are never given antibiotics or hormones. They eat a natural diet of grass and they may be given silage or hay if the weather prevents them from grazing.

Organic and Free-Range Chicken.

The free-range birds spend most of their lives foraging in the field with plenty of room to move around and interact with other chickens. Thanks to all this exercise, these birds will naturally be leaner than conventional chicken.

Heritage Breed Pork.

The breeds of pork that Butcher Box sources have been specifically chosen for their rich color and marbled texture. There is no tail docking and the animals are either on pasture, or raised in open barns with bedding and space to engage in natural behaviors, as if they were outside.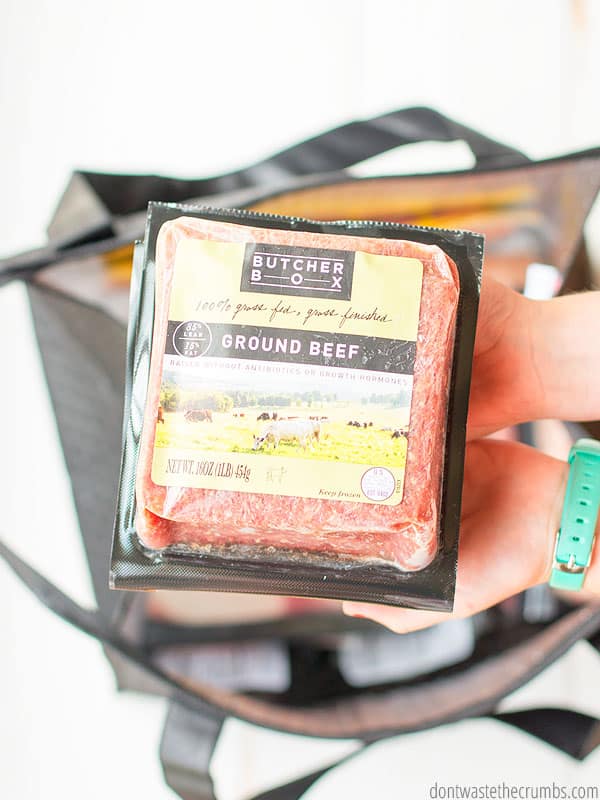 How Much Does Butcher Box Cost?
This is a frugal food blog and no honest review of Butcher Box can get away without discussing the numbers.
The Classic Box is $149 (9-14lbs of meat with an average of $10.64 to $16.55 per pound.)

The Big Box is $270 (18-26lbs of meat with an average of $10.38 to $15 per pound.)
If you check out their site, Butcher Box prices their boxes by meals, where 6oz equals one meal. This makes their pricing look a little different than the per pound price I'm sharing here. Some families eat more meat per meal, and some eat less. Keep this in mind as you decide whether or not Butcher Box is right for you! Yes, I know this sounds pricey. $11-16 for ONE pound of meat is nothing to scoff at, especially when you're struggling to pay the bills AND put food on the table. However, it is VERY possible to eat healthy food without going broke. My family and I are living proof, and that's why I started this blog. Your own real food priorities might not include organic grass-fed meat. Right now, you may be looking for the cheapest cuts of chicken you can possibly find. And that's okay. To learn how my family affords Butcher Box on a budget, read this post. I dig into how I can make my meat cost $10 per pound or LESS from ButcherBox. A few other things to note:
Butcher box always offers free shipping.

You can choose a monthly subscription, or every other month.

If you're still working through your last box, you can delay your subscription by one month.

You can cancel your subscription at any time.

Their customer service is SUPER helpful and happy to address any issues you may have.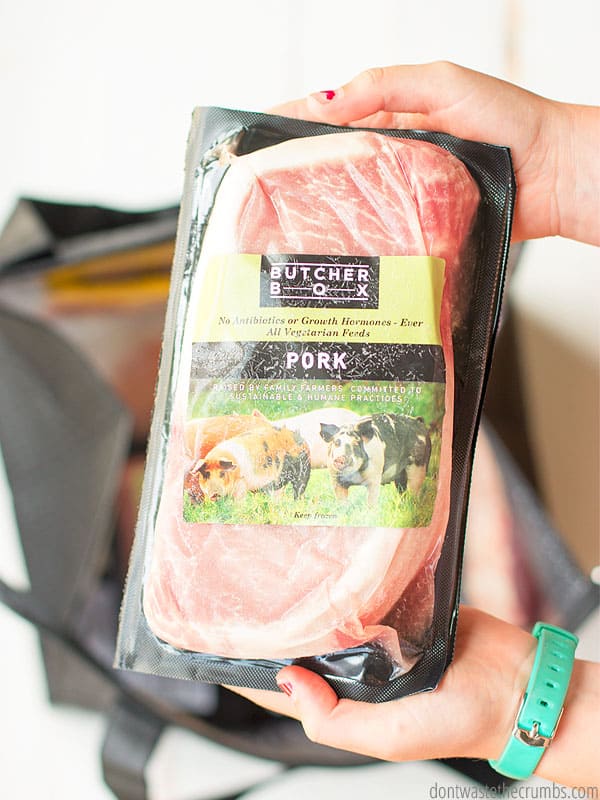 Here's my second honest review of Butcher Box and how I STILL love them several months later!
The search for high-quality meat ends here. Amazing taste. Humanely raised and delivered to your door. Sign up today! Click this link to claim the current offer!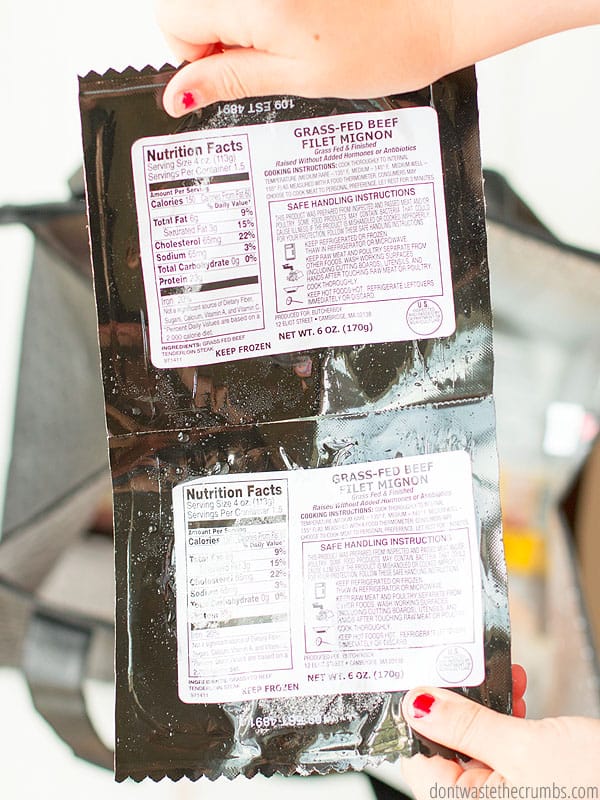 My Personal Experience and Honest Review of Butcher Box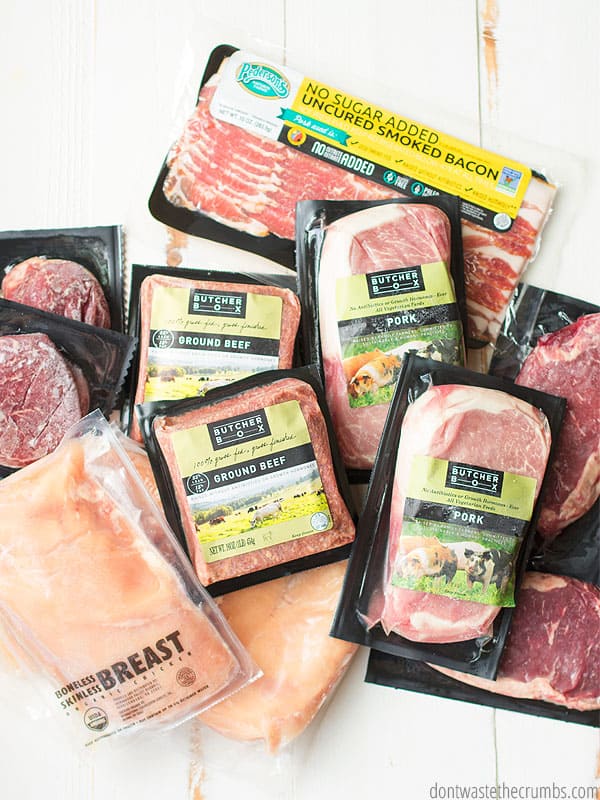 As much as I truly love grocery shopping (I wouldn't have created an entire course on how to eat real food on a budget if I didn't!), I have to confess that it's really nice to have a box of high quality meat show up at my door. To be honest though, when I opened our first box, I didn't think there was a lot of meat. I took everything out and thought there was no way it would last us an entire month. There were a total of 12 packages of meat (including the free uncured sugar-free bacon) and each package weighed around 1 lb each. If I used only 1 pound of meat per meal and every time stretched it as best as I could, I might be able to get 15 meals out of the box. At one time, this would have worked fine for my family. We ate meatless meals often. But now I'm not sure it would be enough. We recently finished the Whole30 and really liked the difference in how we felt without eating grains, gluten, dairy or legumes. All four of us eat protein at every meal. Sometimes it's eggs and sometimes it's nuts, but most often it's meat. Assuming we're all eating four ounces of meat, three times a day, for 5 days of the week (which is being very conservative), we need at least 15 pounds of meat each week. At $149 per box, that's $596 on meat every month… and that's also more than my entire monthly budget! UPDATE: We've changed the way we eat just a little bit since I first published this review, and I encourage you to read how we now make Butcher Box fit within our monthly budget. And no, we didn't give up eating meat!
Does Butcher Box have good meat?
The beef and pork from Butcher Box is absolutely delicious. I've purchased "natural" pork from the grocery store and every time it was tough and chewy. The pork from Butcher Box was nothing like that. Every pork chop was beyond tender and it made me wonder why we didn't eat pork more often! Eating the steaks felt like a huge splurge for us since we don't eat whole steaks at home often. We split two steaks for dinner to help stretch the meat, but they were so good that both Mr. Crumbs and I wished we had a whole steak to ourselves! These same thoughts run through my head every time we try their meat… we've had their ground beef, rib-eyes, top sirloin, NY strip, pork loin, pork chops and salmon. Every time, it has been very, very good. The chicken was good, but because we're committed to buying organic chicken anyway, we didn't notice much of a difference.
I LOVE knowing that the food we put into our bodies isn't void of nutrients.
You can read more about why we're including more beef in our diet in this post here. Mr. Crumbs and I BOTH needed more variety when it comes to the nutrients in our meats. We also had peace of mind that the food we were eating was actually doing our bodies good, instead of just being filler for our dinner plates. My husband and I both agreed that if were able to make it work with our budget, we'd definitely consider Butcher Box to source our meat. I don't know if we'd be able to source ALL of our meat from them, but I'd certainly focus on the beef and pork since I can get good deals on organic chicken locally. Update: We found a way to make it work! Here are six ways we're able to afford Butcher Box!
How long can Butcherbox stay outside on the front porch?
I was also wondering if the meat would go bad if it sat on my doorstep all day… The meat is shipped in an insulated bag, and then packed in an insulated box with dry ice. My box was delivered around 11am and when I opened it to take these pictures, the dry ice had melted but everything was still frozen solid (and two steaks still had frost on them!). I then packaged it all back up and put it back on my front porch until 6pm – to mimic what it would be like if I didn't work from home and it sat outside in the Georgia heat all day. When I brought everything back in, everything was still very cold. The very outer edges of one package of chicken wasn't frozen solid, but I wouldn't have any fear of not being home for delivery of my meat. Also, ButcherBox provides a guide within each box on safely storing, freezing, and thawing your meat. They follow the USDA recommended guidelines.
Is Butcher Box a Good Deal?
I'll be the first to admit that Butcher Box isn't for everyone. Depending on where you are in this season, you might not be concerned about quality. Or perhaps you're working on health issues and quality now tops the list of priorities. It's entirely up to you, but I hope this butcher box review summary helps if you feel on the fence.
Butcher Box is good for those who…
Are concerned about the quality of meat they're eating.

Quality is extremely important to Butcher Box, so that's what they're going to give you.

Cannot find a local source for grass-fed beef, pastured pork and/or organic chicken.

I have friends who live nowhere near a farm and have very limited grocery store options as it is. For them, Butcher Box is a blessing because they wouldn't have access to this quality of meat otherwise!

Enjoy having someone else shop for them.

Not everyone enjoys grocery shopping and with a Butcher Box subscription, you can eliminate "meat" from your list every single month.

Enjoy nicer cuts of meat.

Your monthly subscription will by default include cuts of meat you likely wouldn't be able to afford otherwise – that's a good thing!
Butcher Box is NOT good for those who…
Can get grass-fed beef, pastured pork and organic chicken from a local source.

I can consistently get grass-fed ground beef from Costco for $4.99/lb. I can even find it marked down to $3.99 at Kroger or Walmart! But I have never seen any other cuts of grass-fed beef in local grocery stores.

Need to be more focused on the budget rather than the quality of meat.

Everyone will be in this season at some point in time and there's no way around it. If you are not in a place to financially afford Butcher Box, then say no for right now.

Like to know exactly what they're getting every month.

If you're particular about the meat you need for your meal plan, this might not be a good fit UNLESS you choose the Custom Box.
I encourage you to consider what your food priorities are and see if Butcher Box can help you meet them. Have you tried Butcher Box before? I'd love to hear your honest thoughts about the company and their service. Please leave your comments below for myself and your fellow Crumbs community to read!