Losing weight with real food isn't complicated. These 4 reasons explain why whole foods support healthy weight loss over the typical "diet" food on the market. Learn more about how to start eating real food with my 30-Minute Dinners meal plans!
Did you make a New Year's resolution to lose weight this year? I've made that one before, back before I quit making resolutions altogether.
I used to make weight-related goals all the time, but they never worked. In fact, if you looked at pictures of me from when Mr. Crumbs and I first met, you would barely recognize me.
According to BMI calculations, I was considered "overweight."
With one glance, you could have seen that I didn't take care of myself. I never thought this way though, because I had been following all of the "healthy" eating advice given at the time.
Once I made a lifestyle change to a real food diet, I began to lose weight!
My Life Before Switching to a Real Food Diet
I realized a few things once I began learning about the importance of eating real food.
Eating butter, eggs, beef, and whole grains does NOT cause weight gain. I had been avoiding these foods altogether, which was not necessary.

Contemplating what to put on my plate quickly became an obsession, because no matter how many "good" choices I made and despite eliminating all the fat I possibly could from my diet, I never lost weight.
The advertised "diet" and "health" foods were actually CAUSING me to gain weight. I didn't know this at the time.

My weight continued to be a struggle for the first 5 years of our marriage. Between methodically measuring out every aspect of a meal (to be sure I was eating only one portion and could therefore accurately count the number of calories), to eating extra calories for a growing pregnancy belly, to losing weight too fast while nursing a newborn.
My weight was anything but predictable and my poor eating habits were still in part to the myths so deeply engrained in my mind about food.
Why Eating Real Food Makes a Difference
The real turning point in my struggle with food and weight loss goes back to this pivotal conversation in the kitchen when Mr. Crumbs asked if we could stop eating out of boxes and start eating real food.
Within six months of that conversation, after switching to a whole-food, unprocessed diet, I had started to lose weight!
And I really wasn't even trying.
We ate real butter. We ate real eggs. I embraced full-fat yogurt and ate all sorts of beef and vegetables and fruits and more bread (homemade) than I had ever eaten in my entire life.
Finally, the wall of lies that was keeping me from a healthy weight all these years had been broken down!
You don't need "Health Food" or "Diet Foods" to lose weight. You only need real food!
Just to make sure I wasn't some strange anomaly, I asked my readers if they had any experience with losing weight by eating real food, and as it turns out, they did!
Carla lost 50 pounds over the course of time.
Autumn finally lost her baby weight by eating more produce and cutting out soda.
Missi has lost over 100 pounds in two years!
Real food seemed like a miracle to me a few years ago, but after learning more about how your body processes food in general and researching the qualities of processed food versus whole foods, I now understand why it's entirely possible to lose weight eating real food.
How Losing Weight with Real Food Works
1. Real Food Gives the Body What it Needs: Nutrients. Processed Food Does Not.
You'll find more nutrients in a single serving of any real food item than you will in any of its processed counterparts. This makes your body incredibly efficient.
Your body needs nutrients for energy, growth, and repair. When you give your body these nutrients, your body USES them.
2. Real Food Isn't Wasted Calories. Processed Food is.
Since real food is a nutrient powerhouse, every calorie of real food counts towards something. This means that you'll need less quantity of food to fill the nutritional gaps in the body.
Although real food contains more calories, it satisfies the body's need for nutrients with fewer calories altogether. There's no fluff. No fake ingredients. It's all real, and your body is using it all.
3. Real Food Contains a Much-Needed Nutrient – Fat. Processed Food Often Does Not.
Your body needs fat for energy, to absorb certain vitamins, and to literally keep us standing upright.
By depriving our bodies of fat, we're forcing the body to find a different source of energy, not providing key nutrients vital to a healthy body (like vitamins A, D, E, and K) and basic human processes like growth, immunity, and reproduction don't function at full capacity.
This is why so many people experience more energy when they switch to a whole foods diet. They're finally giving the body what it needs – healthy fat!
4. Real Food is Simple. Processed Food is Not.
I'll admit, this explanation isn't very scientific, but it makes total sense to me. I want to show you how complicated "diet" foods are by sharing some of the labels with you. Some labels are long, and I certainly don't expect you to read each one thoroughly, but you'll easily see how COMPLICATED processed food is and how SIMPLE real food is in return.
Low-calorie, "diet" bread:
Water, Enriched Bleached Flour [Wheat Flour, Malted Barley Flour, Niacin, Iron, Thiamin Mononitrate (Vitamin B1), Riboflavin (Vitamin B2), Folic Acid), Wheat, Gluten, Whole Wheat Flour, Cottonseed Fiber, Wheat Bran, High Fructose Corn Syrup, Yeast, Wheat Protein Isolate, Corn Starch, Honey, contains 2% or less of each of the following: Salt, Vegetable Oil (Soybean and/or Cottonseed Oils)Distilled Vinegar, Guar Gum, Dough Conditioners (may contain one or more of the following: Mono-and Diglycerides, Ethoxylated Mono-and Diglycerides, Sodium Stearoyl Lactylate, Calcium Peroxide, Datem, Ascorbic Acid, Azodicarbonamide, Enzymes), Wheat Starch, Calcium Propionate (Preservative), Natural Flavor, Yeast Nutrients (Monocalcium Phosphate, Calcium Sulfate, Ammonium Sulfate and/or Calcium Carbonate), Sucralose, Sulfiting Agent, Soy Lecithin, Milk, Soy Flour.
Real food bread (store-bought):
Organic Sprouted Wheat, Filtered Water, Organic Sprouted Barley, Organic Sprouted Millet, Organic Malted Barley, Organic Sprouted Lentils, Organic Sprouted Soybeans, Organic Sprouted Spelt, Fresh Yeast, Organic Wheat Gluten, Sea Salt.
Here's my definition of real food:
Living things that grow in the ground, or animals that eat things that grow in the ground, to which nothing is done to alter their whole form that a home cook could not accomplish in their own kitchen.
Our bodies were created to handle these types of food. Adding in man-made additives and preservatives complicates food and it forces our body into spending energy coming up with a plan to do something with these things, rather than using energy to build and repair.
5. Processed Food Often Contains Added Salt, Sugar, or Fat. Real Food Does Not.
There's nothing wrong with healthy fats like avocados or nuts or fish. But processed food often includes unhealthy yellow vegetable oils, too much salt, and unnecessary sugar.
And when most of your meals consist of processed food, these extra ingredients cause you to gain weight while negatively affecting your overall health.
Questions on Losing Weight With Whole Foods
What is the number 1 best food for weight loss?
According to Forbes, lean meat is the number one food for weight loss! Turkey, chicken and grass-fed lean beef will aid in decreasing cravings and keep you full. This will also help stabilize blood sugar.
What are the 5 foods that burn belly fat?
If you're looking to burn belly fat, the best foods are u003ca href=u0022https://dontwastethecrumbs.com/instant-pot-beans/u0022u003ebeansu003c/au003e, salmon, broccoli, u003ca href=u0022https://dontwastethecrumbs.com/how-to-make-your-own-yogurt/u0022u003eyogurtu003c/au003e, and red bell peppers.
Want to Eat Real Food to Lose Weight, But Don't Know Where to Start?
I know that my weight loss – and long-term sustainability – is attributed largely to the food I eat. It's reaffirmed every time I cheat too!
But I also know that it's sometimes difficult to know where to begin. You'll find tons of baby steps and encouragement here on the blog, such as:
Following our 30-minute dinners or another one of our whole-food meal plans can help you integrate real foods into your diet for good. However, if you're looking for something a little bit more in-depth, something you can literally take to the kitchen, I encourage you to join our free 30-day challenge, Real Food Reboot.
Real Food Reboot is specifically geared toward those who want to eat real food but don't know where to get started. Every day comes with a practical small step you can make in just 15 minutes, so you're gradually making healthy changes that last.
Plus we have a great Facebook community where you'll get to hang out with other people who are doing the challenge too, be held accountable, and watch insider tips from me every day during the challenge!
This challenge is free when you sign-up on this page. You know that awesome feeling you get when you fit nicely into your clothes? You can have that again. And you don't have to do it alone!
Note: If we aren't actively running a challenge, you can still join the Facebook group for encouragement year-round. Then join in when we do the challenge as a group every January!
More Healthy Eating Basics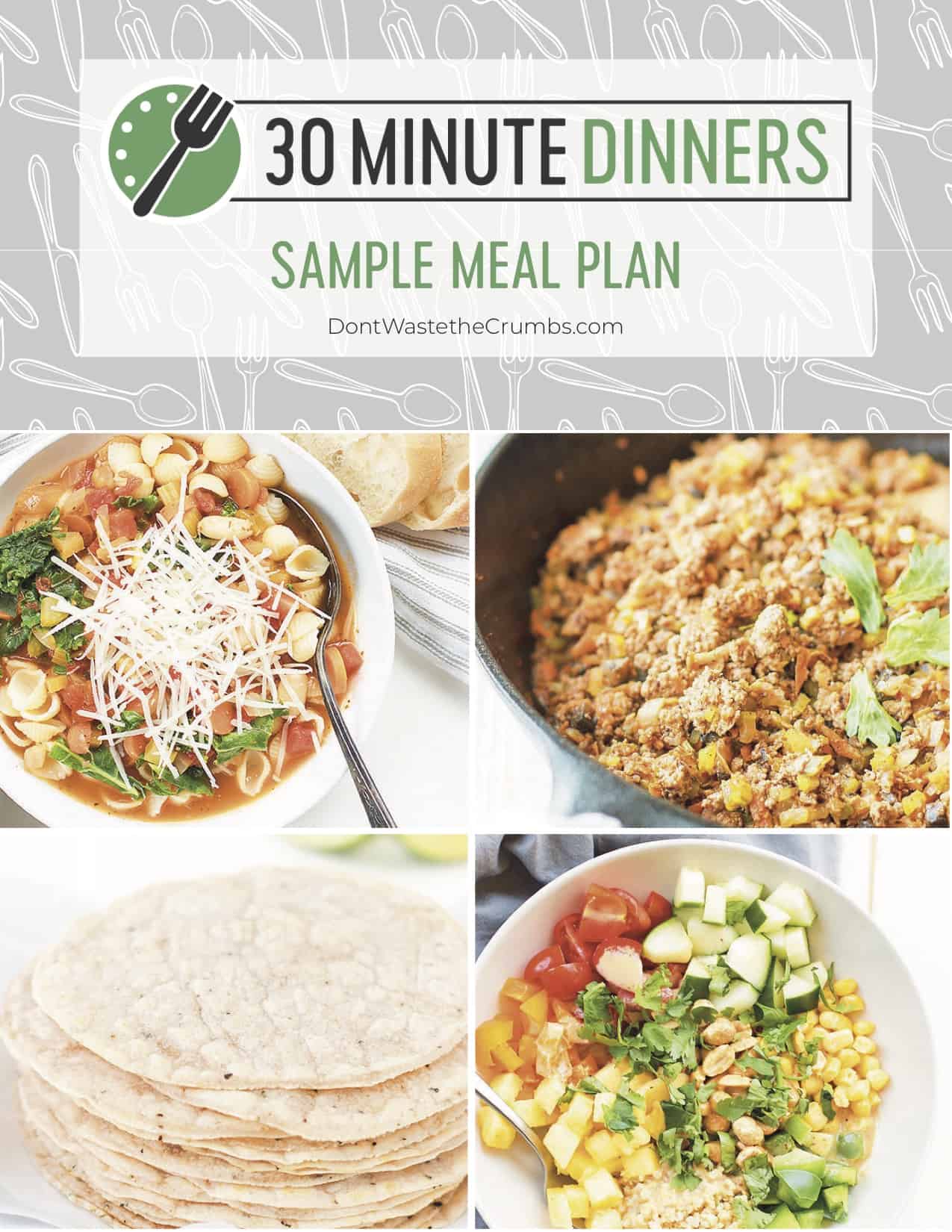 30 Minute Dinners Sample Meal Plan
Sign up to get instant access to my
30 Minute Dinners Sample Meal Plan
, complete with recipes and step-by-step instructions!