Use this March Seasonal Produce Guide 2022 to help you buy fruits and veggies in peak season. Buying in-season produce saves money and boost nutrition! With great recipes like roasted vegetable kale salad and creamy weeknight mushroom pasta, you won't even know you're eating healthy!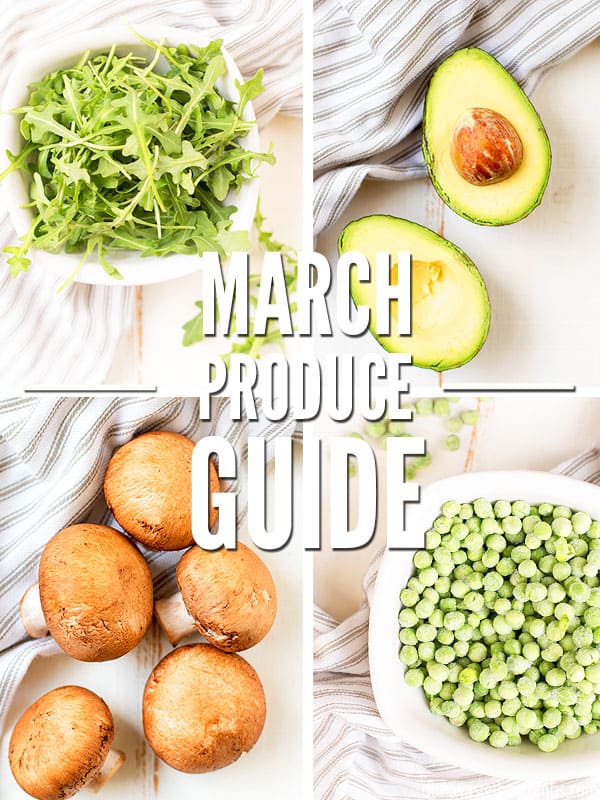 Most of March is still technically winter, but we will start to see early spring seasonal vegetables start to show up. I am ready for the variety!
After lots of soups and stews, roasted root veggies, and hearty stick-to-your-bones type meals, I'm looking forward to some lighter salads and crunchy raw vegetables.
If your local Farmer's Market opens soon, you'll see lots of dark and light leafy greens which are perfect for those salads. And a lot of other green vegetables! Asparagus, celery, and peas are ready for harvest and add a great mix of flavor to all the root vegetables that are still in season.
Why should you eat seasonal fruits and veggies?
In season produce is healthier. Picked in its prime, seasonal produce has the most nutrients because it can be grown in its natural climate.
In season produce tastes better. Food grown in peak season will taste the most flavorful. If you've ever eaten a hot-house tomato compared to a vine ripe tomato from your garden, you'll know what I mean!
In season produce is cheaper. This makes my number crunching heart happy. I know that when I buy produce in season, it's going to make a positive affect on my grocery budget! You'll find good prices on Farmer's Market produce but also in grocery stores.
March Seasonal Produce Guide
Find the benefits of March seasonal produce, plus main meal and side dish recipe ideas! For even MORE real food recipes, go to the March Monthly Meal Plan!
Arugula
Although a little hard to pronounce, arugula is rich in many vitamins and minerals like other spring greens. Particularly it is rich in antioxidants, high in vitamin K, and high in folate. As an early spring green, it helps boost bone health and improve immune function.
The best way to eat arugula is by adding it to your favorite salad. You can even use it as the full base of your salad! It has a slight peppery taste that adds a unique twist to the typical lettuce green flavor.
Avocado
Avocados aren't only delicious but trendy too! I've seen little avocado shaped purses EVERYWHERE. It's kind of odd actually. But the reason they are so popular is because they are so good for you!
They are high in "good fats" such as monounsaturated fats and polyunsaturated fats. These are good for you when they occur naturally in foods (like olive oil). They improve heart function and also help with weight loss and digestion. Avocado oil is also amazing for the skin because it is high in vitamin E.
Asparagus
Asparagus is one of my favorite vegetables. But it's often SUPER high in price. Once the price goes down in spring, we eat our fill! While green is the most common color of asparagus we find in the stores, you can also find it in white and purple.
It is high in vitamin A, B vitamins, and vitamin C. Plus multiple minerals and lots of fiber! It helps with digestion, energy levels and immune system health.
Broccoli
Broccoli is still in season since January. It's full of vitamin C and perfect for wiping out any lingering winter colds!
Brussels Sprouts
These little vegetables are much more flavorful than they look – and they're perfect March seasonal produce. Hands down the best way to eat them is roasted with some garlic powder sprinkle on top. But they are also great steamed in the Instant Pot! Read more about the benefits in the February Produce Guide.
Cabbage
I talked about cabbage before in January's produce guide, and it's still March seasonal produce! Cabbage is one of the most underrated budget friendly vegetables out there. High in vitamins K, B, and C, you'll want to keep this on your meal plan!
Cauliflower
This relative of broccoli is in season for another month. Find all the info on it in the January Produce Guide. It's great for digestion and high in fiber!
Celery
While celery is available year round for a pretty good price, you'll see it drop down the beginning of March. Celery is very light in flavor yet full of nutrients like calcium and vitamin A. It's great to add to soups, stews, casseroles, and even to stretch your meat! (Plus you can REGROW celery in water!)
Citrus Fruits
March seasonal produce is the tail end of citrus time. While you'll still find oranges, lemons, and limes year round, this is the best time to buy. You can even stock up and store in the freezer for later! You don't want to miss out on the extra vitamin C this time of year.
Leeks
This onion-like vegetable is somewhat mysterious to me, yet we all ought to eat it more often! It's FULL of nutrients that benefit the body. Learn how to clean leeks in the January Produce Guide. They can sometimes hide dirt down in the stalk.
Lettuce
Early spring is when we start to move from the dark leafy greens to the lighter spring greens. Most varieties of lettuce come into season in early spring. Each variety has a range of benefits with Romaine lettuce being at the most nutrient dense, red leaf and green leaf lettuce coming next with LOTS of vitamin A, and iceberg lettuce last.
As with most vegetables, variety is best! Changing the lettuce or greens in your salads can help expand the flavor profile and make your regular dinner salad more exciting.
Mushrooms
I am a big fan of mushrooms. And slowly but surely my picky eater is starting to enjoy them too! Edible mushrooms are high in calcium and other vitamins and minerals.
They are a great addition to soups, sautes, and used as fillers for stretching meat. If you'd like to include more mushrooms in your diet, try looking for the "fancy" mushrooms when they are on discount at your grocery store. They are much more flavorful than the traditional white mushrooms.
Peas
Peas have been around for a long time. And for good reason! They are a great source of fiber and vitamin A which make them good for digestion and good for your eyes.
My favorite way to eat green peas is steamed with a bit of butter. Yum! They're also great to add to any pasta dish or stir-fry type dish.
Parsnips
This carrot like root vegetable is SO GOOD. I love it roasted with garlic! High in calcium and magnesium it is great for the joints and bones. Read more about it in the February Produce Guide.
Pineapple
I'm so excited that pineapples will begin to drop in price around this time of year. I love pineapple! It's sweet-tart taste is so good in smoothies, cut up for snacks, or mixed in my favorite quinoa salad!
They are high in vitamin C and really great for sore throats. The vitamin C also helps boost the immune system, aid digestion, and reduce inflammation!
Sweet Potatoes
We're reaching the end of sweet potato season, although you can find them for a pretty good price all year long. They are a great kitchen staple and provide more nutrients than white potatoes.
Swiss Chard, Collard Greens, and Kale
I mentioned above that the lighter leafy greens are coming into season, but don't forget about the dark leafy greens! Swiss chard, collard greens, and kale are still in season and FULL of nutrients. Each type has a different density of vitamins and minerals but the highest numbers are for vitamins K, A, and C. Plus all the fiber you get, you'll be feeling great!
Want to learn more about buying the cheapest produce and saving on groceries?
A good goal to shoot for when buying produce is to only buy conventional produce at a $1 per pound or less. Or organic produce at $2 per pound or less. This rule helps you buy what is in season as well as keep your costs down.
Dinner on a Dime
Subscribe to my newsletter and get instant access to "Dinner on a Dime": 15+ family-friendly and kid-approved recipes that are quick, cheap and healthy!