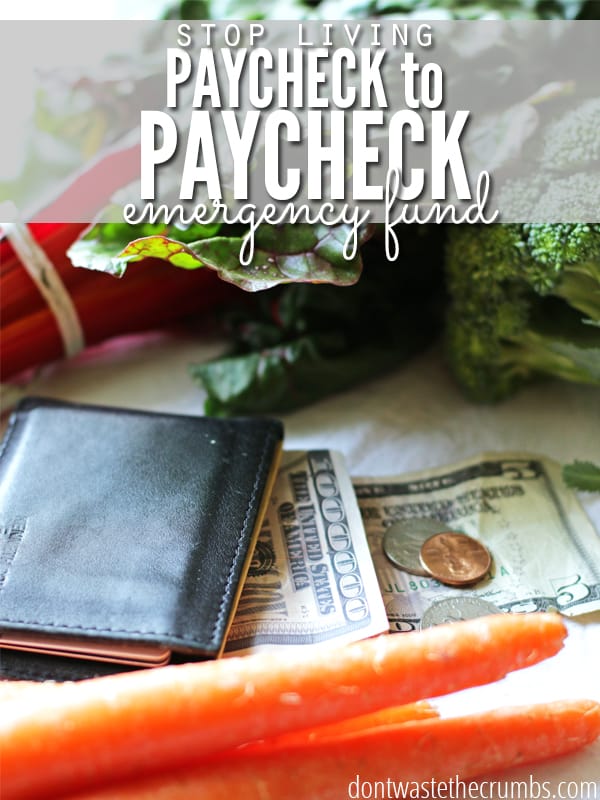 Everything You Need to Know About Stop Living Paycheck to Paycheck: Emergency Fund
This is Part 4 of our Stop Living Paycheck to Paycheck series. You can find all of the previous posts in this series HERE.
Written by Mr. Crumbs
If you were hit with a job loss, how long would you be able to tread water, pay your bills, put food on your table and put gas in your car?
Could you do it for a few days or weeks? Several months or years?
According to this article and recent survey, 67% of Americans have less than 6 months of income saved up as an emergency fund. Worse yet, 26% have no emergency savings at all.
How would you have done in this survey?
When Tiffany and myself met, we were beyond negative. As in, we had zero savings and a bunch of debt.
About 9 years ago, I logged into our online banking one afternoon and discovered that we'd spent over $600 in one month on just EATING OUT! Tack in groceries, and we were spending around $1000/mo on food for just two people. Add in our car payments, mortgage, loans – we were living paycheck to paycheck with no savings.
When we realized the poor financial state we were in and decided to get serious about our debt and build up an emergency savings account. It wasn't easy. I'll spare you the details of trading down cars and cutting back on our eating out, but ultimately we were able to meet our goal.
Let's be real though, we didn't fall into thousands of dollars. We weren't blessed with a super high paying job and no the banking teller didn't add an extra zero to one of my paychecks. We simply worked really, really hard at not spending in order to save.
First things first though – create a budget and if you didn't read the first post in this Stop Living Paycheck to Paycheck series, read that too. It's important for you to know what you have coming in and what's going out so that you can think about what you'll be able to tuck away in your new secret stash.
When we were working on our six-month emergency fund, there were some months where we were able to save several hundred dollars and some months when we were only able to tuck away ten or twenty bucks.
The goal though, is to save – even if it's just a little bit. Every little bit helps.
Think you don't need an emergency fund? Think you can make it through if you were hit with a big financial blow? Think again.
4 Reasons to Build an Emergency Fund
(1) Job Loss
The most obvious and common reason for an emergency fund would be in case of a job loss. If nothing coming in, you'll need a way to pay the bills… since they're like the ocean waves and never stop.
Depending on your monthly expenses, six months may not be enough!
(2) Car/Home Repair
Need a new roof? What will that cost – $10,000 or $20,000?
What about minor car repair? We have a friend who needed a car repair on a low mileage car and it cost them $1,800 for a catalytic converter.
What about emergency plumbing? My father-in-law needed a plumber to fix a water main that ran under a city street. That set him back $8,000!!
Thinking of this from another angle – what would you do if you couldn't pay for it? Imagine a leaky roof during the rainy season. What if the broken car was the main mode of transportation for the breadwinner in the house and there wasn't a second car to drive? What if you didn't fix the water main and it caused even more damage to your house…
Not being able to pay for one expense doesn't make it go away, and in some cases, could make it much worse.
(3) Health Expenses
I'm sure you've seen your health insurance premiums go up – we definitely have. You're paying WAY more, for WAY less.
Most insurance plans are going the way of high deductable, meaning that you'll need to shell out thousands of dollars before your insurance kicks in. This is on top of your monthly premium.
How would you pay for an emergency surgery in the family? Or an unexpected illness requiring long term treatment or hospitalization?
(4) Miscellaneous Expenses
Funeral costs, travel expenses, dental work, taxes… you get the picture. Prices are through the roof on these items and they come as a surprise when you're least expecting them.
The most basic funerals still costs thousands of dollars and is often laced with hidden fees. Dental work is so expensive now that many go overseas for treatment!
The bottom line is that it's a really good idea to start working on an emergency fund and it's never too late. It'll help protect your family from the shock (and expense) of any of the above scenarios, plus it'll give you peace of mind knowing a plan is in place should a future expense come into play.
Even if you don't have a lot to tuck away each month, it's a good idea to start saving what you're able to. Remember, start with a household budget first so that you are able to track what's coming in and out. Cut out unnecessary items, get an extra job or sell what you don't need – do what you have to do and start building you emergency fund!
Do you have an emergency fund? How creative were you in funding it?