LIDL Supermarket has great low prices, daily markdowns, and an amazing variety of meats, dairy, produce and imported foods. Plus, don't forget the fresh baked goods and online shopping at LIDL. Read on about why I love my LIDL supermarket, and how you can save money on your grocery budget by shopping there too!
Have you ever grocery shopped at LIDL supermarket? How about online shopping at LIDL?
I love LIDL for so many reasons – the low prices, the daily markdowns, the store's app, the bakery and even the design and layout of the store! Read on about why I love my LIDL supermarket, and how you can save money on your grocery budget by shopping there too!
LIDL Supermarkets Are Exciting to Shop In!
LIDL stores are clean, well-organized and inviting. Seriously, they're such a pleasure to shop in. All stores have a similar layout, so if you're traveling and you have to visit a store in another region, you'll still be able to find all you need -Which is always great when you're budgeting on vacation!
Use the LIDL App For Great Deals
LIDL has weekly sales like your typical chain grocery store – but the bonus is that their regular prices already feel very low (much lower than chain supermarkets)!
Note: Most of their sales have limits. For example, a limit of five of an item, or if a sale is at 10 for 10, you actually have to buy 10 – so be sure that you read the fine print of the sales ad.
LIDL tends to run sales in cycles, so you will find good deals on the same items every 4 to 6 weeks (sometimes they're stretched to 8 weeks) consistently – it just depends on the season. If you pay attention, you will notice that they are indeed on a repeat cycle.
You need the app in order to get super great deals (but you don't have to have the app with you when you shop). So while you have to download the app to your phone, if you don't have your phone with you when you're shopping you can use your phone number and still get the same savings.
Your app rewards are personalized and flexible with discounts on whole categories of food. You can even stack deals on markdowns with your earned discounts. Score!
Meal Plan With the Weekly Circulars In the App
Being able to see the circulars in the app helps me to meal plan in advance. One strategy for meal planning on a grocery budget is to plan around what is upcoming on sale, for even more savings.
This is especially great for organic or name-brand items on sale. Also, for items I might need in my meal plan that I lack the time to make myself from scratch.
Case in point – I once got an organic bottle of ketchup for $1. Making homemade ketchup can take forever with many hours in the slow cooker, and it's not cheap for all separate organic ingredients. So to buy a high-quality food for such a low price is really nice.
The same goes for organic chicken stock, which I've also purchased on sale for $1. Chicken stock is really easy to do, but it can be time-consuming when you're waiting on a slow cooker, stove, or the instant pot. These are the shortcuts we all sometimes need to use to save time, and it really helps to get these great deals.
Take Advantage of LIDL's Orange Markdown Stickers
LIDL supermarket does markdowns at the end of the day with 30% off orange markdown stickers. Some marked-down foods are nestled in between themselves. For example, I recently found a marked-down guacamole with other guacamole products.
I also found marked-down vegetarian dumplings, along with a marked-down egg product, that were together in a small section next to the milk. So, be sure to take note that markdowns can be spread throughout the store. They regularly mark down items in produce, in the refrigerated section, and even meat too!
I once found a really great deal for marked-down ham. It was already on sale for that particular weekend and then it had a 30% off sticker on top of it! When I ran the numbers, it came out to literal pennies per ounce – versus buying pre-sliced ham lunch meat. And it was a nice big ham (plus, you can warm ham in the instant pot)!
LIDL definitely knows the importance of reducing food waste and making food affordable for customers. They actually have a section called "Too Good to Waste," where they have deeply discounted items – like day-old bread (which is still perfectly fresh), and also produce that might be considered to be "ugly" fruits and vegetables.
All this means is that they may have a natural blemish on them, or perhaps have become fully ripened. Still perfectly delicious and fresh to eat – at a cost that is so comfortable on the budget.
Returns are Easy at LIDL Supermarket
If you are not happy with anything at all, you can return them for a refund or exchange – no questions asked. Just be sure to hang on to your receipt.
The Bakery at LIDL Is a Fan Favorite!
You'll only know by experiencing it for yourself! The delectable aromas, the beautiful pastries, and the breads. Oh my! If ever I fall short on time for making my own amazing recipes for artisan, sourdough, or simple maple oatmeal loaf bread, I know exactly where to go!
LIDL has a Great Variety of Certified Organic Food
Need I say more? Organic food for prices that are often lower than conventional food at the big box grocery stores.
LIDL Meats Are on Sale Daily
The meat department is awesome because it is priced to match and / or beat big supermarket sales prices. Combine the already low prices with the markdowns, and a stretch your meat meal plan – Now you are really saving money!
At LIDL, I have found a great selection of meat. They have conventional meat, plus organic and grass-fed meat. I love that they have a lot of cuts that I cannot find in other places. For example, 99% fat-free turkey versus an 80/20 type of turkey or 93/7 turkey.
LIDL also has 99% lean beef and ground bison (which is naturally lean). There are scallops, breaded shrimp, wild-caught shrimp, salmon, and different types of fish. Trust me, there is SO much variety!
LIDL Has the Best Prices for Dairy and Dairy-free Milk
For real – the prices for dairy are the best around! We've switched to a lot of dairy and dairy-free foods that we exclusively buy from LIDL.
When I'm not making my own almond milk, I love LIDL's almond milk . I used to buy almond milk at Walmart (either Silk or Almond Breeze) but a lot of LIDL store brand products are the same quality – if not better than a lot of name brand products. I buy LIDL's fat-free yogurt, which I absolutely love. My husband loves their whole milk yogurt (or you can make your own too!)
I love LIDL Supermarket's European Imports
These European foods are called their "Preferred Selection," which each have a flag emblem that shows the country of origin. I especially love their Italian, Greek, Spanish (Mediterranean flavors). Select coffees, teas and chocolate have a Fairtrade certification, and they also have UTZ-certified food (sustainable farming practices). Other amazing imports are cheese, olives, beans, and international sweets. YUM!
Online Shopping at LIDL
Need to get your groceries online from LIDL? No problem. Just use Shipt. Keep in mind, this is for select locations, so double check on the website linked above.
Additional LIDL Perks
Buy foods in bulk – save the expensive membership fees for bulk warehouse stores like Costco. You can find family sizes and bulk items in fresh and frozen meats, snacks, sweets and more! A consideration for your next grilling meal plan or party plan!
As mentioned above, don't be afraid to shop online at LIDL via Shipt if ever needed. I've only heard great things about the convenience in a pinch.
Did you know that you can find household items at LIDL? Although these may be limited, check the app for what items might be coming up for sale. I love it when I can get items for the house without having to run to Walmart!
All in all, at LIDL, you get a large variety of high-quality foods at low prices. I see it as "the fun of shopping" meets "the practical side of shopping" at a beautiful grocery store where you don't have to make more than one stop to get everything you need. Heck, you can even get your housewares there!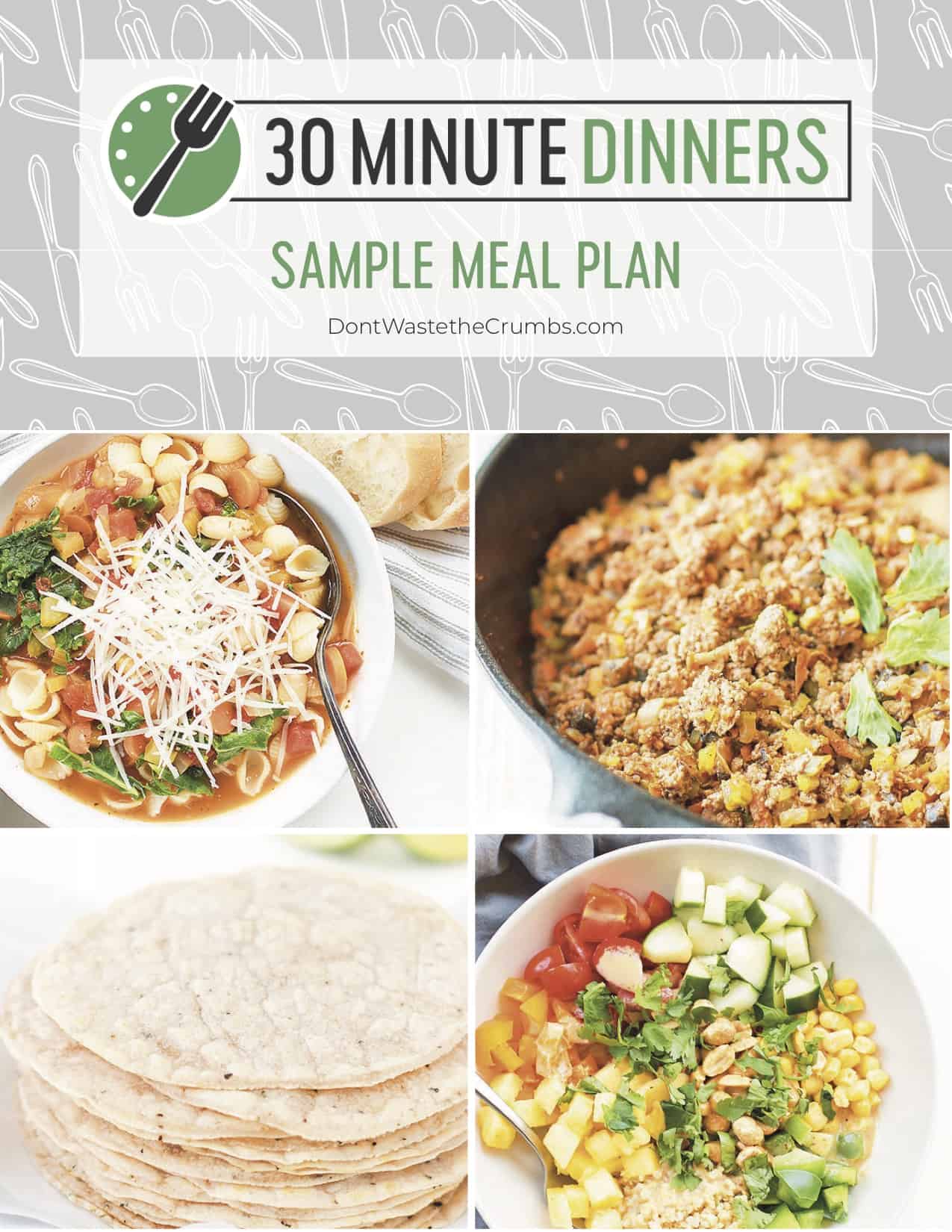 30 Minute Dinners Sample Meal Plan
Sign up to get instant access to my
30 Minute Dinners Sample Meal Plan
, complete with recipes and step-by-step instructions!