This is the best slow cooker carnitas recipe I've had, and I've eaten lots of tacos! We keep coming back to this recipe because it's so tasty and easy! Serve with delicious cilantro-lime coleslaw and easy cilantro lime rice in your meal will be a hit!
I don't know who invented the slow cooker, but I'd like to give them a big squishy hug because I can completely (and deliciously) cook dinner without even being home.
And for my taco-loving family, I can add the BEST slow cooker carnitas you've ever had to my list of amazing dinners that don't need me to cook them. If there's any clue as to how delicious this carnitas recipe is, we've had it TWELVE times in the past 8 weeks!
Why else should you make it?
Hands-free
Lots of leftovers
Great for crowd
Tacos, Taco salads, Burrito bowls
Freezes well pre- and post-cooking
Reheats well
Minimal ingredients
Here's What You Need
This perfectly balanced, authentic slow cooker carnitas recipe is even better than carnitas from the best Mexican restaurant with just a few simple ingredients! You'll need:
Pork Shoulder Butt/Shoulder. Either cut will work, as will boneless and bone-in. (See note below.)
A few dried spices. Salt, pepper, onion, garlic, cumin, coriander, cinnamon, and bay leaf.
Chicken Broth (aka Chicken Stock) or water or beer. You need ½ to 1 cup or so and if you want chicken stock in a flash, try my super easy Instant Pot Chicken Stock recipe. You can also use pineapple juice or orange juice, if you have some.
Psst! Want to kick this up a notch? Try finishing this recipe with a pinch of finishing salt! I love Ava Jane's Kitchen because it doesn't have microplastics (gross, right?) and it's SO GOOD! Plus, you can get a bag for just 1¢!! Just add a pinch when you pull the pork out of the slow cooker and try not to drool as it cools! (Get your penny bag of salt on this page.)
A Quick Note on Meat
If you're looking for better meat and you can't find it locally, Butcher Box delivers grass-fed beef, organic chicken, and heritage-breed pork directly to your front door each month. (And not only does it taste better, but the National Institute of Health says that consuming grass-fed and pasture-raised meat is better for human and environmental health.)
I've shared my experiences with them a few times:
The search for high-quality meat ends here. Amazing taste. Humanely raised and delivered to your door. Sign up today!. Click this link to claim the current offer!
Step By Step Instructions
Not only is this recipe amazing, it is SO easy. Putting all of the ingredients together takes less than 30 minutes, then you simply let the crock pot do it's slow cooker magic!
Step 1. Spread the onion evenly on the bottom of the slow cooker.
Step 2. Lay the pork roast on top of the onions.
Step 3. Add the liquid. We prefer chicken stock, beer or water to orange juice, which is common in other recipes.
Step 4. Combine all the spices in a small bowl. Sprinkle liberally over the pork shoulder.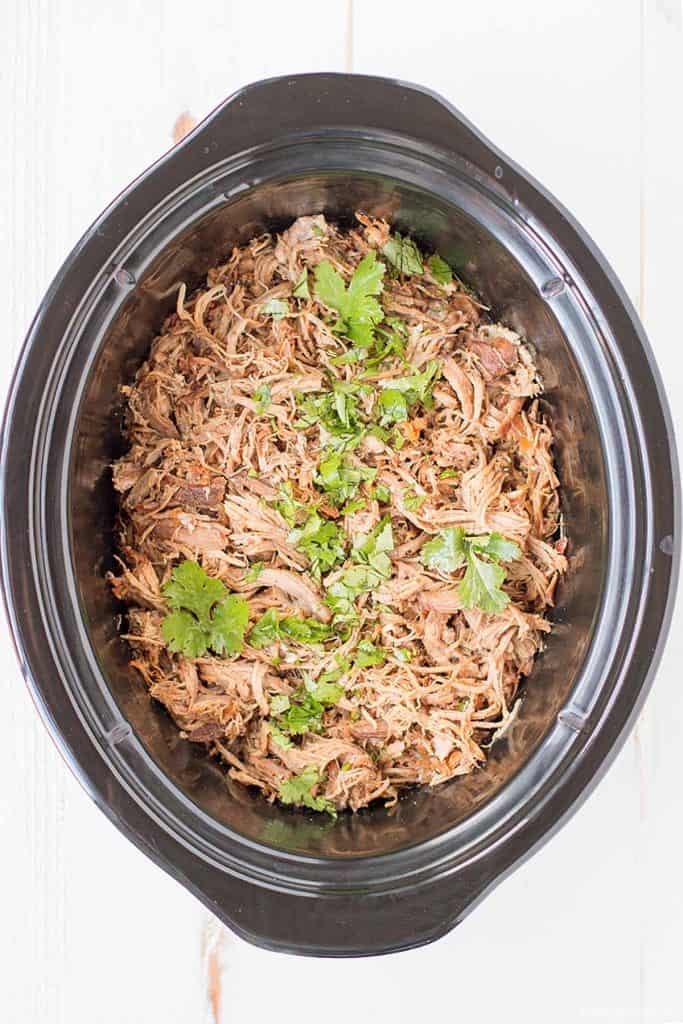 Step 5. Cover and cook the pork on low for 10 hours.
As tempting as it may be, don't open the lid!
Step 6. Shred pork with two forks, stir into the juices, and serve!
Cooking Tips:
What size slow cooker or crock pot should I use?
I have and love this 6-quart slow cooker for fall apart tender meat. It holds a full 7-pound roast when you cut it into quarters, although I usually use a 3-3 ½ pound boneless roast, or a 5 lb bone-in roast.
Can I use a pressure cooker (Instant Pot)?
Yes, but the reason why this recipe is so awesome is the slow cooker.
Can I freeze leftovers?
If you have any, yes! I like to freeze in 2 cup portions, adding about 2-3 tablespoon of water to prevent the meat from drying out. There's no such thing as meat that's too moist. Dry meat though? No bueno.
Any time you can make a big batch and freeze, you are saving time and money.
How to Save Money & Time
Short on time for dinner? This recipe is in our Dinner Dump Freezer Cooking Meal Plan along with 4 other easy dinner recipes like Beef Ragu, and Sheet Pan Sausage and Peppers, and Slow Cooker Salsa Chicken and Homemade Hamburger Helper HERE! You can make 10 dinners in just ONE hour!
Want to save money? Buying in bulk and freezing for later is the best way to save save save!
To Serve Slow Cooker Carnitas
You can also top with some fresh pico de gallo and a squeeze of fresh lime juice.
And tacos wouldn't be complete without homemade flour tortillas (here's corn tortillas and here's cassava tortillas as well). Don't be afraid to make tortillas yourself! They truly are better than anything you can find in the store.
The process is much easier if you have a tortilla press and electric griddle BUT you don't have to have those to make them.
FAQS
Can you put raw pork in a slow cooker?
Yes! You cook raw pork in a crock pot.
What cut of meat is used for pork carnitas?
Carnitas is made with pork shoulder (also known as the pork butt).
Why is my slow cooker pork tough?
You always want to cook it on low, that way it will give it a chance for the meat to break down and cook nice and slow. Some natural brands have meat that is tougher. I recommend Butcher Box, their meat has ALWAYS been very tender!
Do you need liquid in a slow cooker for pulled pork?
For this particular recipe you can get away with not having any liquid but the liquid helps the flavor. Once you shred the meat, you can stir into the juices.
More Easy Crockpot Dinner Recipes
The Very Best Slow Cooker Carnitas
Try this recipe for the best slow cooker carnitas! They're hands-free & so easy to make with just a few ingredients. Perfect for tacos, burritos, taco salad bowls and even leftovers!
Author: Tiffany
Prep Time:

5 minutes

Cook Time:

10 hours

Total Time:

10 hours 5 minutes

Yield:

6 cups

1

x
Category:

Main Meals

Method:

Slow Cooker

Cuisine:

Mexican
1

onion, roughly diced

3

–

3 1/2

lb pork shoulder butt/shoulder (bone-in or boneless)

3 tsp

garlic powder

1 1/2 tsp

dried oregano

3 tsp

cumin

1 1/2 tsp

coriander

1/2 tsp

cinnamon

3 tsp

salt

4

bay leaves

1/4 tsp

crushed red pepper flakes

1/2

–

1

cup chicken stock or water or beer (how to make homemade chicken stock)
Instructions
Place the onion evenly on the bottom of the slow cooker.
Place the pork roast on top of the onion.
Add 1/2 cup liquid to the slow cooker.
In a small bowl or a mug, combine all the spices. Sprinkle liberally over the pork shoulder.
Cook the pork on low for 10 hours.
When the meat is done, shred the meat with two forks. Add the remaining 1/2 cup liquid if the pork has not released many juices. Stir to combine and serve.
Notes
You can also top with some fresh pico de gallo and a squeeze of fresh lime juice.
Keywords: slow cooker carnitas