Everything You Need to Know About
Do you cook for someone who has food allergies?
Cooking real food is work enough, but when you've navigating around food allergies, the challenge is multiplied. In my family, my youngest son is highly allergic to many common foods including gluten, eggs and nuts. My husband has intolerances to gluten, nuts and dairy. You'd better believe this mama needs a plan!
Working around these various needs was overwhelming at first, but these 6 tips make it possible to cook around food allergies in my kitchen and I'm sure they'll help you too.
Although food allergies certainly keeps me busy, these few strategies help me stay efficient in the kitchen while sticking to a grocery budget AND keeping everyone's tummy full.
6 Tips for Cooking Around Food Allergies
1. Make multiple versions of similar dishes.
This is the way to go for special foods like cookies and cakes. I might make a safe cookie for my youngest and my husband and then a "regular" cookie for the other kids. Cooking this way keeps the budget from getting out of hand (those gluten-free flours are so expensive!), but it creates a lot more work to make two recipes instead of just one. That's why I usually use this tactic in combination with the next one…
2. Make extra batches to freeze.
If I'm going to make two different versions of cookies, it's MUCH easier to make an extra batch – while I'm already making cookies in the first place – and pop unbaked cookie dough in the freezer (properly labeled of course). This saves me TONS of time the next time I want to make cookies.
3. Make the allergy-friendly version first.
Frequently, with baking, I'll take advantage of a clean kitchen and make the allergy-safe version first. Then I can make the "regular" version without first worrying about cleaning up all the dust from the flour, crumbs from the nuts or drips from eggs. I may even skip washing the bowl completely (shh, don't tell!) if the recipes are similar.
This strategy doesn't change the flavor of my second batch of cookies and there's no worry about accidental cross-contamination since the "safe" cookies are already finished baking. At the end of the baking session, I can clean the kitchen thoroughly. This saves a lot of clean-up time.
4. Serve "build-your-own" meals.
Meals like tacos or loaded baked potatoes can easily be customized at the table based on each person's needs and wants. I put out corn taco shells for my son and flour tortillas for the other boys. My husband and I stick to a salad. My husband avoids the sour cream and cheese and everyone enjoys the other toppings. I love this kind of meal because it's no extra work for me.
5. Stick to the "lowest common denominator."
I use all the above techniques, but often, I'll just serve a meal that everyone can eat. My older kids enjoy sandwiches for lunch and eggs for breakfast, so it's not a big deal to them if their dinner is designed with their brother's allergy restrictions in mind.
6. Plan, plan, plan!
It goes without saying that a good meal plan is a lifesaver when you're navigating food allergies. For us, eating out isn't practical since my son usually ends up itchy from cross-contamination when we do. We can't realistically resort to eating out if we don't have a plan for dinner.
A Few Safety Cautions…
Thankfully for us, we have not had to eliminate my son's allergens from the house, although we are extra careful around peanut butter. Of course you will need to take the needs of your allergy sufferer into account and avoid any of these tips that would put your loved one at risk. When in doubt, consult your doctor.
A few other tips:
Make sure to use dedicated serving spoons at the table
Make sure similar foods don't look too much alike. For instance, I usually make allergy-safe muffins in the mini size and "regular" ones in the larger muffin tin. This way, it's easy to know which one is which.
Clearly label all leftovers. A glass marker or a piece of masking tape works great for this.
Cooking for someone with food allergies isn't really that hard, but it does have a learning curve.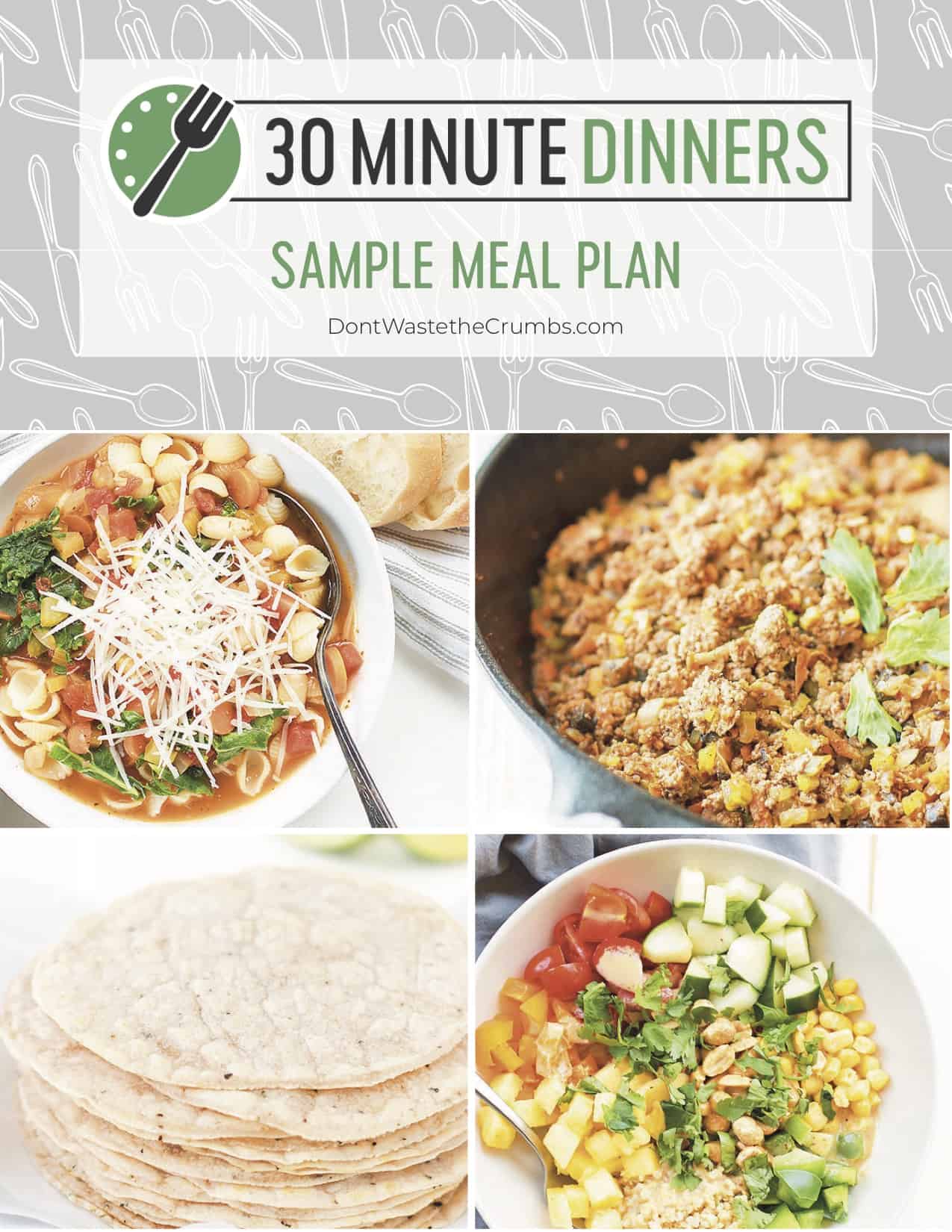 30 Minute Dinners Sample Meal Plan
Sign up to get instant access to my
30 Minute Dinners Sample Meal Plan
, complete with recipes and step-by-step instructions!
What are your best tips for food-allergy cooking?