My husband and I have a "thing" with cruises.
We took one early on in our marriage, and for various reasons – like paying off debt, having kids, moving across the country and saving to buy a house in cash – we didn't take one for 10 years.
Then we celebrated our 10th wedding anniversary with another cruise. Not only was it an amazing way to celebrate, but it confirmed how much we love the food, the sound of the ocean, and being able to visit places we otherwise wouldn't be able to see.
Planning a cruise is always a big deal for us, because we're trying to get the best deal possible. We've learned lots of ways to save money on cruises, and there are "common" cruise tips that are a good starting place, like book off-season, book early (which we don't agree with), and cruise on older ships.
BUT, we've learned some cruise tips to save money that only come from ACTUALLY going on a cruise. And we have four trips worth of ideas ready to share for you!
25 Insider Cruise Tips to Save Money
1. Don't book a cruise if it's not right for you.
First and foremost, only book a cruise if it's worth it for your family.
Before we booked our 10-year anniversary cruise, my husband and I spent several days figuring out how to get the most bang for our buck. When all the costs were considered – travel (car vs. airfare), lodging, food, entertainment, amount of "work" involved (i.e. shopping, cooking, cleaning, etc.) – we realized that taking a cruise was truly the best deal for us.
But this may not be the case for everyone.
Before you start looking at cruises, consider how much a "normal" vacation would cost first. This helps to put the cost of a cruise in perspective, and will help you know whether the cruise you found is truly a good deal or not.
2. Don't rush to book your next cruise while on board.
"Book your next cruise on board" is one of the most common money-saving tips for cruising, and there are a lot of perks to booking on board. You can get onboard credit, drink packages, shore excursions, gratuities and all sorts of other bonuses.
But in my experience, the price of the cruise itself is higher when you book on board.
It's best to price out all the aspects of the cruise separately – ticket, drink packages, excursions, etc. – and then add them up. Then compare this total to what you'd pay if you booked your cruise on board. Often times, paying for everything separately is cheaper than buying the cruise with the "extras" thrown in!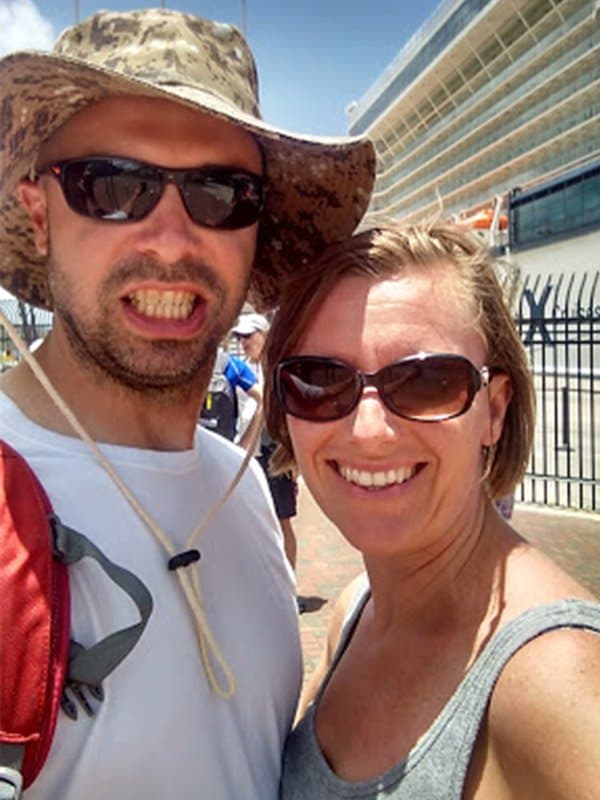 3. Consider using a travel agent.
When my husband was pricing out our last cruise, he found a great deal on a 7-nighter on Royal Caribbean out of Orlando. The next day he went online to book and the price had gone up $300 – PER PERSON!
When Royal Caribbean wouldn't honor the price from the day before, he found a similar cruise for even less – through Priceline!
Priceline is essentially an online travel agent, and not only did they have the best deal but they've also given exceptional customer service. They sent emails every step of the way to ensure we had completed our paperwork on time, and had everything we needed for a successful vacation.
Local travel agents offer the same service and may have better deals, so definitely use them as you're booking your next trip.
4. Use the gift card trick to pay for your cruise.
When you book a cruise, you are only required to pay a deposit. The rest is due a few months before you depart. This gives you an opportunity to find gift cards to the cruise line at a discounted rate.
Here are a few sites where you can buy gift cards for a fraction of their face value:
Raise.com – found Celebrity, Norwegian, Hornblower and Princess Cruises
GiftCardGranny.com – found Carnival
CardPool.com – found Carnival
CardCash.com – found Carnival
GiftCardMall.com – found Celebrity and Disney Cruises
GiftCardZen.com – found Carnival
GCSpread.com – found Carnival
As you can see, not every site has every cruise line, and there isn't always a gift card available. BUT, if you're patient and check regularly, you could save hundreds of dollars!
5. Book the inside cabin.
Some cruisers like to watch TV or relax in their rooms, but since we can do that in our living rooms at home, we prefer to spend as much time outside of the room.
And since we spend so little time in the room, it's best to go for the cheapest room, the inside cabin.
Unless you get an incentive to upgrade (see below) OR are cruising someplace where you're surrounded by scenery and culture (like Alaska or in parts of Europe), then don't spend the extra money on your stateroom.
6. Upgrade your room for incentives.
As you do your price comparisons, look to see if there are any incentives for upgrading your stateroom. I've seen offers for paid gratuities and onboard credit in exchange for an upgraded stateroom, but you have to do the math to see if it's worth it in the end.
Be sure to calculate the difference in cost for the whole trip, and not the advertised nightly rate, to get an accurate number.
7. Look at shore excursions outside of the cruise line.
Booking shore excursions through the cruise line is SUPER easy, but you can often book directly with the company that's providing the excursion and save money!
Search online (I recommend using Swagbucks to earn free gift cards!) to see what excursions are available for your cruise. Then search your port for excursions. Read descriptions and reviews carefully to see if any of them are the same. Then compare prices to see which is the better deal.
On most cruise lines, you're guaranteed that the boat won't leave without you if you book your excursion through them. BUT, if you book the same excursion that the cruise line is using, but book directly through them instead of through the cruise line, you'll still make it back to the boat on time (and save more money than your fellow cruisers who booked through the cruise!).
8. Consider doing things the local way, a la cart, instead of doing an excursion.
My husband and I once booked an excursion that took us to Magen's Bay in St. Thomas. The excursion consisted of a bus ride to the bay with a stop overlooking the ocean from the highest point on the island. The excursion cost us $45 each.
When we got back to port, we saw a sign for taxi rides to Magen's Bay for $8 one-way. If we had paid attention to what our excursion really entailed, and booked a local taxi trip instead of the "official" excursion through the cruise line, we would have saved $74.
9. Use onboard credit wisely.
Onboard credit is not free money. Chances are that you received onboard credit in exchange for something else, like upgrading your room. So then, don't waste your onboard credit!
New cruisers may not realize that even after you book your ticket, there are additional costs to consider. Shore excursions, gratuities, drinks, eating at restaurants, and shopping are just a few of the costs you can, and will likely, incur while on board.
If you have an onboard credit, put it towards your gratuities first. These go towards your stateroom attendant, head waiter and assistant waiter. On average, these cost $12 to $16 per day, per person. For my husband and I, that's at least $168 for the week.
Once you "pay" for your gratuities with your onboard credit, only then consider other ways to spend anything you have left. This way you won't have a big credit card bill when you get home.
10. Consider buying non-alcoholic beverage packages.
Tap water, coffee, tea and basic juices (apple, orange and a fruit-punch blend) are the basic drinks included on your cruise. You can get these in the dining rooms, the buffet and at bars throughout the ship without any additional cost. You don't even have to show your room key!
If you prefer to drink anything else besides these four items, consider buying a non-alcoholic beverage package.
The specifics will vary with each cruise line, but most have a soda package that allow you drink as much soda as you'd like, and some also have a non-alcoholic classic beverage package that include bottled water and fancy coffee like lattes and cappuccinos.
It's important that you do the math here and price out the cost of individual drinks first. On some cruise lines, the beverage package prices have stayed the same but the cost of drinks has gone up. Yet on other cruise lines, it's opposite – the drinks have stayed the same but the cost of the package has gone up.
In my experience, I've found 4 to be the magical number of how many drinks to consume to break even and make a beverage package worthwhile. Find out what this for your cruise line, and your boat.
11. Don't book any beverage package on the first day.
Anytime you buy a beverage package, you have to purchase it for the remaining days of your cruise. So if you buy a beverage package on day 1, you're paying for the package for 7 days. This goes for the entire spectrum of beverage packages.
However, a little known secret is that beverage packages are available ANYTIME during your cruise. While you'll have staff asking you (often) if you want to buy a beverage package on day 1 (and even on day 2), you do NOT have to buy them right away!
My husband and I always buy our drinks a la cart on the first two days. This lets us see how much the various drinks cost, how many we're consuming on a daily basis, and estimate how much it would cost us to for the rest of the trip.
I'll be the first to admit that it's hard to say no to the super-nice and super-convincing staff when they walk by. Mr. Crumbs and I spent a good bit of time going back and forth on whether or not it would be worth it for us! But once we did the math, it was easy to say no. We just don't drink enough to make any beverage package worth it for us.
12. Buy drinks at ports.
When we stopped at St. Kitts, we visited a store that offered a free set of earrings for cruisers. While there, the clerk behind the counter offered us each a beer.
My husband asked how much they were, and the clerk replied there was no charge! We quickly figured out that this was a pattern among the island jewelry shops, and they were hoping free beer would mean more sales.
The lesson we learned though, was that generally speaking, it was significantly cheaper to buy drinks at the ports than it was on the boat. And the further away you got from the boat, the cheaper the drinks got.
We now include fancy coffee and local drink specials in our island plans, and other than water, don't consume beverages on the boat on the days we are in port.
13. While at port, eat on the boat.
Cruise ships are known for having amazing food, and since the cost of food is included in your ticket price anyway, don't eat on land!
While my husband and I enjoy trying local foods from places we've never been before, we have also learned that the cost of food on land is very high. Remember that as a cruiser, you're a tourist. The places you're visiting rely on tourism for their local economy, and as such, you're going to pay tourist prices if eat anywhere within walking distance of the cruise ship.
Our only exception to this rule is when we travel away from the cruise port and find an authentic, local restaurant. In those cases, we share appetizers to both taste the local cuisine and keep costs down.
14. Book shore excursions that include food and/or drinks.
Remember that it's always cheaper to eat on the boat than on land, because food on the boat is included in your cruise ticket. The ideal situation is to eat before and/or after your excursion, but if that's not possible, consider booking those that include food and/or drinks to keep costs down.
15. Shop for toiletries at the port.
If you happen to forget to pack something important, like sunscreen or toothpaste, see if you can wait until the first port to buy what you need. Ships have little stores that carry the basics, but they are VERY overpriced.
It's better to borrow sunscreen from a fellow passenger, or just use water to brush your teeth than spend $10 on tiny travel size bottles on board.
16. Schedule luxury services while in port, not at sea.
While reading a book in the Solarium, I overheard a gentleman talking about his massage appointment. He said that the prices of the massage were different for days at sea versus days in a port, and that scheduling his massage while the boat was at port was much cheaper!
I haven't tested this myself, but if the services on the boat are one of the reasons you book a cruise, be sure to ask about pricing on various days and times to get the best deal.
17. Pack 2 bottles of wine.
We didn't know this until last year, but you can most cruise lines allow you to pack 2 bottles of wine or champagne per stateroom. This tip alone can save you TONS of money!
The cheapest bottle of wine on board is around $25, and while it's cheaper to buy the bottle than 4 glasses of wine, it's even cheaper to pack your own.
Our favorite red blend is just $8 locally. By packing our own wine, we save at least $34 compared to buying a whole bottle on board. When compared to buying individual glasses of wine, we save $60!
Be sure to pack this in your carry-on, and be prepared to show them during the on-boarding process.
18. And pack a bottle opener.
There is a $25 corkage fee to have the dining room open your bottle of wine, which defeats the purpose of avoiding the high cost of a glass of wine at dinner.
I HIGHLY recommend packing your own bottle opener. If you happen to forget, ask your stateroom attendant if they have one, and they'll probably be able to find one for you.
If they can't find one, ask one of the bartenders at a bar and they'll open it for you. Just don't pay that very high corkage fee!
19. Join the cruise line's customer loyalty program.
Our first cruise was on Royal Caribbean, so when we booked our second RC cruise, we joined the Crown & Anchor Society – their customer loyalty program.
Although it was only our second cruise with them, we already had perks to enjoy like a free glass of wine, buy one get one free drinks, discounts at onboard shops and exclusive invitations to parties with the captain.
We cruised Celebrity for our third cruise and immediately signed up for their loyalty program, the Captain's Club. Even though it was our first time cruising with them, we still had perks waiting for us in our stateroom!
20. Skip the internet package.
The cost of internet on the ship is astronomical, so avoid it at all costs. We prefer to completely unplug while on vacation, but if you must use the internet for whatever reason, pack a small laptop and find WiFi while you're in port.
Many restaurants and cafés will give you the password if you buy something, which is a perfect excuse to split an appetizer or drink with your spouse.
We've also found small convenience store that sell the WiFi password, which was even cheaper than buying something to eat. Two bottles of water and WiFi at St. Thomas was just $5 – compare this to $25 per hour of internet on the boat!
21. Check voicemails and make calls when at port.
Whether you need an international phone plan or a different SIM card for your phone will really depend on where you're going and whether or not you want to use your phone while you're away.
In either case, you'll get best reception and save money if you use your phone only while you're at the ports and not at sea.
We switched to Republic Wireless a few years ago and haven't had any issues while traveling internationally. We got cell reception while we were in Puerto Rico and had service via WiFi while visiting of the Caribbean islands. Not many of our fellow cruisers could say the same thing!
(You can read more about how Republic wireless works here, and how it's saved us over $1800 so far here.)
22. Sign up for seminars early on in the trip.
Even if you're not interested in shopping or art or music or any of the other seminars the cruise ship offers, attend as many as you can on the first and second day of the trip. Once you're on "the list" for art or shopping or whatever, you'll receive invitations for exclusive events later on in the trip.
We did this on our third cruise and we were invited to an exclusive art auction, which included hors d'oeuvres and wine. We didn't buy anything, but it was fun to try new foods and enjoy a free glass of wine!
23. Don't rush to go shopping on the ship.
Most ships have lots of shopping options, but they're not necessarily cheaper than what you'll find on land. This goes for everything, from jewelry to watches, and liquor to cigarettes.
If you ARE planning to go shopping on board, use a search engine (again, I recommend Swagbucks to earn free gift cards!) to see what shopping options your boat offers. Then get an idea of how much it would cost to buy the items you're thinking of in store, on land, and write it down.
For example, if your boat sells Kate Spade purses and you have your eye on this cute little number, you'll know what's a good deal or a bad deal.
24. Skip specialty dining.
Lots of people recommend taking advantage of specialty dining because you can get "restaurant experience for the fraction of the price." Well here's a little secret – the dining room is a restaurant experience too!
With assigned dining, you have the same head waiter and assistant waiter the entire trip. They know your name, what you like to drink and how much butter to serve with the fresh bread. They even know when to bring out an extra portion of lobster or beef wellington, based on what you've ordered in the past!
Plus the food in the dining room is phenomenal. We thought Royal Caribbean's food was exceptional (on both occasions) and Celebrity's food is the best we've ever had, ever.
Sure you won't get a sushi dinner for $15 at home, but you'll also be missing out on some of the best meals you've ever had in your entire life. I've never seen beef wellington on any restaurant menu, nor eaten lobster and ribeye in the same meal – yet I've done both, and so much more, in the dining room!
25. Eat breakfast and/or lunch in the dining room.
I know this isn't a money saving tip, but I want you to have a GREAT time on your cruise, and eating in the dining room at breakfast and lunch is one thing that has made our trips so wonderful.
We've found that the buffet can sometimes get crowded, and some people have a hard time eating food that other people have been breathing over and pushing around with tongs (–> me). So instead of the buffet, we usually have breakfast and lunch in the dining room.
You order from the menu, with choices ranging from sandwiches to salads to burgers to soups to a "like dinner" type of meal, yet every day the menu is different. Remember that eating in the dining room is included in your cruise ticket, so there's no additional cost either.
We wouldn't have learned these cruise tips unless we had actually gone on a few cruises. Are you a cruiser? Do you have any cruise tips to add? Please share them in the comments below – I want to know your secrets!