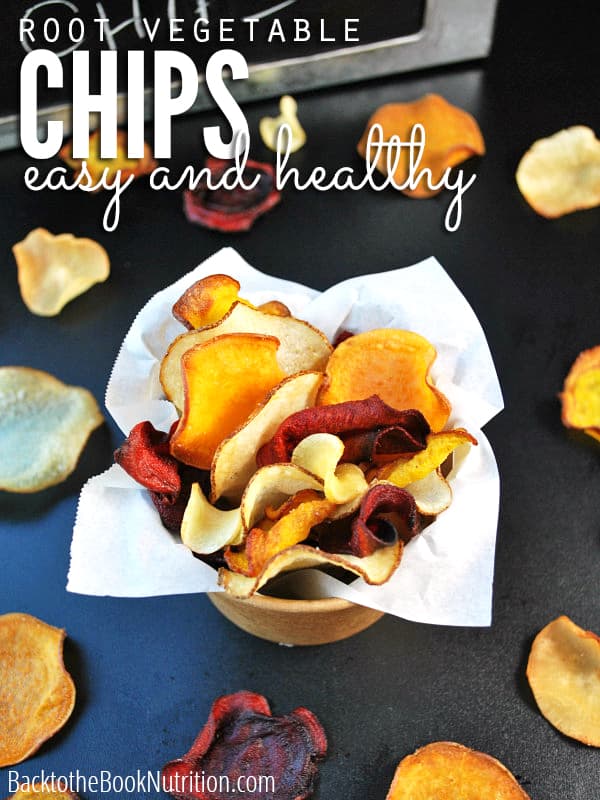 This post contains affiliate links.
Anyone else love Terra chips, but absolutely cringe at the price like I do?
No doubt about it – those things are really good. But they're also expeeeensive!
So, I made them myself…and, if I may say so, Move over, Terra!
Why Make Homemade Root Vegetable Chips
1. They're delicious.
My first attempt at frying chips at home was when I made easy homemade sweet potato chips a few weeks ago. To say they were a huge hit would be a massive understatement. Everyone – including yours truly – was pinching those last few crispy chip crumbs and licking their salty fingers that night!
The sweet potato chips were such a raving success, I instantly began brainstorming about what I could fry up next. And with all the fall roots and tubers in season right now, it seemed only right to make a batch of homemade root vegetables chips. Boy, was that the right move. These things are amazing!
2. They're cheaper.
It's not very hard to beat $4 a bag, which is what Terra's Exotic Vegetable Chips cost at my local grocery store, and even easier to beat the insane price on Amazon.  Read on and I'll tell you how to make these for up to 50% cheaper!
3. They're healthier.
For me, the quality of our food is just as important as keeping to the budget. That's what I love about Don't Waste The Crumbs – Tiffany does an incredible job of juggling these often competing factors of price and quality to offer us very practical ideas for feeding healthy food to our families! Thanks, Tiffany!
Note from Tiffany:  You're welcome Dena! 🙂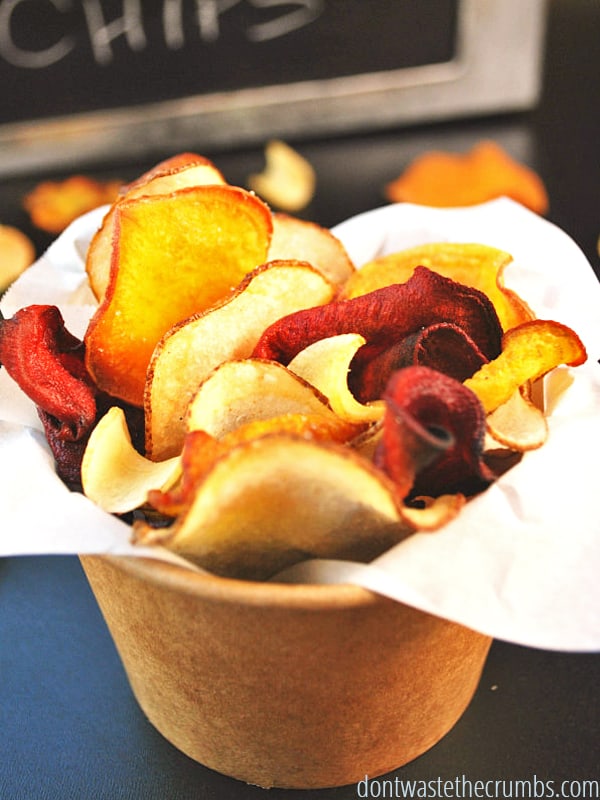 These homemade root veggie chips are fried in pastured lard, as compared to the canola, safflower, or sunflower oil used in the store-bought variety. Most of you are aware that saturated fat from animals that are allowed to roam and graze as God intended is actually healthy, despite what we've been told for decades. To learn more about this, go through Tiffany's Truth About Fat series, or my Making Friends with Fat series.
4. Nostalgia
There's something very gratifying about cooking from scratch over a pot of bubbling lard that came from pigs I visited on the farm – like I'm getting a taste of my great grandmother's life and moving one step closer to a "nose to tail" approach to eating.
Maybe that's a bit of a stretch since I did all of this in my air conditioned kitchen wearing my favorite flowered apron, and since my farmer actually delivered the pork to me, but I couldn't help but relish a little glimpse of life way back when. If that sounds ridiculous to you, you've still got reasons #1-3, right?
How To Make Homemade Root Vegetable Chips
First, I'll be honest and tell you that homemade chips do take some time to prepare, unlike the recipes for plain, cinnamon, and mixed berry homemade applesauce I shared last month. But they're a labor of love – and oh, how your family will love them! 
Ready to get started?
These chips can be fried in lard, tallow, or red palm oil. The more affordable of those options are lard and tallow, ranging from completely free (if you reserve portions of fat from beef or pork and store them in the freezer until you have a few pounds to render as lard), up to around $2/pound. Never rendered before? It's a cinch – I render pork in the crock pot, but Tiffany's primer on stove-top rendering is also excellent.
To slice the vegetables evenly, I recommend either a mandolin or a food processor with the blade set at 1/16″ for thinner chips and 1/8″ for thicker, kettle style chips. A knife will also get the job done, if you have the skills and patience for that.
Homemade Root Vegetable Chips
Crispy homemade root vegetable chips that are just like Terra, only much healthier and cost up to 50% cheaper! Save some cash and make them yourself!
Author: Back To The Book Nutrition
Prep Time:

10 min

Cook Time:

10 min

Total Time:

20 minutes

Yield:

16oz

1

x
Category:

Snacks

Method:

Stovetop

Cuisine:

American
1

yuca root

2

parsnips

1

russet potato

2

sweet potatoes

1

gold beet

1

red beet
Approximately

26oz

lard or tallow (rendered from about

2

pounds of fat)
sea salt
Instructions
Wash and trim ends/stems from all vegetables.
Heat lard/tallow in a large diameter pot or Dutch oven over medium-high heat. (If it begins to bubble before the veggies are sliced, reduce heat a tad to prevent burning).
Meanwhile, slice the vegetables in small batches and in the order listed above to minimize oxidation while they wait their turn to be fried (start with just the yuca and parsnips – when those are almost done frying, slice the potato, and so on). The red beets can also discolor the lard, so be sure to fry them last.
When the melted lard is 350-375 degrees or when a test slice crackles when dropped in, it's ready. Drop enough slices to create a single layer on the surface of the lard. Cook for 2-3 minutes, using metal tongs to stir/flip chips as needed to ensure even cooking.
Use tongs to transfer cooked chips from the pot to a large surface line with a double layer of paper towels to absorb moisture. Sprinkle both sides with sea salt immediately.
Continue slicing and cooking in batches until all are done.
Transfer cooled chips to a serving bowl.
Cooked chips can be stored in a paper sack for up to a few days. If they lose their crisp, pop them in a 425-degree oven for just a few minutes before serving.
Additional Recipe Notes
I included parsnip and yuca in this recipe, but don't sweat it if you can't find these. We thought the potato, sweet potato, and beet chips were the best!
To speed up the process, consider using two large diameter cooking pots. Doubling the surface area will reduce your cooking time by half!
If you've ever fried anything before, you know that the temperature of the fat is key. Not hot enough, and the chips will absorb too much fat and won't crisp. Too hot, and they'll burn. I'd highly recommend using a thermometer if you have one. If you don't, just be sure to test fry one or two veggie slices before adding more.
Note from Tiffany:  I second Dena's recommendation for a thermometer.  It really makes high-heat cooking easier, but I use it for homemade yogurt and salted caramel too.
Cost Breakdown
Bags of Terra chips run about $0.59/oz at my regular grocery store. Costco's price is better – $0.37/oz, but that's for Terra's sweet potato chips, not the exotic vegetable blend.  Whatever you do, avoid Amazon – it's $1.10 per ounce!
I've priced my homemade root vegetable chips using both free lard/tallow (rendered from extra beef/pork fat reserved over time and frozen) as well as from purchased lard/tallow (from fat purchased specifically for rendering). The vegetable prices are from my local grocery store, but I'm sure buying them from Costco or another bulk vendor, or from a farmer's market would save a little money. Better yet, grow them yourself – seeds cost next to nothing!
Homemade Root Vegetable Chips made with free lard/tallow:
Lard/Tallow: $0.00
2 Sweet Potatoes: $0.78
1 Russet Potato: $0.60
1 Red Beet: $1.00
1 Gold Beet: $1.00
1 Yuca root: $.87
2 Parsnips: $0.67
Total: $4.92 ($0.31/oz)
Homemade Root Vegetable Chips made with purchased lard/tallow ($2/pound of fat):
Lard/Tallow: $4.00
2 Sweet Potatoes: $0.78
1 Russet Potato: $0.60
1 Red Beet: $1.00
1 Gold Beet: $1.00
1 Yuca root: $.87
2 Parsnips: $0.67
Total:  $8.92 ($0.56/oz)

The Bottom Line
If you're intentional about reserving beef or pork fat when cooking, storing it in a freezer-safe container, you'll enjoy an almost 50% discount off the price of root vegetable chips!
For those of you, like me, who purchase your fat from a farmer or organic butcher, you'll only pay a few cents less than you would for Terra brand chips at the grocery store. However, your homemade version will be much healthier than the store-bought varieties fried in cheap oils that contain GMOs and less healthy omega-6 fats.
Have you ever made homemade chips? What tips can you share?
Disclaimer:  This post contains affiliate links.  By making a purchase through those links, you support the ministry of Crumbs without any additional cost to you. Thank you for supporting Crumbs in this way!  Read my full disclosure statement here.