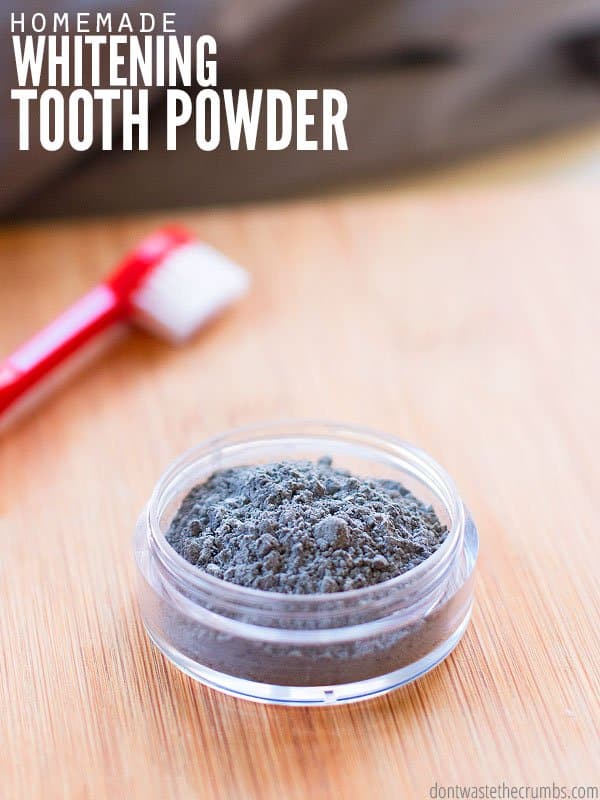 Dabbling in DIY's is my favorite pastime as an inexpensive way to improve my health, or quality of life… in one way or another.
For example – my husband once healed a spider bite with a potato and he also removed a mole with apple cider vinegar. When there wasn't ANY funds left in the budget for make-up and I still wanted to feel pretty, I learned how to make my own powdered foundation.
I once made my own homemade toothpaste (that tastes just like Earthpaste!) just to see if I could. It turned out so well, I've been making it ever since!
My most recent endeavor? Activated charcoal teeth whitening powder.
If you're new to this blog, you're probably wondering what activated charcoal is, or what tooth powder is. Let's cover the basics.
What is Activated Charcoal?
First, activated charcoal is NOT the ashes leftover from the grill. Please don't eat those, or you will get sick.
Activated charcoal is actually a natural substance made from bamboo, wood, or coconut shells that are burned without oxygen to create char. Char goes through a multi-step process to make it very, very porous. At this point, it's considered "activated."
Activated charcoal works through adsorption, meaning it pulls toxins into itself. It's then flushed through the body as waste since the body cannot absorb activated charcoal.
Second, it's worthy to note, that activated charcoal is so effective at removing toxins, that many hospitals use it for overdose and poisoning!
Finally, while activated charcoal removes toxins, it also removes good stuff too… like probiotics and medicine. This is probably more important if you're eating activated charcoal gummies for the stomach flu, rather than just brushing your teeth with it (as in the activated charcoal teeth whitening powder recipe below) or even making a simple detox face mask, but still. Now you know!
What is Tooth Powder?
That's easy – it's just like toothpaste, except it's a powder! You get all the benefits of all natural toothpaste (including re-mineralization!), without the fuss and mess of making a paste.
Can you make toothpaste out of tooth powder?
Sure! Just add enough distilled water (1-2 tablespoons at a time) to achieve the texture you want. Be sure to stir REALLY well with each addition of water.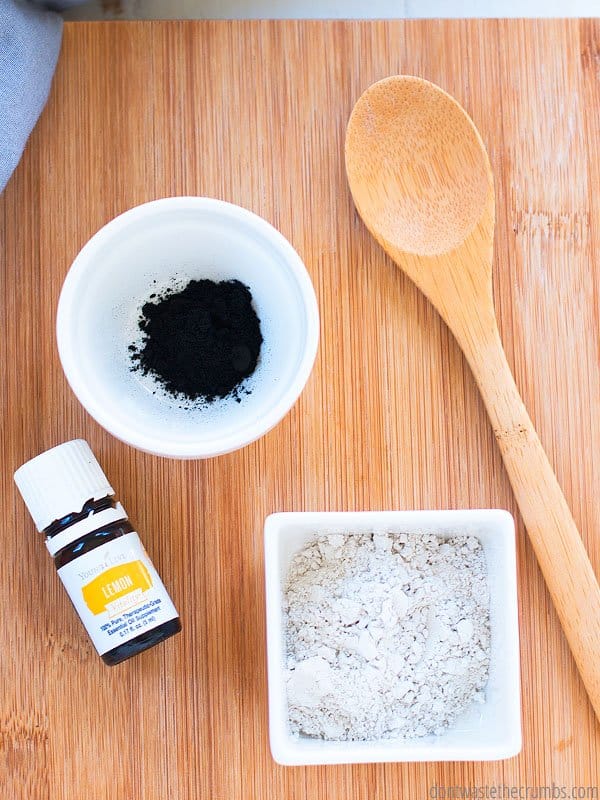 What is Bentonite Clay?
The second main ingredient of activated charcoal teeth whitening powder is bentonite clay. This is what I used in my original homemade toothpaste recipe, and it's what we attribute to my husband being able to heal his gum disease too.
I've written about the health benefits of bentonite clay and the different ways to use it, but suffice to say that it's also very powerful at removing toxins AND helps to keep the teeth healthy.
Like activated charcoal, it removes toxins via adsorption (i.e. pulling toxins in towards itself like a magnet). However, bentonite clay also removes toxins via absorption, drawing them in like a sponge.
The fact that bentonite clay contains 60 trace minerals that the body needs means you're giving your mouth a boost of nutrition it needs for healthy teeth, on top of getting them sparkly clean!
Caution & Recommendations When Using Activated Charcoal Teeth Whitening Powder
While this whitening tooth powder is very effective, it isn't meant to be used on a daily basis.
I am not a doctor, but I recommend using it every other night for about a week or until you see improvement with the color of your teeth. Then brush roughly twice a week to maintain your bright smile.
As always, stop using immediately if your teeth or gums become sensitive. (Mine were sensitive the second time I brushed, but it went away after the third time.)
I don't recommend activated charcoal teeth whitening powder for children, for two main reasons.
It stains.
Children aren't always the best at NOT swallowing.
While digesting activated charcoal is a "bad" or "harmful" thing, it does take the good stuff from your gut with the bad… and since the good bacteria in our belly is what keeps us healthy, we should avoid digesting activated charcoal unless it's absolutely necessary (like when the whole house has the stomach flu.)
Why Make Activated Charcoal Teeth Whitening Powder?
Honestly? Because I'd like my teeth to be a little whiter.
I don't want the to glow in the dark or anything, but I wouldn't be opposed to a few dashes brighter… know what I mean?
It's the season for pictures and get-togethers and whatnot, so why not do what I can to have a more confident smile?
How to Make Activated Charcoal Teeth Whitening Powder
Activated Charcoal Teeth Whitening Powder Supplies
Note: I really like Plant Therapy essential oils. You can find their shop here.
Activated Charcoal Teeth Whitening Powder Method
In a small glass jar, measure bentonite clay. Add activated charcoal and Lemon Vitality essential oil (if using) and mix well using a plastic spoon. Store in a plastic or glass jar.
To use, wet your toothbrush and dip it in the powder. Brush as normal, taking care to spit directly into the drain while the water is running to prevent the charcoal from staining.
Note: If sharing the pot of tooth powder with your spouse gives you the heeby jeebies, divide the powder between two so you each have your own!
Tutorial Notes:
Bentonite clay pulls the toxins from metal, which is why we're using a glass jar and plastic spoon.
We're also using a plastic spoon because activated charcoal stains, and I wouldn't want you to have white teeth at the expense of ruining a good spoon.
Do you dabble in your own DIY's? What have you made recently? Or is there a tutorial for something you'd like to see on the blog? Leave your ideas and comments below!