For MONTHS you've heard me preaching on meal planning.  You've seen my own plans (both monthly AND weekly).  Just last month you were challenged to plan SOMETHING.
Now you're told to stop?
Has Tiffany lost her marbles?!
Not yet, but I have been introduced to a pretty neat meal planning tool that just may ease the cringe you feel when you read another "meal planning" headline. 😉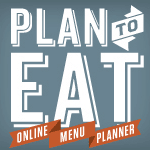 Plan to Eat is an online menu planner that pretty much does everything  but cook your food.  No joke!
It's a repository for all the recipes you find online.
It's an organizer for all the recipes you have on index cards.
It remembers everything you need to make a meal so you don't have to.
It even grocery shops for you and delivers groceries to your door!
Ok, so maybe not that last one, but a girl can dream, right?
I've had the opportunity to give this planner a test-run and so far, I'm liking what it has to offer.  This says a lot considering I've clung to my trusty pencil and paper method since the very beginning!
How It Works
This is what you see when you first log into Plan to Eat.  You're welcomed to the "recipes" page and given a handful of ideas that have been developed by the Plan to Eat team.  You're encouraged to take these recipes and play with the planning capabilities.  I felt slightly lost and unsure what exactly to do, but less than two minutes worth of clicking around and it all started to make sense.  Of course if I had taken the guided tour as offered, there wouldn't have been any confusion in the first place. 😉
There's three basic sections:  recipes, planner and shopping list.
Recipes
This is where the meal planning magic begins.  You can browse the recipes that your friends have shared (the Plan to Eat crew is automatically your friend 🙂 ), the groups you belong to, recipes you've found online and you can add your own recipes to the collection too.
My favorite feature in the recipe section is the ability to import from another website.  I gave it a test run with the recipe I used for my first batch of wheat bread (we made a half batch of and it was AWESOME!).
To do this from the recipe page, choose "add recipe," paste the website address and PRESTO MAGICO!  Plan to Eat pulls EVERYTHING from the website:  ingredients, measurements, directions – you name it!  I didn't have to do a thing other than hit "save."  The original website is saved too in case you have to go back and look something up.
I tried it again with one of my own recipes (the most awesome chocolate chip cookies ever that I'm making with M&Ms for a fellowship lunch on Sunday) but it only grabbed the title.  🙁
It was a bummer at first, but Plan to Eat thought ahead and built in a back-up plan where if the ingredients and directions aren't found automatically, you can copy and paste them in!  The list of ingredients goes under "bulk input"…
… then click over to the "ingredients" tab and PRESTO MAGICO AGAIN!
It reads your line items, separates them out and puts them in the appropriate grocery category so it can be added to your shopping list just like the other recipes were.  (This feature, by the way, is my ULTIMATE favorite that you will absolutely fall in love with!)  The directions are simply pasted into the "directions" box at the bottom.
If you have paper recipes in your kitchen drawers or cabinets, or recipes that are glued to the inside of your brain, you have the opportunity to manually enter in those as well.  This could require some time up-front, but it would offer a huge payoff in the end.  Of course you can always just create a note for that meals and write "beef fajitas" and just know that the ingredients for that meal won't be included in your shopping list.
Planner
The planner allows you to view the week (starting with "today") or the month.  The calendar works both forwards and backwards, so it's completely feasible to pull up Christmas dinner 2012 and copy it into December 2013 and have this year's Christmas dinner planned in a matter of seconds.  Neat, eh?
I totally dig the month view because often times we'll have the same thing planned each week, like pizza every Friday.  Once you load the recipe (or linked up the website), you drop and drag the recipe from the left into the day and meal you want it for.
You can see in that picture "pizza dough" off to the left.  I manually entered the recipe (burned into my brain from making it so often) and dropped it into each Friday.  Viola!
With both views, you can easily see what meals are left to be planned, so no day or night can slip through the cracks.  The planner includes breakfast, lunch, dinner AND snacks, so even those dehydrated apples and chocolate pies have an appropriate place.
The planner has the ability to copy one day, several days, one meal, several meals – basically any combination of these – and paste it on a desired week.  So if you have some killer 3-day menu that completely uses up every single one of your in-season ingredients and your family has requested it again, you can save it as a "menu" so it's ready whenever you want to pull it up again.  It also means you can be "efficient" like me (ha ha) and make one loaf of carrot bread at the beginning of the week, then copy/paste the breakfast recipe for each day. 🙂
Want to plan a meal that doesn't have a recipe?  Like leftovers or clean-out-the-fridge soup?  You can click on that day and type in your meal ("clean-out-the-fridge soup") and call the meal done.  Since that particular meal won't have specific ingredients, nothing will get added to your shopping list.  However, if you know you'll want one more onion, simply type "onion" and it'll get added.
Considering getting in the habit of making extras and freezing meals?  Or want to make your family's favorite enchiladas next week when company will be over?  The planner allows you to edit the serving size of recipes so you can do just that.  Easily double or triple a recipe in the planner, then watch the magic happen when the shopping list is automatically updated with the correct quantities!
Shopping List
The shopping list is WAY cool.  By far, this feature alone is worth any and all time you put into the program.
Plan to Eat takes all the recipes that you've entered into your planner, pulls out the ingredients and creates a shopping list for you based on what you have planned.  It makes it SUPER easy to see every single ingredient you need for every single meal laid out in front of you.  With one fell swoop you can scan down the list, shop from your pantry (and cross off what's not needed), then take the list with you when you head off to the store.
What's even COOLER is that the list is interactive.  Say you were able to pick up eggs and flour during an errand yesterday but you still need everything else on the list.  You can check the boxes for what you did buy and leave the rest for later!  Since Plan to Eat is online, you can take your recipes, planner AND shopping list with you wherever you go and no longer run out for that one item you forgot to pick up.
Overall Thoughts
Plan to Eat does require a little bit of up front work – like entering websites for recipes or manually entering family favorites – but that work only has to be done once.  Hit the save button and it will be readily available the next time you use the program.
Despite this work, Plan to Eat truly is meal planning efficiency at its finest.  Your shopping list is based on what you've planned, you've planned all the required meals and nothing gets left behind.  It's brilliant!
Want to Take it For a Test Spin?
Plan to Eat offers a free 30-day trial for anyone interested in making their lives easier with meal planning.
In case you didn't get the hint – THAT'S YOU!
Visit Plan to Eat, sign up and get familiar with how the program works.  Use the code NoCrumbWasted for 30% off through March 31st when you're ready to start your subscription.
Now that I've got my sea legs, I honestly can't wait to jump in and get the rest of my meals loaded for February.  I've always been excited to meal plan when a new month rolled around, but now it's going to be so much fun to do it and watch the shopping list function create my list for me!
I'm a total nerd, I know!
So get on with it already!
Stop cringing and start embracing meal planning!
Disclaimer:  I was able to review Plan to Eat at no charge (just like you can with the 30-day trial) and this did not affect my review in the least.  I make a small commission if you subscribe using the links above and I thank you for supporting Crumbs!