This is Part 3 of the Creating a Frugal Grocery Budget series.  Catch up with Part 1 here and Part 2 here.
I realize that some of the steps in creating frugal grocery budget may take awhile.  It'll take a minimum of three weeks if you started collecting your receipts immediately from step 2, but even divvying up your purchases and looking them over with a focuses eye takes time.  Whenever you're ready to move on to step 5, come back here.  Bookmark this post, pin it or send it to yourself via email (you can do this with the social media icons at the bottom) – whatever you do, don't let this short budget series slip your mind.  I know it's easy to be crazy busy (hence the reason I'm reading a book titled the same thing), but being a good steward is too important to let it slip through your busy schedule.  There is a light at the end of the tunnel and your efforts will bear fruit.  I promise!  Just keep putting one foot in front of the other…
Step 5:  Learn to Stockpile
Readers ask me all the time why they don't see toiletry purchases in my budget accountability posts, even though my budget includes those items.  We no longer use paper napkins (but still buy about two rolls each year to soak up bacon grease), quit using conventional toothpaste and even make our own all-purpose cleaner,  but those three changes alone aren't what keeps our budget so low.
About four years ago I learned a shopping technique that completely changed my life and has saved me more money I care to count.
I learned to coupon.
Now I'm not saying you all need to learn to coupon.  In fact, I personally quit couponing because it became an idol for me.  However, it enabled me to learn how to stockpile.
The basic premise behind stockpiling is this:  When an item you know you'll use (shampoo, conditioner, lotion, razors, etc.) is free or very inexpensive (using any combination of store sales, coupons and/or rebates), then you buy enough at that price to last a specific amount of time (eight weeks, six months, one year, etc.).  In the end, you've saved the difference between the sale price and what it would have cost you to buy that item for full price, times the number of items you bought.
The shoppers on the TV show Extreme Couponing were a little… well, extreme.  But it IS possible to take the concept and apply it to the average family and a more sane level.  For example:
A local store is discounting your favorite shampoo and has cut the price from $5 to $2.  Instead of buying just one (to replenish the one you're using), buy four and keep them in a designated "stockpile" location.  Not only have you saved yourself $3 off your next purchase of shampoo, but you've really saved $12 over what you would have paid for shampoo over the next four months.  Plus you don't have to worry about replacing that item for awhile.
Here's another example:
Mr. Crumbs prefers the Gillette Fusion ProGlide razor.  Shelf price at my local CVS is $12.99 for one handle and three blades.  When he shaves his full face on a daily basis, it's entire possible for him to use all three blades in one month.  At roughly $15 a piece (including tax), I'm spending $180 every year on razors.  JUST razors.  And JUST for him.
However, if I only buy the razor when CVS offers $5 ExtraCare Bucks (ECB) in return for my purchase, then I've essentially saved $5 because I can use those ECB's to buy another toiletry item we need, like deodorant or shampoo or shaving cream, instead of having to use my grocery budget money to pay for them.
Now this concept only works when two conditions are met:
You can use the item.
You have funds in your grocery budget to cover the out of pocket expense (i.e. what you're REALLY paying, not the cost of the item minus coupons minus rebates minus cash back).
First, if you can't use the item, then it's a waste of money to buy it in the first place.  It will sit in your house, take up space, collect dust and do nothing.  Even if you only spent $1 – that's still a dollar wasted.
Second, if there isn't grocery money in your account to cover the funds, don't buy it.  You can get quality toiletry items for so incredibly cheap, that it's not worth (in my humble opinion) setting up a separate budget to cover the cost.  It's also not worth running out and dumping $500 on a bunch of bath and hygiene items just to have them on-hand.  That isn't saving money.  That's just buying a bunch of stuff at the same time, and overpaying too.
So what do you need to do?
Set aside a certain amount of your grocery budget each month to cover the cost of stockpiling.  It can be $5 a week, 10% of your total budget, $20 a month… you decide.  Here's a helpful hint:  Take a portion of what you eliminated from your grocery budget in step 4 and set it aside each month for stockpiling.
Learn to play the drugstore game.  Find a very simple run-down of how to play the game here.  Feel free to use Google to supplement.  You can also ask questions in the comments, but Google might be quicker. 😉
Tips for Success:
The game can easily overwhelm you, so start small.  Like, really small.  Like, one purchase a week type of small.  At least until you get the hang of it and learn all the rules.  I bought one single light bulb my first week of the game, and only one tube of toothpaste on week two.
Commit to playing the game for three months.  Deals are cyclical, and you don't find everything you need in the first few weeks.  But if you commit to one or two deals each week, you'll have a very nice-sized stockpile in a short 12 weeks.
Decide how much is enough ahead of time.  It takes space to keep a stockpile, so you need to decide how much space you're willing to devote to your pile.  I have extra room in a closet, so I requested a set of shelving for Christmas two years ago and shopped for a 12 month stockpile, and that has suited us well (plus it's nice to "vacation" from buying toiletries for a full year!).  When we lived in a much smaller apartment, my pile lasted roughly four months simply because that's all I had room for.
This concept applies to food too.  If your family loves pasta, and your local store is selling whole wheat pasta for 25¢/lb, then by some extras and stock up!
Just because you have a lot, doesn't mean you have free reign to use it all up.  Those extra boxes of pasta need to last you as full-priced boxes of pasta would.  Continue to meal plan and ration accordingly.  Don't go on a pasta binge just because your pantry is full of it.
What if there aren't any good deals this week? 
If nothing you needed was on sale, or there's money left over from your designated "stockpile" fund, then you can either a) save it (literally, move it over to your savings account), b) spend it as you would the rest of you grocery budget, or c) roll it over into the next week.
For my family, I like option c.  This is one way you can make bigger ticket items more affordable.  This is also how you can effectively stockpile and buy in bulk from Costco, without breaking the bank.
You can make it a goal to buy one thing each month in bulk, that fits within your allotted stockpile fund.  Maybe dishwashing tabs one month, extra butter the next month, then toilet paper the third month, and so on and so on…
You can also take the category you spend the most money in (step 3) and begin to stock pile items from that category first.
Another way is to buy two of an item, instead of one, so long as there's room in your grocery budget.
The goal is to never pay full price for an item.  Soon you'll notice that you're spending less on the stuff you normally buy, AND you're not having to buy them as often.  The savings then begin to snowball and you're able to focus those funds on better food like raw milk, pastured chickens or grass-fed beef.
Does it sound too complicated?
Then don't play the game.  It's not for everyone.  Concentrate instead on finding a better deal for the foods you buy more often.  Shop Tropical Traditions or Amazon.  Try new stores – even the ones that look shady.  I find the best deals on bruised produce at a very small Asian store just around the corner.  My small-town grocery store carries grass-fed milk as their store-brand.  A large Hispanic food chain has amazing prices sometimes on random vegetables.
The point is to keep your eyes open, start paying attention to the actual prices you normally pay, then aim to pay lower.  When you feel like it's an awesome deal, buy two.
Step 6:  Take Baby Steps to Improve Needs (ongoing)
The final step in creating a frugal grocery budget is really one that never ends.  And it's one of the reasons I started Crumbs in the first place.
There's no way you can completely overhaul your kitchen and eating habits overnight.  If you want the changes to be successful, they must be done in baby steps and slowly over time.
When you've reached this point, take at where you spent the most money in step 3 and start there with improvements.
Another option is to take the Fresh Start Challenge first, then slowly work your way through the topics we've covered already:
traditional food basics (coming soon!)
You'll notice "Do Somethings" at the bottom of most posts (most of them are also listed on this page).  Those are small baby steps you can take to further your real food journey.  They're designed to go somewhat in order, but feel free to do them however you best see fit.
Once you've completed step 5, you're well on your way to a frugal grocery budget, but the task isn't over yet.  Keeping a frugal budget is constant work.  Hold yourself accountable.  Don't make excuses and just keep trying.
Looking for some extra help with getting your budget under control?  I have good news!!
There are now 5 pages worth of printables available to help you reclaim your grocery budget, and they're all yours – for FREE!  Simply subscribe to the Crumbs weekly newsletter and they'll be automatically delivered with your welcome email, along with a copy of "22 Days to a Fresh Start."
By the way, if you're hesitant to sign up because you're afraid I'll clog your inbox, let me reassure you – I won't.  The Crumbs weekly newsletter comes just once a week.  I might share a really amazing deal with you guys (like when you can get a bazillion books for mere pennies, or when my own book is on sale ;)), but the fact that you allow me into you inbox is something I take very seriously and I will never spam you.  I am absolutely passionate about eating real food on a real budget, and I simply want to share what I've learned with you and help you achieve your own real food and grocery budget goals!  If I could invite you all over for a cup of coffee and scones to answer your questions, I would!  But since we're all scattered across the world, answering your questions via email is the next best option.  PS – don't forget to fill out the welcome survey and share your questions with me so I can answer them!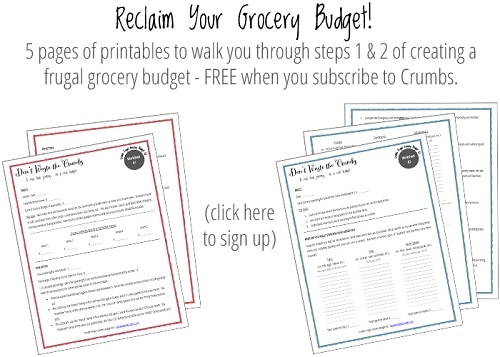 To get worksheets #1 and #2 from the Crumbs Frugal Grocery Budget Kit for FREE, simply click HERE or click on the graphic above.  That's it!
See, now that wasn't so bad, was it?
Stick around folks – I've got some great plans coming up for 2014.  I've been brainstorming on how Crumbs can be better suited for YOU and your suggestions are not falling on deaf ears.  Lots of great things are around the bend and I look forward to spending the next year sharing them with you!
How is your frugal grocery budget coming along?  Are you struggling with anything?  How can I help?