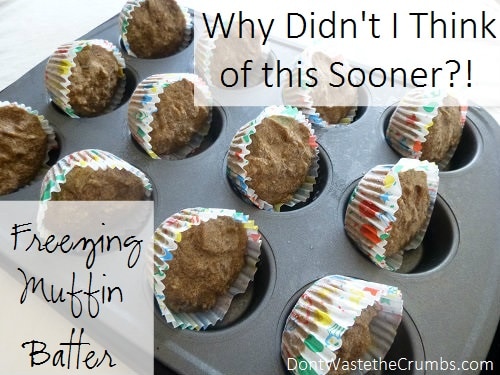 You know how sometimes the smallest things can bring the greatest pleasure?
And many times you think to yourself, "Well shoot – that was totally awesome!  Why didn't I think of that sooner?"
Strap on your "no way" seat belt folks because here's another.  Three words for you:
Frozen. Muffin. Batter.
Oh yes, yes you can!
All this time I've been slaving away making freshly baked muffins while wiping the sleepies out of my eyes and I could have simply made a double batch LAST time and baked them up now?
Yep.
Before we go all sourpuss and pout because we're dwelling on all the times we've made muffins when we didn't really want to, or wanted to make muffins but didn't have everything needed, or worse yet – haven't made muffins because there never seems to be enough time… Let's focus on the good news:
You can freeze muffin batter!
And it's SO easy to turn that frozen batter into fresh muffins.  It really is!  Here's how you do it.
MAKE THE MUFFIN BATTER.
Choose your favorite muffins and make a double batch – some for now, some for later.  You can make a triple batch if you really want to, just make sure you have enough muffin tins and enough room in your freezer to hold them.
Our two favorite muffins are chocolate chip banana and apple cinnamon, both recipes adapted for whole wheat and healthy fats of course.  With cheap bananas and cheap apples, we can make these year round without any issues.  This carrot bread could easily become muffins too though.  Hmm… maybe we'll have a contest this fall as to the new family favorite!
FILL THE MUFFIN TINS.
Line the muffin tins with paper liners and fill them as high as the recipe states, up to 2/3 full.  The batter will expand just a bit as it freezes and you wouldn't want it to freeze up and over the muffin paper.  That will just get way messy later.
FREEZE THE BATTER, IN THE MUFFIN TINS.
Place the entire muffin pan, with filled muffin cups, in the freezer.  Common sense should dictate this but I'll go ahead and say it anyway:  make sure the muffin pan is level.  It doesn't have to be perfect, but putting it in sideways will get you a dirty freezer instead of fresh muffins.  Doesn't THAT sound like something fun to wake up to? 🙂  Use a cookie sheet if you need help with the leveling.
Allow the batter to completely freeze.  This will take at least 6 hours, but you can allow a full 12-24 if you prefer.  My batter froze for 24 because I forgot I put them in there.  They tasted fine after they were baked (I personally ate two, just to be sure 😉 ), but any longer than 24 hours and you could risk muffins with freezer burn.
REMOVE THE FROZEN MUFFINS FROM THE TIN AND STORE.
When the batter is completely frozen, remove them from the tin.  The paper should go with the muffins too, as they'll be needed later.  The frozen muffins should be fairly easy to remove, but you may need a butter knife to give them a nudge.
Store the muffins in either a freezer safe container or a freezer safe bag.  Shuffle them around however you see fit so that they fit in your freezer.  My freezer is small, so I lined up my a little neater so they'd take up less space.
One note here – work quickly with the frozen muffins.  This isn't the ideal time to multi-task, go to the bathroom and return 20 minutes later when you remembered you were working with once-frozen, now-thawed muffin batter.  Plus your own body heat will cause them to melt if you handle them too much for too long.  Just grab the muffins, put them in the bag, seal it up and put it in the freezer.  Done.
WHEN YOU'RE READY TO BAKE, REMOVE THE MUFFINS FROM THE FREEZER AND BAKE.

It's now two weeks later and the first batch of muffins is long gone.  You've gone through a week of oatmeal and the kids are starting to revolt.  Now is the time to whip out those frozen muffins and turn into the Best.Mom.Ever!
Preheat the oven to the temperature needed according to your muffin recipe.  Pull out the muffins from the freezer and place them back into the same muffin tin they were originally in.  When the oven has pre-heated, bake for the time allotted in the recipe, plus five minutes.  Using a toothpick, check the muffins for done-ness.  Most muffins are done when a toothpick comes out clean, but this may not apply to recipes that are unusually wet.
If they are not done after 5 minutes, bake them for another 5 and check again for done-ness.  (My chocolate chip banana muffins needed the full extra 10 minutes of baking time.)  Remove from the oven and allow them to cool slightly before enjoying breakfast!
The neat thing about this process is that you don't have to bake all of them if you don't want to.  You could easily bake one or three as a
I haven't tried this with quick breads, but I imagine the process being similar.  You may have to add some extra time to the baking, but you could always pour the batter into muffin tins too. 😉
Do you freeze muffins?