Delicious recipe for homemade mayo plus tips for making it fail proof every time! Just 4 ingredients, perfect for novice cooks & better than store-bought! Perfect on a sandwich with my homemade lunch meat and homemade sandwich bread!
Over the years I have learned how to make several condiments from scratch, but something about homemade mayo has always daunted me.
I tackled homemade ketchup when we had tomatoes coming out of our ears, and that was relatively easy. I've made carrot top pesto too, which was also easy, but there's nothing like conquering the most difficult condiment in the collection, right?
As it turns out, all those myths about homemade mayo were wrong! With one amazingly simple recipe (and a couple of tricks), you'll have delicious homemade mayo ready in less than 2 minutes!
DIY Homemade Mayo
Not only does homemade mayonnaise taste way better than store-bought, it's also:
What are the ingredients?
What supplies do I need?
Step by step method for making mayonnaise:
In a wide-mouth jar, layer your ingredients as follows. First, the lemon juice. I prefer the taste of freshly squeezed, but you can use bottled lemon juice if you prefer.
Second, add the raw egg. Yep, the whole thing. The egg yolk and all. Crack it in there straight from the fridge (or wherever you keep eggs.) There's no need to warm, thaw or allow to come to room temperature.
Third, add the salt. I used kosher salt, but table salt is fine too. If you use table salt, reduce the quantity to 1/2 for now. You can adjust this to taste later.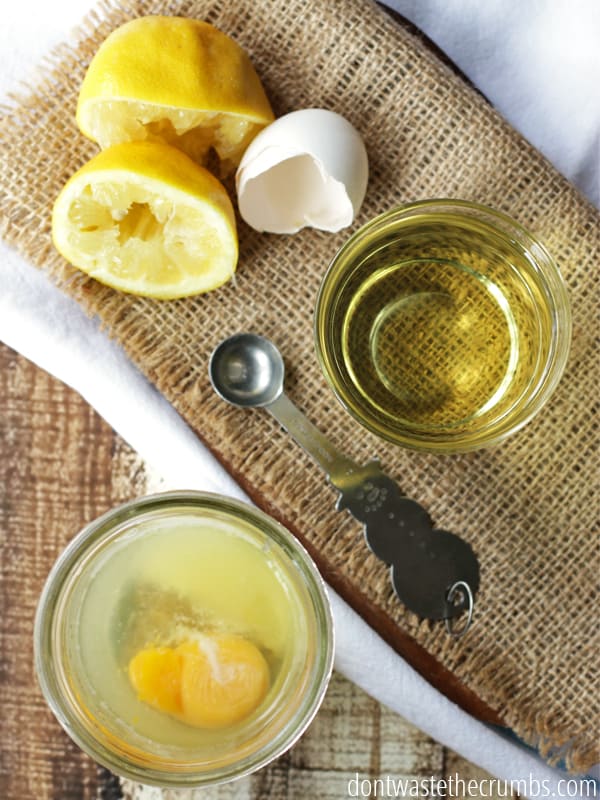 Finally, add the light olive oil in a thin stream. Do NOT use extra virgin olive oil.
Extra virgin olive oil is absolutely delicious in dressings or with freshly baked artisan bread, but it does NOT taste good in homemade mayo (been there, done that).
You need a healthy oil that's light in flavor, so light olive oil is great, as is avocado oil, sunflower (not safflower), sesame oil and even expeller pressed coconut oil (not extra virgin).
If you're REALLY feeling fancy, you can also use walnut oil, macadamia oil, bacon grease and ghee (but not all individually, nor all together).
Ps..I don't use canola oil because canola is chemically extracted using hexane. Cold pressed exists, but it is usually very expensive and hard to find. It's better to avoid, and just use healthy oils.
Note: I have not tried numerous combinations of all the oils listed above. I tried 50/50 extra virgin olive oil and avocado oil, which didn't taste very good at all. I've also tried light olive oil as the recipe is written, and since it produced an amazing mayo that tasted better than any store-bought I've ever had, I stopped there. Feel free to branch out and experiment, and if you do, please leave a comment sharing with us what worked and what didn't!
Basically, just follow the recipe folks.
Before you do anything else, wait until the egg is at the bottom of the jar and the oils are sitting at the top of the jar. If you've followed the tutorial so far and added everything in the right order, this won't take very long… maybe long enough for you to throw the eggshell in the garden, put the oil and salt away and add the lemon peels to your jar of citrus vinegar.
So, maybe a minute?
When time is up (or when you're done cleaning), get out your immersion blender and stick it in all the way to the bottom.
With the immersion blender at the bottom of the jar, press the button to "go" and let it blend for 20 seconds while sitting at the bottom of the jar.
After 5 seconds, you'll have mayo at the bottom as it starts to thicken.
At the 10-15 second mark, you'll notice the mayo creeping to the top.
At about 20 seconds, you'll have mayo near the top of the ingredients with a very thin layer of oil right on top.
Very slowly (and carefully), bring the immersion blender up the side of the jar while still blending. As you do this, the thin layer of oil on the top will slowly drizzle down the side of the jar and blend with the mayo underneath.
Keep bringing your immersion blender almost to the top, stopping just short so you don't splatter mayo everywhere. Your mayo is done when all the ingredients are incorporated together!
Taste your mayo and adjust your salt and/or lemon juice if desired.
Additional Seasonings and Flavors for Homemade Mayo
This recipe is for a basic homemade mayo. It's absolutely stunning and delicious and has the perfect balance of tangy and creamy. But, some people prefer their mayo to be a bit fancier. If that's you, consider the following additions to your homemade mayo (add these just after the egg):
Why Homemade Mayo Can Fail
Homemade mayo has a bad rep for being difficult, but it's not really when you understand the two basic foundations that must happen in order for homemade mayo to work:
(1) The oil must be separated from the egg.
Most homemade mayo recipes have you slowly drizzle in the olive oil. That's to give the emulsifying agent a chance to get in between the water (lemon juice) and oil. If you just dump it all in together with no rhyme or reason, you're setting yourself up for a fail.
Always add the water (lemon juice) first, then the emulsifying agent (in our case, the egg), then all the seasonings/flavors and finally the oil last. Letting it all sit for a minute gives the ingredients a chance to settle from all the ingredients additions.
(2) There must be enough of an emulsifying agent.
Egg is an emulsifying agent, as is lemon juice, vinegar, and mustard. You must have enough of an emulsifying agent in ratio to the oil for the mayo to turn out correctly. One egg is approximately 3 tablespoons.
My recipe uses lemon juice and when combined with the egg, it's the perfect ratio for 1 cup of oil. Other recipes call for up to 1 tsp of mustard and reduce the level of acid. Some recipes use 2 eggs. It really depends on your preference, but know that the more oil you use, the greater portion of emulsifier you'll need.
How to Make Homemade Mayo Last
As is, homemade mayo is good in the fridge for about one week. However, by lacto-fermenting the mayo you can make it last for several months.
To do this, add 1 tablespoon of whey to the finished mayo and stir well. Allow mayo to sit on the counter overnight, or up to 24 hours. Put the mayo in the fridge and you've got mayo that will be good for 2 months or more!
5 days to save $75
Need to save money on real food? Download my free guide to saving $75 in 5 days using easy, practical baby steps.
Watch How to Make Fail Proof Homemade Mayo
DIY Homemade Mayo