Everything You Need to Know About 4 Ways to Fight Against the Rising Cost of Milk
Eighteen months ago, one gallon of organic milk cost $5.49. Last month I paid $6.99.
The cost of organic milk has gone up $1.50 per gallon since October 2013 and I wouldn't be surprised if it kept going up.
There are a number of factors that fall into play here, including:
the general cost of raising organic animals, so that they produce milk according to USDA organic standards
the gain in popularity of organic milk, creating an increase in demand and a supply that can't quite meet it
droughts that plague fields that produce the feed for organic animals
By no means are these all the reasons, but you can see how one blight in the food chain can cause a disastrous domino effect far down the line.
But the bottom line is this: If the cost of organic milk goes up anymore, I won't be able to afford it.
Anyone who ventures on a real food journey will be in this spot sooner or later. You'll have to split hairs and get to the nitty gritty between the quality of the food you buy, possibly making a decision of the lesser of two evils… Because there isn't room in the budget for both.
Do you buy organic from the store? Or non-organic from the farmers market?
Do you buy eggs fed a certified organic vegetarian diet? Or eggs from cage-free chickens supplemented with a conventional diet?
There is no right or wrong answer to either of those scenarios, yet that's where I find myself today in terms of milk. I need your help in determining which direction to go.
I've outlined below the possible options we could take, and even more ideas that crossed my brainwave at some point in time. I'm laying it all out here for your guys, in hopes of finding a practical solution to the issue of the cost of milk being on the rise. But also in case you ever find yourself in a similar situation, you're ready to really consider all of your options. Including the ugly ones.
Here's our current situation: We buy two gallons of milk each month and as it is, we don't drink it.
I use it to make yogurt, to make kefir, as a creamer in our coffee and in cooking. But even in cooking, I can name the recipes I use it in on one hand (biscuits, creamy squash pasta and a macaroni and cheese recipe I'm working on).
We certainly don't waste milk in our house.
Even with our consumption being low, there's got to be a way to fight against the rising cost of milk. $3 doesn't sound like much, but it's little expenses and increases like this that sneak up on you over time and suddenly become budget-busters.
What do we do?
Do we consume even less? Stop cooking with it altogether? Make non-dairy alternatives? Possibly switch to conventional milk?
Yes?
4 Ways to Fight Against the Rising Cost of Milk
#1 – Consume Less
Mr. Crumbs and I are starting the last week of our fiscal fast. We ran out of milk several days ago, meaning we've been without creamer in our coffee. Neither one of us has died yet.
He's been drinking black while I've been adding coconut cream concentrate (a.k.a. coconut butter). Is it as good as half-and-half or milk?
No. But it's not that bad either.
Could I give up creamer in my morning coffee in order to avoid paying out the wazoo for organic milk and keep my grocery budget in check?
Yes, I do believe I can.
#2 – Stop Cooking with It
We've been testing the waters with this tip, seeing if homemade coconut milk tastes just as good in dinner biscuits as regular milk.
Know what? We couldn't tell the difference.
I made a batch of cinnamon vanilla rice milk last week and the kids drank it up without hesitation. In fact, they thought it was a pretty nice treat considering they haven't been allowed to drink milk unless it was raw and from the farmer's market.
Which hasn't happened in well over six months…
Choosing coconut milk or rice milk over whole milk will vary depending on the recipe we're making, but switching to rice milk will create the most savings over the long run. For each cup we substitute, we'll save 41¢.
That seems small now, but that could really add up each week.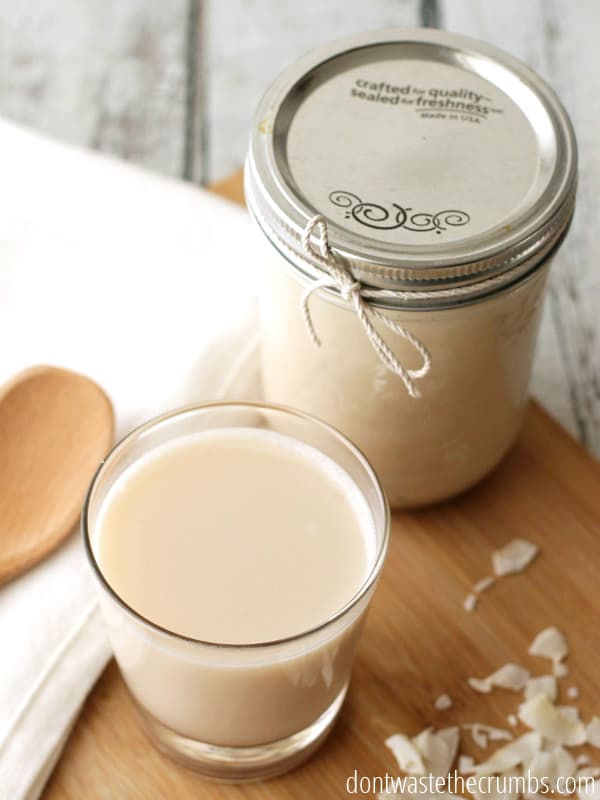 #3 – Make Non-dairy Alternatives
As I just mentioned, we're already making homemade coconut milk and homemade rice milk again. My goal is to make a batch of each at the start of the week so that it's readily on-hand for when I need it.
Homemade almond milk is an option too, but we don't have any almonds and haven't been able to buy them with the fast. A cup of almond milk costs 35¢, which is more than a cup of milk, so I'm not entirely sure that's the option we'll take.
#4 – Possibly Switch to Conventional
I don't like this option… I mean, I REALLY don't like this option, but it is on the table, and here's why.
On page 35 of Nourishing Traditions, Sally Fallon writes,
If you cannot find good quality raw milk, you should limit your consumption of milk products to cultured milk, cultured buttermilk, whole milk yogurt, butter, cream and raw cheeses.
I can't find good quality raw milk for less than $14/gallon. Which, as you might have guessed, is very much so not in our grocery budget.
At least not right now.
Ms. Fallon doesn't distinguish between organic milk and conventional milk. She only calls out raw milk, and not raw milk.
While her opinion isn't the end-all be-all, it does make me wonder if it even matters that my not-raw milk is organic? And even more so, if I'm culturing that milk anyway?
But then I take issue with all the little things that show up in our food that aren't supposed to be there, like antibiotics, hormones or pesticides.
Thank you agribusiness.
I know not every conventional farm is bad, and not every organic farm is good. But with the label of organic, there is somewhat of a standard in place that has to be met.
But is there really safety behind the little green and white label?
Other Ideas to Consider
Making Room for Raw Milk
This might sound crazy, to consider adding raw milk to the mix when we can barely afford organic milk, but hear me out.
If Mr. Crumbs and I continue the road of no coffee creamer, and I use homemade rice milk in our cooking, and we only buy one gallon of organic milk at $6.99/gallon for culturing and ADD a half gallon of raw milk to the budget ($7), would we really come out ahead?
I know raw milk has a crazy amount of enzymes, vitamins and nutrients, so I'm wondering if we gain nutrition from raw milk and absorb the cost thanks to the rice milk?
Is this where we re-evaluate our grocery budget and make raw milk more of a priority? Possibly cutting out something else in the budget instead?
Finding a Better Price
Trader Joe's sells organic milk for $5.99, but it's definitely out of the way. We would have to purposely make a trip out that way at the start of the month, buy two gallons (one for yogurt, the other for coffee/cooking/kefir) and make do if we run out.
All things considering, that's not too bad of an idea and we'd definitely save $2 over our current system…
But the current price of gas out here is around $3.75/gallon. We'd use up at least a half gallon getting there and back, which essentially negates the savings.
But we'd still be consuming organic milk and not conventional.
I could always keep an eye out at other stores, but to be honest, I don't think they're any better than what I'm paying right now.
Unless…
We Settle for Ultra-Pasteurized
I don't want to do this either, since UHT milk is essentially void of anything good, but it can still culture and it wouldn't have antibiotics, hormones or other stuff that shouldn't be there. And compared to regular-temp pasteurized milk, it's affordable.
Do you see the conundrum? Which of the lesser of the two (three?) evils do I pick? Where does milk fit into your grocery budget? What would you do if you were me?