Everything You Need to Know About Flour Face Off: Which Wheat Makes the Best Wheat Flour for Cookies?
The average day in the life of a frugal food blogger is hard work.
Bake bread, taste bread, think about bread… Geez, talk about a hardship! 😉
Truly though, there are days where the work is just grueling.
Like when you're baking cookies, tasting cookies, thinking about cookies…
Goodness, can't a girl catch a break around here?
I kid, really I do, because I feel so incredibly blessed to be able to bake bread and cookies and eat way too many of both. Just so I can tell you whether it's worth the time and effort that goes into grinding your own wheat, or advising to cut that corner and buy it pre-ground.
The results of last week's flour face off – bread edition – showed that any sweat you shed while grinding your own wheat is well worth the effort. Hard red spring wheat won the bread competition, hands down.
In round two, we're testing out flours in a batch of cookies. But not just any cookie. I used one of the best cookie recipes I have in my arsenal – oatmeal chocolate chip.
Why yes, I do love my job. 🙂
Flour Face Off: Is Soft White Winter Wheat Really Best for Baked Goods?
THE CONTENDERS
#1 Tropical Traditions Hard Red Spring Wheat (on the left)
#2 Trader Joe's 100% Whole White Wheat
#3 Tropical Traditions Soft White Winter Wheat (on the right)
THE RECIPE
One batch of vanishing oatmeal chocolate chip cookies, split into thirds once the butter was creamed with the sugars.
THE TEST
Each cookie was judged blindly on taste and texture by two independent judges (and a third semi-judge who wanted in on the action!) on a scale of 1 to 10, with 1 being "this is awful, you couldn't pay me to eat it" and 10 being "this was awesome, give me the whole loaf." The judges were also encouraged to write descriptive words describing the taste and texture. The words of the semi-judge are in italics. Finally, they were asked which of the three loaves did they prefer the best.
THE RESULTS
#1 Tropical Traditions Hard Red Spring Wheat
Judge A
Taste – 7. Sweet & chocolate-y, no weird after taste.
Texture – 4. Almost like it has grape nuts in it, kinda gravelly, but only after several chews.
Judge B
Taste – 10. Sweet. Cinnamon-y.
Texture – 4. Crunchy. Soft with crunchy after-bite.
#2 Trader Joe's 100% Whole White Wheat
Judge A
Taste – 7. Good, nothing unusual.
Texture – 6. Not as moist as I prefer, but not unpleasant, better than the first cookie.
Judge B
Taste – 8. Not as sweet as #1, tastes more healthy. Yep.
Texture – 8. Thicker than #1, but softer & chewy. No crunch. Maybe a touch powdery?
#3 Tropical Traditions Soft White Winter Wheat
Judge A
Taste – 8. Fuller, more of a party in my mouth than the others.
Texture – 7. Chunkier, but in a good way.
Judge B
Taste – 9. Good flavor, could taste salt a little. Yummy.
Texture – 9. Good cookie texture. Good!
THE EVALUATION
Of the three cookies, all three judges disliked the one made with home-ground hard red spring wheat. I assure you – the grinding method was as exact as it could be with both whole grains.
It's just the nature of hard red wheat – it's heartier and has more gluten, so it needs to be kneaded and loved in order for its attributes to be truly appreciated. In a short cream & bake session, the flour just doesn't fare very well (as you can see by the significant crackles in the cookie).
When I asked the judges which cookie they like best, I thought they'd choose the ones made with store-bought flour. They formed a better cookie, if that makes sense. It was as if the flour turned into glue, holding the ingredients together better (I'm speaking metaphorically of course).
But I was wrong! All three judges preferred the cookie made with home-ground soft white wheat the best!
As it turns out, the "glue" factor of the store-bought flour was a turn-off. They preferred the cookies to have a slight texture instead of full-on creamy. They all agreed that the slight crunch from my home-ground method blended well with the oats and chocolate chips.
And did you catch the comment by Judge A? He said it was a party in his mouth! How can any other cookie possibly stand a chance?!
THE CONCLUSION
Now that I've seen it with my own eyes, I fully support the recommendation of using soft white wheat for baked goods. It gave the cookie personality and depth, instead of "just another cookie" syndrome. It's low-protein content really is ideal.
I haven't tried it with cakes yet (three loaves and batch of cookies AND three cakes?! Yikes!), but if I do, I'll come back and update with another flour face off edition for sure. Anyone want to come over for a taste testing party? 🙂
TRY IT YOURSELF
Tropical Traditions is offering FREE SHIPPING with code 131766 through midnight tonight (6/24 EST). Why should you care? Because Tropical Traditions has some of the best deals on whole grains on the web.
Their 5lb bag of organic hard red wheat (the one that's best for bread) is only $6.69, or $1.33/lb. Compare this to the cheapest bag of organic hard red wheat on Amazon costing $1.70/lb.
A 5lb bag of organic soft white wheat at Tropical Traditions is $10.59, or $2.11/lb. The only way to beat that price on Amazon is if you buy in 25 or 50 pound bags. Don't get me wrong – I'm all about buying in bulk to save. But 25 pounds is a bit much when I'm just starting to experiment with something new, know what I mean?
To take full advantage of the free shipping, here are a couple other deals running right now too: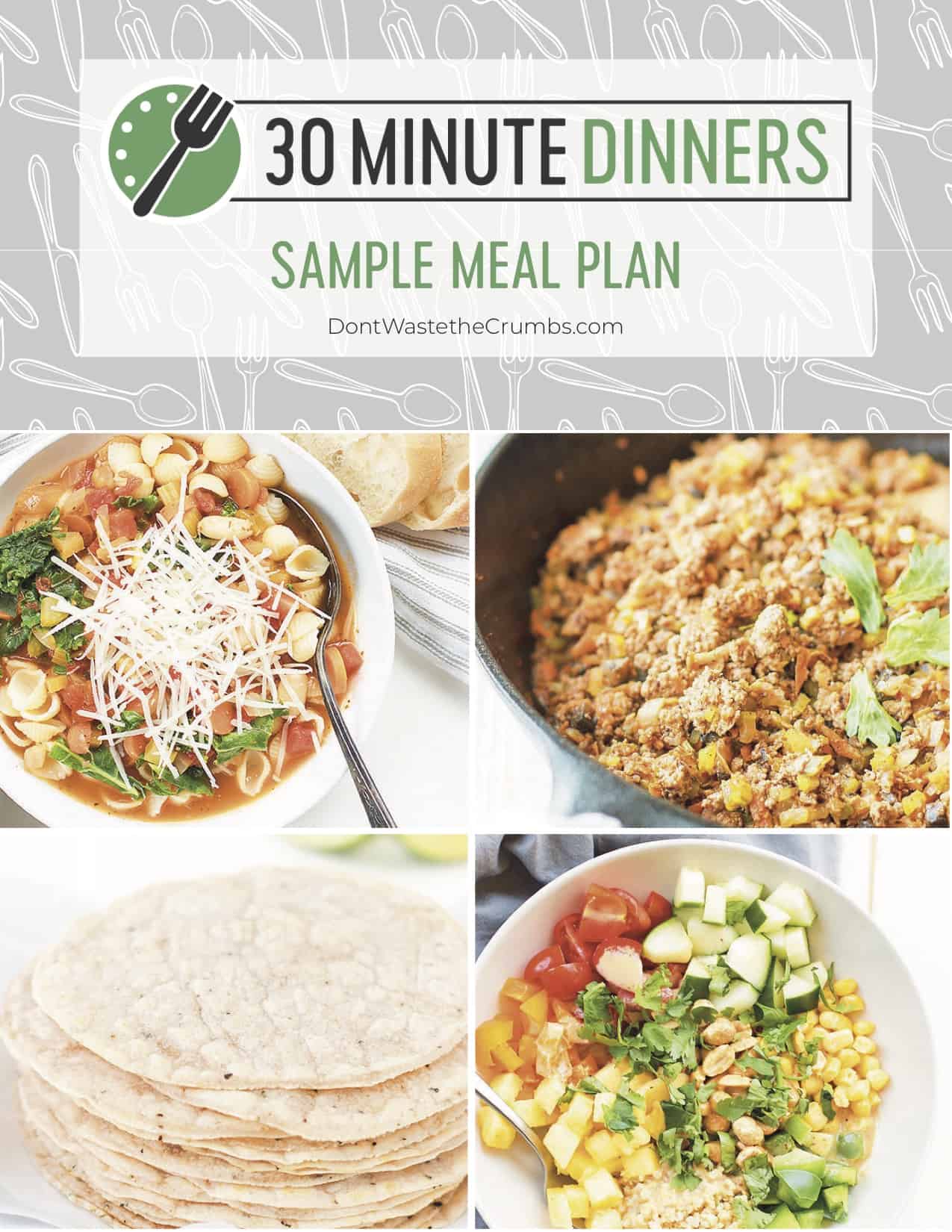 30 Minute Dinners Sample Meal Plan
Sign up to get instant access to my
30 Minute Dinners Sample Meal Plan
, complete with recipes and step-by-step instructions!
Disclaimer: Please know that this post contains affiliate links. By making a purchase through those links, I will earn commission that helps to keep the lights on in the Crumbs house – with no additional cost to you. Thank you for supporting Crumbs in this way. If you have any questions regarding this, I encourage you to read my full disclosure statement here.