Making your own seasoning is easy with this 9 spice mix recipe – a simple blend of delicious seasonings that works wonderfully on chicken and vegetables!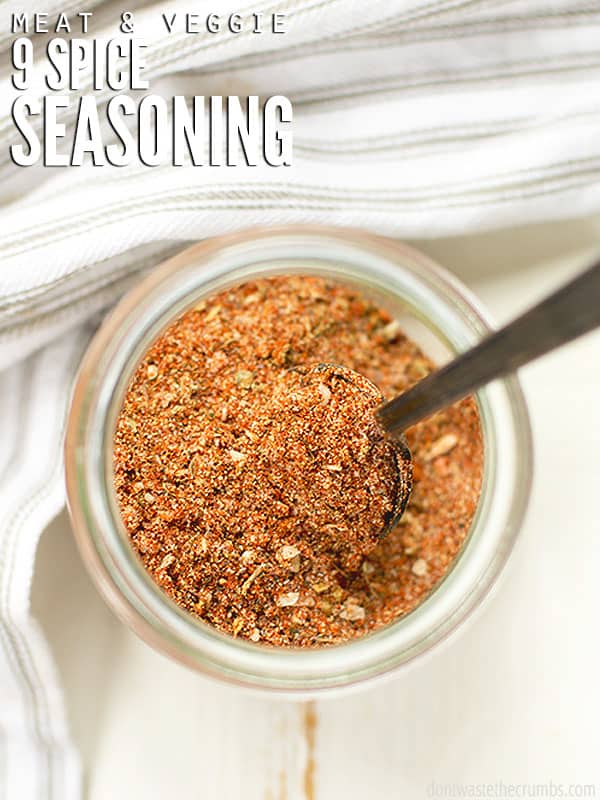 Everything You Need to Know About Easy 9 Spice Mix (for Chicken and Vegetables)
I don't know about you, but sometimes I feel stuck when it comes to knowing what spices to use for chicken or vegetables.
Sure, I could use my homemade Montreal seasoning or even my homemade poultry seasoning.
But sometimes I want more oomph. I want to say "WOW!" when I eat dinner, and I want something that I could make at a BBQ where guests would say, "That seasoning is DELICIOUS!"
Friends, look no further. This 9-spice mix for chicken is EXACTLY what I've been looking for!
9 Spice Mix for Chicken and Vegetables
Aside from the fact that this 9 spice mix is AMAZING, here's why you should consider making a batch for yourself:
It's easy. Measure the ingredients and shake in a jar. That's it!
Frugal. Making your own spice blends is WAY more affordable than buying them pre-made.
Pantry-friendly. You probably have all the spices already in your pantry!
It's Different. It tastes nothing like the other spices you're used to, which makes me love this blend that much more!
All-purpose. You can use this blend on chicken, pork vegetables, or potatoes… basically whatever you want.
I actually used this mix to pan-fry some chicken for my sister-in-law and her family a few weeks ago and BOTH her and her husband sang praises on the flavor. Her two biggest kids (my nephews) also came in the house – SEPARATELY – and said the chicken was delicious. Even the baby asked for more!
Ingredients for 9 Spice Mix Recipe
As I mentioned, you likely already have all the ingredients for this 9 spice mix recipe. Here's exactly what you need:
Paprika
Garlic powder
Dried minced onion
Salt
Black pepper
Dried oregano
Ground turmeric
Ground thyme
Smoked paprika
Psst! I highly recommend swapping out your regular salt for Ava Jane's Kitchen! You may think all salt is created equal, but unfortunately, 90% of salt produced around the world contains microplastics (gross, right?). Ava Jane's Kitchen is an exception. Their salt is 100% microplastic free, and it's SO GOOD! Plus, you can get a bag for just 1¢!! (Get your penny bag of salt on this page.)
The only spice you might not have is the smoked paprika, and you have two choices: leave it out, or get the spice.
I HIGHLY recommend getting the spice. It has an amazing smoky flavor that is unmistakable once you taste it, and it always kicks the flavor up a notch.
Note: I find all my organic spices on good ole Amazon. Their prices usually come out cheaper than my local stores. I've also found good prices at Thrive Market when they offer discounts.
How to Make this Simple Chicken Seasoning
The steps to make this spice mix recipe is pretty straightforward:
Measure the spices into a 4-ounce glass jar.
Seal the jar.
Shake and use as desired!
I'm a huge fan of batch cooking and cooking once in order to eat twice, so I've written this recipe to fill a 4 oz jar, which is enough for 2-3 nights of seasoning. If you want more, double the recipe. If you want less, feel free to halve the recipe.
Can you use these spices for roasted vegetables?
I know I refer to make chicken often, but I use this spice mix for vegetables too! I've tried them roasted, grilled and sautéed and they're ALL so good!!
What goes well with 9 spice mix?
Other Easy Spice Mix Recipes
No Cook Meal Plan
Sign up to get instant access to my
No Cook Meal Plan
, complete with recipes and shopping list!
Easy 9 Spice Mix (for Chicken and Vegetables)
Making your own seasoning is easy with this 9 spice mix recipe – a simple blend of delicious seasonings that works on chicken and vegetables!
Author: Tiffany
Prep Time:

5 mins

Cook Time:

0 mins

Total Time:

5 minutes

Yield:

11 Tbsp

1

x
Category:

Sauces & Condiments

Method:

Bowl

Cuisine:

American
2

TB paprika

2

TB garlic powder

2

TB dried minced onion

4 1/2 tsp

salt

3 tsp

black pepper

3 tsp

dried oregano

1 1/2 tsp

ground turmeric

1 1/2 tsp

ground thyme

1 1/2 tsp

smoked paprika
Combine all ingredients in a glass jar.
Shake well and use as desired.