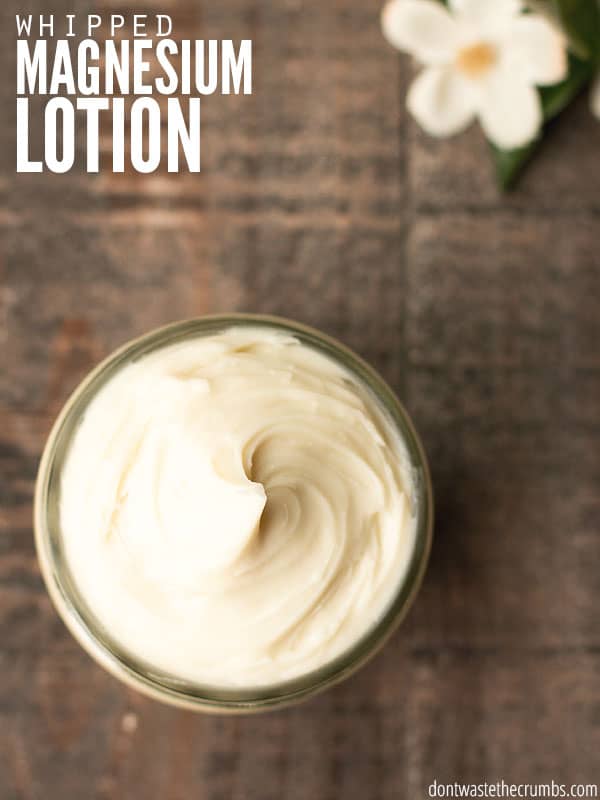 I try to use home remedies whenever I can, like healing chapped lips without medication, making elderberry syrup to prevent colds before they even come, and charcoal gummies when someone gets the stomach flu. And these all work!
But I tried every stretch and massage technique you can think of to stop my restless legs from keeping me up at night and nothing worked.
I went out on a limb recently tried magnesium lotion. Oh my goodness, why in the world did I wait so long?!
My restless legs started a couple years after baby #2 was born.
When I was pregnant with The Girl, she found herself a comfortable position right on top of my sciatic nerve. Fortunately it wasn't painful – she did this at night and I think I would have been too tired to notice anyway. But her position was numbing – literally. From my fingers to my toes, half of my entire body would go numb thanks to this little creature. Can you imagine trying to roll over, having to pick up one arm with the other to get it to move?
Thankfully the numbness ceased after she was born, but I've always wondered if she was the reason my legs kept feeling like they couldn't be still when the rest of my body was shutting down and resting.
Restless Legs is Just a Symptom
As I learned more about natural health, I started wondering if my restless legs were a symptom of something greater. In my researched I stumbled upon a possible reason – magnesium deficiency.
According to this article, magnesium is a mineral that is absolutely vital for the body to work properly.
Every single cell in the human body demands adequate magnesium to function, or it will perish. Strong bones and teeth, balanced hormones, a healthy nervous and cardiovascular system, well-functioning detoxification pathways and much more depend upon cellular magnesium sufficiency. Soft tissue containing the highest concentrations of magnesium in the body include the brain and the heart—two organs that produce a large amount of electrical activity, and which can be especially vulnerable to magnesium insufficiency.
I compared my symptoms to the ones listed in this post and saw that I had many of the symptoms and causes related to magnesium deficiency. The test for whether I was deficient or not was easy: if I tried magnesium lotion and slept like a baby, I was deficient. If I tried it and I didn't, then my restless legs were caused from something else.
Want to guess what happened? Yep, I had magnesium deficiency.
Now, there are two main ways to supplement magnesium: orally (food and vitamins) and transdermally (through the skin). While many people have had success with taking magnesium pills or solutions internally, there are also reports that this form of magnesium supplements can disrupt the digestive system or put stress on the kidneys. And since the body doesn't absorb magnesium well through the digestive system anyway, at least half of the supplement goes unused, leaving the body as waste.
You can read more about the benefits of magnesium in this post.
For these reasons, I chose to try magnesium lotion instead and it is AMAZING! I noticed improvement in just a few days, and now I use it on my legs every night before I go to bed. Not only do I fall asleep faster, but I stay asleep the whole night and my restless legs are no more!
Sourcing Ingredients for Magnesium Lotion
Can we talk shopping for just a moment? If you've read this blog for any period of time, you'll know that I'm usually not brand-loyal. There's just too much competition and opportunities for me to save money!
However, when I find a brand that I believe in, has amazing quality and most importantly – the product WORKS – I stick to it like glue. That's why I recommend Better Shea Butter for sourcing your beeswax pastilles and shea butter.
When you research natural ingredients for the first time, you'll feel the overwhelm. Raw vs. unrefined vs. grade A vs. yellow vs. ivory… and that's just for shea butter! Beeswax and coconut oil are just as confusing if you've never worked with them before, so let me make it easy for you.
Don't want to DIY, or make the lotion yourself, you can a similar high quality magnesium lotion here. 
Shea Butter
For this recipe, you want unrefined, ivory shea butter. I use this brand because it's the best quality I've tested among shea butters.
An 8 oz bar of shea butter will make about 4 batches of magnesium lotion. If you are looking for other uses for it, I also use shea butter in homemade shaving cream and in homemade peppermint lip balm.
Beeswax
Definitely use pastilles (pellets) instead of the brick. The brick is fine if you're using the whole thing, but when you need just a tablespoon or two, the pastilles make it SO much easier to measure. I use these because I've used their other products (including the shea butter mentioned above, and their zinc oxide to make homemade sunscreen) and I trust them to provide great quality.
If you have extra beeswax to use, consider making homemade citronella candles or use it in homemade dry-skin healing lotion. Otherwise, one bag of beeswax pellets will make 8+ batches of magnesium lotion.
Coconut Oil
You want unrefined virgin coconut oil – the kind that is solid at room temperature – not refined coconut oil. I've been using this coconut oil for years, but this brand is also really good.
We use coconut oil all the time in the kitchen, and I also use in my natural skincare routine to remove make-up naturally and as a daily facial moisturizer.
Having ingredients on hand for more than one purpose is a great use of your budget! I go more in-depth on making the most of your grocery budget in Grocery Budget Bootcamp. The best thing is, the principles in this course can apply to more than just groceries!
Magnesium Flakes
You want magnesium chloride flakes, which is highly concentrated form of magnesium. This brand is one of the best on the market.
There are other types of magnesium on the market, so make sure you're getting the right kind. I explain the most common types of magnesium in this post. For the tutorial below, make sure you get magnesium chloride flakes.
If this is the first time you're making magnesium lotion, I recommend starting with this 1.65 lb bag. If you've already made the lotion and have fallen in love (like me!), you can upgrade to buying it in bulk. This 8 lb bag has the lowest price per pound – and trust me, I've looked at them ALL!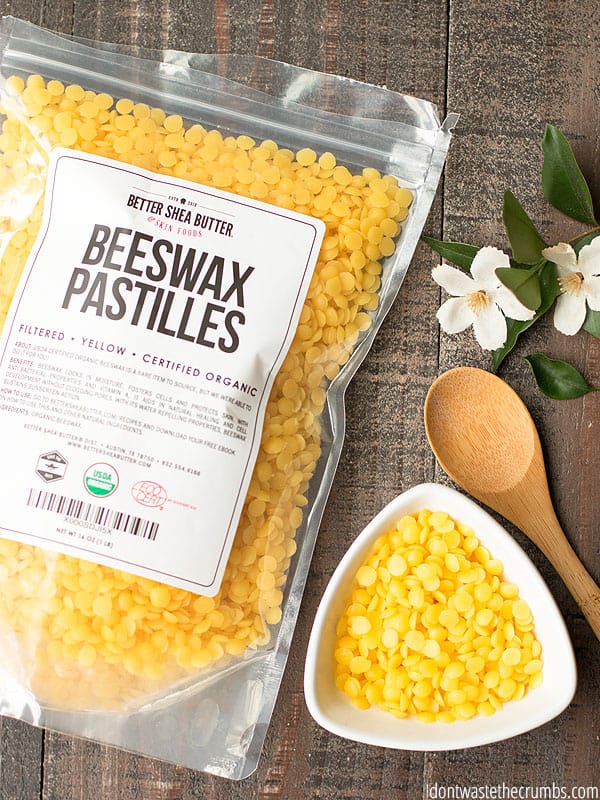 How to Make Whipped Magnesium Lotion
Ready-made magnesium lotion is NOT cheap. Prices on Amazon range from $9 to $20 for a small 8 oz bottle.
I chose to make my own magnesium lotion instead, and not only is it cheaper in the long run, but it's SUPER easy!
Magnesium Lotion Supplies
Magnesium Lotion Method
Measure magnesium flakes into a mug. Fill another mug halfway with water and microwave on high until it is boiling, abut 2-3 minutes. (Alternatively, you can bring water to boil on the stove.) Measure 3 Tbsp of boiling water into the mug with the flakes. Stir until the flakes are dissolved and set aside.
In the quart mason jar, measure coconut oil, beeswax and shea butter. Place the jar in a small pan filled with 1-2 inches of water. Place it on the stove and turn the heat to medium high.
Allow the solids to melt, swirling the jar now occasionally if necessary. (Be sure to wear an oven mitt.)
When everything inside the jar is melted, remove it from the pan and let it cool for about 5 minutes.
Pour the dissolved magnesium into the quarter mason jar. If it solidifies upon contact, that's ok. Place the immersion blender at the bottom of the jar and blend everything together really well, moving the blender up and down along the sides of the jar as necessary to incorporate the ingredients.
This makes about 8 ounces of lotion. Store at room temperature for up to 2 months.
Note #1: This magnesium lotion recipe is more of a butter/salve than a liquid, pumpable lotion. It has a slightly waxy, greasy feel because of the combination coconut oil and magnesium. You can use a different oil if you'd like, as long as it's liquid. Know that this will change the final texture slightly. Also, because of the ingredients used, it will not absorb like we've come to expect when using typical over-the-counter lotion. Then again, it's not supposed to. 🙂
Note #2: If you find the list of ingredients and the idea of making lotion daunting, I HIGHLY recommend making magnesium oil spray. It's just two ingredients – magnesium and water – and it's great beginner DIY. It's also just as effective as magnesium lotion! You can find the tutorial for DIY magnesium spray here.
How to Clean Your Supplies
The hardest part of this tutorial is cleaning your supplies, but I've figured a way to make it easier!
Scrape as much of the lotion off of the immersion blender as possible.
Fill another quart jar halfway with very hot, soap water. Place the immersion blender inside and let it soak for a few minutes. (I set my kitchen timer for 3 minutes so I don't forget.)
Turn the immersion blender on in the jar for about 10 seconds. Dump out the water and repeat step 2, this time adding a couple tablespoons of baking soda. Place the immersion blender inside and let it soak for a few minutes. (Again, I use the kitchen timer.)
Turn the immersion blender on in the jar. Dump out the water and at this point, the immersion blender should be fairly clean. If it isn't, you can use a sponge with dish soap to remove any remaining portions of the lotion.
Magnesium lotion is a lifesaver!
Have you ever tried magnesium lotion before? How has it benefited you?