Celery is an amazing vegetable. It's an excellent source of fiber, vitamins A and C and folate, plus by the time you're done eating it, you've actually BURNED calories!
Now if it were only the same with tortilla chips, I'd be set.
There seems to be some confusion though with what to do with the celery leaves. Do you eat them? Do you throw them away? Do you cut off celery at the "seam" and only use the ribs (what you would normally call celery)? Do you break off the outer ribs and only use the hearts?
In case you hadn't heard, celery leaves are poisonous.
At least that's what some of my research has shown… but I eat the leaves, and I'm not dead. And it's the leaves that are most often used to make dried celery.
Have you ever used dried celery before in a recipe? Are you dead?
Didn't think so. Now that this myth has been debunked…
The leaves are completely edible (and even taste like celery!). There's no taste or nutritional difference between the outer and inner ribs, the seam doesn't mean anything and the leaves are edible. 95% of the vegetable can be eaten – all you have to do is wash it so you're not eating dirt.
But that's cool if you want to eat the dirt too.
If you're not sure what to do with the parts of celery you're not used to eating, here are a few ideas:
Above the Seam
Use in homemade soup or stock
Add to salads for extra crunch
Use as a transportation device for peanut butter
Leaves
Use in homemade soup or stock
Add to a salad
Substitute for cilantro
Add to smoothies
Make your own celery seasoning
Notice that the ideas above are probably the same uses you're already using celery for. That's my point! Minus the base of the stalk (the part that's actually in the dirt), the entire stalk can be eaten. Consider alternate purposes of the celery that you're used to throwing away, especially the last idea for the leaves. Making your own celery seasoning is SO incredibly easy and I have a tutorial to share with you. Never again will you buy dried celery from the store when you see how easy it is to make your own.
Step 1 – Wash the celery
Step 2 – Pull off all the leaves from the celery stalk
Step 3 – Spread the leaves out on a plate
Step 4 – Wait one day.
Step 5 – Rearrange or shuffle the leaves around. Wait another day.
Step 6 – Repeat step 5 as necessary until all leaves are completely dry
Step 7 – Place dried leaves into a re-purposed glass jar.
That's it! Now you have dried celery that you can use in any recipe that calls for it. If it suits your fancy, you can chop the dried celery or grind it in a coffee grinder or food processor too. (With all the work involved in making this, I was just too tired. 🙂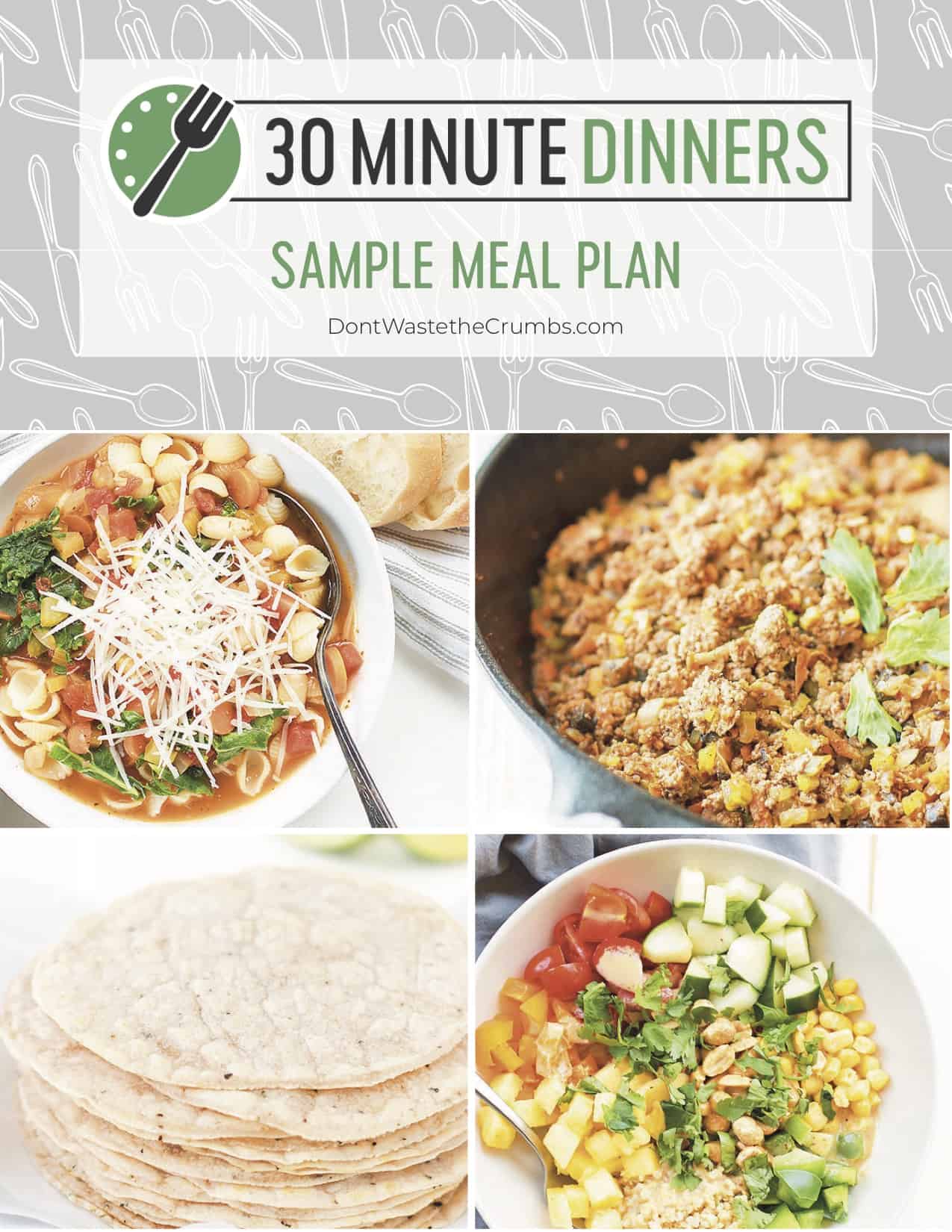 30 Minute Dinners Sample Meal Plan
Sign up to get instant access to my 30 Minute Dinners Sample Meal Plan, complete with recipes and step-by-step instructions!
Do you make your own seasonings?