This post contains affiliate links.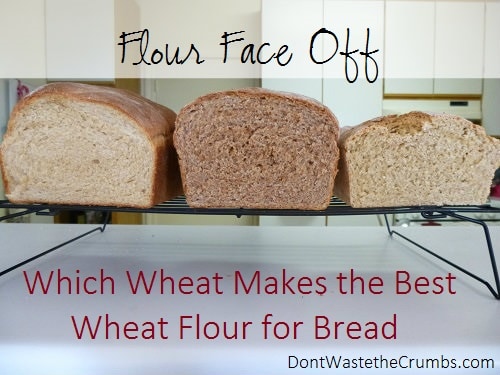 Tropical Traditions has sponsored two giveaways here on Crumbs so far this year: first a quart of coconut oil in March and then a whole gallon of coconut oil last month. (The fact that they offered a gallon STILL leaves me amazed!)
I have no doubt that their sponsorship is due largely to the overwhelming support and involvement of YOU. With that said, I'd like to take a moment to say THANK YOU for reading and supporting Crumbs. Your generosity and encouragement to me and my family are appreciated in more ways than you'll ever know. Thank you!
In fact, I know FOR SURE that your support of Crumbs and Tropical Traditions has not gone unnoticed because they're at it again folks. But this time, we're talking grains.
They asked me if I wanted to review their whole grains (not flour) and possibly offer a giveaway (as long as I gave the grains two thumbs up though, since it's not my style to recommend something I wouldn't do or use myself), and of course I said yes. I mean, who wouldn't?! I'm knee deep in flour and bread (literally on some days… like yesterday when we made toasted coconut and apple sourdough pancakes for breakfast and then a tweaked batch of sourdough bread) and I'd love to jump into a bucket of whole grains (not literally though) and give them a whirl in my kitchen.
Remember how hard red wheat is good for bread and soft white wheat is good for baked goods? Well this same information is offered on the Tropical Traditions site too, but when I first read it I was kinda skeptical.
Not that they'd be telling lies on their site – oh no. They're family owned and practice sustainability in their business whenever possible, and judging by their honesty in the emails we've sent back and forth, I don't think Tropical Traditions is trying to pull a fast one on us.
I simply wanted to know for myself if the "such and such" wheat is for "such and such" thing rule is really true. I wanted to see it all, in action, with my own two eyes. I wanted to be able to judge for myself instead of blindly believing what the internet says.
So I did. I tested red wheat and white wheat and compared it against store-bought wheat and baked until I could bake no more. And then I ate (and shared) until we could eat no more. Today is part one of the results – the bread.
Flour Face Off: Is Hard Red Spring Wheat Really Best for Bread?
That was the question I sought to answer.
THE CONTENDERS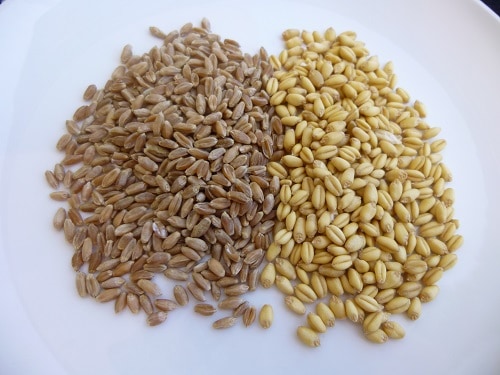 #1 Tropical Traditions Hard Red Spring Wheat (on the left)
#2 Trader Joe's 100% Whole White Wheat
#3 Tropical Traditions Soft White Winter Wheat (on the right)
THE RECIPE
A batch of The Cheapskate Cook's Very Little Bother Bread.
For the sake of science (even though I'm not a scientist), I must note that the batch made with hard red wheat required an additional 4 Tbsp of flour during the kneading process and the soft white wheat required an additional 2 Tbsp during kneading. The batch made with store-bought flour was made as written.
THE TEST
Each loaf was judged blindly on taste and texture by two independent judges (i.e. NOT me) on a scale of 1 to 10, with 1 being "this is awful, you couldn't pay me to eat it" and 10 being "this was awesome, give me the whole loaf." The judges were also encouraged to write descriptive words describing the taste and texture. Finally, they were asked which of the three loaves did they prefer the best.
THE RESULTS
#1 Tropical Traditions Hard Red Spring Wheat
Judge A
Taste – 9. Wheaty, pleasant, not too strong, slight aftertaste.
Texture – 8. Grainy (in a good way), firm, crackly, chewy.
Judge B
Taste – 7. Good, grainy, crust a little too hard.
Texture – 5. Would buy.
#2 Trader Joe's 100% Whole White Wheat
Judge A
Taste – 8.
Texture – 8. Medium, doughy airy.
Judge B
Taste – 8. Delish, smooth, perfect crust.
Texture – 8. Soft, easy to eat, would buy.
#3 Tropical Traditions Soft White Winter Wheat
Judge A
Taste – 7.
Texture – 6. Slightly dry, flaky, crumbly.
Judge B
Taste – 3. Dry, sour tasting.
Texture – 3. Chewy, wouldn't buy.
THE EVALUATION
Of the three breads, both judges liked the bread made with the home-ground soft white winter wheat least. It didn't hold up as sandwich bread should, in both slice form and spread-ability. You see how that slice above looks like someone took a bite? I promise none of us did it, but it's because the bread didn't get the full dome effect of bread. It's likely because the soft wheat varieties do not have the protein needed to get a soft, dense, chewy loaf of bread that doesn't fall apart when you try to spread butter on it.
When it came down to choosing between the bread baked with home-ground hard red wheat or the bread baked with store-bought white wheat, both judges resoundingly chose the bread made with home-ground hard red wheat.
I wasn't surprised, because that's the one I chose too. You can't expect me to bake THREE loaves of bread and not try them, do you? 😉
Both judges liked the hearty texture of the red wheat and enjoyed the "wheat-y" taste. They said that it reminded them of the 7-grain type of breads you'd find at the store and would definitely buy this loaf if it was an option.
The slight aftertaste mentioned by judge A wasn't unpleasant, rather just a linger of taste on his tongue. Neither judge made any comments about bitterness either, adding credibility that home-ground wheat flour doesn't have the typical bitter taste that store-bought wheat flour does (which would be caused by the fats inside the germ going rancid).
THE CONCLUSION
When it comes to the recommendation of using hard red wheat for bread baking purposes, I believe it's accurate. The store-bought wheat did hold up well in the baking sense, but personally I attribute it to the ultra-fine flour that steel mills create. It was also likely ground from hard white wheat which has a bit more protein than soft white wheat. My home-ground red wheat wasn't quite as powdery as the store-bought yet it STILL beat the store-bought in taste, texture and overall preference. The soft white wheat just wasn't suitable for bread. I mean, it made a loaf of bread, but it wasn't ideal. I was able to spread butter on it (quite a bit actually, since it's GOOD for you! ;), but I didn't dare try peanut butter. THAT would have been a mess.
Coming up next week… part 2 of the flour face off. Not only did I put Tropical Traditions' hard red spring wheat through it's ultimate test to see if it's really the best for bread, but I did the same for the soft white winter wheat. What did I test it with? What were the results? You'll have to wait until Monday to find out!
Disclaimer: Please know that this post contains affiliate links. By making a purchase through those links, I will earn commission that helps to keep the lights on in the Crumbs house – with no additional cost to you. Thank you for supporting Crumbs in this way. If you have any questions regarding this, I encourage you to read my full disclosure statement here.