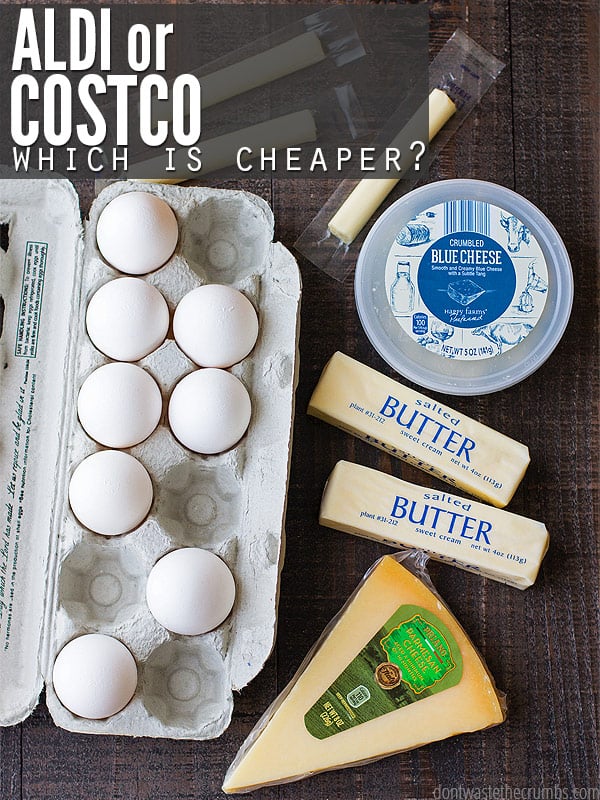 Costco is known for their great deals on real food because you're buying in bulk. ALDI is known for being for having incredibly low prices thanks to their private label and lack of variety.
So which is cheaper Costco or Aldi?
Readers have left comments saying they cancelled their Costco membership because they found better prices at ALDI.
I've also heard other readers say the opposite, that Costco beats out ALDI prices every time.
I'm still learning how to make my grocery budget work in Georgia and I've learned that ALDI has very low prices that seem hard to beat. (Here is my Ultimate Guide to Shopping at ADLI!)
But still, are they lower than Costco? I hit the streets this past weekend to find out the answer.
Which is Cheaper Costco or ALDI? The Rules
1. Compare the most purchased items.
I compared the same items that I purchase every month, over and over again. Yes, you'll save a few pennies on the onsie twosie items too, but you'll find the biggest savings when you find rock bottom prices on the items you repeatedly buy.
2. Staples only, no produce.
The price of produce alone will vary greatly from region to region, and season to season. For this reason, I chose to not include it in this comparison post.
3. Prices are still regional.
The prices below are taken as of 4/22/2016, are from the Atlanta, Georgia area and should be used as a guideline only. You may or may not find the exact prices in your area, so do your homework before you commit to one store or another.
4. Use the lowest per unit price.
Some items are offered in ounces, some in pounds. I broke it down to the lowest price per unit that is common between both items.
Which is Cheaper Costco or ALDI? Things to Consider
1. Bulk vs. Individual Items
Shopping at Costco means having to buy in bulk in order to get that price. There is no option of buying just one single item.
Shopping at ALDI means buying individual items for the price listed, and you can buy more if you'd like.
2. Organic vs. Conventional
I tried to compare the exact same item whenever possible, like organic peanut butter to organic peanut butter, in order to keep the playing field fair. If I couldn't find an equal counterpart at the other store, I didn't include it in this post.
The only exception to this is raisins, since it's a popular item in many kitchens. But I also think the fact that one was NOT organic is why that store was the winner.
3. No Brand Names
ALDI has their own private label just like Costco does, so for the purpose of today's post, I ignored brand names. I did check ingredients though, and everything listed below is 100% real food.
Which is Cheaper Costco or ALDI?
Note: Items are listed in alphabetical order.
Almonds → Costco
Aldi: $5.99/12 oz ($0.50/oz)
Costco: $15.99/2.5lb ($0.40/oz)
Applesauce → Costco
Aldi: $1.69/23oz ($0.07/oz)
Costco: $6.99/138oz ($0.05/oz)
Bacon → ALDI
Aldi: $2.99/lb
Costco: $3.50/lb
Beef (ground) → Costco
Aldi: $3.99/lb
Costco: $2.99/lb
Butter (unsalted) → Costco
Aldi: $2.48/lb
Costco: $2.37/lb
Cashews → Costco
Aldi: $11.99/30oz ($0.40/oz)
Costco: $14.89/2.5lbs ($0.37/oz)
Cheese (blue) → Costco
Aldi: $1.99/5oz ($0.40/oz)
Costco: $4.69/lb ($0.29/oz)
Cheese (cheddar) → Costco
Aldi: $1.89/8oz ($0.24/oz)
Costco: $2.64/lb ($0.17/oz)
Cheese (fresh mozzarella) → Costco
Aldi: $2.69/8oz ($0.34/oz)
Costco: $7.49/2lb ($0.23/oz)
Cheese (parmesan) → ALDI
Aldi: $3.99/8oz ($0.50/oz)
Costco: $8.49/16oz ($0.53/oz)
Cheese (string) → Costco
Aldi: $2.79/10oz ($0.28/oz)
Costco: $8.39/48oz ($0.17/oz)
Coconut Oil → Costco
Aldi: $4.99/14oz ($0.36/oz)
Costco: $19.99/78oz ($0.26/oz)
Coffee (decaf) → Costco
Aldi: $2.69/11.3oz ($0.24/oz)
Costco: $9.49/48oz ($0.20/oz)
Cranberries (dried) → Costco
Aldi: $1.29/5oz ($0.26/oz)
Costco: $8.89/64oz ($0.14/oz)
Eggs → ALDI
Aldi: $1.09/dozen
Costco: $1.20/dozen
Flour (all-purpose) → Costco
Aldi: $1.39/lb
Costco: $5.89/25lb ($0.25/lb)
Maple Syrup (organic)→ Costco
Aldi: $6.49/16oz ($0.41/oz)
Costco: $10.49/33.8oz ($0.31/oz)
Milk → Costco
Aldi: $2.19/gallon
Costco: $1.89/gallon
Oatmeal (rolled oats) → Costco
Aldi: $2.39/42oz (6¢/oz)
Costco: $7.69/160 oz (5¢/oz)
Peanut Butter (organic) → Costco
Aldi: $3.99/16oz ($0.25/oz)
Costco: $9.99/54oz ($0.18/oz)
Raisins → ALDI
Aldi: $2.89/20oz ($0.14/oz)
Costco: $9.30/64oz ($0.15/oz) [these were organic where ALDI were not]
Rice → Costco
Aldi: $4.89/80oz ($0.06/oz)
Costco: $15.99/25lbs ($0.04/oz)
Salmon (frozen wild caught) → ALDI
Aldi: $3.70/lb
Costco: $6.63/lb
Spaghetti Pasta → ALDI
Aldi: $1.45/32 oz ($0.73/lb)
Costco: $8.99/8lbs ($1.12/lb)
Tomatoes (diced) → ALDI
Aldi: $0.55/14.5oz
Costco: $0.81/14.5oz
Vanilla → Costco
Aldi: $2.49/2oz ($1.24/oz)
Costco: $12.99/16 oz ($0.81/oz)
Water (bottled) → Costco
Aldi: $2.29/24 bottles (10¢ each)
Costco: $3.39/40 bottles (8¢ each)
Which is Cheaper Costco or ALDI? Lessons Learned
Of the 27 items I compared, only 7 were cheaper at ALDI.
Now, that's not to say ALDI is "expensive" – oh no, it's still very affordable. But when you think about the specific items you buy on a monthly basis, you'll save more if you shop at Costco instead of only shopping at ALDI.
Curious if ALDI can beat out Walmart? Check out this comparison!
How much will you save?
If everything above was on my shopping list, and I could only buy the quantity offered at Costco (just to keep things consistent here), I'd spend $289.53 at ALDI. If I bought these same items at Costco, I'd spend $212.85.
You'll save $76.68 (26%) by shopping at Costco instead of ALDI.
Considering my grocery budget is just $330 each month, this is tremendous savings! I don't have enough wiggle room to toss aside $75+ dollars each month – do you?
Of course this lesson should be applied broadly to your own shopping routines. Do you often shop at one store for convenience instead of another that you know costs less? Or maybe it's Publix versus Kroger.
I have no doubt that if you took an hour to list the top 20 items you buy every month and compare prices side by side at each store, you'd be amazed to see how much money you could save by consistently shopping the more affordable store. This is one of the principles I teach in Grocery Budget Bootcamp that's helping families save hundreds on their groceries every month.
Shopping local is sometimes preferred, but don't forget that online shopping can help you gain amazing savings too.
Do you shop at Costco or ALDI? What are the top 5 items you buy at each store?