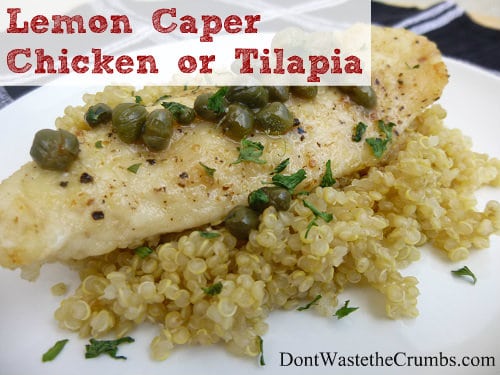 This post contains affiliate links.
Do you see those funny looking green balls there on my plate?  Those are capers, and they're a condiment, meant to be used sparingly to compliment a dish… but given the amount on  my dish, they're considered a food group in our house.
Lemon caper chicken is another frequently requested dish in my house.  We love how the bright and tart lemon/caper sauce compliments the savory and rich pan-fried tilapia (for me) or chicken (for Mr. Crumbs).  The first night I made this, I cooked up one tilapia filet and pounded out two chicken breasts for a total of 5 servings.  Before we left the table, everything but half of one chicken breast was gone.  Yes, it really is THAT GOOD!
The crazy part is that this meal can be made in mere minutes.  Add 3 minutes to however long it takes to cook your noodles and dinner is served.  Quick, easy and absolutely delicious!
By the way, it's o-kay to throw dinner plans out the window and make this instead.  I won't tell. 😉
Lemon Caper Chicken (or Tilapia)
(adapted from All You Magazine)
Lemon Caper Chicken (or Tilapia)
Scale
Ingredients
4

tilapia filets, or

2

chicken breasts, pounded out to approx 1/2 inch thick and each breast cut in half, or
any combination of the previous for a total of 4 pieces of meat

8oz

pasta (spaghetti, fettuccine, angel hair, etc.)

1/3 cup

flour
Salt for seasoning

2

–

4

Tbsp olive oil

3

–

4

Tbsp unsalted butter

1/2 cup

chicken stock

1/4 cup

lemon juice

1

–

2

Tbsp capers

2 Tbsp

fresh parsley (or

1 Tbsp

dried)
Instructions
In a large pot of salted boiling water, cook pasta until al dente. Drain when done.
Meanwhile, sprinkle fish and/or chicken lightly with salt and dredge both sides in flour to coat. Warm 1 tablespoon of butter and 1 tablespoon of oil in a large skillet over medium heat until butter melts.
Saute 1-2 fillets/breasts (depending on the size of your pan), turning once, until browned on both sides and cooked through. Transfer to a plate and cover to keep warm. Repeat with another tablespoon of butter and olive oil and remaining fish/chicken until all pieces are cooked.
Pour chicken broth and lemon juice into the skillet and bring to a boil, stirring to bring up the cooked-on pieces of fish/chicken (aka "goodness"). Remove from heat and stir in capers, parsley and 1 tablespoon of butter, stirring until the butter melts. Serve over fish/chicken and pasta and serve immediately.
What's your favorite dish with capers? Do you like lemon caper chicken?
Want more recipes? Like us on Facebook or Follow us on Instagram!
Disclaimer:  This post contains affiliate links.  By making a purchase through those links, you support the ministry of Crumbs without any additional cost to you. Thank you for supporting Crumbs in this way!  Read my full disclosure statement
 here
.